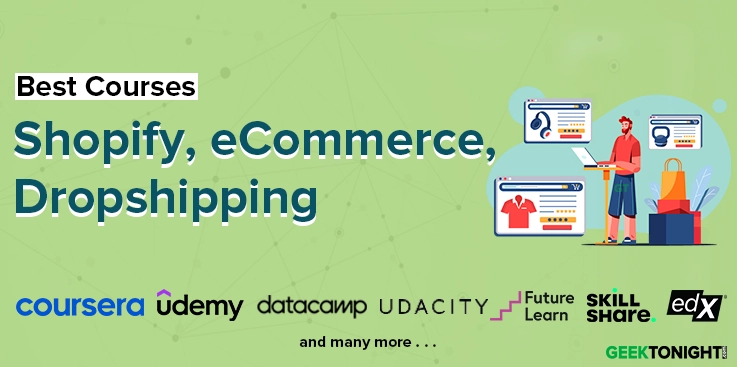 Affiliate Marketing or Dropshipping? One of the most common questions that have beginners confused. But the answer to this question is quite simple: if you want more money than fixed commissions, then Drop shipping is the place where you want to be.
Researches show that Dropshipping is a profitable choice even in 2021 and is projected to grow at the rate of 28.8% per annum till 2025, making it worth around $557.9 billion in the coming 3 to 4 years.
We have brought you the best Shopify dropshipping course to save you the hustle of going through each and every website searching for courses so that you get started right away in making your eCommerce business a success.
Our product recommendations are unbiased and based on an independent review process. We may receive a commission for links to recommended partners. See our advertiser disclosure for more information.
---
Best Shopify, eCommerce, Dropshipping Courses, Certification, Tutorials, Training, Classes Online
Udemy Shopify Dropshipping Course gives you the knowledge of making an eCommerce business that will solidify your eCommerce fundamentals and help you achieve online success. This course also gives you the chance to learn many things in detail, such as the three shipping models, building the credibility of your site, selling products abroad and much more.
The author, Tim Sharp, is widely known for his Ecommerce experience and as one of the best Udemy instructors available for the said industry. He has 12 courses to his name with 1,89,602 students and an instructor rating of 4.7.
Key Highlights & USPs
Learn about 'The Golden rules' of choosing/deciding what to sell and some sales tips that will come in handy.


You'll know how to integrate Shopify, AliExpress, Dropshipping to excel your business.


Learn about extensive topics like The Customer Purchase Procedure, scale your orders, and the technical aspects of managing a website.


Learn about Outsourcing options if you are busy doing the work by yourself.


With completing this course, you will get five articles, three downloadable resources and a shareable certificate.
Who is it for?
This Shopify Dropshipping certification course is for full beginner level, i.e. the people who are just starting, as this course can clear the doubts of every beginner because of its well-tailored content that is easy to understand. Applying the steps taught in this course will help anyone to stay and go with the competition instead of getting left behind.
Rating: 4.7/5
Students Enrolled: 17,523
Duration: 8 hours

Valid till: 30th September
This course lets you explore and study various essential topics which are aimed at making & managing your Shopify dropshipping business. Among other things, one can quickly gain knowledge on how to get your first order, the mistakes to avoid in the initial stage, the various types of tools used etc.
This online Shopify dropshipping course is taught by Robin & Jesper, who is also Udemy's best-seller in Digital Marketing & Business. The instructors are down to the point whenever you have any queries as they believe in offering the best learning experience to the course enrollers.
Key Highlights & USPs
Learn to retarget users who have left an abandoned cart in your eCommerce store.


Gain the essential and the 'must have' skill of Copywriting – Writing to promote things with the ultimate goal of increasing sales and awareness.


Learn to Automate the import procedure of products to your store.


Know the eight steps that followed adequately will ensure you achieve success.


Experience quality learning with four articles, tools, templates, 26 downloadable resources and get a completion certificate for your resume.
Who is it for?
This Shopify Dropshipping tutorial course covers every topic from a beginner's perspective, and that's what makes the course easier to follow. After completing this dropshipping course, your struggle with writing will be over, and you will be a highly efficient writer who can write engaging topics while maintaining the sales number.
Rating: 4.7/5
Students Enrolled: 3,353
Duration: 9.5 hours/week
Facebook ads are the cornerstone of any successful site that is why this course tells you what all is important for an eCommerce entrepreneur as far as Facebook ads are concerned. This Facebook Ads course enriches you with content that will help you to understand a lot more than just putting ads on Facebook. It also includes techniques for targeting, multiple strategies, using advert creatives and much more.
Adam Reed, the author of the course, guides you through all 17 sections in detail, which ensures you a learning experience that you will never forget. His specialization includes Shopify & Dropshipping, and he is known for his Six-Figure Shopify store valuation.
Key Highlights & USPs
Learn about the structure of Facebook ads which will help you to be efficient in your advertisement strategy.


Get to know how to create budget-friendly ads, target and do the proper placement of those ads.


It covers all the mistakes that a newbie makes and helps you to avoid them.


Learn to edit and make various types of ads such as Images, Carousels, Videos and slideshows.


Learn to analyze ads for their performance and make changes accordingly.


It includes nine articles and full-time access to this course, along with a completion certificate.
Who is it for?
This Facebook ads online course is very detailed, covering nearly all aspects of Facebook ads and is especially beneficial to those who have a keen interest in learning the eCommerce business as it proves to be a valuable source of attracting traffic and customers.
Rating: 4.7/5
Students Enrolled: 1,889
Duration: 10 hours
You can Sign up Here
Skillshare has no Shopify classes that will get you going in making your own estore in no time. Whether you know Shopify or not, Skillshare has got you covered, their extensive line of courses includes classes that teach you Shopify basics such as Shopify Facebook ads, Shopify eCommerce course, Shopify store setup, SEO for Shopify etc. It has a wide variety of crash courses that you can complete in no time.
These courses are made by the best known authors in Skillshare. The teaching instructors include names such as Rihab Seb, Christopher Dodd, Mimi Chao, Kurt Elster, Cheryl A. Spencer and many others.
Key Highlights & USPs
Learn about the backend process, such as setting up Checkout, Shipping, Taxes and Legal Pages.


The platform includes courses on various aspects of Shopify, from theme development to store management.


The courses present on this platform let you take a deeper dive into retaining customers, studying leads, and using analytics to perform better.


Every course offers its resources, to learn resources like Canva, Wordswag, Printful Website, among many.
Who is it for?
It has a range of courses suitable for all, from beginner to advanced learners. One can easily make use of this excellent platform to get fluent in Shopify without any prior experience required.
As per the market standard, Linked Learning is one of the best ways to learn things online. Linkedin Learning eCommerce development courses have a lot to offer, like teaching fundamentals, Dropshipping, Shopify Training courses, niche selection courses, content creation, etc.
The teaching instructors include real professionals who have gone through and created their own estores and are now helping others to do the same and earn passively from it. Names like Patrick Rauland, Chris Oliver, Allie Nimmons and Enno Stuurman are present as instructors for the courses.
Key Highlights & USPs
Learn from a platform that has good respect worldwide and get one step closer to your dream job. 


Gain the skills of online sales management, Shopify, web analytics, web application security and a little bit of development.


If you are a first-time user, then you can get the 1st month free.


Get lifetime access to completed courses, and also get a shareable certificate on mostly all of the courses.
Who is it for?
Linkedin eCommerce courses are self-paced so that you can complete them in your own time. Learning from Linkedin gives beginners or any advanced learners an excellent exposure to industry experience.
Rating: 4.7/5
Students Enrolled: 24,682
Duration: 3 months, 12 hours/week
The name of the course is enough to explain what this course contains. It is a very specific course on making a Shopify business that will help you make 7-FIGURE digits. In this comprehensive Shopify dropshipping tutorial, you will learn many actionable steps that you can take to achieve financial freedom and security.
Kevin Princeton, the creator of EPA (Ecom Profit Academy), has 18,420 students from his two courses and an instructor rating of 4.5 on Udemy. He is a true Marketer Guru with an abundance of experience by his side and eCommerce knowledge that deserves its own stage.
Key Highlights & USPs
Learn to develop strategies to get more leads consistently.



Get the exact blueprint of activities that the author did to build up a 7-figure worth Shopify store.


Sources from where you can dropship from (Reputable and Dependable sources).


Learn to find the products that actually sell.


The author also provides his own personal resources like copyright-free images, legal support, etc., with this course.


This course is equipped with 30 Days Money Back Guarantee, and full lifetime access to its contents and a certificate that you can add to your CV.
Who is it for?
This Shopify Dropshipping online course is perfectly serving both Beginners as well as Advance students who would like to increase their online earnings. With the application of all the strategies included in the course, one can easily help their own estore to worth in 7-Figures.
Rating: 4/5
Students Enrolled: 3,377
Duration: 12 hours
With Hubspot's eCommerce course, you are getting yourself into a vast world of marketing strategies and techniques that you can implement in your eCommerce website and get good results. This course gives you the opportunity to get through with your basics and create valuable content that fits the customer's needs.
This course was created by Groove Commerce, a full-time eCommerce agency and HubSpot partner. This company has been existing for more than 13 years and have been serving online businesses to increase their revenue.
Key Highlights & USPs
Learn to identify your target customer for your e-store.


Get to frame your plans strategically with Inbound marketing and know how to use it in eCommerce.


Learn how to integrate with Shopify.


Interactive learning with lessons consisting of videos and quizzes so that learners can test their knowledge.
Who is it for?
This Ecommerce course for beginners is a good place to start your online business as it tells you all the essential and needed things that will help you to kickstart your online venture. It helps beginners who are facing problems with making customers once finishing the course you can implement the strategies shown and gain customers on a repeat.
---
FAQ
What is Shopify dropshipping course?
In Dropshipping via Shopify, you keep products on your Shopify website that you intend to sell. And you are entitled to put the price for the product that you are selling.
It involves three parties, i.e. Customer, You and a Supplier in the said order. First, the customer will place an order and will make the payment to you, then you will proceed and make the payment to the supplier after keeping your profit aside and then the supplier will send the product to the customer's place directly.
So, in Dropshipping, you don't have to store the product in stock that you are selling.
What is the best course on dropshipping via Shopify?
There are many courses that can be counted as the best course, but from our point of view, we put 'The Complete Shopify Aliexpress Dropship Course [Udemy]' by Tim Sharp as the best course present for anyone who wants to pursue to make income online through Shopify.
It is a total package of things that are essential when starting up with dropshipping.