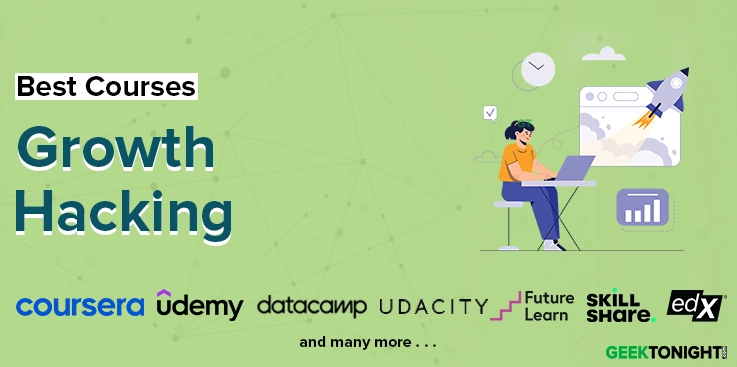 The need for growth is what drives an organization and people to sleepless nights but what if i say there are ways you can achieve growth + extra growth? Sounds stupid?
Growth Hacking might sound illegal to you but it is completely safe & ethical and it basically means to apply strategies that will help you to grow your income and also to perform well in the market. Growth hacking does not necessarily include the implementation of strategies, it also requires certain skills to qualify as a Growth Hacker. Growth Hackers are versatile individuals possessing skills to take any operation to new heights with optimum utilization of resources while bringing out higher results.
So remember growth hacking is a wide umbrella and it potentially includes any and everything that will help you to grow your business that is why we have come up with this article to help you in bringing forward the best growth hacking course that is out there for you. Scroll down to find out more!
Our product recommendations are unbiased and based on an independent review process. We may receive a commission for links to recommended partners. See our advertiser disclosure for more information.
---
Best Growth Hacking Courses, Certification, Tutorials, Training, Classes Online
This Data Analyst program will help you to gain job-ready skills to The returns from Digital Marketing are good, but it's even better with growth hacking strategies. This growth hacking online course helps you to grow in your digital marketing activities such as SEO, Inbound Marketing, Email Marketing, Viral market, public relations etc by providing you working market techniques and strategies.
The instructors for this growth hacking strategy course are Davis Jones and Maja Voje, who are very experienced and acclaimed individuals having developed courses that are used by thousands of students across the world and by famous companies like Tesla, IBM, Harvard etc. Combined with both instructors you get a perfect combination of a faculty who are a practitioner of what they are preaching.
Key Highlights & USPs
Learn the importance of retention over acquisition and growth hacking strategies of retaining customers.


Go through TOFU marketing funnel or Top of the Funnel marketing helping you to increase your brand awareness.


Learn Google Analytics in detail to understand your users, increase website performance/traffic, and come up with impactful insights for defining your growth strategies.


Completely learn growth hacking digital marketing with user centric approaches, concepts and management frameworks.


Audience building techniques through social media channels and organic ways to boost up your customers number.


Develop growth hacking techniques which are based on actual market insights and that work to support your business.


After successfully completing the course, get a completion certificate along with lifetime access to its materials and access to the course on TV and mobile phone.
Who is it for?
This is a perfect course for individuals looking to become growth hackers to be the best of the best as this course helps beginners or expert learners all the strategies and tools that they can use to meet their needs and grow, to expand their audiences, to increase their revenues and much more of this with little bit of growth hacking efforts.
Rating: 4.4/5
Students Enrolled: 53,742
Duration: 8 hours

Valid till: 30th September
Boosting up your online results not only requires your time and patience, it also needs effective strategies that go hand in hand with the marketing efforts that you put in. This course shares with you the various social media growth hacks and seo growth hacking techniques because the course believes in 'better promotion drives better results'.
Alex Genadinik, an Entrepreneur and Digital Marketing Specialist is teaching this growth hacking online course. Alex has more than 10+ years of experience in SEO and SMM(Social Media Marketing) that gives him the benefit of knowing how and what type of strategies can work and have worked in the market. The author is currently having a student base of 544,560 from 133 courses with instructor rating of 4.4/5.
Key Highlights & USPs
Learn the very fundamentals of SEO and SMM and mistakes to avoid as a beginner in the industry.


A very smooth introduction to KPI (Key Performance Indicators) and how to define it for your own business.


Understand various strategies to get high click through rate, improving On & Off page seo.


It also includes how to make social media shows and live cast for building engagement as a business.


Learn various strategies to make yourself and your business brand of authority. 


Learn search engine optimization 2022 strategies and social media marketing strategies to excel in gaining organic and valuable traffic.


Get 30 Day Money Back Guarantee if you feel the course has nothing valuable for you, but with access to the course you will get rich content for lifetime free almost 91 downloadable resources and 3 articles for your reference.
Who is it for?
This course is basically a growth hacking training program where learners whether beginners, intermediate or advanced can enroll and learn strategies that are fresh and tested by the instructor. It is mostly catering and solving the problem of those businesses who are not generating enough audience base on social media platforms.
Rating: 4.7/5
Students Enrolled: 19,783
Duration: 16 hours
You can Sign up Here
This course aims at providing website traffic growth hack strategies to improve your no. of unique visitors, generate leads, subscribers and overall improve your online promotion campaign.It goes to very easy to understand language with a step-by-step approach for users to understand the content. In short you will get introduced to many ways to use growth hacking for your site.
The instructor of this course is Matt Jensen along with his venture iMarket XL, a business helping and providing guidance to people who want to start their online venture. Matt Jensen is a specialist and content creator at his company and has 7 courses on Udemy which has gathered him 108,282 students and a good instructor rating of 4.2 out of 5.
Key Highlights & USPs
Learn how  to conduct a Usability test or User Experience (UX) test, the entire process along with reading the results and implementing strategy.


How sales psychology will help you to increase your customers even if you charge them more for products.


Learn the skill of Copywriting to write effectively that gains the attention of viewers and sells.

  
Get tricks, techniques for making your marketing campaign viral.


You will know the skills of creating landing pages that do well with your audience and Call to Action (CTAs) buttons that increase your customers.


A growth hacking certification course that along with certificates also gives you reference articles and downloadable resources for free with lifetime access.
Who is it for?
This business growth hacking course offers you the solution to growth and conversion rate, as it deems to provide strategies and tactics that will 5x your conversion rate and growth. It is a beginners growth hacking course with content that even has something for experienced marketers to learn from.
Rating: 4.1/5
Students Enrolled: 10,841
Duration: 8 hours
You can Sign up Here
The meaning or the objective of growth will be different for different individuals and this growth hacking udemy course helps individuals by providing ways to speed up their growth objectives. The course is of a short duration and is divided into 3 sections having 31 lectures on the means of increasing and achieving growth.
The instructor, Sivakumar Kannan is a Marketing Consultant and Coach of Digital Marketing specialized on SEO and Content Marketing. Mr. Kannan is a data driven instructor and individual so his practices of growing revenue is not born out of thin air. He has experience in providing consultations to grow business revenues & profits and currently has 8 courses listed on Udemy with 17,101 students along with instructor rating of 4.2.
Key Highlights & USPs
Learn Fundamentals of growth hacking, marketing hacks, product development hacks and various other types of growth hacks.


Gain the skill to establish a customer base and content during the initial stage of your business when no one knows you.


You will also come across growth hacks for LinkedIn, Facebook, website, influencer marketing, Affiliate marketing and many more!


Learn product development principles and processes to create offerings that are applauded by the market.


This course also includes a certificate as proof of completion and five downloadable resources, and the whole course itself is accessible for lifetime usage. 
Who is it for?
This growth hacking course primarily offers 24 growth hacks that are for diverse platforms. In this course learners will learn how to get about making an audience for their business in the introduction stage and what all strategies they should incorporate and most importantly learn the growth hacks that would work the most for them.
Rating: 3.3/5
Students Enrolled: 1,195
Duration: 2 hours
You can Sign up Here
Skillshare is offering tons of growth hacking courses on their platform related to instagram, facebook, linkedin, twitch and digital marketing. The learners get a huge option of 'choice' as there are 10+ pages of growth related courses where they can learn strategies that they can implement to increase, succeed in their business. Some of their growth hacking techniques courses are 'Instagram growth hacks in 2021', 'Growing your Twitch Tv Brand', 'LinkedIn Influencer', Instagram Growth etc.
The benefit of Skillshare courses are that they are very little time consuming in other words the duration of each course is very little so you get the opportunity to take more than once course in a day and that gives you exposure to various authors available on the site with names including such as Jun Wu, Hank Dezzel, John Valentine, Benji Wilson, Talha Bhatti, Dandan Liu and many more.
Key Highlights & USPs
Learn instagram hacks for organic growth, creating content calendar, boosting engagement percent, and optimizing your instagram profile for business.


Tips and Tricks to efficiently start a facebook ads campaign that yields your higher returns.


Learn marketing automation, interest based targeting, video marketing, tracking, developing one page online marketing plan, A/B testing and more.


Skillshare has a mobile friendly app for Android and  on which courses are accessible that makes learning a bit more easy and on the go.


Every course offers its materials present on the platform for lifetime access and some also include Hands-on Class projects to help in understanding the techniques better.
Who is it for?
The platform consists of courses that are comparatively shorter than other platforms and is very suitable for individuals of beginner level caliber looking for getting started into brand building through social media platforms. In brief Skillshare includes all the growth hacking for social networks courses that help you to give you a social growth hacking strategy.
A short course on growth hacking fundamentals teaches you to apply organization-wide strategies implementing on all the teams and departments. It focuses on making you rethink your organization's structure to form a new one that gives better results. The course is divided into 9 components with content distributed across all essential foundations of growth hacking.
This business growth strategies course is made by Madecraft, a learning content producer company with its Chief Learning Officer Brad Batesole as the instructor of this course. Brad is a Growth Marketer by profession and has also authored several books. His marketing courses on Lynda.com and LinkedIn learning have 20+ million views.
Key Highlights & USPs
Learn concepts like Sales funnel, Customer Journey, Product Life Cycle, Monthly Recurring Revenue (MRR) and Customer Acquisition Cost (CAC).


Get to know how to maintain the growth process and collect data that help you in decision making and framing of strategies.


Learn the agile growth hacking process to discover opportunities in your product market and also know how to draft your lean canvas for marketing.


The course offers a LinkedIn Learning official certificate upon completion that learners can use in LinkedIn profile and in their CVs.
Who is it for?
A beginner friendly course for individuals with no prior knowledge of growth hacking management can take up this course as many strategies are mentioned in easier words for a beginner to understand and implement in their workings. This course solves the problem of those individuals who wanted to learn growth hacking separate from social media growth hacking.
Rating: 4.7/5
Students Enrolled: 67,590
Duration: 2 hours
You can Sign up Here
Studying consumer psychology and behavioral economics has its own perks as it gives the areas to focus on for a particular customer segment and thus framing of growth strategies become an easier job. This growth hacking program believes in understanding behavior of consumers that would help you to derive insights that would help you to increase your conversion rate.
MINDWORX Academy consisting of Rory Sutherland, Sam Tatam, and Matej Sucha will be teaching you the growth strategies and behavioral study of consumers along with 'One Special Surprise Guest' in this course. MINDWORX Academy has an instructor rate of 4/5 from 1 course with 394 reviews on Udemy.
Key Highlights & USPs
Learn the theoretical knowledge of Behavioral Economics and how to use it practically in business, in getting solutions and for marketing activities.


Get to know presentation tips for your offer to make it seem more appealing and convincing.


Learn the three psychological principles i.e. Loss Aversion, Fairness, Choice Overload to use them in your daily strategic management.


You will get case studies that will help you in giving insights about working of the principles and a business and these strategies can be used in B2B or B2C marketing.


Get free lifetime access to courses along with tons of downloadable resources and a certificate of completion once the course is successfully finished flexibly.
Who is it for?
An easy growth hacking course online for freelancers, marketers looking to increase their or their clients conversion rate of landing pages. Learners will learn to make excellent ad copy, sales copy for email, website etc. with the help of learning copywriting.
Rating: 4.7/5
Students Enrolled: 1,272
Duration: 1.5 hours
This udemy growth hacking course focuses on providing you with the latest online marketing technique to ensure that you get the best out of your online marketing efforts. It includes content that is very suitable for learners to know the importance of how to maintain a website for making higher sales figures, real advice on how to succeed with online marketing and getting a boost in your returns.
Rich Page, a 4.5 Udemy rated instructor is teaching this course. Mr. Page's expertise area includes Conversion Rate Optimization or CRP and has already written two book on relevant topics i.e. 'Website Optimization: An Hour a Day' and 'Landing Page Optimization' (Co-written with Tim Ash).
Key Highlights & USPs
Learn the process to validate your hypothesis about your site and implement the changes accordingly.


Build proof/authority for your website by using your customer testimonials, ratings, reviews etc.


Find out key changes that you need to make to your website i.e. areas where your websites are lacking and how to strengthen those areas.


Develop researching skills by taking surveys,polls, reading data and testing hypotheses.


Know the high converting sales secrets of famous companies like Amazon to implement the techniques that they follow.


Be entitled to get a certificate upon completing the course along with downloadable resources for your reference and understanding. It comes with a '30-DAY MONEY BACK GUARANTEE' so you can try out the course.
Who is it for?
This course is for online business owners, freelancers, web designers and specially for individuals looking to create landing pages that bring them more customers. It shows you the various growth hacking ways by which users can optimize their website to the fullest for generating better results, and also techniques,tricks & tips to boost your sales outcome as well as lead generation process.
Rating: 4.5/5
Students Enrolled: 1,359
Duration: 4 hours
---
FAQ
What is a growth hacker course?
First before getting to know what a growth hacker course is, let's see who are growth hackers and their roles and responsibilities. Growth Hackers are individuals who are experts in helping your business to grow its income while maintaining less expenses. They have all the strategies, tactics that are proven and working ways of building a consistent sustaining growth for business.
Role of Growth Hackers:
• To identify cost effective opportunities to increase income
• To develop and test growth programs 
• To frame growth strategies, techniques, tactics etc.
• To 'Hack' the growth of business i.e. increase growth of the business in less time.
Now coming back to the question, a Growth Hacker course will help you to learn all the above mentioned daily roles of a Growth Hacker. From growth hacking courses you will come across strategies, processes, concepts for developing and maintaining your business returns.
How much do growth hackers get paid?
Growth hacking is a skill that is in demand a lot these days considering how pandemic has affected businesses, all are looking to increase their returns as quickly as possible. The average annual salary of growth hackers in the US amounted to $86,695 with a Per Month average salary being $6,138.
How do I become a growth hacker?
Being a Growth Hacker is not easy since Growth Hackers know what is working in the market, the trend, the analytics and everything that goes into getting a good return from minimum expenses.
There is no relevant degree or education qualification to be a growth hacker but the one who wants to become a growth hacker should take care of the following things:
• Read – Very Important! You have to read everything possible about the art/process of growth hacking.
• You have to be up to date with all the information of your industry and relevant industries.
• Start with targeting a particular industry and master your growth hacking skills in that industry.
• Practice things practically i.e. develop your own strategies and test it in the industry whether its working or not.
• Get the habit of going through analytics to assist you in your daily working and decision making.
• Gain some marketing researching skills.
• Work under a Growth Marketer – Like an Intern to get the more realistic version of things carried in a growth hacking environment.
• Take online courses to learn – One of the best ways to learn Growth hacking, online courses will provide knowledge of all the diverse areas and untouched areas of growth hacking to be the best among the best.