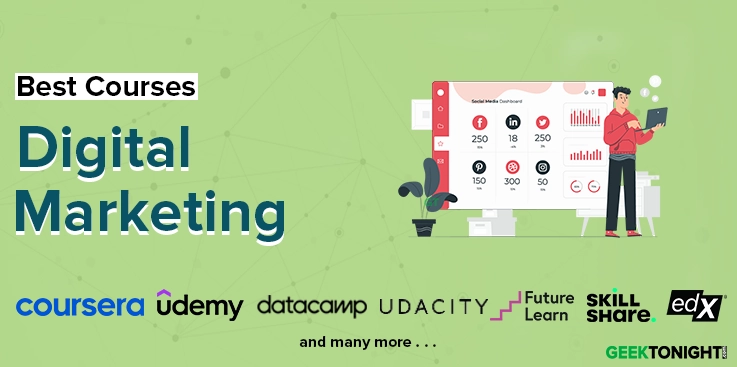 The internet has changed the way we do business. In the past, businesses would market their products or services through print ads, television, or radio. But now, businesses are using the internet to reach a wider audience.
This is where digital marketing comes in. Ever wondered why Digital Marketing is a booming industry? Well, there's no pondering that question. Increasing the use of the internet at all places is providing a lubricant scape for digital marketing practices to slide on.
Digital marketing is the process of using the internet to promote and sell products or services. It's a growing field that offers plenty of opportunities for those who are willing to learn new skills.
Almost all companies that once firmly believed in the traditional methods of marketing over time fell in front of this mega-giant industry and incorporated digital marketing at some point whether that is the use of creating a website or advertising or as basic as creating social media profiles.
If you're looking for a digital marketing course, then you've come to the right place. In this article, we'll provide an overview of the best digital marketing courses. We'll also give you some tips on what to look for in a digital marketing course. By the end of this article, you'll have all the information you need to choose the best digital marketing course for your needs.
Our product recommendations are unbiased and based on an independent review process. We may receive a commission for links to recommended partners. See our advertiser disclosure for more information.
---
Best Digital Marketing Courses, Certification, Tutorials, Training, Classes Online
The Udacity digital marketing course provides a variety of perspectives on the field that are important for professionals in the field and aids students in learning about important concepts in digital marketing, including value propositions, marketing objectives, key performance indicators (KPIs), specific personas, customer journeys, marketing channels, content strategy, and more.
The instructors list includes a panel of digital marketing industry experts in Anke Audenaert, Daniel Kob, Dawn Raquel Jensen, Benjamin Kepner, Erica Reid, Matt Bailey, Liana Gross Furini, John Triggs, and Jen Crompton.
Key Highlights & USPs
Map out your customer journey, content strategy, and channels while defining your company's value proposition and branding to reach your business objectives.


You will get knowledge about current technology and the importance of marketing data in this course. 


You'll learn more about the variations across popular social media platforms and the value of planning in this course. 


Additionally, you'll learn how to manage your social media presence, develop communities, use paid and organic strategies, produce campaigns, and create successful content for a variety of platforms.


Learn how link-building, keyword research, and UX design are used to improve websites for search results. Then carry out a search engine optimization audit and provide suggestions for a website's improvement.


You will discover how to plan, carry out, and improve an advertising campaign with Google Ads in this course.


You'll discover in this course how to plan an email marketing strategy, carry it out, and evaluate the outcomes.
Who is it for?
By the end of this beginner digital marketing program, learners will be able to evaluate user conversions to their goals, gauge the success of their acquisition efforts, analyse engagement efforts, and comprehend their audience with the help of well-known marketing analytics solutions like Google Analytics.
Rating: 5/5
Duration: 3 months, 10 hours/week
This digital marketing Coursera course is a Specialization that includes an exploration of the modern digital marketing environment including digital marketing analytics, search engine optimization, social media marketing, and 3D printing.
This Specialization is offered by the University of Illinois as part of the Masters of Business Administration degree program. Aric Rindfleisch, Kevin Hartman, Mike Yao, and Vishal Sachdev serve as the instructors for teaching the fundamentals of digital marketing.
Key Highlights & USPs
Discover the driving forces behind the data collection and analysis techniques employed by marketing professionals.


Recognize measurement systems and methods for consumer digital behavior.


Study the top web analytics tools and approaches and learn how to evaluate and choose them.


Learn about the specific measuring opportunities and difficulties that New Media presents.


In this specialization, learners get hands-on projects to solidify their understanding and develop a practical project.
Who is it for?
After completing the Digital Marketing Specialization, you will have a deeper understanding of the fundamentals of the new digital marketing environment and will have access to a new set of stories, concepts, and tools that will assist you in creating, distributing, promoting, and pricing goods and services digitally.
Rating: 4.6/5
Students Enrolled: 24,961
Duration: 8 months
This is the route you should take to become a digital marketer. This program will teach you in-demand skills that will help you get employment in less than six months. This google digital marketing course will get you ready for a new profession in the rapidly expanding sectors of online marketing and e-commerce in less than six months.
The course is taught by Google Career Certificates! It is an initiative taken by Google for making it easier for everyone to gain access to the best resources provided by Google in order to advance their professional development, careers, and businesses, including the students who will make up the current and future workforces.
Key Highlights & USPs
To acquire the abilities required to secure an entry-level job, learn the principles of digital marketing and e-commerce.


Recognize the elements and goals of an online marketing and e-commerce plan.


Utilize digital marketing platforms like search and email to draw in and keep customers.


Analytics-based marketing performance measurement and insight presentation.


Create online storefronts, track online activity, and increase client loyalty.
Who is it for?
By the end of this google digital marketing specialization course, you'll be able to define the terms "digital marketing" and "e-commerce," and explain the duties of entry-level coordinators in these sectors (and similar job titles), Determine the functions and roles that e-commerce and digital marketing provide inside an organization. And mostly importantly learn about the consumer journey, how journey maps work, and how a marketing funnel works.
Rating: 4.8/5
Duration: 6 months
One of the most thorough digital marketing courses accessible, with over 20 hours of training, tests, and actionable activities you can take. This course introduces you to digital platforms like Google Adwords, Google Analytics, YouTube marketing, Facebook marketing, and more!
Instructors for this course are Daragh Walsh and Rob Percival along with his company Codestars. On Udeny Daragh Rob has 1,269,223 students with an instructor rating of 4.5/5 and 2,267,519 Students with an instructor rating of 4.5/5 respectively.
Key Highlights & USPs
Learn step-by-step how to market a business online using all the major sources of advertisement.


Follow the directions to achieve results in digital marketing for your clients, your own business, or at work.


Learn to get paid through affiliate marketing and the basics of affiliate marketing.


The course is very interactive, incorporating projects, checklists, and practical lectures into each class.


Learn how to get employed as a digital marketing expert or churn out ways to work from Home as a Freelance Marketer.


Be entitled to receive a completion certification, along with 8 downloadable resources and 35 articles for future reference.
Who is it for?
The course is intended for pre-launch business owners who are unsure about where to begin, website owners who are having trouble driving traffic and closing sales, and anybody wishing to add highly in-demand skills to their resume.
Rating: 4.5/5
Students Enrolled: 721,855
Duration: 23 hours

Valid till: 30th September
To become a digital marketing specialist, make use of your tactical and analytical abilities to expand and create new chances for firms. This course walks you through the fundamentals of digital marketing, covering everything from marketing strategies and content selection to analytics, SEO and best practices followed in the industry.
One of the best things about this course is that it involves 8 specialists in the digital marketing industry whether it be a social media specialist or an SEO specialist the course has everything! Some of the names of the instructors include Brad Batesole, Corey Koberg, David Booth, Brian Honigman, Megan Adams among others.
Key Highlights & USPs
Learn to enhance your digital marketing skill set as well as important digital marketing concepts including digital marketing analytics, content marketing, and consumer interactions.


This course demonstrates how to use Google Analytics to monitor website usage patterns and track traffic, conversions, ad performance, and ROI.


Learn how to apply the fundamental SEO strategies and tactics, such as how to carry out keyword research, create internal and external links, and more.


Create a strategy for a long-term SEO campaign.


Get to know the basics of PPC Advertising with Google Ads, the industry-leading pay-per-click (PPC) platform (formerly known as AdWords)
Who is it for?
It is perfect for digital marketing beginners who are having very little to no experience as this short yet practical course of 11 sections takes learners from being beginners to being specialists.
Rating: 4.7/5
Duration: 18 hours
This digital marketing free course offers advertising on your website, on social media, and through email. You'll look into Inbound marketing – a company strategy that draws clients by developing useful content and experiences that are specific to their needs. By enrolling in this free digital marketing certification course, you will learn how to develop your skills as an effective digital marketer with an emphasis on inbound marketing.
The course is brought to by Hubspot Academy, learners can get unrestricted access to the entire HubSpot library of learning materials and cost-free software tools by just creating a HubSpot Academy account, which is completely free. The platform has five internationally recognized qualifications so that learners can showcase their abilities and stand out to potential employers.
Key Highlights & USPs
Make your website search engine friendly and also make a non-profit plan to attract and expand following on web.


Develop an advertising strategy to spread your company's message to a specific audience.


Understand what digital marketing is and its significance and learn various techniques and channels for digital marketing.


Put in place a digital marketing plan for your company.


Get to know how content development activities will continue to run smoothly if you have a clearly defined methodology in place.


How to create a structure for content creation within your business is covered in this course.


This course comes with a worksheet that enables you to assess the condition of your SEO authority and pinpoint specific areas for improvement to increase the likelihood that your website will rank higher.
Who is it for?
In this digital marketing free course with certificate marketing managers who want to improve their knowledge of digital marketing or seeking to diversify their skill set or even students seeking a digital marketing introduction can extremely benefit as firstly it doesn't cost anything and provides ample value.
Rating: 4.7/5
Students Enrolled: 24,682
Duration: 3 months, 12 hours/week
FAQ
What is the qualification for digital marketing?
For those with the necessary abilities and credentials, digital marketing is a significant and expanding profession that presents a wide range of options. However, what are the requirements for digital marketing?
In general, anyone with a solid understanding of technology and marketing principles can pursue a career in digital marketing. You will have a better chance of success in this sector if you possess a few particular talents and credentials. Both formal schooling and on-the-job training are options for acquiring these abilities.
The following are some of the most crucial qualities for digital marketing: Strong marketing abilities, a solid understanding of technology, and the capacity to deal with data and analytics are all required.
Some extra things that can easily make digital marketing right career for you:
Innovation and creativity
The capacity for clear communication 
The capacity for teamwork 
The capacity for project management
Is digital marketing a good career?
Many people choose to work in digital marketing as a career, but is it a good one? Depending on what you're searching for in a career, the answer could change. Digital marketing can be a good fit for you if you're looking for a fast-paced, constantly-evolving job. Digital marketing might not be the best choice if you want a steady profession with a clear path.
A career in digital marketing can present numerous prospects for professional development and success. Digital marketing might be a terrific job for you if you're prepared to put in the effort.