Are you thinking of a career in Finance? If you are a financial professional looking for courses to study machine learning, you have come to the right place. Artificial Intelligence and Machine Learning are the hottest topics in today's tech market. Global organizations face difficulties in handling fraud regarding banking transactions and credit issues. Machine learning in Finance rapidly develops techniques to automate trading and making financial decisions after analyzing large datasets.
According to forecasts, AI will save $1 trillion by 2030, and companies will make the biggest investments in the financial industry. So, I have listed the 8 Best Machine Learning Courses for Finance. If you are unfamiliar with Machine Learning, check the Best Machine Learning Course.
Why is Machine Learning Finance Important?
Machine Learning has become an important part of almost all types of industry. Machine learning and Finance have already proven as a great combination. Undoubtedly, AI and ML technologies will change how customers interact with banks and other financial institutions. According to a recent survey by Deloitte Insights, 70% of financial services firms are utilizing machine learning to forecast cash flow events, fine-tune credit scores, and detect fraud. According to the Economist Intelligence Unit's latest adoption study, 54% of Financial Services organizations have adopted AI.
Therefore, a thorough understanding of machine learning for Finance is a must-have skill. Our article will outline the Top Machine Learning Courses Online & Certifications to help you improve your earning and build a career.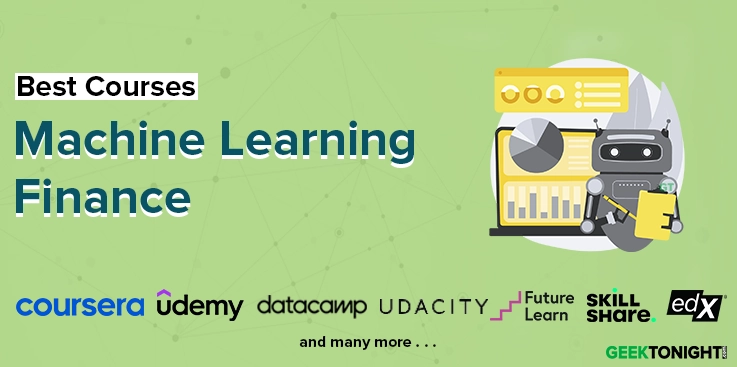 Our product recommendations are unbiased and based on an independent review process. We may receive a commission for links to recommended partners. See our advertiser disclosure for more information.
---
Best Machine Learning for Finance Courses, Certification, Tutorials, Training, Classes Online
This Coursera Machine Learning in Finance Course offers an opportunity to solve practical ML. It will teach you topics of supervised and unsupervised Learning, reinforcement learning, and how to use open-source Python packages. You will learn to implement ML algorithms in Finance. This machine learning specialization will know how to successfully implement a solution and assess the performance of machine learning models.
What you'll learn
This Machine Learning for Finance Online Course is part of the Machine Learning and Reinforcement Learning in Finance Specialization. It comprises four modules:
Fundamentals of Supervised Learning in Finance: This module will teach the fundamentals of machine learning for Finance, such as support vector machines and tree methods, and get four reading materials.


Learn Core Concepts: In this 2nd module, you will understand concepts of Unsupervised Learning, such as PCA for stock returns and dimension reduction with PCA and tSNE.


Data Visualization & Clustering: This module covers clustering algorithms, k-clustering, hierarchical clustering algorithms, probabilistic clustering, and clustering of the equity correlation matrix.


Sequence Modeling and Reinforcement Learning: With this module, you can learn concepts of sequence modeling, including latent variables, state-space models, hidden Markov models, and reinforcement learning models, such as the bellman equation and inverse RL.
Course Instructor
Igor Halperin has designed the fundamentals of a machine learning finance program. It is categorized into three categories to cater to students of different levels. Ultimately, learners can understand particular ML approaches used in financial decisions.
Pros & Cons
Pros
Basic Machine Learning Topics 
Well-structured and excellent content. 
Learn from various case studies.
Audit the Course for Free
Cons
Need Experience with Python
Key Highlights & Learning Objectives
Learn the key aspects of supervised Learning in Finance.


Understand the core concepts of unsupervised Learning, PCA, and Dimensionality Reduction.


Discover how to use data visualization and clustering on datasets.


Gain knowledge of sequence modeling and reinforcement learning.


Get a real-world project to implement whatever you've learned in the course.


Unlimited free access to 33 video lectures, 13 readings, and 4 quizzes.
Who is it for?
This machine learning specialization coursera program is perfect for current students from backgrounds like statistics, Finance, mathematics, Data engineering, analysis, and programming. You must have experience with Python, probability theory, linear algebra, and basic calculus. Upon completion, you will get to explore more career opportunities and be able to apply practical concepts of machine learning for personal day trading and other financial projects.
Rating: 4/5
Students Enrolled: 18,398
Duration: 18 hours
The AI revolution has taken even banks and financial institutions by storm. This Artificial Intelligence for Trading Tutorial is designed to teach the basics of quantitative analysis for trading data processing, the creation of trading signals, and portfolio management. You will develop a foundational knowledge of Python and use it to create multi-factor models with optimization, design trading techniques, and interact with historical stock data.
What You'll Learn
This Udacity AI Program for trading comprises 8 courses as follows:
Basic Quantitative Trading: The first Course will introduce you to quantitative trading and learn market mechanics and how to generate trading signals with historic data.


Advanced Quantitative Trading: In this course, you will understand how to use advanced quantitative trading techniques and learn the quant workflow for signal generation.


Stocks, Indices, and ETFs: During this Course, you will learn about portfolio optimization and financial securities such as market indices, vanilla ETFs, and smart beta ETFs.


Factors Investing and Alpha Research:  In this Course, you will learn about risk variables and alpha, then build a portfolio using cutting-edge optimization methods.


Sentimental Analysis with NLP: This Course covers the principles of text processing and uses it to develop trading signals based on the company of company fillings.


Advanced NLP with Deep Learning: In this Course, you'll learn how to employ recurrent neural networks and long short-term memory to create trading signals while applying deep Learning to quantitative analysis.


Combining Multiple Signals: You will use sophisticated approaches in this course to pick and combine the elements you've developed from conventional and alternative data.


Trading Simulation Using Historical Data: You can improve trade signals by performing thorough backtests. This course will also teach how to use algorithm buys and sells while keeping an eye on your P&L.
Pros & Cons
Pros
Get real-world projects and immersive content
Technical mentor support
Flexible learning program
Unlimited portfolio review and support in LinkedIn profile optimization
Cons
Not Manageable Workload with Learning
Key Highlights & Learning Objectives
Learn Python and mathematical principles and topics including factor investing, quantitative trading, sentiment analysis using NLP, signal processing, backtesting, and simulation of trades.


Gain a deep knowledge of AI and quantitative trading.


Build an understanding of portfolio optimization, sentiment analysis using natural language processing, and exploiting trading signals with ML algorithms.


Have lifetime access to projects and downloadable materials, designed by industry experts.


Able to master AI algorithms for trading and cover topics from asset management to trading signal generation.


Allow personalized feedback, unlimited submissions of questions, and practical tips and reviews from industry experts.
Who is it for?
This Udacity AI Nanodegree Program is best suited for finance professionals who want to grow professionally or improve their personal trading experience. Before taking this course, you must be sure that you can spend 10 hours per week for 6 six months. Also, it has numerous prerequisites, including knowledge of Python statistics, calculus, and linear algebra. Upon completion, you will be able to develop AI skill sets and perform better than other competitors.
Rating: 4.8/5
Students Enrolled: 24,682
Duration: 6 months, 10 hours/week

Valid till: 30th September
This Free Machine Learning for Finance Course introduces you to machine learning-based trading strategies. You will learn about the real-world challenges of implementing machine learning in trading and how to write algorithms for gathering information. The main goal of this Machine Learning for Trading Udacity Tutorial is to help you apply the probabilistic machine learning approaches to make trading decisions. Instructors will teach how to use the statistical approach, including linear regression, KNN, and regression trees for Finance.
Course Instructor
Tucker Balch and Arpan Chakraborty are the instructors of this Georgia Tech Machine Learning Finance Course. You can complete real-world projects and cover asset management and trading signal generation topics. By the end, you become an expert in using machine learning algorithms for trading.
Pros & Cons
Pros
Engaging content and interactive quizzes

Cover topics from asset management to trading signal generation. 

Designed and Taught by Industry Professionals
Self-paced Learning
Cons
Prerequisite of strong coding skills and equity markets.

Useful for Trading Strategies Only
Key Highlights & Learning Objectives
The free Machine Learning for Trading Course consists of 3 lessons, namely;

Manipulating Financial Data in Python
Computational Investing
Machine Learning Algorithms for Trading



Understand machine learning and deep learning techniques and use them for computational investing.


Build deep knowledge about statistical methods such as KNN and regression and how you implement them for stock trading and situations. 


Discover how Machine Learning algorithms work for trading. 


Get free access to videos, quizzes, study materials, and downloadable resources to handle the challenges of applying machine learning for trading. 


Chance to enhance skills by doing real-world projects designed by industry experts.
Who is it for?
This Machine Learning for Trading Course ensures the best learning experience, which requires no finance or machine learning experience. However, as it is an intermediate tutorial, you should have strong programming skills and basic knowledge of equity markets. By the end of this free machine learning finance online course, you will master AI algorithms for trading and prepare a strong portfolio for your career.
Rating: 4.7/5
Students Enrolled: 24,682
Duration: 4 months

Are you looking for a course to study Finance and investment with Python? Take this Coursera machine learning specialization. It delivers a broad introduction to investment management using data science and machine learning. It will teach machine learning techniques to improve investment decisions. This machine learning in asset management course emphasizes learning the foundational theory and underlying concepts to manage the practical applications of data science and machine learning.
What You'll Learn
Coursera Machine Learning Specialization contains four courses:
Basic Portfolio Construction and Analysis with Python: This Course will cover the fundamentals of investment science and implement the Python programming language. It will teach practical techniques in modern investment management and portfolio construction. Get a deep understanding of computational methods and how to apply them in investment management.


Advanced Portfolio Construction and Analysis with Python: In this Machine learning course with Python, you will discover portfolio techniques in investment management and risk & return parameters for portfolio construction. By this course's end, you will get a powerful toolkit to do your research and create your implementations.


Python and Machine Learning for Asset Management: This Course is divided into three parts, first, introduce a significant investment problem and solve it using statistical techniques; second, use machine learning concepts for analysis; and third, level up your financial expertise with videos, readings, and quizzes.


Python and Machine Learning for Asset Management with Alternative DataSets: The principles of alternative data will be covered in this course, along with the most recent findings in the area and real-world applications for alternative data. You must have prior statistics, financial theory, and Python programming knowledge.
Course Instructor
Study this Investment Management with Python and Machine Learning Course under the guidance of finance experts, data scientists, and machine learning engineers. Vijay Vaidyanathan, CEO of Optimal Asset Management, Lionel Martellini, director of the EDHEC institute, and others will teach you. They will help you master machine-learning approaches to investment management.
Pros & Cons
Pros
Free Audit of Course
Self-paced learning option
Interactive quizzes and programming assignments
Real-world projects to complete
Key Highlights & Learning Objectives
Learn to use Python libraries to build and analyze efficient investment strategies.


Understand the principles of supervised and unsupervised Learning for manipulating financial datasets. 


Make yourself skilled in using Python for estimating risk and return parameters.


Gain an understanding of advanced data analytics and quantitative modeling.


Learn the various machine-learning techniques in investment management.


Build foundational knowledge of implementing Python and machine learning concepts for asset management and portfolio construction.


Sharpen skills through hands-on projects and improve investment decisions using data science and machine learning techniques.


Get a certificate of completion that can be shared on your Linkedin profile and added to your resume to attract job opportunities.
Who is it for?
This Machine Learning for Investing Specialization is designed for those interested in big data academic research and cutting-edge technological breakthroughs who want to advance their analytics abilities or pursue careers as data scientists in the financial markets. However, you should know Python programming, investment theory, and statistics. Ultimately, you can write your custom Python for investment analysis and build existing Python libraries to optimize portfolios and implement sophisticated risk measurement and management techniques.
Rating: 4.5/5
Duration: 5 months, 4 hours/week
This Finance Machine Learning Course will teach you to predict stock data values using machine learning models. You will start by calculating technical indicators from the past stock data and create features from the calculated stock data. Datacamp offers a learning environment to understand linear models, xgboost models, neural network models, and other machine learning concepts.
Course Instructor
Nathon George is an assistant professor of Data Science at Regis and this Machine Learning Finance Datacamp Program instructor. He has gained expertise in financial data to predict future stock prices.
Pros & Cons
Pros
One free lesson to try the course
Rich learning videos 
Interactive exercises and assignments
Learn to use real-world datasets and robust ML techniques
Cons
Short course and no in-depth learning
 Experience in the implementation of supervised Learning with sci-kit-learn
Key Highlights & Learning Objectives
The course is composed of 4 chapters, each with its specific topic, and the chapters are:

Preparing data and a linear model
Machine learning tree methods
Neural networks and KNN
Machine learning with modern portfolio theory



Learn how machine learning to use for the finance market and prepare machine learning algorithms to explore datasets.


Learn how to use tree-based machine learning models to predict stock value.


Discover machine learning methods for regression and feature selection.


Understand the process of normalizing data using KNN and neural network methods and use modern portfolio theory to find optimal stock portfolios.


Free lifetime access to 15 video lectures, decision trees, random forests, and neural networks
Who is it for?
This intermediate machine-learning course is for professionals familiar with supervised Learning with the Scikit-learn library. You can start this machine learning for Finance in Python for free. By the end, you can make accurate stock trading strategies, evaluate the performance of the ML-predicted portfolios, and optimize your spending power and risk tolerance.
Rating: 4.7/5
Students Enrolled: 23,495
Duration: 4 hours

Offer till 28 Sept
This Complete Machine Learning for Finance Course is everything you need to know. It will teach the fundamentals of machine learning and Python language for analyzing financial data. It offers a must-learn opportunity to develop and use Python programming knowledge for real-world financial applications. This Machine Learning for Finance in Python Program is divided into three parts covering the basic Python concepts, financial analysis using Python, and developing AI or Machine learning applications for the Banking industry.
Course Instructor
This Python for Finance Udemy Course is designed and taught by two experts in NLP and machine learning. Dr. Ryan Ahmed is a best-selling Udemy instructor and expert in Finance and focuses mainly on Artificial Intelligence. The Ligency Team enables students to be experts in cutting-edge technology like Data Science and Artificial Intelligence.
Pros & Cons
Pros
Beginner-friendly and well-structured curriculum
Lifetime access to exercises and downloadable resources.
Experienced Instructors
30-day money-back guarantee
Cons
Not free to audit
Lack of interaction
Key Highlights & Learning Objectives
The Udemy Python and Machine Learning Course includes 131 lectures in 20 sections. It takes about 30 minutes to 3 hours to complete each section.



Learn Python 3 fundamentals and libraries such as NumPy, Pandas, Matplotlib, and Seaborn, used for data science and machine learning.


Discover the theory of the Capital Asset Pricing Model ( CAPM)


Understand how to apply machine learning and deep learning models to solve real-world problems.


Learn to use Jupyter Notebooks to develop and share data science projects.


Build and train machine learning models using the Scikit-learn library.


Get unlimited access to 18 articles, 15 downloadable resources, and 23 hours of on-demand video.


Earn a certificate after completing the course and hands-on projects and showcase it to get better job prospects.
Who is it for?
The Python and Machine Learning for Financial Analysis is the ideal course for financial analysts who want to harness the power of data science and AI, Python programmers or data scientists to gain a fundamental understanding, or investment bankers to build a data science portfolio. You can advance your career by gaining real-world practical experience and maximizing job opportunities upon completion.
Rating: 4.5/5
Students Enrolled: 97,034
Duration: 23 hours

Valid till: 30th September
Machine Learning and Finance by New York University

[edX]
edX brings you a Machine Learning Finance Program to create and train machine learning models to derive insights from datasets. You will learn how to solve problems systematically using data analysis and how data-driven decisions can increase the value of the business. It will enhance the power of decision-making using critical machine-learning solutions.
Course Instructor
Ken Perry is a New York University Tandon School of Engineering instructor and professor. He's committed himself to teach classical machine learning for financial engineering. Ken has been working on how Artificial Intelligence can play a role in Finance. This Professional Certificate in Machine Learning and Finance will help students develop machine learning skills.
Pros & Cons
Pros
Detailed and rich learning syllabus
Designed by top-notch experts from a popular university.
Learn ML methods and their practical applications in Finance.
Flexible Learning with manageable workloads
Cons
Expensive 
Not free to audit
Key Highlights & Learning Objectives
The edX machine learning finance program comprises two courses as follows:

Machine Learning for Financial Engineering
Deep Learning and Neural Networks for Financial Engineering



Build a basic understanding of common applications of machine learning and use them to finance for optimizing portfolios, and make financial-related predictions.


Learn classical machine learning techniques such as regression and classification.


Discover neural networks and deep learning techniques in Finance.


Understand how supervised Learning, including regression and clustering and unsupervised learning concepts, and the practical applications of both. 


Construct deep learning models to make better decisions and solve real challenges. 


Gain a digital certificate to showcase the skills you've earned after completing the course.
Who is it for?
This NYU Machine Learning Finance Professional Certification is a perfect choice. Whether you are a financial analyst or programmer, this course will help to acquire the skills to give you a competitive edge in the job market. By completing this Machine Learning in Finance Specialization, financial analysts, data scientists, or other professionals can upgrade their position in their current company and utilize the professional certificate at Fintech startups or companies.
Rating: 4.7/5
Duration: 4 months, 4-6 hours/week
This CFI's machine learning course introduces you to the fundamental Python functions used in the finance industry. It will teach you to utilize your excel knowledge to learn Python easily and quickly. If you are new to excel, take the CFI's free excel crash course. This machine learning online program is divided into two courses, first is the Python fundamental course that teaches you the basics to advance Python. The second course will teach you how to use machine learning algorithms to solve real-world problems.
Course Instructor
CFI designed this Python fundamentals course in partnership with Machine learning edge. It is for building Python Knowledge of finance professionals. The common goal is to power machine learning skills to solve financial challenges. By the end, you will be able to recognize the opportunities.
Pros & Cons
Pros
Excellent quality of learning resources
Get lifetime access to downloadable materials and assignments
Interactive quizzes to test your skills
Formally recognized in the United States or Canada
Cons
Not appropriate for finance professionals interested in switching careers to the AI industry or seeking AI-based roles in financial institutions
Key Highlights & Learning Objectives
This Python Machine Learning Bundle consists of two courses as follows:

Machine Learning for Finance with Python Fundamentals
Applied Machine Learning Algorithms



Give a brief introduction to Python programming, enabling you to write and execute python code to manipulate data.


Learn to import and use Python packages like Numpy and Pandas for data analysis.


Determine the best type of machine learning algorithm for any problem and design original applications using classification algorithms.


Get all the video lessons, quizzes, and assessments to enhance your knowledge.


Earn over 8.5 credits after completing all the courses in the bundle.
Who is it for?
This Machine Learning Course for Beginners is perfect for investment bankers, capital marketers, asset managers, etc. It helps you to learn the skill sets required for career growth in the growing financial industry. By the end, you will have job-ready skills and use them to attract new employers.
Rating: 4.4/5
Students Enrolled: 22,312
Duration: 6 hours
FAQ
How is machine learning used in Finance?
Learning is used in Finance to detect fraud and prevent other fraudulent transactions. Traders use machine learning algorithms to analyze datasets to make fast trading decisions. Today, investors use online applications made using machine learning which provides automated financial advice.
What is the future of machine learning in Finance?
Today, whatever applications are used for financial purposes include credit, trading, and loan underwriting. Machines are performing trades worth billions of dollars every day. They can analyze complex financial data, unlike humans. Machine learning algorithms automate the software or applications to handle credit card verification, detect fraud activities, and raise red flags for possible security threats.
Final Words
By taking a machine learning course in Finance, you'll be able to make an upgrade in your career. This article discusses and reviews the best machine learning courses available to kickstart your career as a machine learning engineer. It is a difficult subject to take but worth giving a try. If you are unfamiliar with basic machine learning, I suggest you check out the best courses. I hope it was insightful.