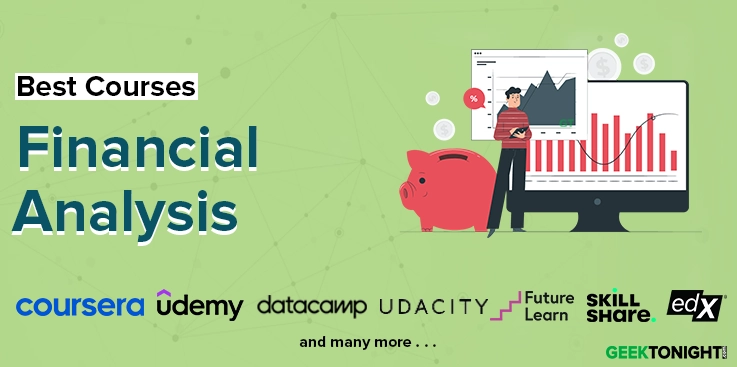 For entrepreneurs, financial analysis is a crucial talent. After all, the secret to making wise business decisions is to understand your finances.
Although there are many ways to learn financial analysis, enrolling in a course is frequently the most effective approach to acquire the abilities and knowledge you require. It might be challenging to choose the right course, though, with so many options accessible.
There are a lot of different courses out there that can help you gain the skills you need. But not every one of these programmes is created equal. In this article, we will be taking a look at some of the best financial analysis courses that are currently available.
Our product recommendations are unbiased and based on an independent review process. We may receive a commission for links to recommended partners. See our advertiser disclosure for more information.
---
Best Financial Analysis Courses, Certification, Tutorials, Training, Classes Online
This online financial analysis course is one of the highly acclaimed ones, as Business Insider called this course as the perfect fit for new finance learners. The most complete, dynamic, and useful educational course in the field of finance is this Complete Financial Analyst Course. It covers a number of essential topics and for every prospective financial analyst.
The course is brought to you by 365 Careers – A company developing high class, highly affordable courses in the field of business, data science, office productivity, and finance. The company has 1,915,435 students from only 80 courses on Udemy earning them an instructor rating of 4.6 out of 5.
Key Highlights & USPs
Learn to evaluate a company's performance, compute the liquidity, solvency, profitability, and growth ratios.


Carry out a market study to study about the industry and the trends that are going on. Using the Net Present Value method, determine whether a project is feasible, and recognize the differences between fixed and variable interest rates.


Work without difficulty with a lot of data and understand the significance of time for revenue and cost recognition.


Recognize the significance of time for revenue and cost recognition and the fundamentals of accounting and bookkeeping.


Get a shareable completion certificate and 495 downloadable resources, 17 articles and sources to refer to post course completion.
Who is it for?
This financial analysis for beginners course is made for individuals interested in learning how to use financial analysis in practice. The course gives you a complete knowledge of financial analysis to help you in pursuing a career in finance.
Rating: 4.6/5
Students Enrolled: 342,364
Duration: 21 hours

Valid till: 30th September
From this Udemy's financial analysis training you will learn a lot about finance in this training programme WITHOUT ANY THEORY! The course claims to teach learners with no theory and only interactive case studies that are educational as well as entertaining. The course has very detailed and comprehensive 225 lectures divided in 54 sections.
Chris Haroun is the instructor for this course. Chris is a distinguished professor at an MBA programme and has founded his own hedge fund and venture capital firms. He bases his instruction on his personal, hands-on expertise. The instructor has 1,226,419 students from 70 of his courses on the platform with instructor rating of 4.6 out of 5.
Key Highlights & USPs
How to generate ideas for hedge fund investments (longs and shorts) utilizing a simple top-down and bottom-up research methodology.


Learn functions of fiscal policy and how to introduce portfolio managers to both long and short ideas.


Understanding how interest rates fluctuate, monetary policy's workings and why this is important for successful financial analysts.


Know what a mutual fund is, what it does, and the advantages and disadvantages of becoming a mutual fund financial analyst.


Identifying and comprehending the cash flow statement, and income statement.


After successfully completing the course, get a completion certificate along with lifetime access to its materials and access to the course on TV and mobile phone.
Who is it for?
A good beginners friendly financial accounting and analysis teaching individuals all the aspects of financial management even going as far as teaching hedge and mutual funds. The course also helps individuals in building their confidence and communication skills for pitching ideas and products to stakeholder or business partners.
Rating: 4.6/5
Students Enrolled: 237,840
Duration: 23 hours
The level of training you will receive in this udemy financial analyst course will be on par with what you would learn from a pricey college degree program. The course goes through all the necessary core and crucial areas since they believe it's important to start at the very beginning and create a strong foundation.
Tim has more than 12 years of expertise in the capital markets, working on more than $3 billion in mergers, acquisitions, divestitures, and capital raising operations.His professional background encompasses business finance, corporate strategy, corporate development, investment banking, and investment management.
Key Highlights & USPs
Learn all the shortcuts, functions, and formulae you require to be a power user of Excel.


Improve your Excel knowledge and learn basic as well as advanced financial analysis.


Get to know some of the crucial settings for your Excel sheet and Layout.


Understand the use of Macros and and implement the use of Chart & Graphs in your data sheet.


The course that along with certificates also gives you reference articles and downloadable resources for free with lifetime access.
Who is it for?
The target audience for this course is professionals who use Excel for financial modeling and analysis. From novice to expert users, the course easily covers all skill levels. When creating financial models in Excel, students will be able to employ industry best practices after completing the course.
Rating: 4.6/5
Students Enrolled: 33,159
Duration: 3.5 hours
Participants will gain knowledge of the fundamentals of accounting principles, financial analysis, and the measurement of value creation at the firm level throughout the course. This course is part of a Specialization on the Essentials of Corporate Financial Analysis and Decision-Making (BNY Mellon).
This financial planning and analysis course is taught by two professors from the University of Melbourne who are Professor of Finance, Paul Kofmaa – He was one of the founding directors of the Financial Integrity Research Network. and Associate Professor Sean Pinder – He is a well-known researcher whose publications in prestigious Australian and worldwide journals have featured his award-winning work.
Key Highlights & USPs
Learn in detail The Profit and Loss statement both sides – revenues and expenses


Gain the skills of Ratio Analysis, Financial Analysis, Financial Ratios and Balance Sheet.


Learn how ratio analysis is used by financial analysts to evaluate a company's relative profitability, leverage, efficiency, and liquidity.


Self-paced course with many practice quizzes, Video lectures and reading material, and earn a shareable certificate once completed.
Who is it for?
It aims and successfully covers the fundamentals, and the advanced topics in Finance with examples. It helps individuals trying to kick start their careers in corporate finance.
Rating: 4.7/5
Students Enrolled: 54,599
Duration: 11 hours
Python is becoming more and more important in the finance sector because of its readability and simplicity. The course uses statistical and python coding techniques to the analysis of financial data, such as stock data. If you like this course then check out our top notch list of statistics courses that covers the high grounds of statistics.
This python for financial analysis is offered by the Hong Kong University of Science and Technology with its Associate Professor of Statistics, Xuhu Wan. He holds a Ph.D. in financial mathematics and his primary areas of interest for research include information design and dynamic contract theory.
Key Highlights & USPs
Apply key statistical principles including confidence intervals, linear regression, population and sample distributions, and random variables.



Data on finances can be imported, processed, saved, and visualized using pandas.dataframe


Learn to create new variables utilizing numerous columns to alter the current financial data.


Use several investment indicators to assess the effectiveness of the trading model. Also learn python programming with no prior experience needed.


After successful completion of the course be entitled to receive a shareable certificate, lifetime access to the course and its materials.
Who is it for?
The course is perfectly suited for intermediate level individuals who have bit of knowledge in the statistical field and are looking to up scale their skills of statistical analysis.
Rating: 4.4/5
Students Enrolled: 135,172
Duration: 13 hours
Two of the most popular techniques for determining a startup's value are taught in this financial statement analysis course. Learn how to evaluate financial statements, create pro-forma statements, assess a startup's financial health and position, forecast future earnings, and establish the worth of the founders' ownership before and after further funding. It has 4 courses plus 1 capstone project in the end to give you a gist of real problem solving in the financial sector.
The course is designed by Yonsei University with their Professor and Assistant Professor of Finance Hyun Han Shin and Saeyeul Park respectively. Both professors are well recognized by many academic associations for their teaching ways and methods.
Key Highlights & USPs
Learn to decide whether and where to invest your money using a variety of investing criteria.


Find out how to calculate the present value of future cash flows using Excel.


Study the meanings and applications of PER, PBR, and PSR. You will be able to calculate the present value of various kinds of currency after.



Receive Coursera certified shareable certificate, lifetime access to the course and its materials along with quizzes & exercises to enhance your learnings.
Who is it for?
This financial analysis course with certification is made for beginners with no whatsoever knowledge of finance. It acts as a source through which beginner entrepreneurs or analysts can learn about financial analysis for startups and achieve the skills of valuation analysis and estimation.
Rating: 4.3/5
Students Enrolled: 8,724
Duration: 6 months
This course focuses on managing, analyzing, and communicating financial data insights, data analysis skills enabling you to address business challenges driven by finance. The course is also eligible for 15 UK academic credits which makes this course a good alternative for online internship for filling up credits for a college program course.
Alysha Randall is the author for this financial statement analysis course. Her experiences are in Portfolio Management, acting as CFO for various tech businesses.
Key Highlights & USPs
Learn the skills necessary to convert financial data insights into actionable steps by receiving professional training in financial analysis.


You'll learn crucial decision-making strategies and procedures. Learn how to manage your workload and boost productivity using Xero, the top-ranked business accounting platform in the world.


You'll learn how to create and estimate a budget as well as analyze financial performance.


Analyze performance and improvements using financial frameworks, and you'll learn how to apply them to new market prospects, business structuring, and cost management.


Upon successful completion of the course and completion of assessment be eligible for a Future Learn certificate for CV.
Who is it for?
It offers a great deal to individuals who have completed or are in their post graduate program and want to completely learn how finances impact business decisions and stages while learning from an interactive community of educators and peers.
Rating: 4.7/5
Duration: 2 week
FAQs
What is basic financial analysis?
The process of assessing a company's financial health is called financial analysis. Examining the company's financial statements, gauging its financial performance, and forecasting its financial future are all included in this. Investors and creditors can decide whether or not to invest in or lend to a firm based on their understanding of the financial status of that company.
Financial analysis can be done in many various ways, but some of the most popular ones are ratio analysis, trend analysis, and cash flow analysis. To obtain a thorough understanding of a company's financial situation, financial analysts frequently combine these techniques.
How do you do a financial analysis?
Even though it might be challenging, financial analysis is a useful tool for both investors and business owners.
A financial analysis can be done in a variety of ways, but some of the most popular ones involve studying the company's financial accounts, looking at cash flow, and assessing management effectiveness.
A study of the company's competitive position and capacity for future growth and profitability may also be part of the investigation.