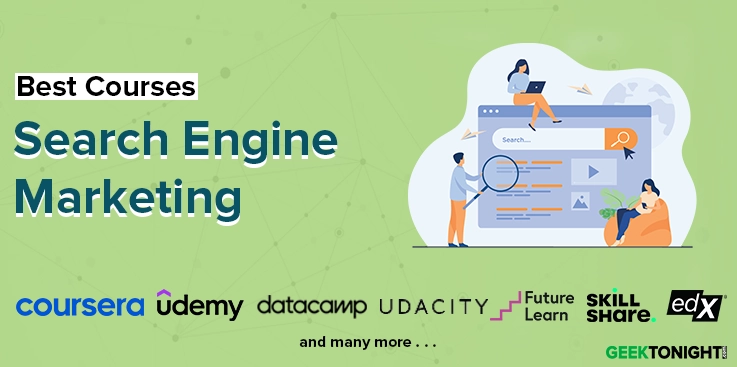 Internet has become the go-to place for all our needs, and these sheer number of users can be seen as potential clients. This is where Digital Marketing comes in. It comprises of several aspects of marketing like Social Media Marketing, Search Engine Marketing, and so on.
In this article we will be looking at Best SEM Courses & Certifications, where you can learn the fundamentals of SEM as well as Google ads and master the important concepts of digital marketing as a whole.
Our product recommendations are unbiased and based on an independent review process. We may receive a commission for links to recommended partners. See our advertiser disclosure for more information.
---
Best SEM Courses, Certification, Tutorials, Training, Classes Online
Digital Marketing Masterclass offered by Udemy is one of the top-rated SEM courses online right now. In this course, you will understand the basics of growth marketing and traction channels, how to drill down on customer pain points and build user personas, and learn how to use Twitter and Facebook to conduct research and sales outreach. Align marketing channels with their personal preferences or skills, and build a comprehensive content marketing plan which will help you in effectively managing your digital marketing campaign. By the end of this course, you will be able to take any product, service, or business and sell it to thousands of customers.
It is created by Evan Kimbrell, who is the Founder and Director of Sprintkick. He overseen the development and launch of over 100 web and mobile apps. With an excellent Instructor Rating of over 4.5 stars and over 600,000 satisfied students, Evan is an experienced and passionate instructor.
Key Highlights & USPs
Understand the basics of Social media marketing through Twitter, Instagram, & SnapChat
Learn how to pitch for press and get covered in blogs, news outlets, & other media sites
Create, manage and promote blog posts through WordPress, Medium, & guest blogs
Understand how to build a long term SEO strategy
Learn to analyze & understand search engine marketing and social ad marketing metrics
Who is it for?
It is ideal for anybody who is interested in learning how to acquire customers, or who works in in Marketing, Sales, or Management. It is is also helpful for people who want to sell a particular product or service.

Valid till: 30th September
Free Online Digital Marketing Courses and Exams [SEMRUSH Academy]
Online Digital Marketing Courses offered by SEMRUSH Academy is a great resource for SEM marketing. Learn how to get higher rankings and more traffic in a step-by-step course series with world-renowned digital marketing expert Brian Dean. Study by watching short, digestible videos on digital marketing, explore additional useful materials to hone your marketing skills and take quizzes to see how you've grasped the material.
Key Highlights & USPs
Get a solid understanding of digital marketing basics
Learn how to find SEO clients, manage campaigns, and create meaningful reports
Understand analytics reports and project tools and how to use them
Learn how to implement great content in your SEO strategy
Learn how to improve and maintain your website's health, and optimize your website's content for both users and search engines
Who is it for?
It is helpful for anybody who is looking to understand the fundamentals of SEM, digital marketing and SEO. It is also excellent for experienced professionals who want to refresh their SEM concepts.
Search Engine Marketing Course [Google Digital Garage]
Search Engine Marketing Course offered by Google Digital Garage is an excellent marketing course for learning SEM. It will cover in-depth concepts about SEM and explain how it works, how to identify effective keywords, how to write ads people will click on, and much more. Master the basics of digital marketing with their Interactive Advertising Bureau-accredited course. There are 26 modules to explore, all created by Google trainers, packed full of practical exercises and real-world examples to help you turn knowledge into action.
Key Highlights & USPs
Learn the fundamentals of Digital Marketing
Understand how to create a successful advertising and marketing strategy
Become fluent with Ad Networks and understand how retargeting works
Learn how to craft great marketing emails
Understand what makes a great keyword and make your Ads stand out
Who is it for?
It is ideal for beginners who want to learn SEM marketing totally from scratch. It is also helpful for people who want to pursue Digital Marketing and are looking for an excellent foundational course online.
FAQ
What is SEM training?
SEM basically means that you're marketing your business campaign on search engines which includes Google, Bing, and their partners as well as network search engines. SEM is largely based on pay-per-click advertising and paid search campaigns, but may also incorporate SEO activities with the intention of obtaining organic search traffic.
Is SEM a good career path?
If you are passionate enough about SEM and want to pursue a career in SEM, working as a consultant can be an excellent way to create opportunities for yourself and have new experiences with your SEM career.
How can I learn SEM?
Read about SEM Blogs
Enroll in an online SEM course
Read a SEM-based book
Learn from a Professional Trainer
What is Adwords certification?
Google AdWords certification is a professional accreditation by Google which shows your proficiency in Adwords to your potential clients. With this certification, you can display a badge on your site showing that Google acknowledges you as an advanced AdWords user and an skilled expert in PPC advertising.