Strategic Management is much more than allocating/managing resources effectively and efficiently. It also includes various aspects like thinking, decision-making, forecasting future business patterns, and much more than what meets the eye. It is one of the hot topics around today as most successful business leaders believe in and practice Strategic Management to be efficient, productive, and competitive in their work.
A Strategy Manager is a crucial role in contemporary business, responsible for devising strategic plans, analyzing potential risks, and leading teams to achieve organizational objectives. In the United States, the average annual salary for this position is $109,832, as reported by 1.3k salary data points, with the latest update.
So it stands to reason that managing your company strategically can help you to become like one of your ideal business entrepreneurs. And if you want to learn strategic management then you are at the right place as this article contains a list of best strategic management courses from which you can learn the strategies that work best with your business.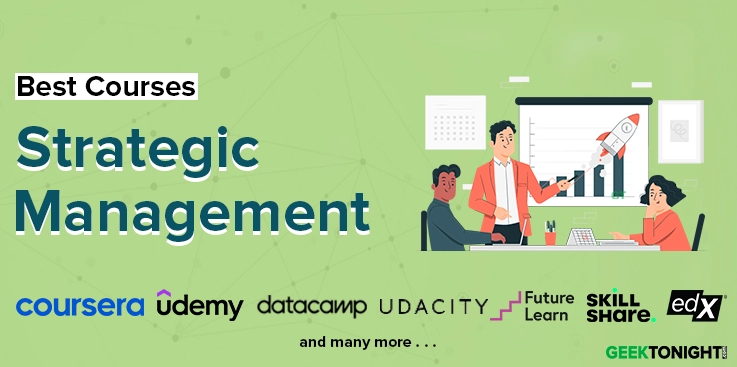 Our product recommendations are unbiased and based on an independent review process. We may receive a commission for links to recommended partners. See our advertiser disclosure for more information.
---
Best Strategic Management Courses, Certification, Tutorials, Training, Classes Online
This online strategic management course answers all of your questions and provides you with a wide array of topics that you can learn and implement to run your company effectively & efficiently. The course introduces you to the basics of strategic management, defining what a strategic situation is, Approaches to various business strategies, etc.
Course Instructor
Offered by one of the most prominent business schools in Europe, Copenhagen Business School and taught by Professor of Management of Creativity and Innovation, Robert Austin, who has attained an instructor rating of 4.84/5 and 137,835 students from his three courses on Coursera.
What You'll Learn
What is strategy? And why do we care about it?: In this module, you will have the opportunity to describe how strategies are put into action through real-life examples, identify situations where strategic thinking is necessary, and understand the distinction between strategy as "position" and strategy as "capability" and why it's significant.


The Evolution of Strategy…Past Progress, Past Mistakes: Examine the valuable lessons that the past can offer and how we can learn from past mistakes


Changing World, Changing Strategies: Get to come across the changing landscape of strategy in the modern world, driven by technological advancements and globalization.


Capstone Project Intro — Strategy in a 21st Century Creative Company: Students will have the chance to use the information and skills they have acquired during this programme to tackle a topic or problem in the real world as part of their capstone project.
Pros & Cons
Pros
Financial Aid Available
Comes with Coursera Labs – Incorporates active learning initiatives
Flexible deadlines
Cons
Includes only one instructor – compared to other coursera courses in this niche
Key Highlights & Learning Objectives
Learn about the many burdensome challenges of forming and implementing a strategy.


Study deeply about complex business models such as The Boston Consulting Group (BCG), growth curve, Porter's Strategy, Mintzberg 5 Ps and more.


Amplify your understanding of strategic situations and learn strategy from the perspective of 'Position' and as 'Capability'.


It offers a Capstone project to put your theories into practice and provides a completion certificate along with lifetime access to the course once the course is completed fully.
Who is it for?
This strategic management for intermediates course provides learners with a comprehensive overview of the fundamentals of strategic management. Starting with the basics of what constitutes a strategy and its importance, students will gain a solid understanding of strategic management. By the end of the course, learners will be able to distinguish between ineffective and strategically sound ideas, and possess the skills to adopt the latter.
Rating: 4.8/5
Students Enrolled: 87,597
Duration: 11 Hours
If you just happen to discover the term strategic management, then opting for this top strategic management course is a good choice for developing a strong sense of strategic management basic concepts, how to develop a strategy, the various tools that one can make use of among other things.
Course Instructor
Jouni Ruotanen is the instructor for this strategic management tutorial course having an experienced project manager background with him. He has well over 50,000 students across 18 courses that are instructed by him, giving him an instructor rating of 3.5.
Pros & Cons
Pros
Plenty of choices
30-Day Money-Back Guarantee
Key Highlights & Learning Objectives
Learn about the strategic management process to ensure your strategies give you the best results.


Gain In-depth knowledge of strategic management essentials & fundamentals along with various terminology.


Develop your skills of critical thinking and improve your decision-making process.


Get full lifetime access to the course, two articles, and up to 22 downloadable resources, along with a completion certificate for your resume.
Who is it for?
This strategic management tutorial course is open to learners of all levels, from beginners to managers, leaders, and strategy analysts. Participants will be introduced to various tools and techniques that can assist them in strategically navigating their organizations out of challenging situations.
Rating: 4.4/5
Students Enrolled: 177
Duration: 3 Hours

Valid till: 30th September
An excellent strategic outlook of your industry can show you many elusive things that are even hidden from your competitors, and this best online strategic management course shows you how to generate the value of a brand and study the global impacts and how to benefit from them. This business strategy specialization Coursera course includes five courses that define a strategic path for your organization to follow.
Course Instructor
This online business strategy course is offered by the University of Virginia and instructed by Michael Lenox, Scott Snell, and Jared Harris of Darden School of Business.
What You'll Learn
The program consists of five courses that cover a range of topics;
Foundations of Business Strategy: Enhance your strategic thinking skills, gain expertise in analyzing the competitive landscape, and learn how to recommend effective firm positioning and value creation strategies. This course provides you with the essential tools required to understand the different components of strategy, including SWOT, competitor, environmental, five forces, and capabilities analysis. Additionally, you will also become familiar with Strategy Maps, a critical tool for translating strategy into action.


Advanced Business Strategy: You'll learn the tools to analyze strategy across time, industries, geographies, and institutions.


Business Growth Strategy: Learn how to effectively build value by identifying the most optimal approach, whether it is scaling existing markets, entering established markets, or creating new markets through innovation and acquisitions.


Strategic Planning and Execution: You will understand the essential components of strategy execution, including analysis, formulation, and implementation, and learn how to effectively apply the 4A model to approach strategy execution. Additionally, with the help of tools and skills acquired in this course, you can avoid the common pitfalls associated with strategy planning and execution.


Business Strategy in Practice (Project-centered Course): This capstone provides an opportunity for learners to synthesize concepts and knowledge from the four prerequisite courses in the specialization.
Pros & Cons
Pros
Comes with Coursera Labs – Incorporates active learning initiatives
Personalized Study Schedule as per you
Multiple Instructors – Learn from different perspectives
Structured Learning path
Financial Aid Available
Key Highlights & Learning Objectives
Learn to use management analysis tools and techniques like SWOT analysis, competitor analysis and environmental analysis.


Hone your communication skills and improve efficient leadership.


Get to know the strategies to survive and thrive in your industry through radical changes.


Develop technical skills of assessing the foreign market for opportunities.


Learn hypothesis testing to strategically implement a plan with valid assumptions.


This business strategy certification course comes with videos, lectures, readings and a Hands-on Project for you to actively get involved in. Also, get a certificate in the end.
Who is it for?
This course contains a certificate of specialization in strategy, which is suitable for beginners to enter into the strategic implementation of plans & decisions. After completing this entire specialization program, you will be able to identify your industry structure and form business strategies that are suitable for your company.
Rating: 4.8/5
Students Enrolled: 55,811
Duration: Approx. 6 Months
Opting for this strategic management specialization course can help you to understand dynamic leadership management. This Strategic Management program helps you to learn the proficient skills that will upgrade your leadership style. It teaches you various strategies that you can use for instant results and improved efficiency through 7 of its highly detailed courses.
Course Instructor
The course is presented by seven instructors of the University of Illinois, namely Jeffrey Loewenstein, Denise Lewin Loyd, Elizabeth A. Luckman, Michael Bednar, E. Geoffrey Love, Deepak Somaya, and Joe Mahoney. The group of instructors brings tons of experience to the table.
What You'll Learn
Six courses make up this specialization course, along with a capstone project:
Leading Teams: Developing as a Leader: Get to delve into the topic of leadership and examine the necessary skills and qualities that modern leaders should possess. Also explore the process of self-discovery and ethical decision-making, as well as strategies for establishing trust and rapport with others.


Leading Teams: Building Effective Team Cultures: This course will focus on the various components that contribute to a thriving team culture. Ultimately, get to learn to develop your leadership abilities so that you can guide your teams toward success.


Designing the Organization: Throughout this course, you will gain an understanding of the theoretical, fundamental principles, and conceptual frameworks that are essential for designing organizations that are efficient and successful. The goal is to equip you with the knowledge and tools necessary to create more effective and productive organizations that can thrive in today's ever-evolving business landscape.


Managing the Organization: The objective of this course is to enhance your managerial skills by providing you with a deeper comprehension of the intricate and demanding nature of managing within organizations. By exploring the multifaceted challenges and complexities that arise in a managerial role, the course aims to equip learners with the knowledge and strategies necessary to effectively navigate through them. This course will help you become a more effective and successful manager.


Business Strategy: Here learners will find out how businesses generate, capture, and sustain value. By doing this, they can learn how and why this procedure is essential for long-term competitive advantage. We have a thorough list of best business strategy courses.


Corporate Strategy: This program is designed to provide you with a more comprehensive understanding of the analytical and managerial tools necessary for evaluating and directing decisions at the corporate level. The focus is on managing multiple businesses and stakeholders, and we will explore various strategies for effectively balancing competing interests.


Strategic Leadership and Management: Capstone In the capstone component of the program, learners will get to create a strategic leadership and management plan that applies the concepts and tools learned throughout the course to a real-world business scenario.
Pros & Cons
Pros
Financial Aid Available
Comes with Coursera Labs – Incorporates active learning initiatives.
Flexible Schedule
Cons
Lengthy: 8 Months to complete
Key Highlights & Learning Objectives
Learn about leadership details in-depth, with decision analysis, challenges faced and how to lead in the virtual world.


Analyse organizations for different organisational cultures, ethical challenges and develop plans for solving these problems.


Learn to create and capture value as done by corporations.


Educate yourself on various frameworks available that provide the perfect complement to your strategic business process.


Once completed, this specialization course entails a hands-on project, readings, many quizzes with a flexible schedule and a completion certificate.
Who is it for?
It is a beginner-friendly online certificate in strategic management and leadership course. In addition to providing management skills, the course also emphasizes the development of leadership abilities through the integration of strategic thinking into decision-making processes. Upon completion of the course, learners will be better equipped to approach business leadership in a more sophisticated manner.
Rating: 4.8/5
Students Enrolled: 97,141
Duration: Approx. 8 Months
Strategic Management Certification by IIMB

[edX]
Developing a well-defined strategy takes more than just research, resources, and time. That is why this strategic management class helps you to understand immensely the analytical side of business strategy. You will learn the common focus topics such as introduction to strategic management, marketing conditions analysis, etc.
Course Instructor
Instructors of the course include names such as P D Jose, Reggie George Pallathita, and Sai Yayavaram from the Indian Institute of Management – Bangalore (IIMB) all being professors under Corporate Strategy and Policy.
Pros & Cons
Pros
Free course with an upgrade option available
Self-Paced
Cons
Eligible for completion certificate if opting for 'Verified Track'
Key Highlights & Learning Objectives
Learn competitive analysis to outperform your rivals and cement yourself in the industry.


Gain knowledge about how a firm gains competitive advantage in an industry.


Learn to do Competency analysis of your organisation to see where you stand as an organisation.


Has video lectures along with Hindi & English video transcripts for better understanding. Upon completion with verified track you can earn a shareable certificate.
Who is it for?
This course is designed for beginners, as it is at the introductory level. Its objective is to teach students the proper process of strategic management, enabling them to analyze their company's strengths and weaknesses and create a sustainable competitive advantage.
Students Enrolled: 79,155
Duration: 5 Weeks/ 3-5 hours per week
This management development online course covers and shows the general aspects of how a manager should conduct himself/herself in a workplace. It teaches you the core principles so that you can handle the products, processes, and people of your organization. The course has seven sections, each section focusing on various important aspects of creating a productive mindset.
Course Instructor
The program is taught by the very intellectual group of faculty of The Wharton school. Instructors like Lori Rosenkopf, Eric Bradlow, Peter Cappelli, Peter Fader, Barbara Kahn, Patti Williams and more share their inputs to develop your mindset over the period of this course and think things in a strategic manner.
Pros & Cons
Pros
Financial Payment Available
Group Pricing Option available
Career Enhancement – Assessment for yourself career path
Cons
Might fall on the expensive side for many
Key Highlights & Learning Objectives
Learn to develop a rewards system that gets the best out of your staff.


Gain & learn about various hard & soft skills that help you to frame yourself in your work conduct.


Get insights on how to manage yourself to achieve your personal goals.


Practice your accounting skills with various books of account, including Balance Sheets and cost accounting.


The course also provides live webinars, discussion boards for solving any query, engage in peer learning and get a course completion certificate at the end of the program.
Who is it for?
This course is suitable for individuals in various leadership positions, including managers, business owners, and CEOs. Its design enables anyone who is ready to learn and improve their management style to benefit from it. The course also places a significant emphasis on enhancing one's mindset to develop a well-rounded manager's perspective.
Duration: 6 Months/ 3-5 hours per week
---
FAQ
What is strategic management course?
A Strategic Management course, Typically a lengthy one, comprises various compelling topics that cover formulating, assessing, and executing strategies and ideas to achieve efficiency.
It also includes excellent detailed knowledge about how one can run their business to its fullest potential by learning & studying the current business environment and helps you to derive your own long-lasting solution for your business problems.
Is strategic management a good major?
Strategic Management is considered to be one of the major plus points for most of the job positions for any company. In addition, getting a specialization in strategic management is deemed to be very useful as the need for strategy managers is rising due to heavy competition.
With great responsibility comes great rewards; the profession of strategy manager is a high-paying one with $104,336 as base salary per year.
What are some of the skills that one can learn from taking strategic management courses?
Strategic management courses can help individuals develop a range of skills, including critical thinking, problem-solving, decision-making, leadership, communication, and strategic planning. These skills are essential for developing and implementing effective business strategies, managing resources and stakeholders, and adapting to changing market conditions.
How long does it take to complete a strategic management course?
The duration of a strategic management course can vary depending on the type of course and the institution offering it. General strategic management courses can be completed in a few weeks to a few months, while executive education programs can take several months to a year. Online courses offer flexible schedules and can be completed at one's own pace.
What are some of the topics covered in strategic management courses?
Strategic management courses cover a range of topics, including strategic analysis, strategic planning, competitive strategy, corporate strategy, global strategy, innovation strategy, leadership and decision-making, strategic implementation, and evaluation and control.
How can one choose the right strategic management course?
When choosing a strategic management course, one should consider their learning goals, budget, time availability, and preferred mode of learning. It is also important to research the course content, faculty, accreditation, and reputation of the institution offering the course. Reading reviews and testimonials from previous students can also help in making an informed decision.