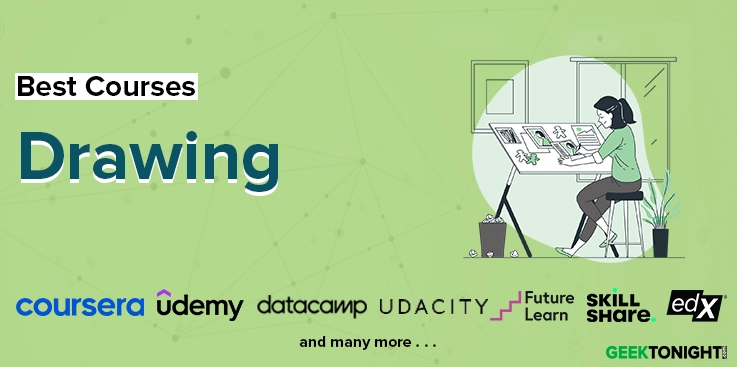 Drawing is defined as "a form of visual art in which an artist uses instruments to mark paper or other two-dimensional surfaces". Being a popularly practised art form, drawing is no longer restricted to educational institutions. Hence online drawing courses have become increasingly prominent in the world of digital artists.
The history of digital art and drawing is centuries old. The fiirst digital art exhibition took place way back in 1968 at the Institute of Contemporary Arts. The industry has continued to grow since then.
---
Best Drawing Courses, Certification, Tutorials, Training, Classes Online
This udemy online drawing tutorial has been created to help you embrace the number one most important building block of all art, which is, 'Drawing'. It will start with the basics and then get into the in-depth understanding of fundamentals, to teach you how to draw like a pro, with ease and on your own.
Jaysen Batchelor and Quinton Batchelor are the instructors of this bestseller. Jaysen began his career at the young age of 17 with internships, later a full-time job and then switched entirely to freelancing as an Illustrator. Quinton, on the other hand, is an avid outdoors photographer who will help you knock down barriers and master the world of photography. Their collaboration has indeed made this one of the top drawing courses on udemy.
Key Highlights & USPs
Enhance your skills in the world of drawing and create advanced art that will serve as professional work.


Understand the fundamentals of creating professional art, everything from lines to highlights and shadows.



Learn the concept of perspective and how to incorporate it within your art.


Draw objects straight out of your head, perspective drawings, human face and figures, realistic light and shadow.


Includes over 50 projects and instant access to 11 sections that will take you from a beginner to an expert.


Step-by-step guide on drawing different styles and gaining knowledge to create stunning designs and illustrations.


Get full lifetime access to 11 hours of on-demand video on TV and mobile, 6 articles, 5 downloadable resources, and a certificate of completion.
Who is it for?
This udemy drawing certification is for students wanting to learn how to draw and who are willing to put in the efforts and hours to create amazing artwork. It is for anyone wanting to add another skill to their tool belt.
Rating: 4.6/5
Students Enrolled: 4,83,857
Duration: 11 hours

Valid till: 30th July
With the help of this udemy drawing training, you will discover how to draw characters professionally in one complete course- for games, manga animation and comics. From drawing out of your head fast to drawing the faces, hands and bodies of the characters, this bestseller has a lot to offer.
With the art director, author and Instructor, Scott Harris, this online drawing course is extremely extensive and meticulous backed by great reviews from thousands of students that have strongly benefitted from this class. Scott is passionate about teaching this art form to others, to help them grow their skills efficiently.
Key Highlights & USPs
Learn how to draw 3D characters well, like a professional artist.


Utilise the included 7GB of Free Art resources.


Draw with both pencil and paper or digital art tools.


Learn how to draw out of your imagination quickly.


Practice and learn to draw the faces, heads, and bodies of animated characters.


Crystal clear and easy-to-understand lessons on how to draw people effectively means having information presented in a logical and coherent way.


Get full lifetime access to 26.5 hours of on-demand video on TV and mobile, 18 articles, 25 downloadable resources, and a certificate of completion.
Who is it for?
From complete beginners to intermediates at character drawing, in this drawing course, you'll learn things you never knew. Hence this class is for anyone who wants to learn characters well, in any style and of course, for individuals who love character art, from Video Game art to animations, comics, manga and more.
Rating: 4.7/5
Students Enrolled: 2,75,518
Duration: 26.5 hours/week
Udemy's 'How to draw from Beginner to Master' drawing course will help you learn drawing and shading from fundamentals to photorealism, everything at your own pace. It will take you through the techniques used by masters like Leonardo Da Vinci, William Adolphe Bouguereau and John singer sergeant to guide you into a great artist.
During these top drawing classes, MFA School of Visual Arts' teacher, author and artist, Joseph Patric Daniels, will help you gain knowledge that can be applied to every painting style and not just realism. The techniques, palettes, brushes and colour theories are universal and can be applied to any painting style. Joseph makes his living as a fine artist and illustrator based in NYC for over 20 years.
Key Highlights & USPs
Comprehend shading techniques, easy system of drawing hair, recognizing and drawing using planes, drawing a portrait from scratch and much more.


Figure a process and structure to create a drawing from start to finish that is easily manageable by anyone. 


Learn about the different approaches to drawing to see what works best for you and how to use mistakes to your advantage. 


Learn how to manage line weight, simplify objects to make them easy to draw, approaches to preliminary shading, create energetic, dynamic drawings and keep them from looking stagnant.


Create and use axis lines to make getting proportions easy.


Techniques to draw viewers' attention to desired focal points and tricks to make sure you get perfect values and shading every time.


Get full lifetime access to 8 hours of on-demand video on TV and mobile, 19 downloadable resources and a certificate of completion.
Who is it for?
This online drawing tutorial is for anyone from absolute beginners to experienced artists who want to learn or master the techniques of traditional drawing. An ideal student for this course would be someone who is interested to learn creative skills like digital animation, painting, architecture or design.
Rating: 4.8/5
Students Enrolled: 39,887
Duration: 8 hours
These free udemy drawing certifications have a wide variety of topics to choose from. From drawing cartoons to drawing realistic eyes and free-hand drawings with square grids, these classes put forward much knowledge on a number of significant concepts.
These drawing courses are offered by some great artists like Em Winn, Donelli DiMaria, Joe McMenamin, and many more. These mentors have curated inspiring art experiences for students of every level. These industry experts have spilled their secrets on the art form and have created activities to cultivate critical thinking skills.
Key Highlights & USPs
Apply the knowledge gained in these courses to create unique masterpieces and build self-confidence while having fun. 


Learn different approaches to drawing from life (modified gesture approach), etc. Also, this will teach how to approach drawing in a structured format. 


Pay close attention to details and learn to create contrasts to draw realistically. 


Comprehend how to improve your illustrations by creating good thumbnails, explore ideas more efficiently and improve your drawing abilities.


Effectively use a square drawing system to draw pictures. Understand how to draw accurate and precise drawings using grids. 


Study the basic pillars of drawing and get the motivation to start drawing as a hobby or a career. 


Understand and learn how to effectively use the three key principles of drawing: Proportion, Angle and Tone.
Who is it for?
These drawing courses are for anyone from beginners to experts because of the level of knowledge they are offering. Every course has so much to learn from and is on completely unique topics. Students can select from a wide range depending upon their interests.
Rating: 4.7/5
Duration: Self-paced
This udemy drawing tutorial is the ultimate guide to digital sketching for beginner to advanced level students. It will teach you everything required to draw digitally like a pro. All the important aspects like digitally sketching from life, sketching objects and scenes from your imagination and improving your sketches using digital techniques have been covered.
Key Highlights & USPs
Digitally sketch and draw skilled images that will stand up as professional work.


Track to building a solid portfolio of digital art and concept art whether for your own or a client's work.


Step by step process of creating digital sketches. Get equipped with the knowledge to create stunning images and concept art.


Learn to sketch images for games and the film industry like an expert.


Techniques taught can easily be translated into any program from Photoshop to Procreate.


Go from having little knowledge on how to draw and sketch to creating professional drawings in as little as one week.


Get full lifetime access to 5.5 hours of on-demand video, 3 downloadable resources, and a certificate of completion.
Who is it for?
This online drawing certification is for anyone who wants to sketch and draw better, learn the uses of brushes, understand how to draw digitally and grasp the techniques to improve sketches.
Rating: 4.6/5
Students Enrolled: 33,566
Duration: 5.5 hours
These online skillshare drawing programs cater to a number of drawing concepts one might be interested in. From daily practices for improvement to drawing data to communicate ideas, they've got it all covered. These courses are good to be taken by any level of students, due to the high value they add to your skill set.
The drawing certifications are offered by Gabriel Picolo, Yuko Shimizu, Mari Andrew, Mike Lowery and Carly Kuhn along with others. They teach you from scratch to help every student master their respective skills.
Key Highlights & USPs
Explore movement and pose with figure drawing exercises. Learn to draw the four core expressions.


Draw negative spaces, upside down, and much more. 


In-depth knowledge of basic brush, nib and ink techniques. Know more about sketching and scanning essentials, and inking fundamentals.


Understand the concepts of materials, basis sketching, planes, features and forms, and finishing touches. 


Learn about graphite pencil techniques, proportion and measuring techniques and other tips that will help you create beautiful portraits.
Who is it for?
These drawing courses will be ideal for beginners as well as advanced-level students. Due to their fundamentals covering speciality, everyone and anyone can benefit from these classes.
Rating: 4.5/5
Duration: 3 months, 12 hours/week
You can Sign up Here
This udemy drawing course is one of the most comprehensive drawing classes on the platform. It will assist you in learning how to draw the human figure from your mind, using a proven step-by-step drawing system that perfectly works for artists. At the end of this course, you will be able to draw human figures of all types of artwork.
This is one of the best drawing programs on udemy, which is offered by Riven Phoenix, who is an art instructor. He makes easy-to-follow courses that have become staples for a new generation of aspiring artists and professionals the world over.
Key Highlights & USPs
Complete Human Figure Anatomy Drawing Course HD provides industrial learn-to-draw training exercises spanning over 243 drawing lessons. 


Designed to teach you the art of drawing human figures from the mind with bliss. 


Understand human anatomy drawing from the ground up. Create your very own figure drawing reference guides.


Master making pencil drawings while doing numerous figure sketching lessons. 


Easily draw all types of poses including male action poses and female action poses, after learning all the aspects of anatomy drawing. 


Learn all human muscles and surface anatomy of the human figure as well as the figure sketching process and human proportions. 


Get full lifetime access to 92 hours of on-demand video on TV and mobile and a certificate of completion.
Who is it for?
This online drawing course is for all artists. It mainly focuses on human figure drawing for illustration, so if this is something that interests you, definitely go for it.
Rating: 4.8/5
Students Enrolled: 15,177
Duration: 92 hours
This LinkedIn Learning drawing class teaches the foundational facts and techniques used in figure drawing. The classical approach is broken down into simple steps to bring the human form to life on paper.
Artist and teacher Amy Wynne, has shared her experience of several years to create this masterpiece, making it one of the best drawing courses on LinkedIn. She Filmed this on-premise in a professional art studio, so the course shows you how to work with live models and different drawing materials
Key Highlights & USPs
The course contains sections on introduction to figure drawing, warm-up exercises, weight and balance, understanding proportion, structural landmarks and 3D volumes.


Learn how to capture gesture and motion, and map out structure and form.


Understand the common landmarks of the body, draw proportionally, and add volume with shapes and shadows.


Use the worksheets and sample poses in the exercise files to practise figure drawing in your own time.


Get access to 2 hours 29 minutes of video lectures on mobile and tablet, 1 project file and a certificate of completion.
Who is it for?
Although it is listed as a beginner-friendly class but this online drawing certification is not only ideal for beginners who are just learning to draw the human figure but the experienced artists who want to brush up their drawing skills.
Rating: 4.6/5
Students Enrolled: 21,69,867
Duration: 2.9 hours
FAQ
Can drawing be taught online?
Yes, drawing is not a subject that is restricted to schools. Like its practice, this art form has no boundaries. It can be learnt from anywhere, be it real-life experiences or teachers. So drawing can definitely be taught and learnt through online courses that are delivered by industry experts providing structured knowledge on the subject matter.
How do I learn to draw professionally?
The answer to this is, that you learn to draw and then practice it professionally. If you plan to turn this skill into a career then you must be very well versed in the art form. Learn and understand drawing from various sources and build a strong portfolio to showcase your talent.
How can I improve my drawing?
Practice is always a saviour. After getting thorough with the basics and fundamentals, all that is left to be done is practice and eventually master the skill. Never stop or skip this step because it acts as a building block of your career.