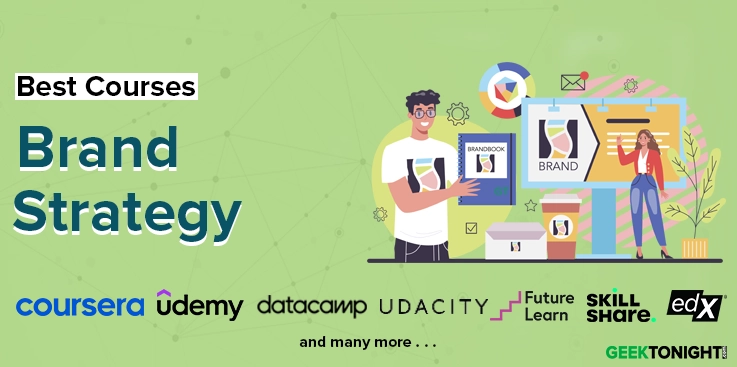 In recent years the digital marketing industry has been booming, and along with that, many job positions that were not that famous are now in the limelight. One of such jobs is that of a Brand Strategist, a Brand Strategist is a key to the healthy growth of a brand and company as a whole.
Being a brand strategist is hard, but not with time and the right knowledge accessible to you. Here we have listed the best brand strategy course you can gain experience from and move a little closer to being an actual brand strategist.
Our product recommendations are unbiased and based on an independent review process. We may receive a commission for links to recommended partners. See our advertiser disclosure for more information.
---
8 Best Brand Strategy Courses, Certification, Tutorials, Training, Classes Online
In this brand strategy online course, you focus on making your brand different rather than just competing on a price basis. Create a brand that provides distinct customer advantage, customer satisfaction, construct a solid positioning for the brand, and learn about the threats from which you need to protect your brand.
Kellogg School of Management has brought you this course where you get the answer to how to build a brand strategy. With experts such as Julie Hennessy and Timothy Calkins, along with other featured guests on board, you get an excellent faculty that will help you throughout to create a brand that performs and is loved by many.
Key Highlights & USPs
Learn different approaches to determine and study the health of your brand.


Learn to create and manage a brand portfolio.


'Try-It' activities keep you engaged and interested by helping you to put branding concepts into practice.


This course also offers four live webinars to work alongside/ ask difficulties with the faculty and a certificate in the end after passing an exam.
Who is it for?
This online brand strategy course is for intermediate-level learners who know the basics and are now ready to perceive it in concrete. Upon Completion, those who could not describe why customers should buy their product will easily be in the position to articulate their brand's vision and importance to the customers.
Coursera Brand Strategy course includes A to Z of matters pertaining to empowering and studying a Brand. This course is enough to give you skills that of a Brand Strategist. It gives you access to many topics such as How are brands built? Consumer & category insight, various brand touchpoints that will make you perceive brands in a new light.
The Brand Identity and Strategy course is offered by IE Business School Course and instructed by Maria Eizaguirre Dieguez, Marketing & Branding Professor at the said school, with an instructor rating of 4.76/5. IE Business School is featured among the top business schools present today.
Key Highlights & USPs
Learn to create a brand's vision, image, values, and personality.


Get to know about the various types of names and how to choose an effective name for your brand.


Lets you explore in-depth Segmentation, Positioning, Brand asset valuator, Brand House, etc.


It provides you with the opportunity to shine your skills in a Capstone Project.


Completing this course is entirely self-paced, giving you flexible deadlines for any submissions and earning a shareable certificate in the end.
Who is it for?
Intermediate level. This course will help you to encounter and gain experience from real-life brand positioning-related problems and give solutions as it includes the ten rules of strong brand positioning that can help you in strategic brand positioning.
Rating: 4.7/5
Students Enrolled: 36,019
Duration: Approx. 14  hours
Strategic Brand Management by Curtin University

[edX]
Strategic Brand Management includes various topics like CBBE (Consumer-based brand equity), the importance of branding, brand value chain, and elements that will help you to understand the product positioning in the market. Ponder upon questions regarding a company's brand equity.
The instructor of the course, Ian Phau, is also a professor at Curtin University from where this course derives as a part of MicroMasters Credential.
Key Highlights & USPs
Learn to lay down a foundation to identify and establish the values of customer-based brand equity.


Develop strategies to retain brand resonance.


Engage in understanding your customer's mindset to improve your work.


Learn to integrate marketing communications and brand associations, helping you in building brand equity.


Practically designed course with assignments and exams and get a shareable certificate after the competition.
Who is it for?
In today's world too, many new brands are struggling because of the already established industry giants', this advanced-level strategic online marketing course is proving its worth. Learners enrolling in this course will gain expertise in creating up to mark customer brand equity.
Students Enrolled: 30,686
Duration: 12 Weeks
By enrolling in this course, you are getting a well-diverse brand strategy course with each of its topics uniquely designed to showcase to you the real-world potential of a proper brand strategy. Add complex knowledge of understanding and evaluating brand value that will help you to increase and innovate your offerings and create content that is liked by your customers.
Lindsay Pedersen is the perfect person to instruct this course as she also brings her experience to the table as a Brand Strategist. She has impeccable knowledge of the various strategies that work well and gives good results to your company.
Key Highlights & USPs
Learn to create a 'customer benefit ladder' – Identifying the main benefit of a product and this benefit is offered to customers resulting in a positive return for the company.


Educate yourself on 4ps and use them in your brand strategy.


Enhance your understanding with a project file.


A project file to enhance your learning and a certificate after completion of the course is also provided.
Who is it for?
Establishing a brand is very tough work, but with This online brand strategy course, you can make your brand sound to the core with a strong base. Learn about the beginning steps of how to create a brand with promise, character, and activate strategy that will help you to earn your desirable outcome.
Rating: 4.5/5
Students Enrolled: 104,904 learners
Duration: 1 Hour
You can Sign up Here
This ExpertTrack Futurelearn course about strategic marketing will help you to learn about strategies and plans that are followed by famous global brands like Tesla and Volkswagen. It will present you with a chance to be an expert in your career and prove your company's excellence in the uncertain marketing industry.
Raja Rajamannar, The Chief Marketing manager of Mastercard and President of the World Federation of Advertisers, is the instructor for this course where you will learn to create your own marketing strategy plan alongside 'AWlearn', also known as Advertising Week.
Key Highlights & USPs
Learn Marketing Strategy based on Raja Rajamannar Quantum Marketing book.


Understand various potential customers through customer profiling, audience segmentation, and by defining customer personas.


It helps you to improve the efficiency & effectiveness of your brand campaigns.


Leverage your content marketing to perform exponentially in SEO and increase sales.


Get a branded futurelearn graded certificate along with lifetime access on the course.
Who is it for?
This is a beginner-friendly brand identity tutorial course for those who want to create a solid identity for their brand. This course also helps those who used to hesitate in taking any marketing decisions can now make a good sound decision as this course gives you the ability to take Strategic marketing decisions.
Marketing Strategy Certification Program

[eCornell]
This is the best marketing strategies online course and can provide you with skills and knowledge that can be compared to that of an MBA student. The strategic marketing training offered here is very vast in nature and includes six courses consisting of an abundance of detailed knowledge about Market Research and Analysis, creating value for your brand, distribution strategy, and many more.
The author of the course, Doug Stayman, is an associate professor at Cornell SC Johnson College of Business known for teaching Marketing and Management Communication and has expertise in Advertising.
Key Highlights & USPs
Learn to use systematic and precise processes to expound a market strategy.


Learn to conduct proper marketing research by applying the six stages of research in the process, and get to know about the strategic pricing mistakes.


Examine how much your communication strategy conveys about the value of your brand.


Get to know how to develop marketing programs for brand new products & services.


Finally, in the end, explore what opportunities wait for your business if you expand outside of your country's borders and into international markets.
Who is it for?
This is more of an advanced level course for Marketing managers, Project managers, or, simply put, anyone who deals with forming marketing plans. It is a complete package of marketing strategy courses that teaches learners high industry-specific skills that are job-ready.
Udemy marketing strategy courses are well diverse in nature and are known to provide learners with a wide variety of options ranging from beginner favorites to the most popular courses in marketing as well as the digital marketing strategies section. The platform offers courses like Online Marketing: SEO & Social Media Marketing Strategy, Business Fundamentals: Marketing Strategy, etc.
Udemy best instructors have created the courses, some of the reputed names include Alex Genadinik, Evan Kimbrell, Pouya Eti, and Mac Piechota.
Key Highlights & USPs
Learn various courses present from marketing strategy to strategic marketing.


Learn to stay ahead of your competition with proper and effective SEO implementation.


Explore various strategies used by marketers to persuade customers.


Get tons of articles + downloadable resources that you can use to check your understanding at any point in time.


Get full lifetime access and downloadable & shareable certificate.
Who is it for?
Udemy will take you into many courses and various forms of marketing (Traditional, Digital, Inbound, Outbound), where you can explore each topic at your pace and study what is essential to you. This platform includes topics of various levels of difficulty and covers nearly everything that you are looking for.
Students Enrolled: 2,289,536
Duration: Self-Paced

Offer Till: 31th March | $14.99 | AU$19.99 | ₹525 | Rp 129 | SGD 19.99
Skillshare brand strategy classes provide you to learn courses relating to digital brand strategy, brand identity, tips to manage your business and take it on the path to success. Courses like 'Brand Yourself – A quick guide on brand positioning,' 'Grow Your Creative Business' and 'Design a Brand Identity' give you insights into the working of a business and how to overcome shortcomings to excel in your field.
Even though courses are small in duration, it tackles real problems. The authors like Courtney Eliseo, Chris Fredricks, Haylee Jordon, and Kristina Turner have given their inputs on what makes a successful brand identity.
Key Highlights & USPs
Learn to build trust and faith among your customer group by building strong brand recognition.


Learn to incorporate a belief in a brand.


Get many short but effective courses that will help you to create your own brand.


Get a toolkit for creative business success.
Who is it for?
Skillshare marketing courses are totally beginner-friendly and very easy to follow. Any newbie planning to start his or her career in brand management can easily start at skillshare because it acts as a good starting point for all non-experienced learners. After going through skillshares courses, any individual will easily have a good understanding of the initial stages of brand strategies.
Students Enrolled: 8,336
Duration: Self-paced
---
FAQ Section
How do you learn brand strategy?
First, brand strategy is a plan an organization follows to create an image of their brand that makes customers get involved with the brand (purchasing its products). You can learn Brand Strategy by understanding and practicing the roles that a brand strategist has to perform. Roles such as:
1. Conducting Product, Marketing Researches.
2. Studying Consumer behavior.
3. Problem-Solving mindset.
4. Learn to form Brand Value, Vision, Image, etc.
How do you become a brand strategist?
Research has shown about 78% of Brand Strategists have Bachelor's Degrees, and about 15% have a Masters's Degree. So which Degree you want depends on you; the following states the steps one has to follow after achieving their Degree.
1. Gain Industry Experience.
2. Learn Digital Marketing.
3. Strategic decision-making.
4. Polish your Computer Skills.
5. Develop Communication Skills.
6. Hone your Art director, Graphic designer, Copywriter, and Marketer skills.
7. Become a Certified Brand Strategist (through university).