In the cutthroat competitive world of today, having a solid brand strategy is crucial to staying on top of the game. A brand strategy enables a business to stand out from its rivals and express its distinctive value proposition to its target market.
Over the past few years, the digital marketing industry has experienced significant growth, leading to the emergence of new job roles that were previously unknown. Among these is the position of a Brand Strategist, who plays a crucial role in ensuring the healthy growth of a brand and the company as a whole.
According to data from the Bureau of Labor Statistics, the median annual salary for advertising, promotions, and marketing managers, which includes Brand Strategists, was $133,380 as of 2021. The field is also expected to see a 10% job growth from 2021 to 2031, which is faster than the average for all occupations. This growth is driven by the increasing importance of brand image and the need for companies to stand out in competitive markets. As a result, a career as a Brand Strategist is a promising option for those interested in the field of marketing and branding.
Becoming a successful brand strategist may seem challenging, but it is achievable with time and the right knowledge. To help you gain the necessary experience and move closer to becoming a brand strategist, we have compiled a list of the best brand strategy courses available. Now secure your seats and let's begin!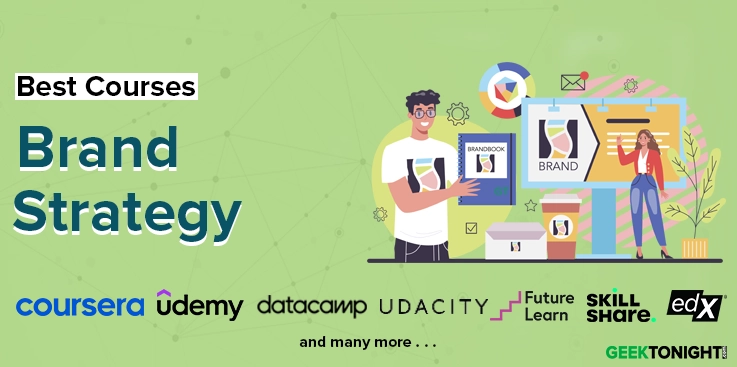 Our product recommendations are unbiased and based on an independent review process. We may receive a commission for links to recommended partners. See our advertiser disclosure for more information.
---
Best Brand Strategy Courses, Certification, Tutorials, Training, Classes Online
Coursera Brand Strategy course includes A to Z of matters pertaining to empowering and studying a Brand. This course is enough to give you skills that of a Brand Strategist. It gives you access to many topics such as How are brands built? Consumer & category insight, various brand touchpoints that will make you perceive brands in a new light.
Course Instructor
The Brand Identity and Strategy course is offered by IE Business School Course and instructed by Maria Eizaguirre Dieguez, Marketing & Branding Professor at the said school, with an instructor rating of 4.7/5. IE Business School is featured among the top business schools present today.
What You'll Learn
This online Brand Strategy course is part of the Branding: The Creative Journey Specialization and it consists of following four modules and one capstone project.
Introduction to branding: Segmentation: Students will learn about what creates a brand and how they are constructed in this course, they will come across the iceberg model and examine segmentation. They will get to learn how we choose the brands we love and despise and how it influences how we view those brands.


Defining The Value: This module will teach the definition of positioning and the usage of positioning statements to draw customers to a brand. Learners will discover the difference between a good and bad positioning statement and how to construct a robust perceptual map.


Building a Brand House: Students will learn about brand houses and will begin to investigate the personality and image of a brand before starting to develop their own brand houses for a company they adore.


Brand Marks and Visual Expressions: In this module learn how brand identity is created by comprehending the subtle differences between various fonts, colours, and logotypes by looking at some of the most well-known examples.


The Capstone Project: Convert your theoretical knowledge into practical experience and learn from putting theories into place.
Pros & Cons
Pros
Financial Aid Available
Comes with Coursera Labs – Incorporates active learning initiatives
Personalized Study Schedule as per you
Cons
Limited resources post completion
Key Highlights & Learning Objectives
Learn to create a brand's vision, image, values, and personality.


Get to know about the various types of names and how to choose an effective name for your brand.


Lets you explore in-depth Segmentation, Positioning, Brand asset valuator, Brand House, etc.


It provides you with the opportunity to shine your skills in a Capstone Project.


Completing this course is entirely self-paced, giving you flexible deadlines for any submissions and earning a shareable certificate in the end.
Who is it for?
This brand strategy certification course is designed for intermediate-level learners and focuses on providing practical experience in dealing with real-world brand positioning challenges. By learning the ten rules of strong brand positioning, participants will develop strategic solutions to address these problems effectively. Ultimately, this course aims to equip learners with the necessary skills and knowledge to position brands for success.
Rating: 4.7/5
Students Enrolled: 54,489
Duration: Approx. 14  hours
In this brand strategy online course, you focus on making your brand different rather than just competing on a price basis. Create a brand that provides distinct customer advantage, customer satisfaction, construct a solid positioning for the brand, and learn about the threats from which you need to protect your brand.
Course Instructor
Kellogg School of Management has brought you this course where you get the answer to how to build a brand strategy. With experts such as Julie Hennessy and Timothy Calkins, along with other featured guests on board, you get an excellent faculty that will help you throughout to create a brand that performs and is loved by many.
What You'll Learn
In this highly interactive six-week online experience, you will learn by doing. Interactive and hands-on activities are part of every module, which will allow you to put branding concepts that you've learned into practice right away.
Module 1: The Power and Challenge of Branding: Distinguish how a brand can help or hurt a product proposition, learn to strengthen brand touchpoints, and explore the importance of building customer advantage.


Module 2: Defining Your Brand: Targeting, Positioning, Character, and Purpose Assess the risks and benefits of designing hyper-targeted products and services, learn the rules for picking a target market, draft a positioning statement, and master segmentation.


Module 3: Bringing Your Brand to Life: Brand Design and Touchpoints Select the tools and technology to address your marketing challenge, create target personas, construct a meaningful customer journey with touchpoints, and compare purchase types.


Module 4: Building a Strong Brand Portfolio: Learn best practices for brand portfolio management, compare launching a new brand vs. creating a brand extension, and determine the best strategy for introducing a new product.


Module 5: Managing Your Brands: Measure and track the health of your brands, apply the Awareness/Liking/Market-Share model of brand tracking and create a powerful one-page marketing plan.


Module 6: Brand Strategy: Growth and Defense: Construct a strategically designed brand or line extension, evaluate growth opportunities to broaden a brand or tighten its focus, and build a plan to combat competitive threats.
Pros & Cons
Pros
Group Pricing option available.
Engagement with Groups and Peers
Has Referral Program
Cons
Not self-paced
Access to learning materials only for 1 year
Costly
Key Highlights & Learning Objectives
Learn different approaches to determine and study the health of your brand.


Learn to create and manage a brand portfolio.


'Try-It' activities keep you engaged and interested by helping you to put branding concepts into practice.


This course also offers four live webinars to work alongside/ ask difficulties with the faculty and a certificate in the end after passing an exam.
Who is it for?
This brand strategy training course is designed for advance-level learners who have a foundational understanding of brand strategy and are looking to apply it in a more concrete manner. Upon completion, participants who previously struggled to explain the value of their product to customers will be able to confidently articulate their brand's vision and importance to their target audience.
Strategic Brand Management by Curtin University

[edX]
Strategic Brand Management includes various topics like CBBE (Consumer-based brand equity), the importance of branding, brand value chain, and elements that will help you to understand the product positioning in the market. Ponder upon questions regarding a company's brand equity.
Course Instructor
The instructor of the course, Ian Phau, is also a professor at Curtin University from where this course derives as a part of MicroMasters Credential.
What You'll Learn
Topic 1: Introduction to Brand Management This topic covers the fundamentals of branding, including an overview of what a brand is and why branding is important.


Topic 2: Customer-Based Brand Equity (CBBE) In this topic, students will learn about CBBE and how it can influence a consumer's response to marketing. They'll gain an understanding of brand equity from the perspective of the customer.


Topic 3: Brand Resonance This topic focuses on establishing a strong brand through identifying key building blocks that contribute to brand resonance.


Topic 4: Brand Elements Here, students will learn about brand elements such as the brand's name and logo, and how they can help distinguish the brand from others and build brand equity.


Topic 5: Brand Value Chain The brand value chain is introduced as a tool for assessing the various sources of brand equity, and how an organization's marketing activities can influence the overall value of the brand.


Topic 6: Designing Brand-Building Marketing Programs In this topic, students will learn about the challenges of designing marketing programs that build brand equity and the various forms of marketing communications.


Topic 7: Designing and Implementing Brand Architecture Strategies Students will gain an understanding of how brands implement their brand architecture strategies, including how they decide which products and services to introduce and choosing the right brand elements for new and existing products.


Topic 8: Brand Extensions This topic covers why some brands choose to introduce brand extensions, including the benefits and pitfalls of doing so.


Topic 9: Managing Brands Over Time The importance of keeping the brand relevant and up to date in an increasingly volatile and unpredictable environment is covered in this topic.


Topic 10: Managing Brands Over Geographic Boundaries and Market Segments This topic explores the challenges of becoming a global brand, including understanding different cultures and catering to the tastes and preferences of different market segments.
Pros & Cons
Pros
Free Course with optional upgrade available
Get access to edX support even with free access
Provides structured learning across 12 weeks
Cons
Instructor-paced Course
Recommended for course takers to successfully complete MKT1x and MKT2x before hand.
Key Highlights & Learning Objectives
Learn to lay down a foundation to identify and establish the values of customer-based brand equity.


Develop strategies to retain brand resonance.


Engage in understanding your customer's mindset to improve your work.


Learn to integrate marketing communications and brand associations, helping you in building brand equity.


Practically designed course with assignments and exams and get a shareable certificate after the competition.
Who is it for?
Even in today's competitive marketplace, many new brands struggle to compete with established industry giants. However, this advanced-level strategic online marketing course has proven to be a valuable resource. By enrolling in this course, learners will gain expertise in creating strong customer brand equity that can help new brands thrive in the marketplace.
Students Enrolled: 33,750
Duration: 12 Weeks
By enrolling in this course, you are getting a well-diverse brand strategy course with each of its topics uniquely designed to showcase to you the real-world potential of a proper brand strategy. Add complex knowledge of understanding and evaluating brand value that will help you to increase and innovate your offerings and create content that is liked by your customers.
Course Instructor
Lindsay Pedersen is the perfect person to instruct this course as she also brings her experience to the table as a Brand Strategist. She has impeccable knowledge of the various strategies that work well and gives good results to your company.
Pros & Cons
Pros
Easy accessibility on Phone
Continuing Education Units available
Includes Project File
Key Highlights & Learning Objectives
Learn to create a 'customer benefit ladder' – Identifying the main benefit of a product and this benefit is offered to customers resulting in a positive return for the company.


Educate yourself on 4ps and use them in your brand strategy.


Enhance your understanding with a project file.


A project file to enhance your learning and a certificate after completion of the course is also provided.
Who is it for?
Building a brand can be a daunting task, but with the help of this online brand strategy course, you can establish a strong foundation and create a brand that truly resonates. By learning the fundamentals of creating a brand with promise, character, and an effective strategy, you'll be able to set your brand up for success and achieve your desired outcomes.
Rating: 4.5/5
Students Enrolled: 104,904 learners
Duration: 1 Hour
This ExpertTrack Futurelearn course about strategic marketing will help you to learn about strategies and plans that are followed by famous global brands like Tesla and Volkswagen. It will present you with a chance to be an expert in your career and prove your company's excellence in the uncertain marketing industry.
Course Instructor
Raja Rajamannar, The Chief Marketing manager of Mastercard and President of the World Federation of Advertisers, is the instructor for this course where you will learn to create your own marketing strategy plan alongside 'AWlearn', also known as Advertising Week.
Pros & Cons
Pros
Flexible learning schedule
No prior experience required
Free 7-day trial
Cons
ExpertTrack compulsorily needed
Key Highlights & Learning Objectives
Learn Marketing Strategy based on Raja Rajamannar Quantum Marketing book.


Understand various potential customers through customer profiling, audience segmentation, and by defining customer personas.


It helps you to improve the efficiency & effectiveness of your brand campaigns.


Leverage your content marketing to perform exponentially in SEO and increase sales.


Get a branded futurelearn graded certificate along with lifetime access on the course.
Who is it for?
Designed for beginners, this brand identity tutorial course is an ideal resource for those looking to establish a strong and effective brand identity. With this course, learners who may have previously been hesitant to make marketing decisions will gain the confidence and ability to take strategic marketing decisions with ease. Ultimately, this course aims to empower learners with the knowledge and skills necessary to make informed decisions and build a strong brand identity.
This is the best marketing strategies online course and can provide you with skills and knowledge that can be compared to that of an MBA student. The strategic marketing training offered here is very vast in nature and includes six courses consisting of an abundance of detailed knowledge about Market Research and Analysis, creating value for your brand, distribution strategy, and many more.
Course Instructor
The author of the course, Doug Stayman, is an associate professor at Cornell SC Johnson College of Business known for teaching Marketing and Management Communication and has expertise in Advertising.
Pros & Cons
Pros
Includes 3 Days Live Interactive Virtual Class
'Learn and Pay as You Go' – a financial aid available
Class size of under 35 students ensures each student gets noticed
Cons
Instructor-led course – may interfere with self paced nature of course
Key Highlights & Learning Objectives
Learn to use systematic and precise processes to expound a market strategy.


Learn to conduct proper marketing research by applying the six stages of research in the process, and get to know about the strategic pricing mistakes.


Examine how much your communication strategy conveys about the value of your brand.


Get to know how to develop marketing programs for brand new products & services.


Finally, in the end, explore what opportunities wait for your business if you expand outside of your country's borders and into international markets.
Who is it for?
This course is designed for marketing managers, project managers, and anyone involved in creating marketing plans, offering a comprehensive package of marketing strategy courses. It provides learners with advanced industry-specific skills that are immediately applicable to their jobs, making them job-ready upon completion of the program.
Udemy marketing strategy courses are well diverse in nature and are known to provide learners with a wide variety of options ranging from beginner favorites to the most popular courses in marketing as well as the digital marketing strategies section. The platform offers courses like Online Marketing: SEO & Social Media Marketing Strategy, Business Fundamentals: Marketing Strategy, etc.
Course Instructor
Udemy best instructors have created the courses, some of the reputed names include Alex Genadinik, Evan Kimbrell, Pouya Eti, and Mac Piechota.
Pros & Cons
Pros
Plethora of choices.
Interactive learning
Self-paced learning and abundant learning resources
Cons
Has not accredited courses
Key Highlights & Learning Objectives
Learn various courses present from marketing strategy to strategic marketing.


Learn to stay ahead of your competition with proper and effective SEO implementation.


Explore various strategies used by marketers to persuade customers.


Get tons of articles + downloadable resources that you can use to check your understanding at any point in time.


Get full lifetime access and downloadable & shareable certificate.
Who is it for?
Udemy will take you into many courses and various forms of marketing (Traditional, Digital, Inbound, Outbound), where you can explore each topic at your pace and study what is essential to you. This platform includes topics of various levels of difficulty and covers nearly everything that you are looking for.
Students Enrolled: 2,289,536
Duration: Self-Paced

Valid till: 30th September
Skillshare brand strategy classes provide you to learn courses relating to digital brand strategy, brand identity, tips to manage your business and take it on the path to success. Courses like 'Brand Yourself – A quick guide on brand positioning,' 'Grow Your Creative Business' and 'Design a Brand Identity' give you insights into the working of a business and how to overcome shortcomings to excel in your field.
Course Instructor
Even though courses are small in duration, it tackles real problems. The authors like Courtney Eliseo, Chris Fredricks, Haylee Jordon, and Kristina Turner have given their inputs on what makes a successful brand identity.
Pros & Cons
Pros
Diverse range of courses
Skillshare Community
Free Trial
Cons
Not accredited
Subscription needed
Key Highlights & Learning Objectives
Learn to build trust and faith among your customer group by building strong brand recognition.


Learn to incorporate a belief in a brand.


Get many short but effective courses that will help you to create your own brand.


Get a toolkit for creative business success.
Who is it for?
Skillshare's marketing courses are designed to be beginner-friendly and easy to follow, making them an ideal starting point for individuals looking to launch a career in brand management. Even those with no prior experience can benefit from Skillshare's courses, which provide a solid foundation and understanding of the initial stages of brand strategies. With clear and concise instruction, learners can easily navigate the courses and gain valuable knowledge and skills to kickstart their careers.
---
FAQ Brand Strategy Course
How do you learn brand strategy?
First, brand strategy is a plan an organization follows to create an image of their brand that makes customers get involved with the brand (purchasing its products). You can learn Brand Strategy by understanding and practicing the roles that a brand strategist has to perform. Roles such as:
1. Conducting Product, Marketing Researches.
2. Studying Consumer behavior.
3. Problem-Solving mindset.
4. Learn to form Brand Value, Vision, Image, etc.
In short, in order to truly learn Brand Strategy one has to go through various topics like Market Analysis, Customer Analysis, Competitor Analysis, Copywriting, Graphic designing etc.
In short, in order to truly learn Brand Strategy one has to go through various topics like Market Analysis, Customer Analysis, Competitor Analysis, Copywriting, Graphic designing etc.
How do you become a brand strategist?
Research has shown about 78% of Brand Strategists have Bachelor's Degrees, and about 15% have a Masters's Degree. So which Degree you want depends on you; the following states the steps one has to follow after achieving their Degree.
1. Gain Industry Experience.
2. Learn Digital Marketing.
3. Strategic decision-making.
4. Polish your Computer Skills.
5. Develop Communication Skills.
6. Hone your Art director, Graphic designer, Copywriter, and Marketer skills.
7. Become a Certified Brand Strategist (through university).
Who can benefit from taking a brand strategy course?
Anyone who is involved in branding, marketing, or advertising can benefit from taking a brand strategy course. This includes brand managers, marketing directors, advertising executives, entrepreneurs, and business owners.
What are the benefits of taking a brand strategy course?
The benefits of taking a brand strategy course include gaining a deeper understanding of branding principles, learning how to develop and execute effective brand strategies, improving your communication skills, enhancing your ability to work collaboratively with others, and expanding your career opportunities.
What topics are typically covered in a brand strategy course?
Topics that are typically covered in a brand strategy course include brand positioning, brand identity, brand architecture, brand messaging, brand measurement, consumer behavior, market research, competitive analysis, and brand management.
How long does a brand strategy course typically take to complete?
The length of a brand strategy course can vary depending on the program, but most courses take anywhere from a few weeks to several months to complete.
What is the cost of a brand strategy course?
The cost of a brand strategy course can vary widely depending on the program, the level of instruction, and the duration of the course. Some courses are free, while others can cost thousands of dollars.
Are there any prerequisites for taking a brand strategy course?
Most brand strategy courses do not have specific prerequisites, but it is generally helpful to have a basic understanding of marketing principles and business strategy before enrolling in a course.
Can brand strategy courses be taken online?
Yes, many brand strategy courses are available online, and some are exclusively offered online. Online courses can be a convenient option for individuals who are unable to attend in-person classes or who prefer to learn at their own pace.
How can I choose the right brand strategy course for me?
To choose the right brand strategy course for you, consider your level of experience in branding, your career goals, your learning style, and your budget. Research different courses to compare the content, cost, and format, and read reviews from other students to get a sense of the quality of instruction.