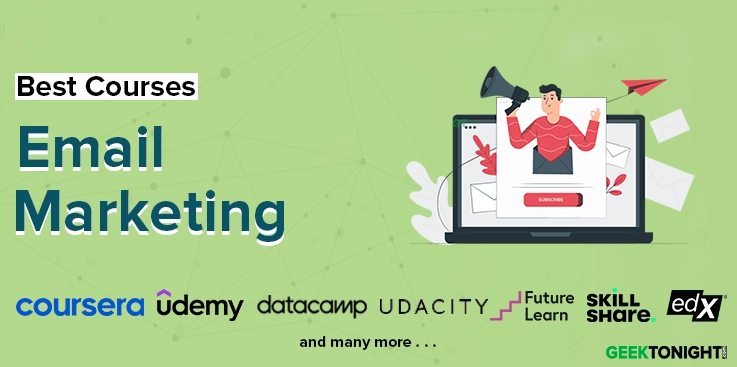 Successful Email Marketing can exponentially grow your sales, reputation, and brand. It is a very powerful medium that is being used by almost all online companies and businesses to gain followers and potential clients. After researching several email marketing courses, we have compiled a list of the Best Email Marketing Courses & certifications, where you can enrol and kickstart your journey of Email Marketing.
Our product recommendations are unbiased and based on an independent review process. We may receive a commission for links to recommended partners. See our advertiser disclosure for more information.
---
Best Email Marketing Courses, Certification, Tutorials, Training, Classes Online
Managing Email Marketing Lists is an excellent online course for learning Email Marketing. Learn how to build and manage your email marketing lists and run more effective campaigns in this course from digital marketing expert Megan Adams. This course will walk you through the basics of selecting an email marketing platform from choices like MailChimp, adding contacts to your list, and segmenting and maintaining that list so the right emails are sent to exactly the right audience. These strategies will help you find and convert new customers directly from their inbox—while keeping your messaging on track.
It is designed by Megan Adams, who is a social media strategist and a viral marketer. With over seven years of creating successful and creative online marketing campaigns, Megan knows what it takes to get a business's brand out in front and resonate with its core audience.
Key Highlights & USPs
Learn how to create Website sign-up forms and welcome emails

Understand the essentials of Email List Management and maintenance

Create your own Email Campaign with Branding: Format, template, and design

Learn how to write compelling Emails with Calls to action and compelling content

Optimize Your Email Campaigns and minimize bounce rates
Who is it for?
It is designed for intermediate professionals who are looking to improve their existing Email Marketing skills. It may also be helpful for those with little to no experience and who want to learn Email Marketing.
Mailchimp Essential Training offered by LinkedIn Learning is an excellent online course for learning Email Marketing. In this course, you will be taking an in-depth look at all the features Mailchimp has to offer, in addition to its already popular and powerful email marketing tools.
From creating landing pages for your site, connecting your online store, building social media posts and online ads, you will learn everything you need to know about Mailchimp. It will also show how to use Mailchimp to better know your customers through surveys and engagement.
It is designed by Virginia O'Connor, who Content Strategist/Writer at the University of California Education Abroad Program (UCEAP). She works as a marketing consultant specializing in content management and copywriting. Experienced at viewing disorganized masses of information, Virginia helps businesses easily connect with their audiences.
Key Highlights & USPs
Create a campaign in Mailchimp and build your audience

Learn how to Manage Audiences with preferences center & Surveys

Understand how to Design Campaigns in Mailchimp and Add content

Collaborate and test email campaigns & create social cards for campaigns

Learn how to sell Products and Nurture Customers on Mailchimp
Who is it for?
It is made for intermediate professionals who want to learn advanced concepts in Email Marketing. It can also be helpful for beginners as well as students wanting to learn the essentials of Email Marketing.
Complete MailChimp Email Marketing Course is one of the top-rated Email Marketing courses out there. This Udemy Bestseller will be teaching you Email Marketing from beginner level to advanced on Mailchimp. You will be able to build squeeze pages and sign up/opt-in forms to grow your email lists and increase your potential customers.
You will be able to create hyper segmented email capture lists for more effective, targeted email marketing in the future. You will also be capable to build and design professional email campaigns that drive higher conversions by completing this great course.
It is created by Coursenvy, which is a Los Angeles-based ad agency offering an ever-growing range of high-quality online courses. They have taught 400,000+ students everything from Facebook Ads, to Social Media Marketing, to SEO, to Email Marketing, to eCommerce, to Amazon FBA, to Investing, to Launching your own Marketing Ad Agency.
Key Highlights & USPs
Create highly optimized and high-quality email marketing campaigns in MailChimp

Build squeeze pages that capture emails at a high rate

Create email content that gets opened and converts

Learn how to market and profit from your growing email list

Understand key metrics while A/B split testing and analyzing email marketing data
Who is it for?
This course is designed for people wanting to master lead generation, create high-quality email marketing material, grow email lists and understand MailChimp analytics. It is also an excellent choice for anyone who wants to learn to grow their own email list and is interested in doing so via Mailchimp.

Valid till: 30th September
Email Marketing course offered by Udemy is one of the best-rated Email Marketing courses available on their platform. In this course, you will start building and marketing your own email list subscribers with tools like MailPoet (free), MailChimp, or AWeber. It will teach you how to turn website traffic into desirable email subscribers that you can market your products and services. Regardless of your level of experience, this course is designed to provide you with everything you need to get started. By the end of this course, you'll have a funnel that gets people on your email list. From there, you'll be able to market your products and services to them.
It is taught by Phil Ebiner, who is a top-rated Udemy instructor with over 2 million students. Since 2012, He has been creating online courses that over two million students from around the world have taken. His course topics include everything from photography and video to design and business courses.
Key Highlights & USPs
Understand the absolute essentials and fundamentals of Email Marketing

Design beautiful and customizable opt-in boxes

Create a lead magnet that turns website visitors into subscribers

Drive more traffic to your website that turns into subscribers

Learn to use basic tools like Microsoft Word and Quicktime for creating high-quality lead magnets.
Who is it for?
This course is designed especially for email marketing newcomers who haven't started building an email list, or people who aren't getting enough people to subscribe to their list. It is also helpful for those who need help in creating beautiful opt-in boxes.
Email Marketing Mastery course offered by Udemy is an excellent resource for learning Email Marketing. If you want to learn the key principles to email success and how to get started, this course is for you. It will be teaching you several fundamental concepts related to Email Marketing. You will learn the difference between Brand Building and Direct-Response Marketing — and why you need Direct Response. You learn how to set up your email marketing service and build your first list. Also, you learn the V+F+I+SR Relationship Formula in order to build powerful relationships through email.
It is created by Brandon Hakim, who is the Founder of InsiderSchool.com. He is one of the top-rated Udemy instructors with a 4.4-star Instructor Rating and has taught over 300,000 Students. His goal on Udemy is to share with you how you can also become a Learning Machine, become way more productive, and make a lasting impact on the world.
Key Highlights & USPs
Learn to make your First Email List and create Automated Emails

Build Powerful Relationships Through Email to Make More Sales

Understand the key to building a Huge Email List

Learn how to make Signup Forms and Squeeze Pages

Understand how to write Great Subject Lines and Emails
Who is it for?
This course is designed for those who want to get started with email marketing. However, it may also be useful for people already familiar with email marketing, but haven't yet been able to build relationships through email for more sales.
Free Email Marketing Course: Get Certified in

[Hubspot]
Free Email Marketing Course offered by Hubspot Academy is an excellent resource for learning Email Marketing from scratch. In this course, you will be learning how to build an email marketing strategy that is human and helpful and builds trust with your contacts. You will learn the fundamentals of Email Marketing completely from the ground up, and work your way up to the more complex topics related to Email Marketing. The best thing about this course is that it is completely free of cost, and gives you unlimited access to their complete library of education and free software tools.
It is taught by Courtney Sembler. She currently works as the Senior Team Manager for HubSpot Academy Education dedicated to leading the inspiring and passionate Inbound Professors.
Key Highlights & USPs
Master the essential fundamentals of email marketing

Learn how to build an effective email marketing strategy

Understand the elements of a high-performing email and how to implement them

Become fluent in designing emails that will provide value to your contacts

Learn the foundations of implementing lead nurturing in your business
Who is it for?
It is ideal for those who want to start learning Email Marketing completely from scratch. It can also be helpful for people who are already experienced and want to master Email Marketing.
Email Marketing Basics

[Google Digital Garage]
Email Marketing Basics course offered by Google Digital Garage is a great course for learning the concepts of Email Marketing. Sending newsletters and special offers to customers via email can play a key part in your overall marketing plan, building and strengthening relationships with your customers. That is why this course will be teaching you how to effectively write perfect emails and create successful marketing strategies that help your businesses grow. By the end of this course, you will be able to successfully implement effective email lists and subscriptions.
Key Highlights & USPs
Learn how to effectively develop a contact list

Understand the art of targeting audiences based on their interests

Become fluent in building prosperous relationships with customers

Learn to craft great marketing emails that get opened

Understand how to manage successful email campaigns
Who is it for?
It is an excellent choice for people who want to start learning Email Marketing completely from the basics. Also, it can a great resource for intermediate marketers to brush up on their fundamentals and essential concepts related to Email Marketing.
FAQ
How can I learn email marketing?
1. Read online articles on email marketing
2. Enrol in an online email marketing course
3. Study under an experienced instructor
4. Read an email marketing book
How do I become a professional in email marketing?
1. Define Your Audience
The very first thing you would want to do before even starting is to figure out your target audience. Like everything else in marketing, try to understand what your buyers want, and tailor your email campaign to their needs.
2. Establish Your Goals
Research the average email stats for your niche or industry and establish them as benchmarks for your upcoming goals. This will help in tracking your progress.
3. Create a Way for People to Sign Up
You would need an email list for creating a successful email campaign. An Email list is a record of people who have accepted to receive relevant content from you.
4. Choose an Email Campaign Type
Do you want to send a weekly newsletter? Or should you send out new product announcements? These are the questions that you should be asking yourselves when you are choosing the type of Email Campaign you want to start.
5. Make a Schedule
Once you have decided on your Email Campaign, the next step is to make a relevant schedule. How often and how many emails you send depends entirely on your choice. It is wise to keep the emails to a minimum, so the users don't feel spammed.
6. Measure Your Results
Finally, after you have followed all of these steps, it is important to keep track of your results. Find out how much traffic you have gained after the Email Campaign, and how many emails have been opened by your users.
Is there a demand for email marketing?
There are hundreds of businesses looking to hire professional, engaging, and active people ready to take on marketing for them through email. Statistics show that this position continues to grow, despite all the hype of social media, and more and more companies are looking for good marketers.
Is Email Marketing Still Profitable?
Email marketing has been going on for a long time. While it has been evolving, it has managed to remain effective and even grow in popularity over the years. Email marketing is now more popular than ever. Even if you're a marketer for a small or developing business, you should find out how email campaigns can help your company grow.