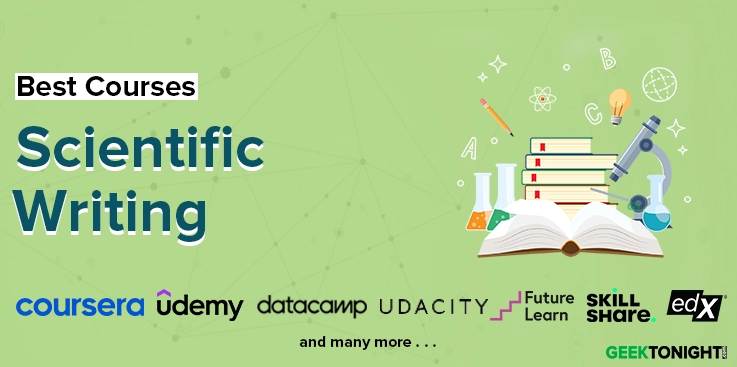 Scientific writing simply means writing for science. It is the technical writing practised by scientists to communicate and share their research with others. It must be precise, clear and economical. There are various elements attached to this subject matter and hence it should be appropriately studied.
Scientific writing originated in the 14th century and has been prominent since then. Here we've covered the top scientific writing courses and certifications to set you on the right path if you are willing to explore this domain and make a career out of it. Let's dive in.
---
Best Scientific Writing Courses, Certification, Tutorials, Training, Classes Online
This Coursera scientific writing certification teaches scientists to become better and more effective writers, using practical examples and exercises. It focuses on improving skills like grammar, medical writing, and science communication.
This free scientific writing course is offered by Stanford University. The instructor of this class is Dr. Kristin Sainani, an associate professor and a health and science writer. She writes about science and health for a range of audiences and has relevant educational experiences to support her expertise.
Key Highlights & USPs
Key principles of effective writing and practice cutting clutter from writing.


Focuses on writing with strong, active verbs. Lessons include how to write in the active voice, avoiding turning verbs into nouns, choosing strong verbs, and getting to the main verb of a sentence quickly.


Learn how to vary sentence structure and write strong paragraphs. Practice various writing elements and write well-organised and concise paragraphs. 


Review the writing process. Tips on making the writing process easier, more efficient and organised. 


Communicate with broader audiences and understand how to work with the media, be interviewed, conduct an interview and much more. 


Discussion on the peer review process, as well as ethical issues in scientific publishing, learn how to avoid plagiarism, determine authorship, submit a paper, etc.


Start this 100% online course instantly at your own schedule. Earn a shareable certificate of completion.
Who is it for?
This online scientific writing tutorial is absolutely beginner friendly and covers a wide range of topics from scratch. The in-depth knowledge of these concepts will serve as a great foundation for this art form.
Rating: 4.9/5
Students Enrolled: 3,39,735
Duration: 30 hours
You can Sign up Here
This Coursera scientific writing course will provide a complete outline of a scientific paper for which you'll choose an appropriate journal to submit the finished paper for publication, and prepare a checklist that will allow you to independently judge whether your paper is ready to submit.
This free scientific writing certification is offered by Ecole Polytechnique's assistant professor Mathis Plapp, who has studied physics at various levels in his educational sail.
Key Highlights & USPs
Learn what is necessary before writing a paper: the context in which the scientist is publishing. Know your own community through examples and see how a journal and publication works.


Detailed view on how to delimit your paper. Take a closer look at the paper definition to ensure that you don't lose facts. 


Learn how to write a paper focusing on the structure of the paper. Write your own abstract and do a peer review. 


Designed to help you complete a personally meaningful real-world project. Actively apply new concepts and master the concepts more efficiently. 


Get a head start on using the skills you gain to make positive changes in your life and career.


Start this 100% online class instantly at your own schedule by resetting deadlines, and earn a shareable certificate upon completion.
Who is it for?
This scientific writing course is designed for students who have previous experience with academic research. If you just finished your graduation, just began your PhD, or are at a different stage of your academic journey or career and just want to publish your work, this course is for you.
Rating: 4.6/5
Students Enrolled: 1,39,940
Duration: 13 hours
English for Science, Technology, Engineering and Mathematics' is a Coursera scientific writing class that will help you master English grammar and language, nanotechnology and solar energy. It takes you through concepts like the greenhouse effect, climate change and much more.
This Coursera scientific writing tutorial is created by the University of Pennsylvania, and funded by the U.S. Department of State Bureau of Educational and Cultural Affairs, Office of English Language Programs. The instructors are Jack Sullivan, director of programs and Alyssa Swanson, intensive program manager.
Key Highlights & USPs
Learn if the earth is getting warmer.


Includes information on the Greenhouse effect.


The impacts of Climate Change on our World. 


Discover cleaner energy sources to power the world. 


Future consequences and observations. 


Includes readings for references and quizzes to test your knowledge. 


Start this 100% online course instantly and learn at your own schedule by resetting deadlines and earn a shareable certificate upon completion.
Who is it for?
This Coursera scientific writing certification is for students interested to know about the above-listed scientific concepts and learn how to write about them effectively. It explains the natural phenomena occurring in the environment, in detail.
Rating: 4.8/5
Students Enrolled: 1,68,863
Duration: 35 hours
This Nature Masterclass online scientific writing course is one of the most comprehensive classes on this subject matter available on the internet. It is all about how to write and publish a research paper.
This nature masterclass' scientific writing tutorial is delivered by Nature Research journal editors. 36 editors from over 20 Nature Research journals give researchers an unparalleled insight into the publishing and manuscript selection process.
Key Highlights & USPs
Major sections include writing a research paper, publishing a research paper, and writing and publishing a review paper.


Learn about what makes a great paper, elements of writing styles, titles and abstracts, and data management and presentation.


Understand authorship and author's responsibilities, the editorial process, plagiarism, select a journal for publication, submit your paper and measure impact.


Develop writing skills and confidence in writing for journals.


Understand editorial processes and what skills editors look for. Short lessons that are easy to follow through.


Learn best practices for submitting a paper and peer review. Get access to 11 hours of learning, and this 3-part course with 3 certifications.
Who is it for?
This online scientific writing course is for students and researchers in the natural sciences who are new to publishing or wish to refresh their skills. It is totally beginner friendly and contains an in-depth analysis of all the modules.
Rating: 4.6/5
Duration: Self-paced
FAQ
How do you become a scientific writer?
One can become a scientific writer by pursuing relevant degrees in related fields. The process can be aided and excelled by taking various crucial steps in the journey like completing courses similar to the ones discussed above, talking to suitable people, internships, sharing and receiving knowledge with blogs, etc.
What is the purpose of scientific writing?
Scientific writing is practised in various domains with the same objective following overall. The aim is to present all the important information in such a way that is easy to evaluate and conclude, by readers and experts. It should be precise yet detailed enough to present a complete picture of what is being talked about.
What is the process of scientific writing?
All kinds of scientific writing follow a similar structure and format that includes, thorough research of the topic, introduction and explanation, theories to be tested, list of methods to be used, results and conclusion, and a final discussion on deduced opinions.
How can I improve my scientific writing?
Scientific writing is just like any other art form that can be improved with regular practice. However, some specific improvement tips can be: spending a good amount of time on research and organizing your thoughts before writing, clear bifurcation of each section, detailed analysis of the topic, using simple vocabulary, and so on.