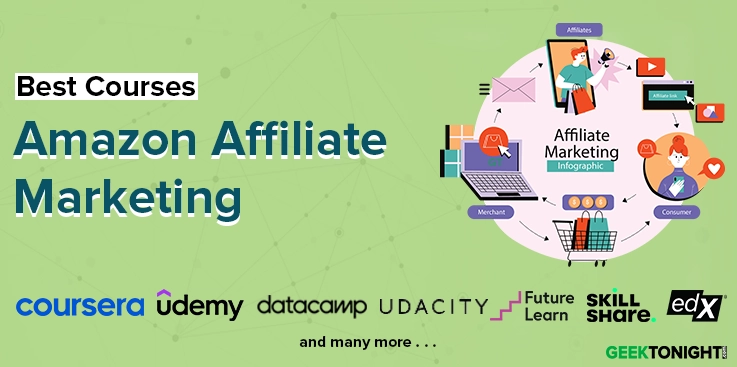 Affiliate Marketing, the very well-known term of this age of digital marketing, is relatively easy to learn and earn a form of marketing provided that you have your fundamentals solid to the core. The concept of Affiliate Marketing is straightforward, it involves merchants paying a specific commission to affiliates (You) whenever a product is bought from an affiliate's shared link or website.
The popularity of this form of digital marketing is not something that came out of thin air; the earnings made in this industry are proof. According to statistics, around 80% of the brands have Affiliate programs, and around $1,660 was the average monthly income earned by affiliate marketers in 2020.
So, what stops you from being part of one? Take a look at the fine courses gathered in one article that answers your question by showing you the best affiliate marketing course.
Our product recommendations are unbiased and based on an independent review process. We may receive a commission for links to recommended partners. See our advertiser disclosure for more information.
---
Best Affiliate Marketing Courses, Certification, Tutorials, Classes
ClickBank Success is an all-around good introductory online affiliate marketing course for individuals who want to try out the ClickBank platform. The aim of the course is not to make money quickly but to learn the rigorous process to generate a passive long-term income to make you financially strong. The content revolves around the basics of ClickBank, Traffic Generation, Lead Management, and much more.
KC Tan, the instructor of this Udemy affiliate program, is a well established author in the Affiliate Marketing niche. The author is a business coach and owner who has vast experience in Online Entrepreneurship and teaching conducting training courses at various organizations such as Singapore Compact CSR, Singapore Polytechnic, etc. He has earned a 4.4 instructor rating on Udemy through his 20 courses and 97,073 students.
Key Highlights & USPs
Learn and utilize ClickBank metrics in your day-to-day affiliate decision making process.


Understand how to formulate promotion campaigns that go hand in hand with your business goals and increase your sales effectively.


Learn 'Direct Linking' and the six essential elements that determine the suitability of the products for Direct Linking.


In Detail knowledge on various strategies, keyword research, cost effective techniques, sources, etc., for spawning quality traffic to your products.


Learn ClickBank basics, such as identifying what to sell and what to avoid, setting up various payment gateways, and, importantly, Which Mistakes to Avoid as a Beginner in Affiliate Marketing.


Receive a variety of downloadable resources and several articles for lifetime access along with a certificate of course to prove your completion of the program.
Who is it for?
This affiliate marketing training program is primarily a beginner level course with the motive of teaching newbies all the chores of building a successful affiliate marketing career. Even though the course is that of a beginner level, the content is so vast that it contains something for everyone with the main aim to help learners get started or increase their earnings.
If you are intrigued by ClickBank, then be sure to check out our ClickBank Affiliate Marketing with more relevant ClickBank courses.
Rating: 4.4/5
Students Enrolled: 39,713
Duration: 3 Total Hours
You can Sign up Here

Valid till: 30th September
This is a proper affiliate marketing course that along with teaching you the affiliate marketing techniques, methods and strategies also teaches you how to display yourself in the unpaid search results, or in simpler words it teaches you Search Engine Optimization. In short, the course consists of all real effective practices and generalised concepts to provide you a holistic approach towards affiliate marketing using the Amazon Associate platform.
The Author of this course Adam Bosch has 10+ years' experience as an Internet Marketer or to be more precise he knows everything about affiliate marketing. He has created himself a good stable career with Affiliate Marketing and has sold his E-commerce store at $25,000 value. He has over 15,799 students through his one published course on Udemy and an instructor rating of 4.0 out of 5.
Key Highlights & USPs
Learn the skill of Copywriting i.e., Writing text in order to promote a product or service with the final objective of increasing your sales.


Engage in Keyword Research and learn the process, ideas to generate, commercial intent keywords and much more.


Learn monetization of your online presence to start earning your first income from affiliate marketing.


Optimize your website with various plugins and learn how to appropriately structure your article.


SEO Techniques – Learn to create content that attracts lots of users and ranks high in the competition.


Upon Completion of the course get a Certificate, 13 articles, the Author's two eBooks and TV & mobile accessibility of course.
Who is it for?
This affiliate marketing certification course is equivalent or even richer in content than any other affiliate marketing courses online present as it offers a trio of courses specialised in Amazon Affiliate Marketing, SEO and Copywriting topics for solving beginners or any level learners Affiliate, Ranking and Selling problem
Rating: 4.0/5
Students Enrolled: 15,799
Duration: 4 Total Hours
You can Sign up Here
Skillshare affiliate marketing courses gives you the gist of starting your online business, getting through all the essential stuff, and quite a good number of options to choose your affiliate marketing course from. Some of the courses present at the platform are 'Introduction to Affiliate Marketing', 'Set-Up an Affiliate Marketing Campaign for Your Brand', 'The Ultimate Affiliate Marketing Step-by-Step Blueprint' etc.
The platform has authors who are themselves practitioners of affiliate marketing such as Vishal and Shubhi, Masuk Sarker Batista, Luna Vega among many others. All of them have one thing in common: the drive of affiliate marketing to earn a good living
Key Highlights & USPs
Learn and understand the aspects of affiliate marketing, to be an affiliate or not to be an affiliate, and explore the area of being a Vendor.


Learn how to pick out a profitable niche using Google Trends, a profitable/ highly conversion platform that will help you to minimize your efforts and content management for your website.


Development of an effective Marketing Campaign to Create eagerness among affiliates to work for or promote your products, keep measuring and tracking your affiliate progress.


Learn various tools, spotting of different hot affiliate offers, The ON and OFF-Page SEO, keyword research, driving free traffic and much more.


Get to know how to promote your articles through social media and also Q & A forums.


Get Hands-On Class Projects to gain excellency and depth information on affiliate topics such Rollout and Strategy Development.
Who is it for?
There are several beginner levels courses on this platform offering individuals exposure to many areas of Affiliate Marketing. The primary affiliate marketing learner's need that this platform caters to is a beginner's slow customer base growth, learn and apply the various strategies mentioned in the listed courses on platform to increase your probability of getting new customers.
Watching YouTube videos has easily become a good pass time during the COVID-19 Pandemic era, but ever wondered how affiliate marketing can be incorporated in YouTube? This affiliate marketing tutorial course focuses on the basics of YouTube Affiliate Marketing, how to find affiliate products and make videos on them, ranking parameters for these types of videos, attracting organic traffic and so much more.
Being a YouTube course doesn't restrict this course in any way as this program also teaches you the creation of videos for your various social media sites, blogs, et
This Udemy affiliate marketing course is instructed by Bryan Guerra, a 4.5/ rated instructor on Udemy with 394,007 students across 27 courses. He is the founder of Online Education Company Invert Media. The main objective of the company is to provide learners with good quality educational content.
He is also an owner of an eCommerce business himself and believes in an open-door policy for students to message him anytime with any of their difficulties.
Key Highlights & USPs
Learn content creation and how to earn from it by incorporating Affiliate Marketing in it and starting your own business from it.


Gain the skills of recording, editing, and publishing videos across many websites and earn from it.


Understand Anchor a podcast platform where you can repurpose your YouTube videos and monetize your profile immediately.


Get to know various traffic generation methods primarily YouTube but also many other various social media websites.


You will also learn to make attractive Logos/Thumbnails through Adobe Photoshop, Adobe Lightroom and Canva.


Get lifetime access to the course, the downloadable resources and the articles. Also achieve a certificate at the successful completion of the course
Who is it for?
One of the top affiliate marketing courses that show learners, regardless of different levels, how to maintain multiple streams of income and how to utilize the YouTube platform to earn a handsome amount with your marketing efforts. It helps individuals to sink into the YouTube platform and earn from millions of users using the platform by engaging in affiliate marketing.
Rating: 4.8/5
Students Enrolled: 23,833
Duration: 13 Total Hours
You can Sign up Here
Udemy is the best place to learn affiliate marketing in an online format as nearly most of the productive courses are found there and this course is no exception. This course looks at Affiliate Marketing from a whole perspective and not narrowing it down to any single platform such as Amazon or ClickBank therefore the tips and tricks learnt from here if followed right can be applied on any platform
Ciaran Doyle, having served in businesses such as Pandora, USAID, and more has specialization in SEO, Content Marketing, Traffic generation and WordPress. He has only one course on Udemy that has given him 2,251 students and a splendid 4.9 instructor rating on the platform.
Key Highlights & USPs
Learn and implement the 'NOOR' or 'No Other Option Ranking' strategy that gives you free visitors and search engines no other choice than to rank your website and products!


Learn which affiliate program is best for you, the core areas of that platform, monetization and everything related to starting your earnings on that platform.


Importance of a good domain and tricks on making search engines think you are an authority domain even when you have just started.


Prioritize back linking from relevant sites and content in order to surge your traffic.


Learn the art of writing content that delivers more than your usual past content helping you to increase your visibility on the Search Engine Results Page.


Try email marketing to get subscribers and increase your profits x 10!


Be entitled to receive a course completion certificate once the course is finished along with an article and downloadable resources for your reference.
Who is it for?
This affiliate marketing course for beginners provides a proven system for making money, basically a start for individuals who want to earn through online business as this course follows a strategy called the 'Compounding Effect' which gets stronger and results in higher income as time passes by.
Rating: 4.9/5
Students Enrolled: 2,251
Duration: 14.5 Total Hours
You can Sign up Here
---
FAQ
What does an affiliate marketer do?
Promotion – Answer to your question in one simple word. An Affiliate marketer's main job is to promote someone else's product with the main intention of selling it in order to receive a commission amount on it from the merchant.
The promotion methods mostly include individuals promoting affiliate products using their own websites or e-stores but now, even a person with an account on any social media platform, regardless of whether having a good no. of followers or not can promote products and earn a living.
What is an example of affiliate marketing?
Example: Amazon Associates
Two parties are involved in Affiliate Marketing those are Merchants and the Affiliates brought together by the Middle Man i.e. The affiliate Network here is Amazon Associates.
The affiliates can choose any category of product(s) and promote the product by getting a customized/special link of the product from Amazon Associates account and sharing it through their social channels or website
To be more precise, an example of a product review article can be taken here.
An affiliated product review article includes everything related to the product – its description, pros & cons etc and also a link on which you can click and buy the described product.
This link when clicked on and bought anything from following that link will ensure you in earning a commission for that product. This commission value is calculated in percentage and this percentage of commission differs according to category or type of product.