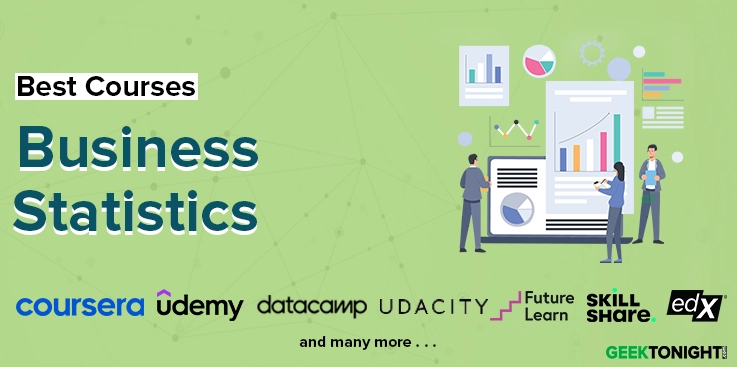 Statistics is to a Business what root is for a tree.
Anyone who is looking to start their own business knows the importance of understanding statistics. Statistics is fundamental for understanding your customers, your market segment, our results of marketing efforts and what not.
Finding the right business statistics course can be a rigorous process. There are numerous incredible business statistics courses accessible, yet which one is ideal for you? In this blog post, we'll help you sort through the options and choose the best business statistics course for your needs.
The demand for business analysts is booming, and taking a course in Business Statistics helps you in getting in line for a business analyst or management analyst role. Don't just wait on this industry if you are a person with knack of solving problems then this list is for you. Be Sure to check out our Business Analytics course for courses of good comprehensive understanding of analytics and statistics involved in a business.
Our product recommendations are unbiased and based on an independent review process. We may receive a commission for links to recommended partners. See our advertiser disclosure for more information.
---
Best Business Statistics Courses, Certification, Tutorials, Training, Classes Online
This business statistics and analytics Coursera program is a specialization that means the course comes with 4 courses and one capstone project. The course involves content that revolves around giving a full comprehensive knowledge of how analytics and statistics play an imperative role in a business. It goes through Data Descriptors, Statistical Distributions, Hypothesis Testing and everything that helps you to understand how to better analyze business situations and data.
The course is offered by Rice University, ranked among top 100 universities in the world. The instructor teaching the course is Mr. Sharad Borle, Associate Professor of Management at Jones Graduate School of Business. The author has gained 258,424 learners on the platform through only 8 of his courses on the platform.
Key Highlights & USPs
Learn data analysis using excel to tackle more sophisticated business problems later as the course progresses.


Understand the Pivot chart features, functions like IF, nested IF, HLOOKUP, and VLOOKUP.


Get to know how to understand descriptive data to calculate and interpret data.


The best part of this business statistics certification is that it includes no. of exercises that learners solve and learn more practically.


Enhance your decision making skills by undertaking topics like Confidence intervals and Hypothesis testing.


Also learn the most significant statistical tools used by major businesses Regression Analysis.

 
Completing this course is entirely self-paced, giving you flexible deadlines for any submissions and earning a shareable certificate in the end.
Who is it for?
This business statistics for beginners is aimed at providing fresh learners a complete understanding of industry wide used business statistical tools that help companies in enhancing their performance and in scalability. After finishing the course individuals will be in a position to solve the toughest statistical problems and present them in a fashion that is understood by all the stakeholders involved in a project.
Rating: 4.7/5
Students Enrolled: 69,303
Duration: 5 months, 5 hours/week
The platform offers many different courses specializing in business analytics and statistics that help you in gaining a complete understanding of how a sophisticated business model works and how statistics adds up to a business's success. On the platform you can also take Guided projects, Professional Certificates, Specializations other than just normal courses.
Some of the names of instructors on this platform include George Kapetanios, Fataneh Taghaboni-Dutta, Connor Stead, Xuhu Wan all hailing from various technical backgrounds sharing their own experience related to statistics.
Key Highlights & USPs
Learn advanced statistics topics, important concepts in probability, and also get to learn programming languages with no prior experience needed.


Identify various models and methods to predict future outcomes for businesses.


Go through the concepts of descriptive statistics, using graphs to present data, measures of central tendency, standard deviation among many others things.


Gain the skills of R Programming, Linear Algebra, Biostatistics, Machine Learning, DataViz, Statistical inference methods etc.


Utilize Python programming language to analyze performance of trading model, and go through essential concepts of frequency distribution, random variable etc.


Get access to the courses and its materials for a lifetime, Earn a Coursera verified certificate for our resume.
Who is it for?
The platform offers well diverse courses of easy to hard difficulty for beginners to expert level learners helping them to gain the complete knowledge of using business statistics tools and techniques in order to gain insights from business data.
Rating: 4.7/5
Duration: Self-paced
The online business statistics course talks about how with the use of statistics businesses, medicine, engineering are benefitting in understanding how to tackle the arising problems. The course is divided into 4 parts offering a problem based and data driven approach in finding solutions through statistics.
Shankar Venkatagiri, Associate Professor at the Indian institute of Management, Bangalore is the instructor of this business statistics course. Prof. Shankar has experience of working in IT Consultancy before becoming a full time professor. He specializes in Mathematics and Computer Science.
Key Highlights & USPs
Learn real life application of theoretical concepts to help in understanding business statistics.


Learn through discussions on real data that are collected from diverse areas like Finance, HR, and Economics.


Get to learn Inferential Statistics, explore various describing ways for datasets i.e. Visually and numerically.


Practically designed course with assignments and exams and get a shareable certificate after the competition.
Who is it for?
This business statistics certificate course is good for rookies who have very little to no knowledge in business statistics and analytics. The course can help individuals in gaining more practical knowledge from real life datasets and define how solutions of a problem can occur with the use of statistics.
Rating: 4.7/5
Students Enrolled: 24,682
Duration: 1.5 months, 2-4 hours/week
FAQs
What do you mean by business statistics?
Business insights is the use of measurable strategies to business. It assists organizations in making better choices by utilizing information to analyze, measure, and predict results. Business Statistics can be utilized to enhance processes, survey dangers, and come to conclusions about promoting, item improvement, and tasks.