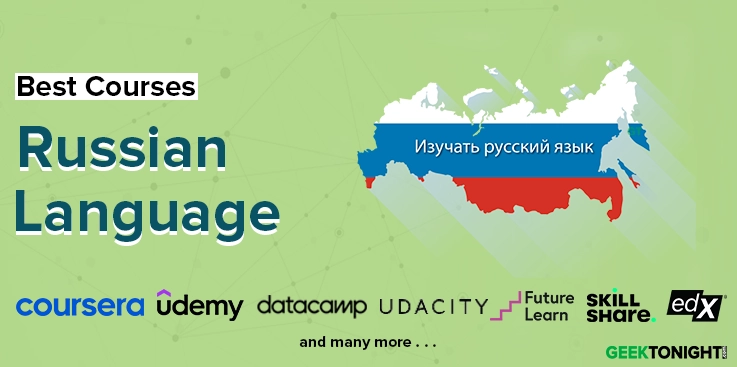 Why should you learn Russian? Because it has certain advantages to studying Russian spoken by 258 million people. It is one of the most spoken languages in the world. Learning Russian can bring you more job opportunities and open suitable employment prospects.
Getting a new skill or language can increase your worth in the job market. Russia is the world's biggest country. There are many opportunities to grow professionally. You can travel or apply for a Job If you know the basic Russian language. So, today, in this article, we have prepared a list of the best Russian Courses with certifications to help you learn the basics on your own.
---
Best Spanish Language Courses, Certification, Tutorials
Udemy offers the best online Russian language courses to learn Russian quickly. Whether learning for travel or business, this set of Russian courses can help you to read, write, and speak Russian from scratch. There are all types of courses available to cater to beginners and intermediates, who are looking to acquire basic knowledge of Russian. There are more than 190 courses for you to ace the language and speak fluently in just a few weeks.
Top Russian instructors and native speakers will help you to study skills and grasp the knowledge thoroughly. With a series of non-stop speaking Russian courses, you can immensely work on improving pronunciation and communication skills. In the end, you will feel more confident in speaking Russian.
Key Highlights & USPs
Master the reading, writing, and speaking skills. Improve your skills for the TORFL ( test of Russian as a foreign language).


Learn Russian phonetics, Reading, and Cursive Writing. How to speak Russian using an efficient 3-step Russian Language.


Learn to read and pronounce Russia's Cyrillic alphabet in just a few hours.


Able to practice the Russian language with English subtitles for business and travel.


Get lifetime access to 100 video lessons, reading materials, and downloadable resources.
Who is it for?
This Russian Language Course is for beginners who want to follow the Russian Language. No prior knowledge is required to complete all the courses. It is the best way to learn Russian online in your time. You will be rewarded with a certificate to showcase your skills to the world.
Rating: 4.5/5
Students Enrolled: 344, 130
Duration: Self-paced
You can Sign up Here

Valid till: 30th September
Online Russian Classes from Personal Tutors

[Preply]
Preply is one of the best language learning platforms where you can take classes with private tutors. You can take a private lesson as per your schedule and budget. Preply Russian Tutor will help you improve your grammar, pronunciation, and vocabulary. You can achieve your personal goals by building a firm knowledge of Russian. With qualified tutors and professionals, you will learn how to read, write, and speak in Russian.
Key Highlights & USPs
Learn Russian through tailor-made lessons to achieve both personal and professional goals.


Improve the skills using a one-on-one conversation with a private teacher.


Discuss the queries by sharing screens, exchanging files, and messaging between student and tutor.


Check the review and feedback from previous learners before booking a tutor for you.


Use filters to find a suitable tutor based on your budget, schedule, and other factors.


24/7 customer support to solve queries and provide consultancy regarding that.
Who is it for?
Anyone can opt for Russian Courses Online to improve their language skills. Preply has an array of Russian language classes to help learners gain confidence and fluency. Every Russian language class is unique and innovative, where you can connect with the best Russian tutors in the industry. After taking hours of Online Russian Lessons, you can earn a certificate and display it to attract new opportunities.
Rating: 4.5/5
Duration: Self-paced
You can Sign up Here
Learn Russian from English

[Duolingo]
Kickstart your journey with a free language learning app- Duolingo. It offers an inexpensive and creative way to enjoy learning whatever language you want. All you have to do is install and log in with an email id. You can practice the Russian language using fun and exciting visual elements. You will learn the basics, including the alphabet, numbers, and more. Learning Russian From English is the way to teach students from English countries. Build reading and writing proficiency with the best free Russian online course.
Key Highlights & USPs
Build on-site language skills with natural approaches.


Develop real-life communication skills to use for everyday situations.


Understand the in-depth concept of speaking Italian well for travel. Learn basic phrases, vocabulary, grammar, and greetings.


Improve your Italian vocabulary and pronunciation to express yourself in simple sentences.


Assess your acquired skill by joining in the discussions and sharing your experience in French.
Who is it for?
This Russian lesson for beginners is divided into units. If you complete 5 units, the knowledge you've gained is equal to a university student in the fourth semester. A student who covers 7 units has the knowledge equivalent to a 7-semester student. This Free Russian Course is the right choice for you if you are eager to learn.
Rating: 4.5/5
Students Enrolled: 4.91 Million
Duration: Self-paced
You can Sign up Here
Frequently Asked Questions
How can I learn Russian Quickly?
Yes, you can learn Russian quickly by immersing yourself in the language. Talk to any Russian friend regularly to grasp a firm grip on the skills. But, you can practice the language regularly by watching TV shows, using Russian in texting, and practicing vocabulary. Practice is the only key to boosting your language skills.
How many hours a week should I learn Russian?
According to the Foreign service institute of the United States, it takes an average of 1100 to become fluent in Russian. You can study for 3 hours daily to reach the level you've wanted to achieve. It takes almost 45 weeks to master the Russian language.
Is Russian hard to learn?
Yes, it is a hard language to learn. If you do not know other Slavic languages like Bulgarian, it can take almost 2 years to master it. You can make faster progress by taking Russian lessons. Also, you can go to any of the online Russian Courses from popular platforms like Udemy and Duolingo.
Can I learn Russian on my own?
Yes, you can learn Russian by yourself. You can take one or two beginner courses to enhance your skills and gradually start with small topics that cover alphabets, words, creating basic sentence structures, and more.
Final Thoughts
I think I've covered just about every online Russian course option currently available (let me know in the comment section if I've missed one). No matter which Russian course you choose, frequent Russian practice with native speakers is imperative.
If finding native speakers near you isn't workable, then Preply or Duolingo is an incredible platform to find affordable Russian partners and tutors. Overall, your success is determined by your determination and initial motivation.