Marketing is a crucial factor that can make or break any business. To ensure that customers are aware of their presence, many companies are doubling their marketing spends. Unfortunately, according to research conducted by Professor Clayton Christensen at Harvard Business School, it was found that each year over 30,000 new consumer products are introduced into the market. However, a staggering 95% of these products fail miserably, leaving no significant impact on the market.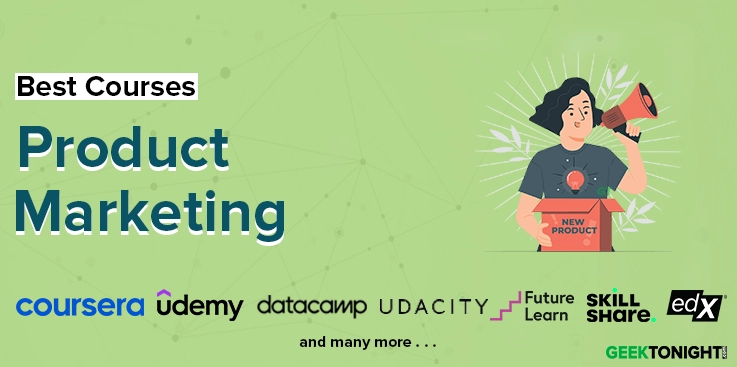 Product marketing involves effectively promoting your product or service to potential customers. This includes developing strategies, creating a strong positioning, and effectively conveying your message to make your product successful.
Considering the increasing number of mobile phone users worldwide, this article highlights the importance of both traditional and digital product marketing strategies. To help individuals gain a competitive edge in their careers, we have compiled a list of the best product marketing courses available online.
Our product recommendations are unbiased and based on an independent review process. We may receive a commission for links to recommended partners. See our advertiser disclosure for more information.
---
Best Product Marketing Courses, Certification, Tutorials, Training, Classes Online
Coursera's online product marketing and management course help you to define a way for your product to reach the right audience under the right management. It includes all the basic marketing concepts to efficiently & effectively manage and market your product from a digital aspect. The course can be said to be a creation made just to meet modern product marketing problems. It includes the very basic fundamentals of modern product management and teaches you to build market go-to strategies among many other things.
Course Instructor
This splendid digital product marketing course is instructed by Alex Cowan, a Faculty at The Darden School of Business under the University of Virginia. Alex Cowan is the best instructor to teach product management as he has his fair share of experience as an Entrepreneur making him a solid teacher in product management. On Coursera, he has 20 courses from which he has garnered a student of 364,827 learners and maintained an instructor rating of 4.75 out of 5.
What You'll Learn
Achieving Focus and #Winning: Learn how to effectively engage with stakeholders as a product manager to identify clear and measurable customer outcomes, and create a focused plan of action.


Using Today's Product Management Methods: Get to go through the methods used by successful product managers and come across offers tips on how to persuade stakeholders to adopt them.


Exploring a New Product Idea: Discover how to apply modern product management techniques to explore new product ideas, including customer discovery, idea validation, early development, and business model design. 


Amplifying an Existing Product: Discover how to establish a sustainable and targeted program to ensure your product remains competitive.
Pros & Cons
Pros
Coursera Labs: practical projects
Flexible schedule, graded assignments, peer feedback
Certificate on Completion
Financial Aid Available
Key Highlights & USPs
Learn essential concepts of developing yourself & your team, data science, being a product manager and manipulating the customer journey.


Get to know the strategies that modern product managers implement on a daily basis to differentiate themselves and their companies from others.


Learn Agile product management and Lean startup method to understand how to develop, introduce and manage the new products.


Develop a Business Model to help you strategically to maintain and improve your business


Hone your skills of upbringing a seed of an idea, and learn the various processes and steps that will strengthen your idea in the market.


Upon successful completion of the course be entitled to receive a Coursera certified shareable certificate, lifetime access to the course and its materials along with quizzes & exercises to enhance your learnings.
Who is it for?
This beginner's product marketing course provides a valuable resource for entrepreneurs, marketing managers, and anyone facing product-related challenges. Participants will gain insight into the critical roles that product marketing and management play throughout a product's lifecycle.
Rating: 4.7/5
Students Enrolled: 139,841
Duration: 11 Hours
The success of a product is not only its own success but also the success of the product managers that do the daunting task of bringing a product that will be accepted by customers. In this Udacity product management course, you will come across content that will help you to shape yourself into a better product manager and learn product development to delivery.
Course Instructor
This product manager program is taught by industry experts, including names such as Anastasia Root, Alex King, and Yuva Murugan all three holding product manager positions at major companies. The instructors are having a good experience as product managers and they try to share this experience and their learnings through this wonderful course.
What You'll Learn
The Product Manager Nanodegree is having 4 main lessons:
Product Strategy for Product Managers: This course will teach you how to develop a comprehensive strategy for creating highly effective products based on market-based insights.


Product Design: From concept to design and user validation, this course will guide you through the process of creating a product specification that can be seamlessly handed off for development.


Product Development: In this course, you will acquire the essential soft skills necessary to manage the development and execution phase of a product.


Product Launch: This course will equip you with the skills to create a launch plan, identify potential risks and develop strategies to mitigate their impact on the launch.

Pros & Cons
Pros
Real-time support
Career services
Certificate on Completion
Key Highlights & USPs
Learn the steps of new product development process i.e. How to formulate an idea, developing a concept, designing, user testing and finally delivering a product to market.


Make brand strategy that is backed by insights & data directly driven from the market, develop a product vision that firmly states your business  to all your stakeholders.


Identify and learn the most important core soft skills that are needed during the execution and development stage of the idea.


Learn about the risk part of the product launch stage and how to minimize them by creating a plan and early identification.


Achieve a lifetime access to this course and its materials, complete it in your own time with technical mentor support, career services etc.
Who is it for?
This comprehensive product management course helps to gain a thorough understanding of how to create and manage a product idea. It is also suitable for individuals who may be struggling to comprehend the product development process. The course content is designed to be both easy to understand and advanced, making it accessible to learners at all levels.
Duration: 4 Months – 10 Hours per week
From this product management program you'll gain understanding of how to maintain and develop product strategies to meet the requirements of your customers while fulfilling your business goals. The aim of this course is simply to help you in framing your own successful product strategy which acts as a competitive factor for your business. If you want to learn product strategy then check out our best product strategy courses.
Course Instructor
Another product strategy course on the list by the Clinical Professor of Marketing at Kellogg School of Management, Mohanbir Sawhney. Prof. Sawhney is an Associate Dean, a director and an Author with books like 'The Sentient Enterprise: The Evolution of Business Decision Making' under his belt and has also carried out research that has been published in famous journals such as Hard Business Review, MIT Sloan Management Review, California Management Review etc.
Pros & Cons
Pros
Practical curriculum that facilitates the application of learnings
Option for group enrollment
Certificate on Completion
Key Highlights & USPs
Learn the JTBD framework or 'Jobs-to-be-done' framework to evaluate new opportunities by understanding customers' buying objectives.


Taking your product to the market effectively and choosing the best route for your product while also getting to know how to maintain partnerships in business.


The course offers various exercises, applications and real life industry examples of 10+ companies with names including such as Apple, Microsoft, Uber etc.


Be entitled to receive a course completion certificate from Kellogg Executive Education along with lifetime accessibility to the course and its materials.
Who is it for?
This intermediate-level online certification product management course in product management is tailored for professionals involved in product or product strategy development. By completing this course, learners will acquire the knowledge and tools necessary to excel in their management work.
You can find the best courses listed in our article on best product strategy course, where we provide detailed insights and reviews on the top courses available on the internet.
Rating: 4.7/5
Students Enrolled: 24,682
Duration: 2 months, 4-6 hours/Week
The needs of the market and customers are continuously evolving and changing, and this calls for an expert with true knowledge of the product market. This product marketing strategy includes a syllabus that is driven by real market situations and shows content that helps you to tackle the ongoing difficulties for products in the market.
Course Instructor
Mohanbir Sawhney along with a team of highly qualified people lead this product management course. Prof. Mohanbir is a well established personality when it comes to product management, he is also an author, Director and Associate Dean. His experiences in product management make the learning derived from this course a valuable one.
Pros & Cons
Pros
Online and In-Person/Live Virtual
3 Days of In-Person Networking
Certificate on Completion
Key Highlights & USPs
Learn various comprehensive management frameworks necessary for developing a product from ground up.


Discover how to know the potentiality or opportunities available in the market, and learn a problem solving approach called 'Design Thinking'.


Get to know the core initial product management and product strategy decisions for developing a strong vision statement.


Learn product management leadership i.e. gain a mindset of an efficient leader that knows how to get things while maintaining a healthy work environment.


Learn how to build an environment of trust, reliability and an organization culture where communication is given utmost priority.


Gain a course completion certificate from Kellogg Executive Education with lifetime accessibility to the course and its materials.
Who is it for?
Designed for advanced learners, including senior and experienced product managers and individuals with C-level job titles, this product marketing training provides a comprehensive guide to managing products, cross-departmental teams, and becoming an exemplary product manager. With a focus on multiple functional areas, participants will gain valuable insights and learnings to apply in their work.
Duration: 12 Months, Online & In-Person
The main pillar of modern product management is a strong brand along with a strong product. This course takes you on a journey of defining a product + brand that generates good long term value for you as well as your organization, it focuses on all the core concepts that will help you to make your brand an icon.
Course Instructor
Luis Rodriquez Baptista serves as the instructor for this product brand management course. Mr Luis is a professor of marketing at IE Business School and he comes with experience in creating strategies, working as an advisor/ consultant for many local and international companies. He has an instructor rating of 4.75 with 98,332 students across only two courses on Coursera.
What You'll Learn
Launching new products and the challenge of managing their life-cycle: Get a clear understanding of product strategy concepts and the ability to develop a factual basis to define your own product strategy.


Developing compelling brands that inspire your most critical stakeholders and impact your bottom line: Learn how to gain the ability to articulate the various components of a brand strategy and craft a successful brand strategy that aligns with your business goals.


Knowing how to communicate your offering: Brand Architecture & naming: Define an effective branding strategy that includes naming your brand and developing a system to accommodate future products and brands.


Building your brand portfolio: This module teaches you the expertise to map your brand portfolio strategically, ensuring maximum value is attained to drive growth for your business.


Translating your brand into compelling customer experiences: Articulate the customer experience journey for your brand, including defining and describing its key elements.


Equipping and engaging employees to deliver on the brand promise: You will be able to demonstrate an understanding of the process required to effectively integrate a brand within your organization and apply this knowledge to achieve successful implementation.
Pros & Cons
Pros
Flexible deadlines
Coursera Labs
Certificate on Completion
Cons
Limited to No live interaction
Key Highlights & USPs
Learn to estimate the product demand for your product, and grow your product portfolio.


Enhance your knowledge by getting to learn the theoretical knowledge of Brand and Product Management including various frameworks and concepts.


Strategically come up with your Brand Model, Values, and USP that help your organization to maintain sustainability.


How to build your brand essence and all the benefits/importance that it offers for the brand.


Evaluating competitors to gain insights and for earning a competitive edge.


The course comes with a shareable course completion certificate along with practice exercises & readings in each module helping you to understand the module in a better way.
Who is it for?
This brand management course is suitable for individuals who are aspiring product/brand management students since this course focuses on solving the real life product/brand challenges to provide learners good ways to increase their brand's engagement, customers, life, architecture and most importantly success.
Rating: 4.7/5
Students Enrolled: 80,313
Duration: 14 Hours
The digital needs of today's world are something that is getting hotter and picking up pace day by day. A well digital centric product management does not only focus on the product but also focuses on the digital capabilities and understanding of the product managers and the teams involved. This Micromasters program has 5 courses in it, which gives digital product management training and also teaches you the surrounding aspects for succeeding in this digital economy.
Course Instructor
The faculty/ instructor panel includes 11 well rounded industry experts with names like Kristen J.McCormack, Darrell Griffin (CEO), N. Venkat Venkatraman, Matthew J. Reis, Varun Nagaraj, Marshall Van Alstyne, John W.Byers, Chris Dellarocas, Sandra Deacon Carr, Nitin R. Joglekar and Lloyd Baird on board.
Pros & Cons
Pros
Course endorsed by Fidelity Investments & Tech Mahindra
Certificate on Completion
Key Highlights & USPs
Hassle free handle digital projects and teams by learning risk management and leadership skills to match the digital world of today.


Learn digital product management, Agile development, Lean  Development, Waterfall Development and System Design Thinking.


Customize your business model to overcome your digital deviations. Get to know Competing vs Collaborating: Which is better?


Learn various strategies to create & capture value and various tools to help you to do so.


Get lifetime accessibility of the course and its materials along with a MicroMasters program certificate after completing all five courses under the program.
Who is it for?
Individuals with a solid background in product management may also benefit from this advanced product marketing course. Its focus is on enhancing leadership skills and imparting knowledge of operational and performance management to enable learners to become effective and efficient leaders.
Duration: 9 Months – 4-7 hours/week
---
FAQ
Is a marketing certificate worth it?
Yes, a Marketing Certificate is worth it. If your question is why they are worth it, then firstly you have to think about any major company and see if marketing did not play any role in their fame or in their increased sales numbers.
Having a certificate shows the calibre of the individuals in that particular area, it sets them apart from a herd of competition.
Especially now in the digital era the need for various online marketing jobs are arising and the recruiter is also most bent on hiring individuals with some knowledge and practical experience on the subject that's what marketing certificates help to demonstrate.
How do I become a product marketing specialist?
Becoming a specialist is no easy task, it requires a rigorous determination from aspirants to become a pro in product marketing.
1. You need to have cleared your high school (Clearing with relevant subjects would be a major plus)
2. You need to have at least a Bachelor's degree with most preferably marketing specialization other subjects work too.
A conventional way would be doing a Bachelor of Business Administration with marketing as a specialization and getting some industry practical experience and then maybe opting for MBA.
3. But if you have a non-marketing degree or even if you have a marketing degree and you want to build your credibility, you can take product marketing courses taught by industry experts to give you good exposure in the product marketing world.
4. (Optional Step) Doing Masters of Business Administration is something that holds the potential of offering you prestige offerings from employers. To add more value to your MBA degree, doing an MBA in product management specialization will be more relevant to the chosen field here.
5. Gaining some kind of practical experience is very important in all these steps. You have to have a good amount of experience to be a specialist in product management.