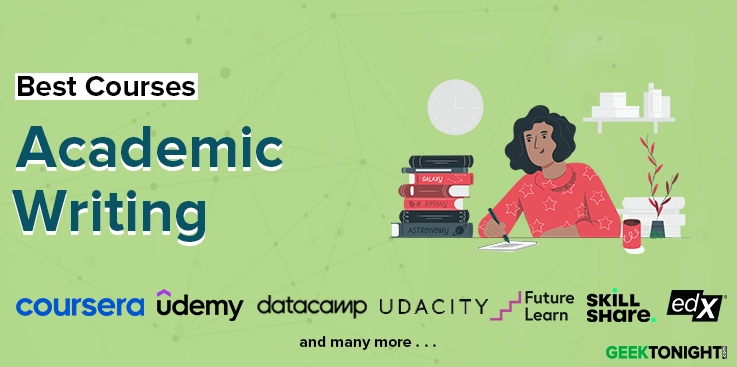 What is Academic writing? You ask? Are you a student? A Teacher? a Professor? Or an individual who has to engage in college/school/university writing or even deal with academic writing, grading others for their submissions? Well if your answer to the aforementioned question is yes then we are more than happy to help you.
Academic writing is nothing but writing for academic purposes, whether making notes for lectures or writing for assignments, submissions, reports, projects etc. The courses on this article are a compilation of 4 top writing courses online that help individuals to write fluently for their academic work.
---
Best Academic Writing Courses, Certification, Tutorials, Training, Classes Online
Good writing skills hold grave importance in college and this course is fully focused to help individuals in learning how to write well for excellent grades. This Udemy academic writing course is helping learners with various tools and strategies that can be used while generating good content. The course is divided into 7 sections having a total of 33 lectures altogether.
The writing course is taught by Mike Taylor, Assistant Professor of English, Editor and a Writing Coach. Prof. Taylor has experience teaching English and academic writing in the United States, Korea, Hong Kong, Canada and Germany. He has about 47,392 students from only 2 of his courses on Udemy with instructor rating of 4.7/5.
Key Highlights & USPs
Gain academic writing skill that helps you in writing clearly, concisely with your own style, voice and flow.


Learn the skill of persuasive writing to persuade masses with your writing.


Develop understanding towards the research from various sources and incorporating information in a non plagiarized way.


Also learn the basics of writing i.e. grammar, proper sentence structuring, punctuation inclusion and formatting.


An active forum community to help you out anytime when you need assistance or have doubtful thoughts.


Get free full lifetime access to the course along with access on TV and mobile and a completion certificate.
Who is it for?
This online writing course is good for beginners especially due to the fact that it comes with a great instructor who has vast experience of teaching academic writing. It is a perfect course for individuals wanting to learn to excel their game of writing during their academic work.
Rating: 4.7/5
Students Enrolled: 26,206
Duration: 4 hours
A specialization program on Coursera that entirely teaches the academic writing skills needed to score good grades through five courses. The program course focuses on the following topics: Grammar and Punctuation, Essay Writing, Advanced Writing, Research and a writing project. All these five courses include very detailed information regarding the topic and help you in college-level academic work.
The academic english course comes from the University of California Irvine with its leading instructors namely Tamy Chapman, Helen Nam and Brad Gilpin. The academic english writing course becomes easy to learn as all the three instructors are teachers teaching with International Programs at the University of California Irvine.
Key Highlights & USPs
Learn to express and communicate your thoughts and ideas in a clear and effective way.


Utilize different writing styles and tones while maintaining the grammatical integrity of the topic.


Get to know the essay writing format and gain knowledge of various types of essay writing.


Capstone Project includes writing a 7 to 8 pages long research paper on any academic topic of your choosing.


Learn formulation of thesis statements in essay, ways to identify plagiarism and ways to prevent it.


The course comes with a shareable course completion certificate along with practice exercises & readings in each module helping you to understand the module in a better way.
Who is it for?
It is a complete beginner writing course carefully made to help college or university going students in writing exponentially while maintaining the meaningfulness of the topic. Learners can easily pick up the skills that are required to write fluently developed research papers and write in different personalities or in different styles to match readers perception.
Rating: 4.8/5
Students Enrolled: 173,355
Duration: 6 months, 4 hours/week
The course offers a step by step process helping learners to develop their writing method. It aims at showing the individuals that they can improve their writing habits by focusing on avoiding the negative writing habits that degrade the overall written piece. This writing skills course online is focused on exercises and peer learnings helping you to experience writing styles of others.
The instructors of the course are Dr. Heidi Minning, Jeremiah Hendren, Stephen Starck, Dr. Aparna Bhar, Susan O'Byrne, Rose Jacobs, Ruth Shannon, Elizabeth Hamzi-Schmidt, Tina Schrier, Huma Abid, and Marie-Claude Gill-Lacroix all from the Technische Universität München institution.
Key Highlights & USPs
Learn how to write reader friendly sentences that are perfect in all contexts.


Ensure your writing tone of voice is something that is clear and exact and shouldn't offend at any cost.


Go through various genres of writing and how to successfully overcome all writer's barriers.


Master to structure your ideas in creatively well explained manners for your readers.


As said before you will get the chance to engage with an active peer community from where you can give and take knowledge.
Who is it for?
It is an intermediate writing course made for individuals who have some existing knowledge of the English language and know the basics of how to write and read it. The course helps in developing the habits of practicing and following a professional academic writing style that helps out in all of your academic writings.

Students Enrolled: 57,845
Duration: 2 months, 3/4 hours/week
This academic writing program is what its name claims to be i.e. it helps you to write to get results! The art of writing is explained in the most subtle words to make sure individuals understand and implement working strategies to their writing styles and get the maximum benefit from it. And this course comes with a plus point of a 30-day money back guarantee so you can try the course and if you think you already know it all you can back out and get your refund.
Nadine Bekkouche, is the instructor for this course. She has a background in Medical Psychology (MSc) and is currently pursuing PhD in Education. She is the perfect instructor to teach academic writing because she has mastered the academic writing quality for 10+ years now.
Key Highlights & USPs
Enhance your papers, assignments by applying tips and tricks mentioned in this course.


Learn how to frame line of argument, writing introductions, body and paragraphs that speak.


Come across various tools that help you in your writing process by following writing smart i.e. maintaining the language of the content without any errors or slangs.


Understand the difference between different papers, articles and master each technique to suit the writing needs.


Get a few tips on framing a good literature review with proper research.


Be entitled to receive a course completion certificate once the course is finished along with many articles and downloadable resources for your reference.
Who is it for?
It is for experienced individuals with a bit of knowledge of academic writing and common writing. Taking this course can help individuals to produce papers and projects that are liked by their professors and faculty staff.
Rating: 4.6/5
Students Enrolled: 24,682
Duration: 2 hours

Valid till: 30th September
FAQ
How can I learn academic writing?
One can learn academic writing in many ways possible considering now the digital era learning has become more accessible then anything.
Schooling – If you have completed your schooling years then first let me congratulate you because you are an academic writer already! since you have submitted assignments and projects.
So now the question is how can you improve your academic writing? Rather than how can you learn academic writing?
To improve your academic writing there are various sources available on the internet both free and paid.
One of the prominent ways for student to learn academic writing is from:
• Doing Academic Assignments
• Writing Research Paper
• Writing projects
Where can I study academic writing?
Youtube: There are literally many videos online teaching how to write well for academic reasons. People who are looking for a quick and easy way to learn can always turn to youtube for unlimited access to various academic writing videos.
Online Courses: These come in free and paid forms and it is advisable to learn academic writing from an online course since online courses primarily focus on the topic and provide sources, materials for references. And also taking an online course will give you a certification in academic writing which you can include in your CV to showcase your abilities as a writer.
Tuitions: Taking English courses can also help you to learn academic writing since it comes with teaching writing which you can implement in your academic work.