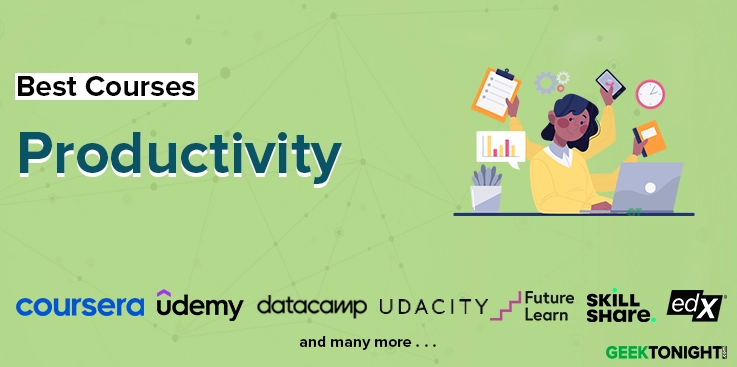 Time management is a crucial skill whether you're a student, a freelancer for hire, or a corporate employee. Finding enough hours in the day to accomplish all of your tasks or goals can be difficult, and it can be frustrating to see how little you have done all day.
That is why we have compiled the list of Best Productivity Courses & Certification, where you can learn the essentials of time management and overall productivity.
Our product recommendations are unbiased and based on an independent review process. We may receive a commission for links to recommended partners. See our advertiser disclosure for more information.
---
Best Productivity Courses, Certification, Tutorials, Training, Classes Online
Time Management for Personal & Professional Productivity offered by Coursera is one of the top-rated courses for Productivity. In this excellent course, you will be able to gain and apply your knowledge and understanding of personal and professional awareness, organization, and commitment, and use the techniques that you have learned in goal setting, prioritization, and scheduling to overcome time management challenges and enhance productivity.
It is taught by Margaret Meloni, who is the President of Meloni Coaching Solutions Inc, a company devoted to helping you successfully navigate the human side of the project world.
Key Highlights & USPs
Effectively plan to achieve your personal and professional goals


Recognize and overcome barriers to successful time management


Keep your sense of perspective to prevent and manage crises


Manage resources effectively and efficiently


Gain effective insights into the idea of multitasking
Who is it for?
It is ideal for people wanting to improve their daily productivity and successfully complete scheduled goals. It is also suitable for students and employees who want a more disciplined lifestyle.
Rating: 4.5
Students Enrolled: 421,545
Duration: Approx. 10 hours
Top Productivity Courses offered by Udemy is an amazing resource for learning about productivity. This library of courses provides you with everything you need to get started on the journey of a self-productive lifestyle. It will help you eliminate procrastination, multiply your productivity, and feel more powerful in your daily life. Improve your focus, work efficiently in any job and nail your daily goals.
Key Highlights & USPs
Stay focused on what really matters and find satisfaction in your work


Make sure you do the right work instead of just keeping busy


Understand how to beat procrastination, once and for all


Learn how to create a schedule that works for you


Automate your routine so productivity becomes a habit
Who is it for?
People who want to start a new project, change their habits, or work towards some other desired state can take this course and effectively change their lifestyle to a more productive one.
Rating: 4.4/7
Students Enrolled: 2,016,423
Become a SpeedDemon by Udemy is a top-rated online course for learning productivity. This course will be teaching you the most cutting-edge tips and tricks for productivity, automation, and efficiency so that you have more time for the things that matter in life. It takes a holistic approach to productivity and efficiency, arming you with the mindset to kick butt and speed up every aspect of your productive and creative life, in order to make time for the things that really matter.
It is designed by SuperHuman Academy, which is an information products company specializing in personal growth. They have a very positive rating and have over 200,000 students and customers in all 205 countries and territories worldwide.
Key Highlights & USPs
Harness the preeminent theories of productivity and time management


Identify time-wasters and zap them before they drain the day away


Make more time for the things that matter in life


Use cutting-edge hacks to improve computer productivity work


Cut out the bad habits that cost hours in the day for no reason
Who is it for?
It is ideal for students who feel that certain activities such as computer work, cooking, or communications take longer than necessary or those who need an extra hour in the day.
Rating: 4.4
Students Enrolled: 41,482
Duration: 2hours 41m

Valid till: 30th September
Productivity Masterclass offered by SkillShare is an excellent online course for productivity. Transform your personal and professional life by creating a simple, customized productivity system with productivity expert and YouTuber Thomas Frank. He has crafted a career out of helping others get organized and improve their workflow with straightforward techniques. In this course, he shares his tried-and-true process for creating an end-to-end, personalized productivity system.
It is taught by Thomas Frank, who is an author, YouTuber, and speaker. He is passionate about helping students succeed, and most of his work today is done at College Info Geek – a site he created in 2010 for becoming a more effective student.
Key Highlights & USPs
Learn to manage Your Tasks effectively and set Up Your Calendar


Understand how to take your notes and organize Your Digital Files


Get Better at Email and Organize Your Physical Files efficiently


Learn the fundamentals of Task management and their essentials


Understand the secret to staying organized for the long haul
Who is it for?
Whether you're a freelancer aiming to streamline your project process, a grad student balancing a full-time job, or a hobbyist looking to carve out time for a passion project, this class is your ticket to crafting the life you want.
Productivity and Time Management offered by Udemy is one of the best-rated courses online for learning productivity. In this course, you will be focusing on what is causing our overwhelm and what leads us to procrastination. Build the foundation for a new level of productivity and cover the fundamentals and key concepts that must be mastered in order to really get the results you want and to be a master of productivity. Finally, you will learn effective time management tactics and strategies to really make a dramatic improvement in your productivity.
It is designed by Josh Paulsen, who is a Productivity and Goals Coach. For more than 15 years, his passion has been leading organizations and helping students and clients reach their full potential in their careers and their businesses.
Key Highlights & USPs
Increase  your productivity by implementing new strategies throughout your day


Create a personal plan that fits your personality and style


Take control of their mindset and energy levels to increase your productivity


Discover why you are not as productive as needed and develop a plan to improve


Understand the fundamentals necessary to master productivity
Who is it for?
This course is intended for students who are overwhelmed, unsure of how they can be more productive or don't feel like they have enough time in the day.
Rating: 4.5
Students Enrolled: 136,938
Duration: 1hours 55m
Productivity Training courses offered by LinkedIn Learning are an amazing resource for learning about productivity. This library of courses will be providing you with everything you need to know to learn about the essentials of productivity. It will be giving you practical strategies for increasing productivity on several points: how to develop habits to be more organized and reduce the clutter in your workspace, how to stay mentally on task and how to develop a time budget to get the most done during your workday.
Key Highlights & USPs
Find your motivation for lasting change


Understand the three principles of productivity


Addressing the myth of multitasking and reducing the costs of switch tasking


Learn the secret of focus improvement and increased concentration


Use the 80/20 rule and find your Einstein window
Who is it for?
It is ideal for students, employees, and leaders who want to increase their daily productivity and become more productive by following a disciplined lifestyle.
FAQ
Does time management increase productivity?
Effective time management techniques increase your focus and productivity. They also reduce distractions and procrastination. Taking control of your time through good time management increases your productivity.
How can I improve my time management skills?
Some of the ways you can improve your time management skills are:
1. Start your tasks early as possible
2. Give yourself breaks
3. Prioritize your tasks
4. Schedule your tasks and deadlines
5. Organize your workplace
6. Learn your patterns of productivity
7. Use technology to help keep you accountable