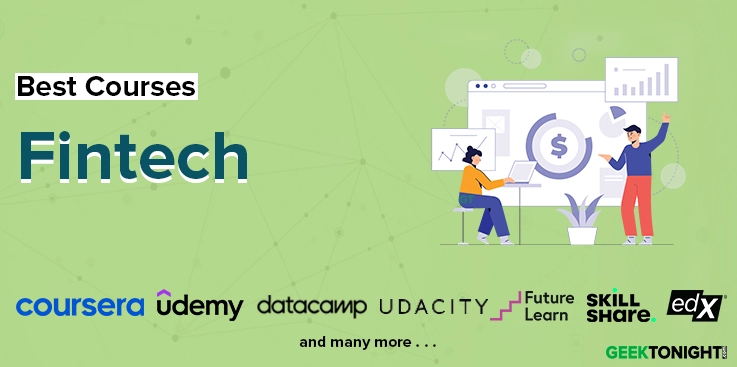 The need for working knowledge of financial technology, or fintech, is growing in the modern world. The broad topic of "fintech" encompasses anything from bitcoin to mobile payments. You can obtain a comprehensive education in this quickly expanding subject of fintech by taking the appropriate fintech course.
One of the most fascinating and rapidly expanding businesses in the world is financial technology (fintech). And that should come as no surprise considering the phenomenal technological advancements that have transformed the banking industry.
You must keep up with the most recent trends and technologies if you want to break into the fintech industry or advance your career. And enrolling in a fintech course is the best way to accomplish that.
This article on the site will look at some of the best fintech courses present on the internet. Scroll down for more!
---
Best Fintech Courses, Certification, Tutorials, Training, Classes Online
This online fintech course is a specialization with four courses introducing you to the core concepts of financial technologies and their practical applications. The critical elements of technology-driven financial strategies, such as complex legislation, cryptocurrencies, and portfolio optimization, will be taught to you.
Coursera fintech specialization is brought to you by the Wharton School of the University of Pennsylvania. The instructors of this course are Christopher Geczy, Natasha Sarin, Jessica Wachter, Sarah Hammer, and David Musto bringing on the platform their extensive years of experience and knowledge.
Key Highlights & USPs
You will discover the essential elements of contemporary investment techniques that make use of fintech. Learn to use best practices when creating a fintech plan for your company.


Determine the regulatory issues that the most popular financial technology raise.


You'll be able to recognise various financial technology, and comprehend how innovations and laws interact.


Completing this course is entirely self-paced, giving you flexible deadlines for any submissions and earning a shareable certificate in the end.
Who is it for?
This fintech specialization course is made for beginners level individuals which teaches employees by the end of this course to make informed decisions about implementing financial technologies for yourself or your business, giving you a competitive advantage when using the most recent financial advancements.
Rating: 4.6/5
Students Enrolled: 33,200
Duration: 4 Months – at 1 hour/week
The Professional Certificate programme will provide you the knowledge and skills you need to comprehend how technology and finance interact across the financial system, as well as an understanding of the key technologies and the new players and business models that are entering the market. You will study about the world of fintech and the opportunities and challenges it is bringing.
The course is taught by bunch of instructors with names including like Douglas Arner, Siu Ming Yiu, Huy Nguyen Trieu, Ross Buckley, Janos Barberis, Brain Tang, Henri Arslanian, David L. Bishop and David S. Lee all coming from relevant background for teaching this all round financial technology course.
Key Highlights & USPs
Learn various methods for analysing and evaluating the factors influencing financial technology innovation.


The use of cryptocurrencies, blockchain, artificial intelligence, and big data and How new technology affects markets, companies, economies, and people.


Recognize the ethical aspects of developing technologies, money, and FinTech.


Critically evaluate the effects of blockchain, cryptocurrency, and artificial intelligence (AI) (including ICOs).


Come across the effects of alternative financing on markets, such as P2P lending and crowdfunding.


Practically designed course with assignments and exams and get a shareable certificate after the competition.
Who is it for?
Each course will give students the tools they need to change their own future in FinTech, whether they are working in finance, technology, regulation, or FinTech, studying related fields, or are just interested in learning it. It comes as a advanced course that requires bit of prior knowledge of the course taker in fintech field.
Rating: 4.6/5
Duration: 5 Months – at 2/4 hours per week
The course is best as it takes students to the multifaceted understanding of what FinTech means from the perspectives of big businesses (and more experienced industry players, like dinosaurs), entrepreneurs, investors, and consumers. Students can establish a basis for a better knowledge of opportunities and changes by examining what FinTech is and is not.
Numerous unbiased rating and review publications and surveys have consistently named the Hong Kong University of Science And Technology the top MBA programme in Asia, the top Finance programme in Asia, and the top EMBA programme in the globe. The instructor for this course is Theodore Hengry king Clark an instructor on the platform with 4.76 ratings.
Key Highlights & USPs
Learn about the technology fields that support and enable the financial technology industry including blockchain, AI, Big data analytics etc.


Go through the current and upcoming developments in FinTech globally as well as the effects of FinTech changes and difficulties for present financial services organisations.


Look at applications from six different FinTech subcategories, including loan and personal finance, crowdsourcing and business financing, payments and retail transactions, equities, trading etc.


The course contains quizzes and tests to check your learnings and gives a completion certificate to showcase it in your CV.
Who is it for?
The course is perfect for newbie-level learners as it aims at helping beginners in the finance field understand FinTech and help them become more confident and convincing as they evaluate and advise leaders in the banking industry on how to handle the upcoming changes.
Rating: 4.7/5
Students Enrolled: 24,929
Duration: 15 hours/week
This Specialization is designed for students who are working toward or have already begun a career in the digital finance sector. The Specialization examines the changing landscape of finance, focusing on the new customer needs, shifting regulatory requirements to control the competitive environment, and altering dynamics brought on by the conversion of goods and services into digital goods.
The course is brought you to by Copenhagen Business School with their Associate Professors from the Department of Digitalization – Jonas Hedman and Stefan Henningsson both having 4 courses listed on the platform with 48,848 learners.
Key Highlights & USPs
Describe the changes that affect the financial sector, comprehend the complexity of the payment infrastructure, name and describe the main payment instruments and how they work.



Understand the forces of digitalization that are transforming society and the new competitive dynamics they bring about.



Be aware of the different types of money that leave the country, and be aware of how regulatory framework changes affect innovation.



Get a good command of both internal and external innovation tools in fintech field.



This fintech certificate course comes with videos, lectures, readings and a Hands-on Project for you to actively get involved in. Also, get a certificate in the end.
Who is it for?
The main focus of this course is to help beginners gain the knowledge of ideas like digital platforms and business ecosystems, experience the burgeoning Fintech sector, and develop a new toolkit for competitively innovating in the digital age of finance.
Rating: 4.7/5
Students Enrolled: 24,138
Duration: 5 Months, 3 hours/week
FAQ
What are FinTech courses?
With the rise of digital technologies, the financial sector has undergone a dramatic transformation. This has created a demand for financial technology (FinTech) courses that teach students the skills they need to work in this rapidly changing industry.
FinTech courses offer a wide range of topics, from FinTech businesses and investing to digital banking and payments. The newest technologies and how they are being applied to transform the financial industry will be taught to students. Additionally, they will learn about the industry's difficulties and the regulatory environment.
A FinTech course can provide you with the information and abilities you need, whether you're hoping to start a career in the financial industry or you just want to keep up with the most recent trends.
Is FinTech a good course?
Fintech refers to financial services that employ software and the internet to offer clients a more practical, effective, and affordable service. The goal of fintech is to transform how people interact with their money. They are gaining popularity as a substitute for conventional banks, which have been hesitant to adopt new technologies.
If you want to learn about everything stated above then, the answer becomes easy FinTech courses are a fabulous way to understand and learn about the new fundamentals of finance and how they relate to FinTech in this course. For individuals who are just beginning out in their professions, it offers a comprehensive overview of the industry.