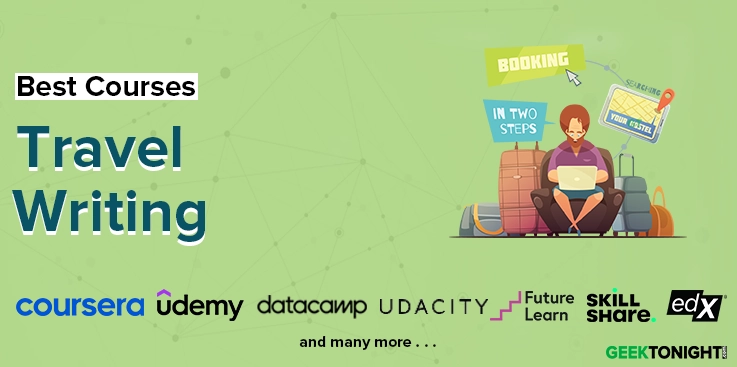 Travel Literature incorporates various dimensions like outdoor compositions, guide books, nature writing, travel memoirs, accounts of exploration, and personal narratives. It is an art form writers use to describe places they have visited and share relevant experiences with the audience.
In 2021, the travel and tourism industry contributed more than 5 billion US dollars to the GDP. To get you acquainted with the domain we have covered the best travel writing courses and certifications. Let us begin!
Our product recommendations are unbiased and based on an independent review process. We may receive a commission for links to recommended partners. See our advertiser disclosure for more information.
---
Best Travel Writing Courses, Certification, Tutorials, Training, Classes Online
This udemy travel writing course is the highest-rated tutorial- ranked number 4 on Buzzfeed's list of "23 of the coolest online classes" on this website. It will teach you how to write professional-quality travel tales that readers and editors will love.
The instructor of this udemy travel writing class is Dave Fox. He is on a mission to help people tell scintillating stories. He's a professional travel and humour writer, a writing and humour coach, a chronic storyteller, and the author of two bestselling books.
Key Highlights & USPs
Weave the various elements that create a great travel tale together- the setting, the people, events, and unique emotions, we encounter on the road.


Learn how to travel with a writer's eye for stories and discover easy and comfortable ways to connect with people when you travel (even if you're an introvert) – because doing so leads you to richer, "story-worthy" experiences.


Obliterate travel writing clichés to create original tales that are truly your own. Study the different methods and best strategies for pitching stories to editors, even if you're just starting out.


Learn the two big mistakes that keep beginning freelance writers from getting published – and discover easy ways to avoid those mistakes.


Introduce colourful characters into your travel tales, and understand the rules and common practices for handling quotes and writing dialogue.


Know what not to include in your stories, pace your action to maintain reader interest throughout and publish your travel tales in blogs, newspapers, magazines, and books.


Get full lifetime access to 3.5 hours of on-demand video on mobile and TV, 1 downloadable resource, 3 articles, and a certificate of completion.
Who is it for?
This online udemy novel writing certification is for anyone who wants to break into freelance travel writing – beginning and intermediate travel writers, as well as advanced writers in other genres who want to expand their repertoire. It is for bloggers, storytellers, aspiring authors, local adventurers and world explorers.
Rating: 4.8/5
Students Enrolled: 10,796
Duration: 3.5 hours

Valid till: 30th September
This udemy travel writing tutorial includes travel writing, blogging and creative writing. Travel to great places and cover the business side of being a writer. It will take you through the skills you need to write about travel in a way that sells.
This udemy online travel writing course is offered by Crystal Tummala. She develops courses to share her years of experiences with aspiring students. She creates these classes to stimulate ideas for wealth creation and life improvement.
Key Highlights & USPs
Know the benefits of travel blogging and learn how to adapt your writing with your audience in mind.


Learn many business considerations before travel writing/blogging as a business and what it takes to make money writing.


Understand what is story writing and how you write your compelling story.


Hit the road and start blogging or writing about your adventures.


Get full lifetime access to 2 hours of on-demand video on mobile and TV, 1 downloadable resource and a certificate of completion.
Who is it for?
This udemy travel writing course is for bloggers, writers and content creators. All you need is a destination, laptop or phone, and an internet connection and you can earn money and travel.
Rating: 4.4/5
Students Enrolled: 235
Duration: 2 hours
These skillshare travel writing certifications offer a variety of topics to choose from. The concepts include: how to build a full-time career as a travel writer, being a travel blogger even when you're not travelling, how to write a great travel story, publish it and writing the poem of the place.
These skillshare travel writing courses are offered by some great writers and industry experts like Rosie Bell, Theresa Christine, Nadine Abou el Atta, and John Davis Jr.
Key Highlights & USPs
Learn about the perks and perils of the job, the art of pitching, and travel writing commandments. 


Find your clients and about the newspapers, magazines and publishers you can write for. Find story ideas and unique angles. 


Understand how to pitch a travel story and structure your travel article. Analyse storyline basics, tone of voice and the techniques to nail the first paragraph. 


Strike the right balance and end with a bang. Know about freelancing finances and administration. 


Find imagery for the place poem and generate memories for the same. Combine ideas and finish the project.
Who is it for?
These are beginner-friendly skillshare travel writing classes that are perfect for providing an overview of the specific topics mentioned above. You can definitely consider the following options if these themes interest you.
Rating: 4.5/5
Duration: Self-paced
---
FAQ
How do you write as a travel writer?
As a travel writer, you need to understand that there might be other writers describing the same place as yours. What makes you different from them is your unique point of view. So tell a story, be brutally honest, and offer something distinct from others.
Is travel writing a good career?
Travel writing is indeed a good career choice for individuals that like exploring places and sharing their adventures about the same. It is a rewarding occupation but requires a lot of creative thinking.
Do you need a degree to be a travel writer?
To freelance as a travel writer, a degree is not necessarily mandatory. You just need to have critical thinking and creative writing skills that go into making a read-worthy article. However if you begin at an early age and want to establish a career in this domain, a bachelor's and master's degree in journalism and related fields would be preferred.