Python is not a language but also a magic tool. The simplicity and popularity of this language are not limited. Marketers are adopting Python as a powerful weapon to conquer bad marketing decisions for businesses. Today, I have brought you an interesting new topic to extend your knowledge as a marketing person. You will learn how Python has been reducing the efforts of marketers and has become a valuable resource to improve marketing performance.
If you are keen on learning Python, you should look at the compiled list of Best Python for Marketing Courses and Certifications, tutorials, online classes while keeping in mind the requirements of all types of users. There are free and paid courses available to cater to your needs.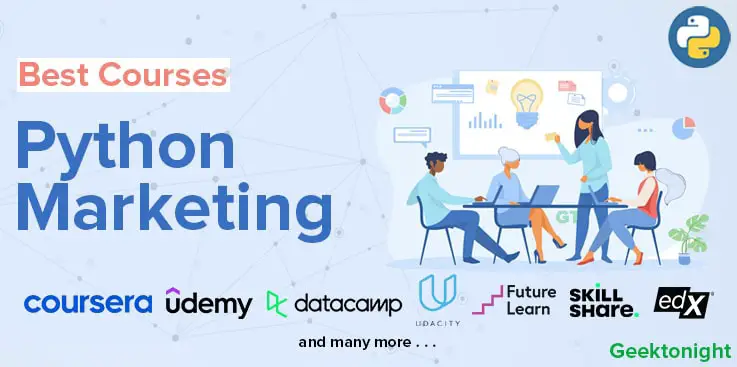 Why learn Python for marketing?
Here is the answer to your question: Marketers can use Python to drive insights into their data and use them to enhance their marketing campaigns. They will be able to expand their business. With Python, marketers can rapidly and effectively modify and analyze data using specialized libraries and frameworks like Pandas and Numpy.
If you are keen on learning Python, you should look at the compiled list of Best Python for Marketing Courses while keeping in mind the requirements of all types of users. There are free and paid courses available to cater to your needs.
Our product recommendations are unbiased and based on an independent review process. We may receive a commission for links to recommended partners. See our advertiser disclosure for more information.
---
Best Python for Marketing Courses, Certification, Tutorials, Training, Classes Online
Learn Python programming skills to analyze the market and make data-driven decisions. In this Python online course, you will learn to analyze marketing campaigns data, measure customer engagement, and predict how customer approaches to buy products. This Marketing Analytics with Python program introduces you to powerful Python and libraries such as Pandas, Matplotlib, tweepy, Seaborn, Numpy, and more.
Course Instructor
Karolis Urbonas created this Datacamp Python Marketing Analytics course with other 5+ instructors from various fields such as data science and machine learning. These instructors will guide you to use statistical methods and machine learning to customer lifetime value. You will get to analyze marketing campaigns with Pandas and other Python libraries.
Pros & Cons
Pros
Receive a statement of accomplishment
Key Highlights & USPs
There will be 7 courses in the Marketing Analytics with Python Program, taught by instructors with extensive experience in top companies.


Discover tools to analyze social media data and extract insights from text data to make better marketing decisions.


Gain Pandas skills and learn to merge datasets, slicing them to create visualizations, further use them for answering marketing questions.


Understand how to collect data from Twitter and analyze how customer approaches your business through text, networks, and geographical origin.


Learn about market basket analysis with Python for bookstores and creating movie recommendations.


Implement machine learning use cases for marketing in Python to predict customer churn.


Create customer-based segments in Python based on customers purchasing behavior and feedbacks.


Use Machine learning with Python to build models for customer predictions and use A/B Testing methods to make better business decisions.
Who is it for?
Get ready to navigate the world of marketing using Python, because this course has a lot more to offer you. It's an intermediate-level Python for Marketing course that provides unlimited access to all the study materials and marketing analytical projects. Before starting this program, you must have basic knowledge of Python programming. By the end, you will understand how to improve the marketing strategy of your company by using popular Python packages like Pandas, Matplotlib, tweepy, NLTK, seaborn, NumPy, SciPy, and scikit-learn.
Rating: 4.4/5
Duration: 28 hours

Offer till 28 Sept
This Datacamp Machine Learning course for marketing is to learn how to optimize customer response and maximize their satisfaction value. You will build a piece of knowledge about different types of machine learning methods, data preparation steps, and run end-to-end models. This Marketing in Python Course will give you the foundation of basic machine learning methods in marketing.
Course Instructor
Karolis Urbanos is the author and instructor of this online python marketing course on datacamp, the head of the Machine Learning team at Amazon Web Services. He prepared this tutorial program to teach you how to apply machine learning analytical techniques using Python.
Key Highlights & USPs
Learn the different techniques such as churn prediction fundamentals, logistic regressions, and decision tree models to forecast customer lifetime value.


Gain knowledge to explore the prediction results and extract data insights by interpreting drivers and measures.


Describe ' What is Customer Lifetime Value (CLV) ' and How to use its different methodologies.


Build customer-level purchase features based on their product purchasing patterns and predict the future of product purchasing using linear regressions.


In the final chapter, you understand how to use purchase history for customer segmentation and explore two to get insights into customer purchasing methods.


You will get to work on marketing python projects from a telecom company and grocery shops.


Get unlimited access to 16 videos, 53 practice exercises, and study materials to enhance your skill.
Who is it for?
This online training program should have prerequisites of data manipulation with Pandas and knowledge about supervised learning with Scikit-Learn. If you are not familiar with machine learning, you can take the Best Machine Learning Courses from GeekTonight. In the end, you can learn this course for free and learn to implement machine learning use cases for Marketing in Python.
Rating: 4.3/5
Students Enrolled: 7,000
Duration: 4 hours

Offer till 28 Sept
A python is a tool and general-purpose programming language used for market analysis. This Linkedin Learning Class provides a base to learn Python for creating valuable marketing strategies to increase ROI and streamline your data collection process from marketing campaigns on all the marketing channels. You will get to know about features of python programming features that help marketers to understand customers, products performance, and competition in the niche market.
Course Instructor
Nick Duddy, Founder of Matrix – a search and app marketing agency, designed this easy-to-understand along with the full-service content company, Madecraft to teach students how to use reliable codes of Python to improve the marketing at your business. You will know how to accelerate your marketing with Python.
Key Highlights & USPs
Understand the importance of Python in marketing.


Discover how to import and clear data from sources like Google and Twitter.


Learn to merge collected raw datasets, create detailed visualizations, analyze time-series data, and further build custom metrics for enhancing marketing.


Develop the knowledge to use popular Python libraries such as Pandas and Seaborn for marketing analytics.


How to conduct market analysis, predict customer behavior, assess the competition, and learn more about new market trends.


Practice your learned skill on one real-world project.


Get full free access to the course in your first month of learning on Linkedin and practice this new skill.
Who is it for?
This Linkedin Python for Marketing course is an intermediate-level course for marketers and Python programmers seeking to learn Python for the marketing automation revolution. You don't need to be a coding genius or a techie person. You need to complete all the LinkedIn courses to earn a shareable and printable certificate.
Rating: 4.4/5
Students Enrolled: 13,648
Duration: 2 hours
This Udemy Customer Analytics Course covers all beginners to advanced customer analytics topics such as deep neural networks, K-means clustering, and elasticity modeling. You will introduce the concept of customer analytics that generally means to merge marketing tactics with data science techniques. This Customer Analytics in Python course brings you the best online python course to stand out in the crows with a rare and extremely valuable skillset. It is the place where you understand how marketing meets with data science.
Course Instructor
Along with Udemy, 365 careers created this Customer Analytics with Python Course to understand the market and improve business performance. They are the bestselling provider of business, finance, and data science online courses on Udemy. This Customer Analytics tutorial is divided into different parts to explore the analytical process.
Pros & Cons
Pros
Full lifetime access to downloadable resources
30-day money back guarantee
Key Highlights & USPs
This Udemy Retail Analytics with Python course is divided into 13 sections and 76 video lectures to gain knowledge about customer analytics using Python libraries and tools.


Learn about the fundamentals of marketing and relevant theory to start performing customer analytics.


Combine the K-means clustering and Principal Component Analysis( PCA) methods to build models and get better customer insights.


Understand how to visualize data appropriately using Numpy, Scipy, and Scikit-Learn.


Build deep knowledge of descriptive statistics based on customer behaviors interpreting through texts, measures, and segments.


Explore how Elasticity Modeling is used for calculating purchase probability, brand choices, and purchase quantity using logistics and linear regressions.


Use the power of Deep Learning with TensorFlow to build a feedforward neural network to predict future customer behaviors.


Master the customer analytical skill in Python using full lifetime access to 12 articles, 13 downloadable resources, and 5 hours of on-demand video.
Who is it for?
You can wow your employers with this desired analytical skill. This Customer Analytics in Python course is for people who are looking to build careers in Data Science, Business Intelligence, and Marketing. It becomes a good career option to expand your knowledge in marketing analytics and more job opportunities. Upon completion, you will be able to help companies to create value for customers and stay on top in the marketplace.
Rating: 4.7/5
Students Enrolled: 11K
Duration: 5 hours

Valid till: 30th September
Before enrolling in Python for marketing courses, it is necessary to have a pretty good knowledge of Python. As of now, you get a little overview of how Python can drive automation across the marketing activities and boost your marketing efforts.
So, you might be thinking of learning Python, If you are not familiar with the basics of this high-level programming language. There are many Online Python Courses and Certifications to teach you about Python and the advantage of using it with simple and concise codes. But here, I brought you a list of Best Python Courses and Certifications from popular websites like Coursera, Udacity, and Udemy.
You can pick any one course to start your journey as a beginner and learn the basics of the Python programming language. You won't need to have any coding experience to enroll in the best python courses from GeekTonight.
Pros & Cons
Pros
Complied the bestseller Python courses
Save your time and money
Get list of free courses to start learning Python
Key Highlights & USPs
Learn the introduction of Python and why developers prefer them over any other language.


Build a deep foundation of knowledge by exploring courses from top-rated institutions and organizations such as the University of Michigan, IBM, and more.


With the guidance of Python experts and instructors, you will learn the best practices and get to perform on hands-on projects.


Get full access to video lectures, study resources, and practice assignments to build an understanding of whatever you will learn in each course.


After completing the course, you get a certificate to share with prospective employers and showcase the learned Python skills.


After finalizing the course and complete it, you can use it for marketing strategies.
Who is it for?
The Best Python Online Courses are for beginners and intermediate programmers to take their career to the next level. There are a few free Python courses for those who want to get through this powerful language. Upon completion of any course, you will learn new skills to add to your resume and increase the chance of getting new career opportunities in machine learning, data science or other fields.
FAQ
What can Python do for Marketing?
Python is the simplest language to learn and understand. Its versatility and powerful features with libraries make it the most productive programming language in the marketplace. Python language has become an effective and productive tool for marketers to design and implement marketing strategies. You can use Python for marketing research and analytics.
Nowadays, businesses and companies are more focused on creating customer baseline and generate the desired business results in the form of profits and revenue. It is possible to drive data, analyze, segment, and create visualizations to get particular data patterns and knowledge about customer purchasing activities using Python.
Why use Python in Marketing?
Python is a versatile and object-oriented programming language that provides benefits with minimal use of codes. It helps to drive automation across the marketing channels. Python provides efficient ways to do data analytics, automate customer segmentation, feedback analysis, and other marketing activities. It gives accurate ROI results from different marketing channels and a platform to visualize the data to know which channel brought more customers. It is easy to use Python with machine learning models that can further be beneficial to know which ad should be displayed to which customer and at what time to get valuable returns.
How to use Python in Marketing?
As I have already mentioned list of marketing analytics courses will teach you how to use Python in marketing. Each course covers how Python can be used for repetitive marketing task automation, developing custom marketing campaigns, monitoring patterns, and analyze campaigns.
Should I learn Python as a marketer?
Yes, Learning python as a marketer will help you to expand your career and stand out in the crowd. Python scripts are a better fit for marketers who are interested in data analysis and data science. It comprises a set of tools that makes Python ideal for marketing, data visualization, data science, and data analysis. Learning Python Scripts for Marketing will open rare job opportunities for you.
How do I get certified in Python?
I have mentioned the Best Python for Marketers Courses to take in the above list. You can take any Python Certification Courses to learn Python and get certified in the language after each course. Geektonight brings you a list of Python, machine learning, and data analysis courses from Udemy, Coursera, and many other sites.
I hope you enjoyed learning from these Courses and would like to pursue a dream job you have in your mind. If you are an instructor and would like to see your course on the list, please feel free to comment down below and mention the name of your course. Stay tuned with us and happy reading!