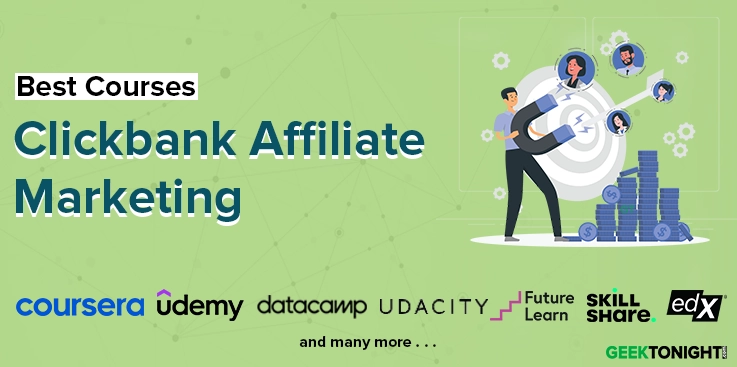 ClickBank is one of the oldest affiliate marketing programs today, with a customer base of 200 million across 190 countries and also being one of the very best alternatives available to Amazon's Affiliate Program.
This platform provides you with the dual functions, i.e. of an Affiliate Marketer – Giving you the option of promoting thousands of products from hundreds of categories and secondly being a ClickBank Vendor for selling Physical or Digital goods, helping you to maximise your earnings.
After looking at the possibilities that ClickBank provides its users, we decided to create this list of the five best ClickBank Affiliate Marketing Course that have enriching topics and content on making money even in your sleep. If you are not intrigued by ClickBank, you can always check our Amazon Affiliate Marketing program list containing the best courses from the internet.
Our product recommendations are unbiased and based on an independent review process. We may receive a commission for links to recommended partners. See our advertiser disclosure for more information.
---
Best Clickbank Affiliate Marketing Courses, Certification, Tutorials, Training, Classes Online
Getting the first affiliate sale is very delightful and hard as well, but this ClickBank affiliate course shows you exactly the steps involved in landing your first-ever dollar from ClickBank without even creating an Affiliate website! or having any prior knowledge of Internet Marketing. Overall the aim of the course is to teach you to earn a sustainable income for a long period of time and to develop the necessary skills of the course taker to bloom in this field.
The author of this ClickBank course, KC Tan, has specialized in eCommerce, WordPress, and Search Engine Optimization. The instructor is known to be conducting training courses for various organizations such as the National University of Singapore Society (NUSS), Singapore Business Federation (SBF), and more. He has 20 courses displayed on Udemy, earning him the instructor rating of 4.4 from his 97,017 studen
Key Highlights & USPs
Learn to develop your own 'squeeze page' (a landing page) for gathering your visitors their information with their consent.


Generating traffic for conversion, the best & worst sources of traffic, advertisement campaigns, and all the things related to attracting good traffic.


Learn to read & understand ClickBank metrics for making the best decisions.


Develop Promotion campaigns, know the profitable products to promote to boost your sales, zero cost Facebook advertising, etc.


Learn concepts, methods, and strategies that can be used on & for other platforms as well other than just ClickBank.


Get Lifetime access to the entire course and its materials, 20+ articles, 20+ downloadable resources, along with a completion certificate at the end of the course.
Who is it for?
This ClickBank for beginners step by step tutorial course is very effective in terms of building a sustainable source of income for the long term. It helps beginners to minimise their costs and increase their affiliate presence as there is no need to own a website.
Rating: 4.4/5
Students Enrolled: 39,684
Duration: 3 Total Hours
You can Sign up Here

Valid till: 30th September
This Udemy ClickBank affiliate marketing course is specially designed for individuals to get traffic without getting into paid advertisements and shows you a simple step by step method which upon following can increase your commission rate. The whole course is focused on working smarter rather than harder in order to match the results of ClickBank to the efforts you put in.
James Canzanella, the instructor, has been an Affiliate marketing specialist for 9+ years. In this affiliate marketing ClickBank course, he is showing learners how they can make money when they are away from the computer, even in their sleep. He has published around 27 courses gaining him an instructor rating of 4.1 and a student base of 116,841 students.
Key Highlights & USPs
Learn how to automate the process of generating quality and convertible traffic for your ClickBank products.


Generate unlimited traffic to your ClickBank links, using a proven easy system formula that will help you efficiently carry off your advertisement campaign.


Learn an optimum selection of products that are high converting in nature, thus ensuring an increase in commission and conversion rate.


Learn how to convert your subscriber to a buyer using email marketing.


Upon completion of the course, get a Udemy certified course completion certificate and access to course resources for an unlimited period of time.
Who is it for?
A beginner level course specially designed to meet the budget friendly advertisement needs of a starter in ClickBank or any affiliate program platform. In this ClickBank advertising course, beginners will define an automated traffic generating process to solve the difficulty of getting consistent quality traffic to their ClickBank links.
Rating: 3.8/5
Students Enrolled: 3,551
Duration: 1 Total Hour
You can Sign up Here
In this ClickBank training course, individuals will learn the difference between the ClickBank vendors and affiliates. It teaches you everything that will help you to become a successful vendor along with the creation of your first product. Along with creating the product, you will learn to sell it, whether through your efforts or attracting affiliates to do it for you; nonetheless, you will learn to market your products.
Another course on this list by KC Tan, an Online Business Coach and Small Business Owner. He has specialised in eCommerce and has years of experience, so he knows what he is teaching. The author is also featured in a book of more than 30 entrepreneurs and their stories – 'Are You Ready to Be the Next Entrepreneur?'
Key Highlights & USPs
Learn to develop an efficient & effective pre-launch strategy to support your initial product launches at ClickBank.


Gain the skill of creating a digital product and engage in selling it by discovering a variety of different selling product niches.


Learn as a ClickBank Vendor the practical strategies/approaches in attracting affiliates for promoting your products, one of them being providing useful resources to affiliates.


Identify the pricing policies for pricing your product, learn the process of creating a customer profile.


Learn to create an Affiliate Profile(Customer Profiling) to identify and locate your best affiliate marketers.


Earn a completion certificate, various articles, many downloadable resources for lifetime access as soon as you finish the course.
Who is it for?
An 'All level' complete ClickBank vendor course offers beginners to move up from affiliates to a vendor position and secure more passive income along the way of doing so. Individuals having no knowledge of the platform can easily get familiarised with CB, and the application of all the strategies mentioned can fetch individuals a good return.
Rating: 4.5/5
Students Enrolled: 2,304
Duration: 1.5 Total Hours
You can Sign up Here
With Pandemic on our backs, ClickBank affiliate marketing has become a prime thing in the last two years, with sign ups increasing as fast as 354% in Turkey in 2019. So this complete ClickBank tutorial course helps you to fast track learn this ever growing platform and utilize it for its benefits and make yourself more financially secure. It is a course that will show you how to start a full fledged ClickBank affiliate marketing career in a matter of three days.
The author is the 'Go To Coach For Leaving Your 9-5 Job With Affiliate Marketing' Jonathan Montoya. The author has a strong introduction and has even stronger beliefs in Affiliate Marketing as he is a practitioner of ClickBank services himself and has years of experience in building multiple excelling businesses that give returns in 7 figures. He has just about four courses on Udemy with 20,355 students that earned him an instructor rating of 4.3.
Key Highlights & USPs
Learn the fastest way (under 1 hour) to create an automated affiliate marketing business.


Develop the skills of brand development and management for making your brand a long term profit sustainable and successful brand.


Learn various new marketing concepts and methods through diagrams for better understanding, and integrate an effective sales funnel with your business operations.


Create or set up potent email marketing strategies that go along with your sales funnel.


Acquire and test various proven strategies in traffic building using Youtube, Instagram and TikTok for your affiliate business.


Achieve a Udemy certified certificate upon successful completion of the program, along with a few articles for lifetime access. And also course access on TV and Mobile.
Who is it for?
This ClickBank Tutorial for beginners course is, as its name suggests, an 'Online Business Starter' for newbies. The content of the course includes and tackles all the problems of the initial affiliate journey and shows the way of how the author's proven strategies can help even a starter to earn in 6-7 figures from ClickBank and their efforts.
Rating: 4.6/5
Students Enrolled: 11,156
Duration: 5.5 Total Hours (Divided in Three Days)
You can Sign up Here
The course provides an effective way of advertisement and making money from ClickBank that assures and supports our marketing campaign carried on for your affiliate products. Particularly in this ClickBank full course the main motive is to utilize cost free advertisement strategies helping them to build their own brands/products in ClickBank. This course will give you thorough knowledge of ClickBank fundamentals, increasing visibility of your products, sales conversion, and everything related to it.
Yet another course by KC Tan in ClickBank section, this man has an ecommerce presence that is very difficult to match along with his experiences of training people at Singapore Polytechnic, CareerMinded, Singapore Business Federation (SBF) et
Key Highlights & USPs
Learn the skills of writing a fluent and impressive product recommendation/ review articles to sell your product.


Grace upon the SEO techniques and modifications that will help you in ranking your websites highly on Search Engine Result Pages.


Learn ClickBank basics and important concepts. Also get to know WordPress Development (Creation, Pages, Settings, Templates & more) for affiliate sites.


Get to know how to use social media to drive traffic and know the things to do and avoid while building a Facebook page.


Learn how to drive immense traffic from YouTube, increasing your chances of making a sale.


The course comes with a certificate, articles, downloadable resources that can be accessed for lifetime once completion of the course and along with access on TV & Mobile.
Who is it for?
This KC Tan affiliate marketing course will help you to promote your affiliates product without spending a single cent on advertisement. That is why this course is perfect for affiliate marketers or beginners who face problems in marketing of their products and are on a tight marketing budget as you can learn and apply the World Class marketing and promoting tips given by KC Tan.
Rating: 4.6/5
Students Enrolled: 3,093
Duration: 2 Total Hours
You can Sign up Here
---
FAQ
Is ClickBank good for affiliate marketing?
ClickBank is a perfect choice for individuals looking to get into Affiliate Marketing since it being one of the oldest affiliate programs, it adds security to its name. The Company makes over 200 million dollars annually in sales and has recorded a client base of more than 6 million entrepreneurs.
In Short, ClickBank is good for affiliate marketing because it lets us act as both an Affiliate marketer and also a Vendor simultaneously, completely free so even beginners can learn and gain from the platform and offers high commission rates going up to 75%.
But there is only one downside of ClickBank that is its availability, as this great affiliate platform is not available in each and every country of the world.
Can you really make money with ClickBank?
A Solid Yes! ClickBank is a legit platform where you can earn money by Promoting products as well as selling your own products. However, the money made by you on the platform will defer as per the commission rate for the products and efforts put by you in selling and promoting the product.
Affiliate Marketers have made 3 figures on ClickBank on an everyday basis, and since most of the products offered are digital products, the production or manufacturing cost is eliminated, thus giving affiliate marketers a high commission rate of 75% or even more than that for some products.