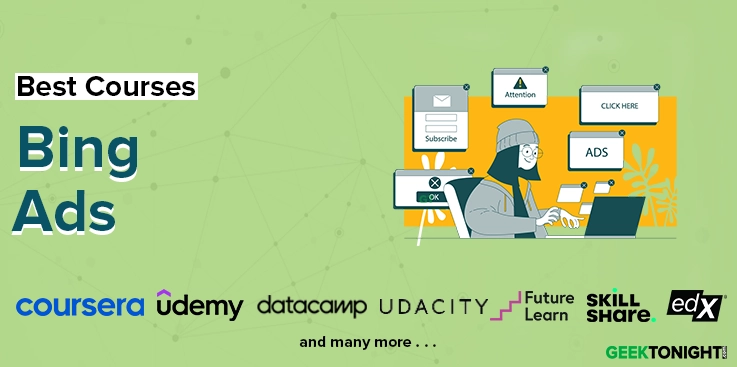 When it comes to PPC marketing, Bing Ads is a tool that can help you reach your target audience. If you're not familiar with Bing Ads, then you're missing out on a valuable way to promote your business. Bing Ads is a powerful tool that allows you to reach a global audience with your marketing message. But before you can start using Bing Ads, you need to learn how to use it effectively.
To help you find the best Bing Ads course for your needs, we've compiled a list of our top picks. Although Bing Ads can be a complex platform to use, there are a number of excellent courses available that can help you get the most out of it. In this article, we will take a look at the best Bing Ads courses that are currently available. By the end, you should have a good idea of what is available and what will best suit your needs.
Our product recommendations are unbiased and based on an independent review process. We may receive a commission for links to recommended partners. See our advertiser disclosure for more information.
---
Best Bing Ads Courses, Certification, Tutorials, Training, Classes Online
This Bing Ads course is for you if you want to promote your website or product online but don't know where to begin. You will be led through each step of the pay per click ad basics in this beginning course. You will discover how to set up your PPC campaigns, the value of demographic targeting, how to pick the best keywords, and how to obtain clicks for less than ten cents.
The instructor of this course is Tom Wiztek, a Recruitment and Marketing Specialist with 70,741 students and an instructor rating of 4.3 on Udemy.
Key Highlights & USPs
Discover how to establish your first Bing Ads campaign by following my straightforward, step-by-step instructions.


Create Microsoft Advertising (Bing) Campaigns in Under 15 Minutes.


Build Keyword Lists Within Minutes for Microsoft Advertising (Bing) Campaigns.


Find the two biggest mistakes new users make when they first use Bing (and avoid blowing your budget in 1 day)


Using One Simple Trick, Craft Advertisement Like A Pro


Discover how to acquire relevant traffic throughout the whole Microsoft Advertising Network.


Discover the greatest FREE tool for creating your campaign's keyword lists.


Use the author's  #1 Ad Creation Secret to create ads like a pro.


Upon completion be entitled to get free lifetime access to the course along with its materials and a completion certificate for your Resume.
Who is it for?
As the name of the course suggest this course is for Beginners, this online bing ads course teaches you to set up your first Microsoft Advertising (Bing Ads) campaign properly if you are new to online advertising or are just getting started. With the help of this course, you will be able to create campaigns quickly and receive hundreds of clicks.
Rating: 4.7/5
Students Enrolled: 2,677
Duration: Self-paced

Valid till: 30th September
This Bing Ads program starts off with a description of how to quickly locate the hottest CPA networks and how to ensure that you'll always be approved into the best networks. Additionally, this course also includes two new reports to assist you to accomplish your campaign objectives more quickly.
This bing ads course has two instructors Sandor Kiss and Stefan Ciancio. Sandor Kiss is a Performance marketer with 819,416 students taught and an instructor rating of 4.2 on Udemy whereas Stefan is an Internet marketer who has an instructor rating of 4.4 and 55,349 students on the platform.
Key Highlights & USPs
Learn to earn money with CPA offers, and follow these three simple actions.


Discover an effective way to get tier 1 customer clicks from Bing Ads for as little as 5 cents.


The best resources and tools for creating landing pages quickly that convert! And Step-by-step instructions on using Bing Ads to create a converting ad campaign.


Making use of Google to find ads that are effective in your niche market.


Learn from the instructor's methodical approach to selecting the top CPA offers for promotion and How to pick the ideal CPA network for your requirements.


Find out the tactics employed in order to ethically plagiarise the winning keywords of our most lucrative rivals.


How to replace losing keywords with winners so that you always get a good return on investment.


How to evaluate your campaign and make changes to increase its effectiveness and reduce losses.


Get free lifetime access to the course and its materials along with downloadable resources and completion certificates.
Who is it for?
This bing ads certification course is for beginners in which learners can learn from instructors actual experience and outcomes and can copy and paste author's tiny money-making device, which brings in $60 to $100 every day. You'll be able to choose a hot offer, direct millions of visitors to a high-converting landing page, and make extra money once you've finished this course.
Rating: 3.8/5
Students Enrolled: 19,006
Duration: Self-paced
PPC ads can be a great way to reach potential customers who are searching for your products or services online. They can also be a great way to boost your website's visibility and traffic. However, it is important to remember that PPC ads are not free. And this course helps you to execute PPC campaigns whether on Google, Facebook or Bing!
Dave Espino is the course instructor teaching fundamentals of PPC advertisement in this course. Dave is an entrepreneur and has about 30 websites and is known for being expert in all form of marketing whether online or offline. On Udemy he has 101,597 students from 39 courses gaining him an instructor rating of 4.4 out of 5.
Key Highlights & USPs
Learn how to establish Google AdWords Pay Per Click advertising campaigns.


Understand how to construct Facebook Ads campaigns for Pay Per Click advertising and be able to handle and administer your own PPC advertising campaigns.


Learn how to construct Pay Per Click campaigns for Yahoo and Bing search engines using Microsoft Ad Network.


Recognize the best-paid advertising opportunities and how each fits into their company.


Understand the lingo and concepts of PPC advertising.


The course comes with a completion certificate and resources to help you as an reference further down the road.
Who is it for?
It is made for anyone who wants to learn about paid advertising online and PPC advertising and wants to develop effective online advertising campaigns on Google, Yahoo, Bing, and Facebook should take this course.
Rating: 3.9/5
Students Enrolled: 1,386
Duration: 4 hours
On Skillshare there are couple of good short duration courses that teach you how to go on with Bing Ads. You get an option to select from a list of courses like 'Bing Ads for Beginners: How to get targeted traffic with Microsoft Advertising', 'Bing Ads 101: Overcome Your Fear of PPC Advertising', 'Bing Ads 2: Finding your Keywords and Microsoft Ads MasterClass 2022 – All Campaign Creations & Features'.
The courses feature Emilia Gardner, Tom Wiztek, Tanmay Das, Pawan Dhakal, Brennan Zimmer as the instructors all of whom are experienced players when it comes to online advertisement.
Key Highlights & USPs
Learn some terms that will be useful for Bing Ads.


Learn about the aspects of keyword research that can assist you in focusing on profitable, high-volume keywords.


Step-by-step guide to using Microsoft Ads to create profitable CPA marketing campaigns time and time again.


Learn how to advertise CPA marketing offers with a $100 free Pay – per – click coupon in Microsoft Ads.


Learn how to track CPA marketing campaigns with the free tracking tool Bemob.


Discover the top CPA Marketing opportunities to advertise with Microsoft Ads.


Learn how to use direct linking to promote CPA marketing offers.


Additionally, the course contains a class assignment that essentially aids in driving you toward gaining actual expertise with the Bing Ads platform.
Who is it for?
If you are unfamiliar with PPC (pay-per-click) advertising, it may seem overwhelming and difficult but here the instructors come into play! On this platform, everything is taught in a straightforward, step-by-step manner. Therefore you shouldn't worry whether if you are a beginner, intermediate, or advanced level here you'll find something or the other that will help you in your journey to understand ads.
Rating: 4.7/5
Duration: Self-paced
FAQ
Which is better Google Ads or Bing Ads?
There are two main players in online advertising: Google Ads and Bing Ads. Both platforms give companies a method to advertise to potential clients. But which is superior?
This question's resolution is influenced by a variety of elements, such as your company's objectives, your target market, and your financial constraints. However, in comparison to Bing Ads, Google Ads is a more widely used and successful platform. Here is a closer examination of the two platforms and a comparison of them.
The platform that more companies use to reach prospective clients is Google Ads. Along with having a greater click-through rate and a cheaper cost per click, Google Ads are also more efficient than Bing Ads. Google Ads is by far the best online advertising platform.
Are Bing Ads worth it?
There is no simple answer to this question because it depends on a variety of factors, including the nature of your business, your budget, and your goals. However, both Google Ads and Bing Ads can be effective marketing tools if used correctly.
Some businesses may find that Google Ads is a better fit because it has a larger reach and more features. However, Bing Ads may be a better option for businesses with a limited budget because it is typically less expensive. In the end, testing out both platforms to see which yields the best results is the best approach to decide which is ideal for your company.
What does PPC mean?
PPC advertisements are a fantastic way to expose your goods or services to potential clients. They are also a fantastic technique to increase sales and generate leads. When establishing your PPC ad campaigns, there are a few things you should have in mind.
Initially, you must ensure that your advertisements are pertinent and audience-targeted. Additionally, you must ensure that your advertisements are well-written and include a call to action. In order to maximize the success of your campaigns, you must lastly monitor your results.
It can be difficult to develop successful PPC ad campaigns, but if you keep these suggestions in mind, you'll be well on your way to success.