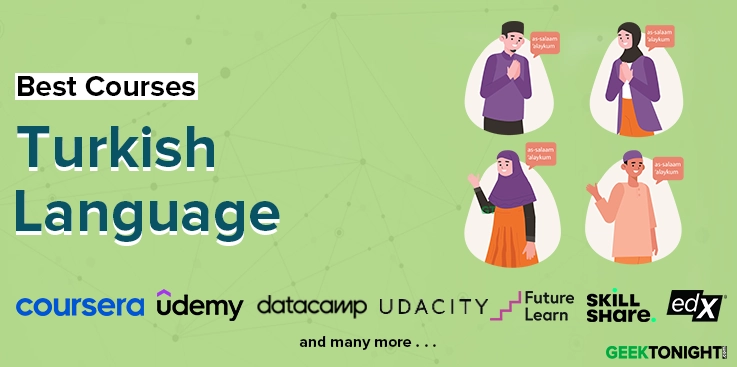 Why learn the Turkish language? This question is common to ask. To travel safely to a Turkish-speaking country, like Turkey, travelers should learn this language. Also, it has become easy for them to understand. It is one of the most important languages by the U.S government of the state.
So, there is a high demand for Turkish speakers who can work with the Government and non-profit organizations. Those who have learned Turkish will be able to ‌speak other Turkic languages, such as Uighur, Tatar, Kazak, Uzbek, and Kyrgyz. If you are working for the Government, you ‌know that the Turkish languages are spoken in several strategic regions such as the former Soviet Union, China, the Balkans, and the Caucasus.
Do you also want to learn Turkish? Check out the list of best Turkish Language Courses in 2023.
---
Best Turkish Language Courses, Certification, Tutorials, Training, Classes Online
There is no doubt that Udemy is one of the best language learning platforms. It provides a wide range of Turkish courses to cater to different Individuals. So, you can take any course to learn Turkish from any lever. From beginners to advanced, learners can choose Turkish language courses for their academic and personal development. Students can understand language with well-structured courses. At the end of any Udemy Turkish course, you may be able to read, write, and speak.
Udemy is one of the top e-learning platforms where you can learn from native and qualified teachers. Each course has designed to make learning Turkish easy and fun. There are almost 132 courses available to help you ‌gain confidence by improving your Turkish language.
Key Highlights & USPs
Learn the basics of Turkish grammar and sentence structures.


Build a conversational tone from beginner to advanced level. 


Develop vocabulary and new phrases to use in daily life.


Learn to use Turkish expressions in conversations. 


Understand how to greet and introduce yourself in Turkish.


Get full access to interactive videos, audio, and other downloadable resources to practice the language.
Who is it for?
Anyone can enroll in any of the Turkish courses from Udemy. There is no limit or restrictions on which one you should choose. But if you have basic knowledge, the intermediate Turkish courses will be right for you. When you take Turkish courses from Udemy, you will receive a certificate of completion. It can help you ‌use it for professional or personal purposes.
Rating: 4.5/5
Students Enrolled: 108,843
Duration: Self-paced

Valid till: 30th September
Learn Turkish in just 5 minutes a day for free

[Duolingo]
Do you have five minutes per day? Yes, Duolingo can teach the Turkish language in five minutes a day. It is a free language app that has helped millions of students with interactive courses. Learn new words, alphabets, numbers, and more with these Turkish language apps. It covers topics from beginners to an advanced level. The steps of learning with Duolingo are simple. First, create your profile and start learning instantly. It is like a game, so you have to clear the levels to go to the next.
Key Highlights & USPs
Learn to read, write, and speak Turkish.


Provide fun and interactive lessons to build confidence. 


Develop knowledge of adjectives, verbs, pronouns, and other grammatical rules. 
Able to introduce yourself in Turkish


Learn to speak and make simple sentences. 


Understand the culture, history, and other things of Turkey.
Who is it for?
After completing Unit 5 in Duolingo, learners will achieve similar reading and listening proficiency as university students. After five semesters, Duolingo learners will gain the same knowledge as university students. Whatever you have learned will help you ‌speak Turkish confidently.
Rating: 4.4/5
Students Enrolled: 2.97 million
Duration: Self-paced
Learn Turkish online for free with Mondly

[Mondly]
If you are looking for a free Turkish course, Mondly is the right place. It will help you learn Turkish online through daily lessons. You will get to explore reading, listening, writing, and speaking. It offers an effective way to learn common words, which further helps in enhancing your core vocabulary. Each lesson will build your confidence in speaking Turkish in real life.
Mondly offers you the online platform to study Turkish from your smartphone or tablet. Also, you can download the app from the Google play store. Professional Turkish native speakers will provide you with clear and comprehensive audio clips. Their high-class audio will deliver the best learning experience.
Key Highlights & USPs
Memorize the most 2500 Turkish words and phrases.


Improve your vocabulary, grammar, and pronunciation. 


Recorded audios will help to practice accents.


Able to have real conversations with local people, book a hotel room, or order food. 


Provide a smart-repetition system to pick up new words and phrases. 


Check your pronunciation in real-time and suggest improvements using Speech recognition software.
Who is it for?
Learners can take this one of the best free Turkish courses with no prior knowledge. A good Internet connection and a smartphone are prerequisites. The app is free to use and pocket-friendly. So you can learn the Turkish language anywhere and anytime hassle-free.
Rating: 4.4/5
Students Enrolled: 24,682
Duration: Self-paced
Learn Turkish online with Busuu

[Busuu]
You can learn Turkish in 10 minutes per day with Busuu. It provides an effective way to Turkish online doing no hard work. You can create your study plan and set the schedule to learn Turkish. This beginner Turkish course will help you memorize all the common words. You can track the growth of learning from basic to advanced phrases. Whether travelling or living in Turkey, this Turkish course is perfect for you.
Key Highlights & USPs
Learn to speak and read Turkish.


Get tools like Study Plan to track your fluency score and the words that you've learned.


Get feedback from over 120 million native speakers on your sending and reading exercises.

 
Discuss or talk to native speakers in Turkish with the conversations feature.


Allow to download lessons and learn language offline.
Who is it for?
This Turkish language course online with a certificate requires you to practice speaking for 10 minutes daily after enrolling. English speakers can build a strong knowledge of Turkish with Bussu's app. Also, no app helps you track your progress and reports to you.
Rating: 4.5/5
Students Enrolled: 13K
Duration: 10 minutes/day
Learn Turkish by Online Courses

[Yunus Emre Enstitüsü]
At Yunus Emre Enstitüsü, you will get a range of best online Turkish language courses for different groups to different levels. Turkish programs will teach your Turkish language online regardless of the time and location. It includes all the word lists and phrases, which may vary according to the students' levels. This Turkish language training program also includes contemporary technological facilities.
Key Highlights & USPs
Learn Turkish with thematic and real-life topics.


Uniquely designed word module helps in learning vocabulary.


Improve reading, listening, and speaking skills through activities. 


Get course tools and materials to learn the basics of the Turkish language. 


Full access to video lessons from Turkish teachers.
Who is it for?
Students will get interactive lessons and helpful resources from certified instructors. The Turkish courses from Yunus Emre Enstitüsü are designed for business owners, kids, translators, and journalists. Here, you can learn Turkish online and watch videos without enrolling in the Turkish language online free with a certificate.
Rating: 4.3/5
Duration: Self-paced
FAQ
Can I learn Turkish by myself?
Yes, you can learn Turkish by yourself. Aspirants need to be determined to practice the Turkish language using media, books, and other mediums. However, it will take some time to learn the basic knowledge of Turkish.
Is learning Turkish difficult?
Yes, it can be a difficult language for English speakers to learn. The sentence structure differs from the English sentences. As opposed to the English language, the whole sentence is combined in words with prefixes and suffixes. It doesn't use any prepositions. That makes it hardest to learn for non-native speakers.
Can you learn Turkish in three months?
To practice Turkish enough, you only need three months. Each course will help to gain knowledge of Turkish from basic to advances. By the end, you will ‌have a conversation with a native.
How do you say Hello in Turkish?
It's no surprise that Merhaba (Hello) is one of the most well-known Turkish greetings. It is the first word you will learn while taking Turkish courses online.
The Last Words
Learning Turkish is helpful‌. You can take any Turkish online course to study this beautiful language. Ultimately, this language skill will help you ‌achieve personal and professional goals. If you are interested in learning another language, check out the article on the best Dutch language courses in 2023 .