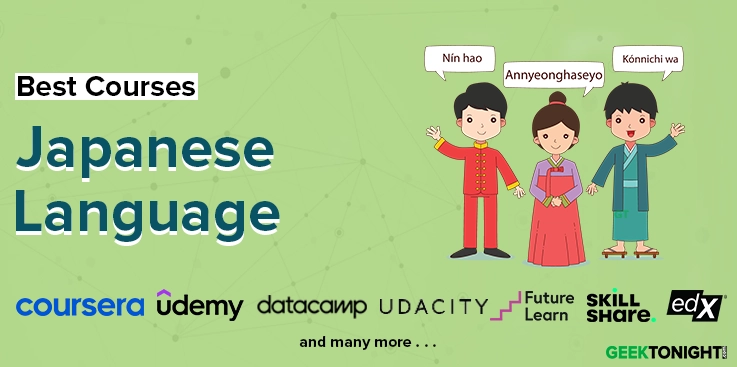 Do you find the Japanese language interesting to learn? Are you a fan of Japanese anime or looking forward to traveling to Japan? Whatever your reason is, it is fun to speak one or more foreign languages.
In Japan, few people know how to talk in English. Taking a trip to Japan requires you a little knowledge of Japanese. So, you can have a basic conversation with the local people and make your journey easy.
Being an international student in Japan, you need to have proper language skills to make new friends and live a comfortable life there. However, finding the right resources can be challenging for some people.
But fear not! Today, this article brings you the Best Online Japanese Courses and Certifications to do from the comfort of your home.
---
Best Japanese Language Courses, Certification, Tutorials
Learn Japanese with the Udemy e-learning platform. This online Japanese course provides Japanese study materials to learn vocabulary, expressions, and grammar. It covers the JLPT N5 level Japanese from lessons 1 to 3. This set of 15 Japanese le will help you focus on improving four skills – reading, writing, listening, and speaking. You can study the Japanese language with English subtitles.
AOJ Japanese School has created this Japanese N5 Course for students to access high-quality. This Japanese language school provides live lectures and video lectures to take part in the classes from anywhere in the world. You will have access to the recorded lectures to cover the topics if you are absent.
Key Highlights & USPs
Learn to speak the right pronunciation and write Japanese vocabulary. Master the art of using basic greetings used in daily life. Able to have small conversations in Japanese.


Learn general Japanese for business and travel. Understand hiragana and katakana as well as read common phrases and sentences written in Kanji.


Get lifetime access to 21 hours of on-demand video, 2 articles, and 18 downloadable resources.
Who is it for?
If you understand English, this elementary Japanese course is perfect for you. Whether a foreign employee or an international student, you can take this Japanese Language Course Online with no prior knowledge. After the successful training session, you can earn a certificate to add to your resume.
Rating: 4.5/5
Students Enrolled: 45,641
Duration: 21 hours
You can Sign up Here

Valid till: 30th September
Learn Japanese from English

[Duolingo]
Duolingo is a free language app to start your journey with the Japanese language. It offers fun and exciting visual elements to enjoy learning whatever language you want. There are a few steps to learning the Japanese language. It covers all the basics, including the alphabet, numbers, words, and pronunciation. This best free language app is the cheapest way to learn Japanese from English.
Key Highlights & USPs
Build on-site language skills with natural approaches. Improve your communication skills to talk with local people while traveling.


Understand the in-depth concept of speaking Italian well for travel.


Learn basic phrases, vocabulary, grammar, and greetings.


Improve your Italian vocabulary and pronunciation to express yourself in simple sentences.


Assess your acquired skill by joining in the discussions and sharing your experience in French.
Who is it for?
This Japanese lesson for beginners is divided into units. If you complete five units, the knowledge is equal to a university student in the fourth semester. Any learner who completes seven units has knowledge of a student in their seventh semester. There are no prerequisites for taking this Duolingo Italian Language. If you are willing to learn, this Free Japanese Course is perfect.
Rating: 4.5/5
Students Enrolled: 4.91 Million
Duration: Self-paced
You can Sign up Here
This Japanese Course Udemy is available for beginner-level learners. It brings an easy and effective approach to improving your Japanese language skills. You no longer need to use books, dictionaries and read materials to learn this popular language. In this Japanese Online Course, you will learn pronunciation and vocabulary in Japanese. Using the video materials, learners can comprehend how to use expressions and simple greetings in everyday life. You get the chance to practice the writing of hiragana and katakana. All the video lessons have English subtitles for people learning Japanese for the first time.
AOJ language school has created this online Japanese beginner course, where learners can access high-quality video lectures and live sessions with instructors. This Japanese online school provides world-class Japanese classes for learners from all over the world. In the end, you will acquire a JLPT N2 level Japanese with full support from Instructors.
Key Highlights & USPs
Develop writing and pronunciation skills of Hiragana.


Learn writing and pronunciation of Japanese katakana Understand how to sound like a native Japanese speaker and work on the p-sound


Build how to speak Japanese with long vowels, nasal consonants, double consonants, and contracted sounds. Learn how to use basic greetings in everyday life.


Gain access to online materials such as 5 hours of on-demand video, 2 articles, and 16 downloadable resources.
Who is it for?
Whether an English or non-English speaker, you can take this online Japanese language course with a certificate. If you want to study elementary Japanese or business Japanese, participate now in this course. This Japanese language training course can help International students and foreign employees of a Japanese company. You will get a certificate after passing all the Japanese language proficiency tests.
Rating: 4.6/5
Students Enrolled: 24,605
Duration: 6 hours
You can Sign up Here
Learn Japanese from Private Tutors Online

[Preply]
Preply is the best language learning platform where you can take classes with private tutors. These classes can be scheduled according to your schedule and budget. You will be able to improve your grammar, pronunciation, and vocabulary with a Preply Russian tutor. By developing a basic knowledge of Japanese, you can achieve your personal goals. Qualified Tutors and Professionals will help you with intensive courses to teach you how to read, write, and speak Japanese.
Key Highlights & USPs
Learn Japanese through tailor-made lessons to achieve both personal and professional goals.


Improve the skills using a one-on-one conversation with a private teacher.


Discuss the queries by sharing screens, exchanging files, and messaging between student and tutor.


Check the review and feedback from previous learners before booking a tutor for you.


Use filters to find a suitable tutor based on your budget, schedule, and other factors.


24/7 customer support to solve queries and provide consultancy regarding that.
Who is it for?
Anyone can opt for Japanese Courses Online to improve their language skills. Preply has a set of classes to help in powering your language skills. Every Japanese language class is unique and innovative. Under the best Japanese tutors, you can become proficient in speaking Japanese. You will earn a certificate after finishing each course.
Rating: 4.5/5
Duration: Self-paced
You can Sign up Here
Are you willing to learn a Japanese course? This course is right for you. Udemy can teach you writing, reading, and comprehensive skills in Japanese. In this Japanese language course, you will cover the ultimate 100 lessons to know how to read and write in Japanese. Students will learn basic Japanese conversation skills with the video series. It is the fastest and easiest way to improve the Japanese language, where you gain knowledge of grammar, vocabulary, and phrases. This video series of over 100 lessons will enhance the power of listening and make sure you understand every word.
Innovative Language.com has created this Ultimate 100- Lesson Course for Beginners. It is the leading language learning app and content creator that has designed courses in 40 languages. Since 2005, they have created dynamic and authentic content, delivered through the family websites, mobile applications, and downloadable resources.
Key Highlights & USPs
Introduce you to the Hiragana and Katakana characters and how to write them.


Learn how to pronounce Japanese with native speakers.


Understand how to use conversational phrases and basic Japanese language.


A series of tests to check your ability to speak like a native speaker.


Learn how to introduce yourself, ask for directions, and greet in Japanese.


Free lifetime access to 8 hours of on-demand video lessons and 161 downloadable resources.
Who is it for?
This best online Japanese course is for absolute beginners. Learners can opt to enroll without any prior knowledge of the language. There is nothing to learning more language to attract new opportunities. After completing the course, you will get the certificate to showcase the skills and use them when you travel to Japan.
Rating: 4.6/5
Students Enrolled: 25, 501
Duration: 8 hours
You can Sign up Here
Frequently Asked Questions
Is Japanese hard to learn?
Japanese is on the list of the top five toughest languages worldwide. Because of its writing system, it takes some time to master this language.
However, you can start with a spoken Japanese language course to build a little knowledge, so you can at least communicate with the local people of Japan. So why wait? Take the Japanese online courses given above.
How many hours does it take to learn Japanese?
It will take almost one year to master the basic conversational skills in Japanese. You will get study materials and get a certified Japanese tutor.
If you aim to speak Japanese fluently, your goal is to become fluent in Japanese and prepare yourself for 2,200 hours of study. It takes almost 88 weeks of regular practice.
Duolingo and Preply can help you to master the art of speaking Japanese in a short period.
How can I practice Japanese every day?
The main challenge is to find a suitable environment to converse in Japanese. Living in a no Japanese-speaking environment can make you less motivated. Being more consistent is the fastest way to learn this language.
With a Japanese teacher and proper resources, you can develop a diverse vocabulary with a greater variety of idioms and phrases.
Can I learn Japanese by myself?
Yes, you can learn Japanese by yourself. All you need proper resources to enhance the Japanese language. These Japanese courses consist of video lessons and audios to hear, learn, and master Japanese conversations.
You can look for tons of online courses to improve your speaking skills. In addition, you can use a free lingual app, such as Duolingo, where learners can have fun and learn a new language at their own pace.
Choose a Course that Suits you
There are tons of courses and resources available to learn Japanese. Here, you have highly recommended five Japanese to star. Ultimately, It is the best one to meet expectations. Also, don't hesitate to try different options to find what works for you. I hope this article has answered all your questions.