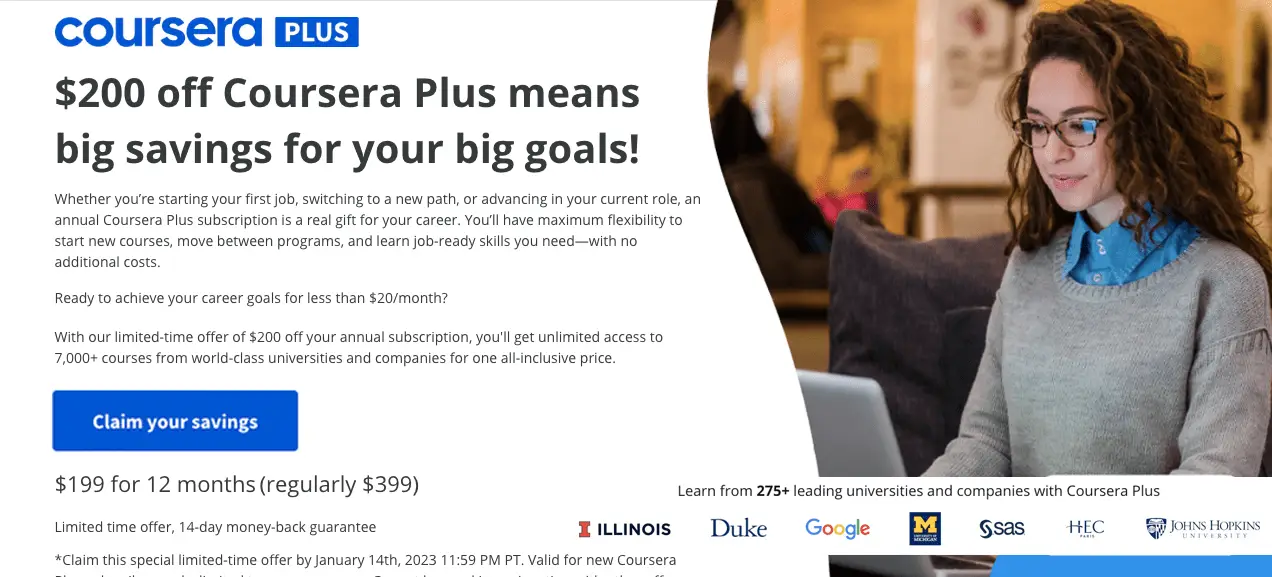 Long gone are the days when marketing wasn't given the attention as it gets today. The importance of marketing grew along with time, and according to statistics, the average amount of money spent on marketing by B2B companies rose to 13% of a company's total revenues since COVID 19 struck.
Marketing Management rallies behind the idea of managing marketing activities for the effective and efficient achievement of the marketing needs of a firm, resulting in increased revenues. In order to learn the skills and knowledge of a successful marketing manager, be sure to try out any course from the following five best marketing management courses.
Our product recommendations are unbiased and based on an independent review process. We may receive a commission for links to recommended partners. See our advertiser disclosure for more information.
---
10 Best Marketing Management Courses, Certification, Tutorials, Classes
This Coursera marketing management course offers a path for businesses to create value for customers and includes the very basics of marketing management for you to understand how 'good' marketing management is the epitome of your initial marketing solutions. This course explains the overall function that marketing plays in your venture's success
The author of this marketing management program offered by the University of Illinois is a Ph.D. holder in Marketing, Hayden Noel. He is a well-versed instructor with experience teaching marketing at Baruch College, University of Florida, and currently at the University of Illinois. His interests are in Marketing Management and Consumer Behaviour.
Key Highlights & USPs
Learn the various elements of marketing management, marketing mix like pricing policy, distribution strategy, etc.


Develop plans for your daily and long-term marketing goals.


Incorporate analytical frameworks in your quest for learning to solve business problems.


Learn and identify the needs & wants of your customers, make Marketing Strategy Process and the importance of branding.


Apply various marketing tools like SWOT Analysis, STP (Segmentation, Targeting & Positioning) to create and capture customer value.


Study the Consumer Decision Journey and how you can influence it to stand out and be a formidable product/company.


This course comes with quizzes to test your understanding and a Shareable Certificate gained after completion of this course at your own pace.
Who is it for?
A complete beginner-friendly business marketing management course in which learners will understand studying and evaluating consumer behavior and derive data from it to make firm decisions for their company and attract and retain customers.
Rating: 4.8/5
Students Enrolled: 40,043
Duration: Approx. 16 Hours
You can Sign up Here
Marketing Management by Indian Institute of Management of Bangalore

[edx]
Marketing Management is more than just buying-selling decisions, it has a lot to deal with research, various techniques & methods to practically approach the objectives of your business. This marketing management online course covers all the essential topics and shows you how to thrive in an industry with tough competition and find opportunities that no one else can.
The instructor for this Edx Marketing Management IIMB course is an Assistant Professor of Marketing at IIM Bangalore, Dr. Ashis Mishra. The notable work of the author includes projects such as 'Technographic Segmentation of Indian Retail Consumers,' 'Store Atmospherics as a Tool for Retail Productivity,' and 'A Dynamic Model for Forecasting in the Indian Retail Sector.
Key Highlights & USPs
Learn in detail about the 4Ps of marketing to help you to create a picture-perfect plan for serving your customer needs or demands.


Improve your company's perceived value by studying and applying various methods from marketing management.


Go upon the fundamentals of marketing management and improve your customer satisfaction level by using marketing tools.


Includes real world business scenarios, exercises, cases to help you to test your theoretical knowledge on the subject.


Get a Competition certificate along with graded assignments and exams and unlimited/lifetime access to the course and its materials.
Who is it for?
An intermediate course offering effective content that will teach you the application of various marketing theories through real market situations. Course takers will also get to study merchandise assortment, which would help them to be efficient and effective in decision making and save them much fortune.
Rating: 4.7/5
Students Enrolled: 94,920
Duration: 9 weeks, At 2-4 hours per week.
Marketing management plays an integral role in establishing an organization's structure, and it plays a more prominent role in tracking and analyzing the marketing efforts. All of the said things can now be learned under one website! Udemy. Udemy has a reputation of offering courses of prime and industry best quality, with Udemy marketing management courses, you are in for a certified experience.
Udemy's 'Marketing, Business' course section has gathered around 175,112 learners learning the most in-demand skills with experts. The authors' names include Pouya Eti, CreateUp Academy, Prof. Vijay Prakash Anand, Lucas Weber, Dr. Muhammad Tahir Jan, and more
Key Highlights & USPs
Learn also Digital Marketing Management along with traditional forms.


Identify your customer's loyalty and their types to create a customer centric approach that is successful among your customer base.


Go through the 7Ps of marketing, the stages of Product Life Cycle (PLC), and Integrated Marketing Communications (IMC).


Learn Product Management: its fundamentals, marketing framework, and career ladder.


Get free lifetime access to courses along with tons of downloadable resources and a certificate of completion once the course is successfully finished flexibly
Who is it for?
The platform offers many specialised marketing management certificate courses online where learners will learn to integrate and develop the various ins and outs of their marketing and customer strategy. Courses of levels such as Beginner, Intermediate and Expert are available for an individual to progress through as they strengthen their grasp on the subject.
Marketing Management Courses [Alison]
Alison Marketing Management Courses are diverse in nature, covering all the crucial areas of marketing and additional topics like Retail Management, Public Relations, and Sales Management. The platform also offers a Diploma in Marketing Management and also on the aforementioned topics so you can gain conceptual knowledge and skills to try the chosen field. The authors' list includes Saylor Academy, NPTEL, CourseFlix, Advance Learning, etc.
Key Highlights & USPs
Learn about the various aspects of Retailing Mix: Location Analysis, Pricing Analysis, Communication Mix, Merchandising, Customer Service, Store Layout and Store Design.


Know the legal rights of your customer and the boundaries of your company to be a legal company.


Handle unhappy customers by learning ways to communicate with them that do not hurt them or your company's reputation.


The courses at Alison are free to enroll in and study, offering both digital and physical versions of the certificate as per your need.e.
Who is it for?
The online marketing management courses present on Alison are enough for any beginner to get going with the learning of the vast & extensive background of Marketing. The learners will quickly develop the skills of managing a retail store that includes handling customers, ambience, general management, supply chain management, and more.

Duration: At your own Pace.
Marketing Management Online Program [IMD]
The faculty for the course includes the President of the Swiss Marketing Association, Stefan Michel. Stefan Michel marketing management program focuses on 'value,' as you will get to experience how to co-create value with the help of customers, be a superior marketer among other marketers, read comprehensive data to analyse the value, and most importantly, how can creating value benefit you as an organization.
Key Highlights & USPs
Learn to analyze & study the value derived in order to make ready to deploy action plans.
Get to know customer life-cycle value and gain insightful inputs to implement it in your business.
Put your knowledge to the test through solving business cases and participating in group work sessions.
Achieve a certified IMD business school certificate for your resume, along with the coach's feedback on the work given by you.
Who is it for?
Perfect for intermediate-level individuals who have all the basics of marketing management jotted down and are now looking for something challenging. The main aim of this online marketing management program is to help individuals facing problems in reading their customers. After completion, they will be able to study their customer groups and thrive from them.

Duration: 5 Weeks, At 4-6 hours per week.
---
FAQ
What do you learn in marketing management?
In Marketing Management, the most common thing that you will come across is the Marketing Mix or the 4ps of Marketing, i.e., Product (Product Mix), Price (Pricing Policy), Place (Place Evaluation), and Promotion (Promotion Mix).
You will also learn about how companies make use of various tools to gain compatible insights from their industry. Porter's Five Forces, SWOT Analysis, PESTLE Analysis, BCG matrix are some of the examples of tools used by the management teams.
Why should I study marketing management?
Marketing Management is an introductory subject that teaches you anything and everything related to the marketing activities of a firm and shows you how marketing is also being utilized even at a very small level of business practices.
Studying marketing management means you are making yourself capable of analyzing/scanning the business environment and tapping into new markets or potential business ideas that are left unseen by many.
Taking up marketing management also gives you exposure to generating and developing your own marketing plans/campaigns.