Pinterest is one of the most popular social media sites for creating, finding and sharing ideas for everything from fashion and home decor, to travel and fitness. If you want to get started in Pinterest Marketing, the best place to learn is from an online course. Here in this article, we have ranked the Best Pinterest Courses & Certifications online where you can enrol and start learning.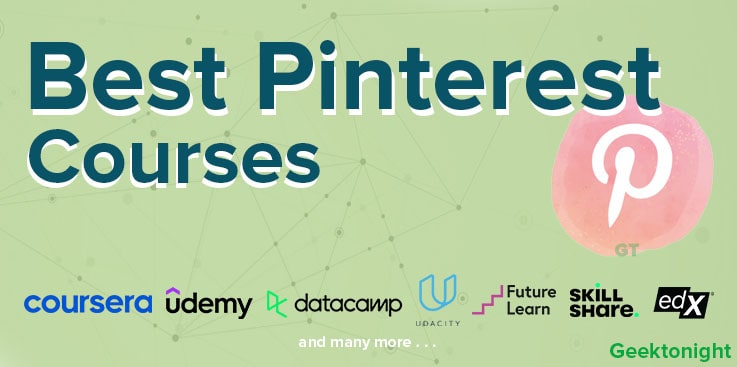 Our product recommendations are unbiased and based on an independent review process. We may receive a commission for links to recommended partners. See our advertiser disclosure for more information.
---
Best Pinterest Courses, Certification, Tutorials, Classes, Training
Pinterest Marketing course offered by Udemy is one of the best-rated online courses available for learning Pinterest Marketing. In this course, you will be learning all you need to know about the essential fundamentals of Pinterest Marketing. You will learn step-by-step how to use Pinterest organically for your business – with no more guessing. It will even take you outside of Pinterest, showing you some amazing tools to help you optimize your organic Pinterest results and get the best out of Pinterest Marketing.
It is designed by JC Marzett, who is a Business Strategy Professional and Best Selling Instructor. With over 30 years of experience working in both public and private realms of business strategy and running projects, She is helping others set and achieve their goals, in business and in life.
Key Highlights & USPs
Optimize your Pinterest account for getting ranked in the big search engines like Google and Bing

Perform creative collaboration with peers, current customers and potential customers

Use Pinterest to figure out exactly what your customers want

Learn how to use keywords for increasing Pinterest traffic, leads, and sales

Incorporate the top "Absolute Must-Have" boards that EVERY business owner needs
Who is it for?
It is ideal for those who how to start, build and grow their business through organic use of Pinterest. It is also helpful for people who want to learn new ways of building and marketing their businesses.

Valid till: 30th July
Pinterest Marketing from A-Z is an amazing online course offered by Udemy for learning Pinterest Marketing. In this course, you be learning everything you need to know about Pinterest and how to earn money through this amazing social media. You will learn how to create an outstanding Pinterest profile, optimize your business Pinterest account and create a successful Pinterest Marketing Campaign.
It is created by Shahar Zohar. Shahar is an online marketer and an eCommerce professional, and he's currently running several private labels. He has several stores on Amazon, eBay and Shopify, and he is also the COO of a new startup called "SellFee".
Key Highlights & USPs
Learn how to set up a Pinterest account for your business

Understand how to drive FREe organic traffic from Pinterest to your website
Create attractive infographic photos to attract more customers to your website

Learn how to use Pinterest for business growth and marketing campaigns

Understand how to get more traffic and collaborations with potential clients
Who is it for?
It is designed for anyone who wants to learn a new and easy way on getting organic traffic to your website via Pinterest. Also, it is helpful for people who want to learn new ways to increase their business sales and engagements on Pinterest.
Profit with Pinterest – Case Study is an excellent online course for learning Pinterest Marketing. This course will show you how to monetize Pinterest and maximize its features to your marketing advantage. It will help you set yourself apart from the pack and market on Pinterest in a thoughtful, effective, and Pinterest-friendly manner. Taught with text materials (included in the course), whiteboard lectures and a series of videos; this course will show you how to execute key strategies for marketing with Pinterest.
It is taught by Ashley Zee, who is a seasoned Social Media and Internet Marketing professional. With over five years of experience, Ashley has been using and profiting from Pinterest since it started in 2011 and wants to help others do the same.
Key Highlights & USPs
Learn how to optimize boards and pins for Social Media Optimization and SEO

Use Pinterest's traffic referral power to convert visitors to buyers, subscribers and followers

Discover little-known sources for unique pins to generate repins and more followers

Avoid common pitfalls that most Pinterest users fall for

Understand what makes a good Pinterest topic and learn new insights
Who is it for?
Internet Marketers and Pinterest Users would find this course especially relevant, but anyone with an interest in driving traffic to their website/products and increasing their sales would find this course useful.
Pinterest Courses offered by LinkedIn Learning are an amazing resource for learning Pinterest Marketing concepts and features. It teaches you everything you need to learn about Pinterest Marketing and its related concepts. The library offers courses for all levels of expertise and experience: whether you're just starting out with Pinterest or already experienced in Pinterest Marketing, you will find the relevant course which best suits your needs.
Key Highlights & USPs
Learn how to set up your Business Pinterest Account

Craft Your Marketing Strategy for Pinterest and build engagement into your strategy

Learn about Advanced Pinterest Marketing Techniques and SEO

Understand how to build a successful Campaign in Pinterest Ads

Review Pinterest Ads Analytics and understand ads metrics and concepts
Who is it for?
It is suitable for students and learners for all levels: starting from beginner to expert, and covers essential fundamentals as well as advanced concepts related to Pinterest Marketing. Whether you're just starting out or already familiar with Pinterest, this course will help you in improving your Pinterest Marketing skills.
---
FAQ
How do I become Pinterest certified?
1. Make sure you have a business account
• First ensure you are signed in to your account. Then, click the three dots at the top right corner of your screen.
• Click Add a free business account.
• Click Get started. Answer a few basic questions about your business including your business name, your website URL, your country/region and your preferred language. Then click Next.
• Next, you will be asked to describe your brand, which will help Pinterest customize your recommendations.
• Now, you will be asked if you are interested in running ads or not. Choose between three options — yes, no, or not sure yet — and come back to this decision at another time.
2. Claim your website
• Click the dropdown arrow on the top right of your screen and then click Settings.
• On the left-hand side navigation, under Edit Profile, select Claim.
• Type in your website URL into the first textbox and then click Claim.
• you will have two options available to you in a pop-up box:
a) Claim your website by pasting an HTML tag into the <head> section of your site's index.html file
b) Claim your website by downloading a file and uploading it to your website's root directory
• For the first option, open a new tab and navigate to your website's backend script area and copy and paste the HTML tag that Pinterest has provided. 
• For the second option, download your unique HTML file. You can leave it in your downloads folder or move it to your desktop for easy access. Your file will be saved as a variation of Pinterest-xxxxx.html, with each x being a random number or letter. 
• Once you've saved the file, the next step is to upload the HTML file from your local computer drive to your website on your hosting account via File Transfer Protocol (FTP).
3. Submit your request for review
• Now you're ready to send your request in to be reviewed by Pinterest. Go back to your Pinterest tab and click Next.
• Then, click Submit.
• That's it.  You should hear from Pinterest within 24 hours and hopefully get your verification.
Why is Pinterest good for marketing?
Pinterest is an amazing platform for different companies to market your brand. Social media stats show that Pinterest has more than 2 billion searches every month, and 55% of people use this social media platform to shop.