What is Project Schedule?
The project schedule is the management tool that merges all the work tasks to be performed, their relationships, their estimated durations, and their assigned resources to a calendar.
Scheduling also enables you to identify the key activity sequence (critical path) determining the length of the project and display departmental work loading and hence facilitate departmental planning. It provides the basis for more detailed scheduling.
Scheduling enables analysis and forecasting which show priorities for procuring equipment, material, labor and services. It analyzes complex work areas with many interrelated activities through network analysis. It also facilitates long-range planning and future resource allocation.
As mentioned above, the project schedule is often referred to as the "project plan" in error. While not technically correct, it is easy to understand why this term is often used. The project schedule serves as the chief integration point for most, if not all, of your project planning efforts.
The project schedule reflects (or should reflect when the schedule development process is complete) all the following:
Work Breakdown Structure (WBS)
Resource plan
Work estimates
Key milestones
Responsibility assignments (RASIC)
Quality management plan
Risk management plan
Communications management plan
Procurement management plan
Staff management (training) plan
---
Project Schedule Definition
Project scheduling has been defined by the Project Management Body of Knowledge as "an output of a schedule model that presents linked activities with planned dates, durations, milestones, and resources."
The term linked activities is important because it illustrates the scheduling goal. Project scheduling defines network logic for all activities; that is, tasks must either precede or follow other tasks from the beginning of the project to its completion.
---
Why Project Schedule is Project Manager's Weakness?
It's funny really. The one activity that the common person associates with project management is planning, and the main output from this planning effort is a schedule. Yet, it is a challenge to find a project manager who can develop one accurately.
Although scheduling is one of the two primary technical aspects of project management, it is a common technical weakness of many project managers.
Well, I can state at least four reasons:
Lack of time for proper planning
Lack of education on the schedule development process
Lack of training with the scheduling software
A belief that a detailed schedule is not necessary
---
Goal of Project Schedule Development Process
The schedule development process should generate a project schedule that meets the following criteria:
Complete
The schedule must represent all the work to be done. This is why the quality and completeness of the WBS is so important.
Realistic
The schedule must be realistic with regard to time expectations.
Accepted
The schedule must have "buy-in" from team members and stakeholders.
Formal
The schedule must be documented and formalized.
---
Inputs for Building a Project Schedule
The first step in building a schedule is to review the key inputs. Five inputs for building a project schedule are:
Work Breakdown Structure: List of organized tasks, the work to be done.


Effort estimates: Amount of effort and time each task will take.


Task relationships: The logical dependencies that exist between work tasks.


Resources: The actual personnel and equipment needed to perform the work between work tasks.


Risk responses: Measures taken to deal with the uncertainty surrounding effort and resource estimates. Usually, in the form of additional time (contingency buffer) added to the schedule.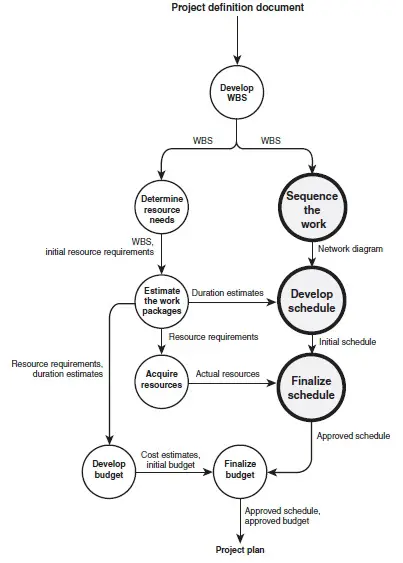 ---
Creating a Project Schedule
Key steps involved in building a project schedule are;
Identify the work tasks (WBS)
Identify the work tasks that need to be performed.
Estimate the effort for each work task
Based on specific resource types, estimate the amount of effort each task will require.
Determine task relationships (network diagram)
Identify which tasks have to be done before others can begin and which tasks can be done at the same time (in parallel).
Assign resources
Assign the roles, personnel, and equipment that will perform each task.
Develop preliminary schedule
If you have not already, capture all these inputs using your preferred scheduling software.
Perform "reality" check
A key, often overlooked, step in the process to make your schedule realistic. This step includes a review of resource allocation and calendar setup.
Shorten the schedule
In this step, you determine the critical path and look for ways to reduce the time required to complete the critical path tasks.
Account for risk responses
If any of the risk responses includes adding a contingency buffer to any specific task or to the entire schedule, make sure to include this in the schedule too.
Walk-through the schedule
In this important step, the proposed schedule is presented for review and feedback. At a minimum, the schedule should be closely reviewed by the core project team first, and then by the key stakeholders (management, customers)
Finalize schedule
Incorporate feedback from stakeholders; make any adjustments for actual resource assignments, final risk responses, and success factor tradeoffs; get formal acceptance of schedule.
Let's take a closer look at a few of the key steps separately.
---
Building Preliminary Project Schedule
We are ready to build our initial schedule. There are a few keys to remember here:
Use scheduling software and get properly trained in how to use it.


For each task you want to schedule, you need to enter the following information:

Task name
Estimated effort
Predecessor task
Assigned resource



Understand the relationship between work, duration, resources, and productivity.


Using the scheduling software, locate the critical path. Often, the software will differentiate the tasks that comprise the critical path in some way, such as showing these tasks in red font.


While the overall schedule development process should be a team-based activity, a single person generally performs the construction of the actual schedule, due to the nature of the software.
Value of Scheduling Software
In case you are not an advocate of scheduling software, or you need to help convince someone else in your organization, please note the following benefits provided by scheduling software:
Critical path analysis
Project and resource calendars
Schedule calculation
Resource leveling
Baseline management
---
Perform "Reality" Check
In this step, we need to make sure the schedule is reasonable and is aligned with the organizational culture. The primary checkpoints are to check for proper allocation of resources and to check for proper use of calendars.
When checking for proper allocation resources, you want to do two things: remove unrealistic work allocations and optimize the use of your resources.
This activity is commonly referred to as resource-levelling. Most scheduling software systems provide a function to do this for you, but proceed with caution—the software does not always get this right. As a result, you can have a less than optimal schedule.
The three common responses to resource over-allocation situations are:
Utilize other resources. Assign one or more of the affected tasks to an available resource.


Establish a predecessor relationship. If Joe is the one who must perform each task, make the start of one task dependent on the finish of the other(s).


Modify the priority level of one or more of the tasks and let the software perform its resource leveling function.
To check for proper use of calendars, verify the following:
Are non-working days accounted for (holidays, weekends)?


Are the number of work hours per day consistent with the organization's expectation? Are eight hours of productivity per day assumed or something different?


For part-time resources or resources with special work schedules, are individual calendars assigned to them that reflect this reality?
---
Shorten the Schedule
On most projects, your preliminary schedule will not be the schedule presented to the stakeholders for approval. Due to either stakeholder expectations or an external deadline that must be met, an effort must be made to compress or "shorten" the schedule without reducing the scope of the project. The key to this effort is the critical path.
The critical path determines the earliest (the soonest) your project can be completed given the current task relationships and estimated durations. As a project manager, you want to be very clear about which tasks comprise the critical path for two reasons:
The critical path determines the earliest (the soonest) your project can be completed given the current task relationships and estimated durations.


As a project manager, you want to be very clear about which tasks comprise the critical path for two reasons:
The common techniques to consider are:
Crashing: Adding resources to critical Certain activities cannot be path activities only.


Fast tracking: Performing critical path activities in parallel.


Process improvements: Gaining productivity increases based on different work processes, technologies and/or machinery.


Limited Overtime: Increasing the number of hours per day or week available to work on project tasks.
---
Walk Through the Schedule
In our pursuit of both a more realistic schedule and a schedule that our stakeholders feel ownership for, we need to walk through the schedule with at least two groups—and if at all possible get a third quality-based review.
Review with project team
First, present the proposed schedule to your project team. Seek their feedback on all aspects and make any necessary adjustments.
Quality review
This review is not always possible, but whenever possible, have an experienced and knowledgeable project scheduler review your proposed schedule before you submit it to your stakeholders.
Review with project stakeholders
Present the proposed schedule to key stakeholders. Seek feedback and questions on all aspects: verify resource assignments, risk responses, key milestones, and so forth.
---
Presenting the Schedule
One element of project planning and project management that is often overlooked is effectively communicating the project schedule to the various project stakeholders.
Although presenting a detailed, tabular view of the schedule to the core team is acceptable, the use of visual summary representations of the schedule is highly recommended when presenting the schedule to other stakeholders.
The common methods of presenting a project schedule summary are:
Milestone Chart
This is a bar chart that shows start and end dates, major deliverables, and key external dependencies.
Milestone tables are also used (same information, no bar chart).
Gantt chart
This is a bar chart that shows the various levels of the WBS.
Usually does not generally show interdependencies.
Network diagram
A network diagram uses nodes and arrows. Date information is added to each activity node.
For presentations, the summary task level of the WBS is generally used. Otherwise, a network diagram is best suited for wall display.
Modified WBS
Uses the project WBS organization with status information added to each node.
Similar to network diagram type representations.
---
Importance of Project Schedule
In addition to providing this vital integration role, the project schedule is important to the project manager.
Following are the importance of the project schedule:
Drives project budget
Since most of your project costs are a factor of time, the project schedule is the main driver for your project budget. If the schedule is inaccurate, your budget is likely incorrect too.
Drives resource schedule
Your schedule drives the timing of your resource needs. Especially in organizations where resources are shared across projects or centrally managed, the accuracy of the schedule is key to efficient resource management.
Essential for managing expectations
With a well-developed schedule, you have the best tool for managing stakeholder expectations regarding the schedule-cost-quality equilibrium. A well-developed schedule illustrates the "earliest" date a project can be completed given the project's current requirements and constraints.
This is an invaluable tool when negotiating the final schedule with senior management or customers and when assessing the impact of any change to equilibrium factors during the execution of the project.
Allows project performance to be measured
With a well-developed and approved project schedule, you now have the capability to establish a baseline for how the project is actually performing.
Provides for "what-if" analysis capabilities
Another important ability that a well-developed schedule provides is the ability to perform "what-if" analysis during the execution of the project. Over the course of a project, things happen that can negatively impact project performance.
At these times, you will often be asked what corrective actions can be taken to possibly get the project back on schedule. Without a well-developed schedule, you will not be able to quickly determine the impact of implementing a given schedule compression technique, such as fast-tracking, crashing, or limited overtime.
---
Project Scheduling Tools
A variety of tools can be utilized for the creation of a Project Schedule. Some of them may be as simple as the process of action planning for small projects. There are also complex tools used for Project Schedule creation such as Gantt Charts and Network Analysis for larger and more complex projects.
Let us now study some important tools required for developing a Project Schedule:
Project and Personnel Calendars
Managers need to understand their organization's shifts, working days, availability of resources, etc.
Project Scope Description
This includes the start and end dates of the project, major assumptions made during project planning, any identified constraints or restrictions, etc. Stakeholder expectations are also important because they help in determining project milestones.
Risks Involved in the Project
Risk identification is important as it ensures that ample time is available to deal with risks.
Activity List and Resource Requirements
Managers should have an understanding of the capabilities of the available resources and experience level. A list of company holidays and scheduled leaves of staff are also an important component.
---
Types of Project Schedules
There are many ways of presenting similar information, each with different objectives as discussed below:
Gantt or Simple Chart
Gantt charts are used as a tool to monitor and control the project's progress. A Gantt Chart is a graphical presentation that displays activities as follows:
Time is measured on the horizontal axis. A horizontal bar is drawn proportionately to an activity's expected completion time. Each activity is listed on the vertical axis. Gantt chart can be used as a visual aid for tracking the progress of project activities. An appropriate percentage of a bar is shaded to document the completed work. The manager can easily see if the project is progressing on schedule (concerning the earliest possible completion times).
Progress Bar Chart
The graphical representation shows progress relative to the plan. An appropriate percentage of a bar is shaded in the document for the completed work. The manager can easily see if the project is progressing on Schedule (concerning the earliest possible completion times).
Mile Stone Chart
The graphical representation shows milestone dates. It identifies key points in the project's life span The bars are not necessarily visible.
Best Project Management Courses
Project management skills are in demand. If you are ready to get started, consider enrolling in the Google Project Management: Professional Certificate Learn the job-ready essentials of project management in six months or less, such as initiating projects, risk management and change management. Also we have made list of best project management courses as there are a plethora of options available, and it can be challenging to identify the best one.
Best Project Management Tool
The ideal project management tool selection will eventually rely on the particular requirements of your team. We suggest experimenting with the free versions of various tools to gauge your team's comfort level and then proceeding accordingly.