Topic Covered: What is Strategic Management Process, Meaning, Steps and Stages, Different models – David Model and Thompson & Martin Model, Importance and Limitations of the Strategic Management Process.
What is Strategic Management Process?
Strategic management process is a method by which managers conceive of and implement a strategy that can lead to sustainable competitive advantage. It is the process of managing, planning, and analyzing in order to reach all organizational goals.
---
Strategic Management Process

Model
Developing an organisational strategy involves five main elements – strategic analysis, environmental analysis, strategic choice, strategy implementation and strategy evaluation and control.
Each of these contains further steps, corresponding to a series of decisions and actions, that form the basis of the strategic management process.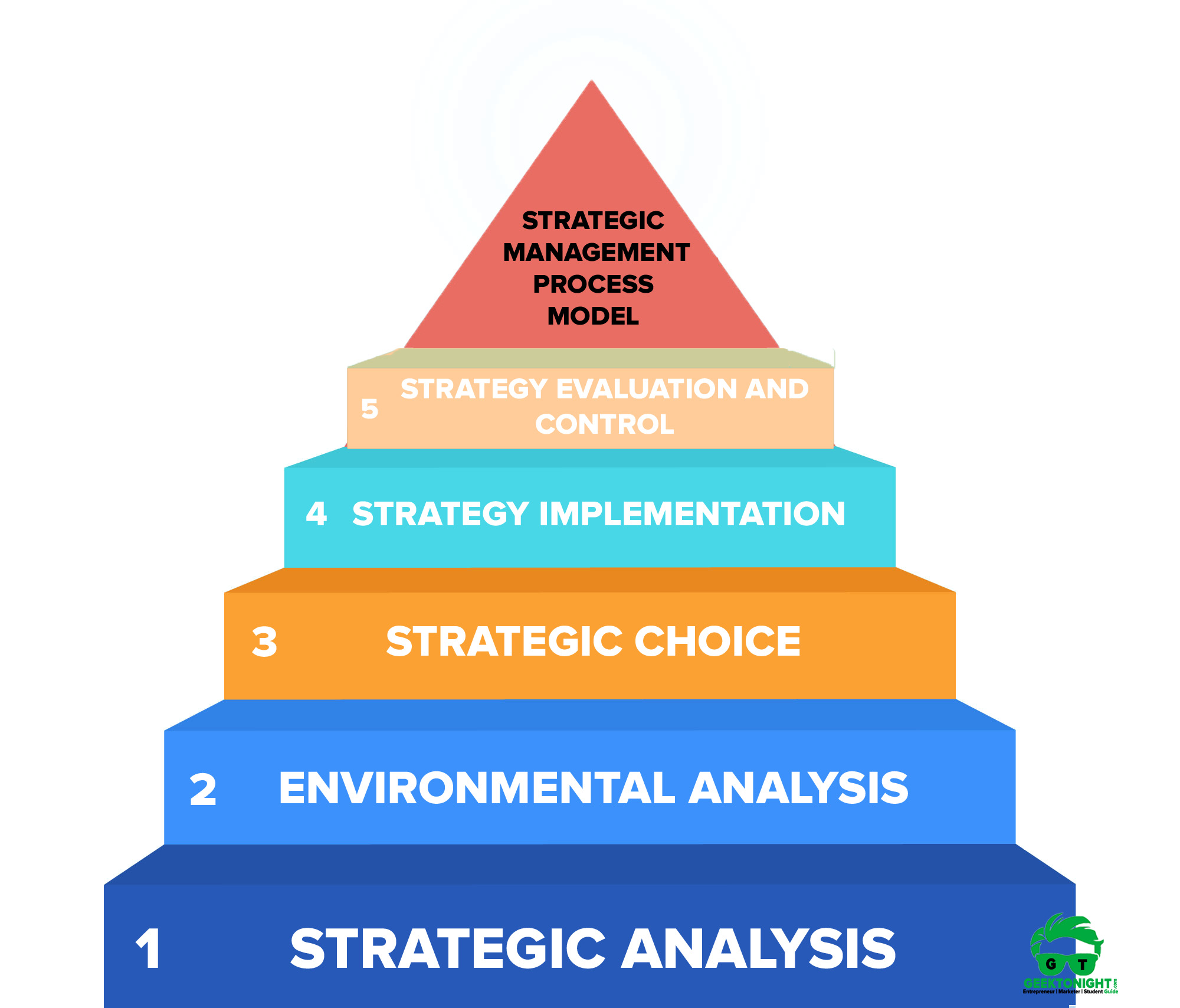 Strategic Analysis
The foundation of the strategy is a definition of organisational purpose. This defines the business of an organisation and what type of organisation it wants to be. Many organisations develop broad statements of purpose, in the form of vision and mission statements.
These form the springboards for the development of more specific objectives and the choice of strategies to achieve them.
Environmental analysis
Assessing both the external and internal environments is the next step in the strategy process. Managers need to assess the opportunities and threats of the external environment in the light of the organisation's strengths and weaknesses keeping in view the expectations of the stakeholders.
This analysis allows the organisation to set more specific goals or objectives which might specify where people are expected to focus their efforts. With a more specific set of objectives in hand, managers can then plan how to achieve them.
Strategic Choice
The analysis stage provides the basis for strategic choice. It allows managers to consider what the organisation could do given the mission, environment and capabilities – a choice which also reflects the values of managers and other stakeholders. These choices are about the overall scope and direction of the business.
Since managers usually face several strategic options, they often need to analyze these in terms of their feasibility, suitability and acceptability before finally deciding on their direction.
Strategy Implementation
Implementation depends on ensuring that the organisation has a suitable structure, the right resources and competencies (skills, finance, technology etc.), right leadership and culture. Strategy implementation depends on operational factors being put into place.
Strategy Evaluation and Control
Organisations set up appropriate monitoring and control systems, develop standards and targets to judge performance.
Read: What is Strategic Management? Characteristics, Risk, Benefits
---
Different Models of Strategic Management Process
There are different models of strategic management process. The one, which was described in this article, is just one more version of so many models that are established by other authors.
In this section, we will study other well-known frameworks of Strategic Management Process.
David Model of Strategic Management Process
Three-Stage Strategic Management Process
Strategy Formulation
Strategy Implementation
Strategy Evaluation
Steps in strategic management process
Develop Vision and Mission Statements
Perform External Audit
Perform Internal Audit
Establish Long-Term Objectives
Generate, Evaluate, and Select Strategies
Implement Strategies—Management, Marketing, Finance, R&D Issues
Measure and Evaluate Performance
Thompson and Martin Strategic Management Process
Steps in strategic management process
Where are we?
Where are we going?
How are we getting there?
How are we doing?
Steps of Strategic Management Process
Situation appraisal: a review of corporate objectives
Situation assessment
Clarification of objectives
Corporate and competitive strategies
Strategic decisions
Implementation
Monitor progress
Read: What is Value Chain Analysis? Definition, Model, Example
---
Importance of Strategic Management Process
The strategic management process helps the organization to plan ahead through proper steps to gain an advantage with respect to competitors. The process gives the organization to deal with internal and external factors.
The Strategic Management process can differ for the various organization depending on their size, domain, focus and core competency but the importance of strategic management process remains the same.
---
Limitations of Strategic Management Process
It is difficult for the company to follow the process from the first to the last step. Producing a quality strategic plan requires time, during which many external and even internal conditions may change.
This results in the flawed strategic plan which has to be revised, hence requiring even more time to finish. Strategic Management process is not a one-time process which would yield the expected results in the first attempt.
---
Go On, Tell Us What You Think!
Did we miss something? Come on! Tell us what you think about our article on What is Strategic Management Process? Models, Steps, Importance in the comments section.