Everyone likes getting gifts—it shows that someone values and cares for them. Even in the workplace, people are thrilled with the idea of opening a box and seeing what's inside. The act of gift-giving, when utilized appropriately, can make for a very happy team.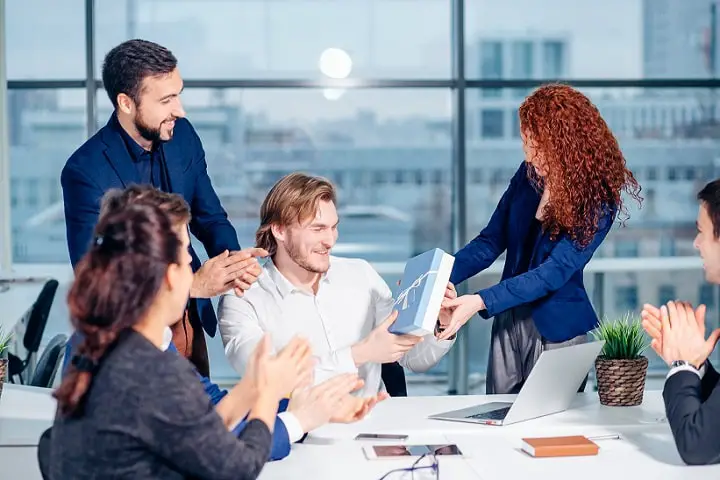 One study shows that 94% of employees said that they'd feel valued if they receive a gift from their boss. It doesn't even have to be a tangible gift, as 28.8% reported that they'd appreciate getting off early. (1)
7 Gift-Giving Etiquette Mistakes To Avoid Inside The Workplace
More than knowing the type of gifts that your employees want, you should be mindful of still keeping it professional. As such, here are the common gift-giving mistakes to avoid inside the workplace:
Not knowing the company policy
Most established companies make sure they cover any possible workplace scenario to prevent problems in the office. Gift-giving has the potential to create conflicts of interest, especially when it's done with people outside your organization, such as suppliers or customers.
You should understand what the rules and regulations are when it comes to whom you can give gifts and their implications. Having a policy on gifts and favors in black and white can guide employees on various negotiations like those involved in purchasing, sales, and hiring. This way, you can ensure that decisions are made with the company's best interests in mind—not with their personal agenda.
If you don't have a gift-giving policy for your business yet, these are the factors that your policy should tackle:
Make it clear that gifts and favors shouldn't affect agreements with suppliers, consumers, and potential hires.


Identify the types of gifts and favors that are acceptable, along with their market value. This largely depends on your industry. (2)
Choosing gifts that are too personal
You should put a lot of thought into your gift choice. It can be tricky, though, because you want it to be useful for your colleague, but you also don't want to overstep your boundaries.
For instance, even if you think that they need a new perfume or deodorant, this gift choice is considered too intimate to give to someone you know in a professional capacity. It may be interpreted the wrong way, so just stay on the safe side.
Fortunately, you can still give personalized gifts without going overboard through shops like agiftpersonalized.com. You can choose among a wide array of products, from tote bags and throw pillows to cutting boards and decanters.
Giving to your superiors
As a subordinate, while you may just want to show your appreciation for your boss, giving to your superiors is generally not a good idea. Again, this is because the act can be misconstrued as an attempt to bribe your way to the top.
One of the times that this would be acceptable is when you're participating in Secret Santa with your team. You need to give something to your boss if you pick their name at random. Another way is to organize a shared gift with your teammates for your employer. This way, the gift would come from all of you, and it won't be misinterpreted by others.
Wrong timing
Aside from being mindful of your gift choice and to whom you should give them, you also need to be careful with the timing, especially if it isn't the holidays yet. For instance, you shouldn't give a gift to your peers or supervisors before the annual performance appraisal. Again, this can be misinterpreted as a bribe and will only damage their perception of you rather than compliment it.
Going over your budget
You may have limited resources to allot for gift-giving. After all, you'll be spending it out of your own pocket. Knowing this, you should be mindful of the market value of the items you choose, since you don't want to go over your budget.
Here are some tips to help you create a financial plan for gift-giving at work:
Save for it: If you're adamant about giving something to your colleagues, you should start saving early. Set aside a bit of money from your salary toward this expense so you'll have enough funds during the holiday season.


Watch out for sales and discounts: Be on the lookout for promos from various stores. This way, you can reduce the amount that you spend on gifts. Spread your purchases – If you can, you could also buy gifts one item at a time. It's like saving for it, but you've already purchased them instead of keeping the cash.


Use reward or gift cards: If you have a reward or gift card lying around, you can use them to purchase gifts for your colleagues. This is ideal if you don't plan on using the points for yourself.


Create something: You don't even have to spend so much on gifts for your teammates. Often, you can create something specifically for them. For instance, if your hobby is baking, you can bake cupcakes for your colleagues to share with themselves.
Being generous to just a select few
Once you've decided to give gifts to people at work, you should make sure you include everyone. This is particularly crucial if you're the boss. You don't want to be accused of playing favorites. To avoid this, you must prepare something for each one in your team.
Again, this is where planning for your budget comes in handy. The process can help you keep your expenses in check while also reminding you if you've missed anyone on the list.
Pressuring people to participate
While there are holidays that are safe for everyone to enjoy, some employees may be limited by their religion or other preferences to participate. For instance, not everyone celebrates Christmas, so you should keep your gifts and messages relatively neutral if you're planning to give away gifts during this season.
Takeaway
Gift-giving is an enjoyable process for both the giver and recipient. However, for gift-giving in the workplace, make sure to still keep things professional. Be mindful of these common mistakes so you can avoid them.
---
References
"Holiday Gift-Giving: What Do Your Employees (Or Your Boss) Really Want?"
Source: https://www.forbes.com/sites/shephyken/2018/12/09/holiday-gift-giving-what-do-your-employees-or-your-boss-really-want/


"5 little-known policies that need to be in your employee handbook,"
Source: https://www.insperity.com/blog/5-little-known-policies-need-employee-handbook/