What is Performance Planning?
Performance planning is a systematic and structured approach to successfully achieve the desired goals of an individual or team throughout the assessment year. A plan is chalked out for the team or an individual(s) keeping in mind the broader objectives of the organisation.
The performance planning is all about exploration of what individuals need to do and know in order to improve their performance and develop their skills and competences.
It is also about knowing how their managers can provide the support and guidance they need. The whole process requires competence mapping and potential development.
Performance planning is the key essential for an effective performance management system because after proper planning only, the organization can achieve the results.
---
Objectives of Performance Planning
To the success of any performance management system, the development of an employee performance management plan is of paramount importance. The plan establishes the development researcher's essential job tasks, responsibilities, and critical performance objectives that need to be achieved or performed during the performance period.
It is mutually developed during the planning conference and reflects the individual aspects and nature of the employee's job.
The key objective of performance planning as given as below:
Performance planning clearly defines the purpose of the organization. The purpose is to establish realistic goals and objectives consistent with that mission in a defined time frame within the organization's capacity for implementation.


After planning, the next task is to communicate those goals and objectives to the organization's constituents.


We have to ensure the most effective use of the organization's resources by focusing the resources on the key priorities.


Then to provide a base from which progress can be measured and establish a mechanism for informed change when needed.


To listen to everyone's opinions in order to build consensus about where the organization is going and where to want to reach.


It provides a clearer focus for the organization, thereby producing more efficiency and effectiveness.


It is used to clearly identify the performance metrics used to measure employee's success in meeting predetermined targets.


It produces great satisfaction and meaning among planners, especially around a common vision which increases productivity from increased efficiency and effectiveness.


It solves major problems in the organization by providing ongoing on-the-job feedback.
---
Importance of Performance Planning
The coaches or mentors in any organization work with performance plans or work plans to keep their employees motivated. They operate with such plans in place for each and every one of their team members to generate synergy.
The following points discuss the importance of performance planning which are given below:
Performance planning helps in aligning the individual goals with the organizational goals and the concept behind this is mutuality for survival and growth.


This makes the process of performance management more accountable and objective.


It focuses on key results area and key performance area which must be considered for gaining the competitive edge.


Performance planning helps in maximum utilization of resources and it is important to make clear in the role and responsibilities of employees.
---
Barriers to Performance Planning
The barriers to performance planning can be categorized into two types which are as follows: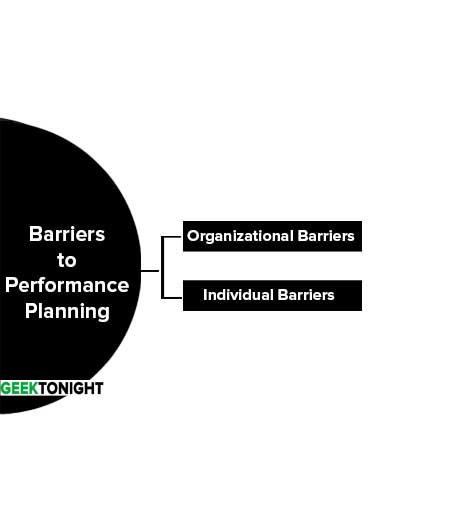 Organizational Barriers
Most of the traditional organizations are not in favour of performance planning. According to this concept, the organizations spending time on performance planning is just a wastage of time. These organizations believe that they have a strong implementation strategy and due to this only, it becomes the barrier.
For example, The Indian companies tend to spend 30% time on planning and remaining 70% on implementation whereas the MNCs usually spend 70% time on performance planning and the remaining 30% time on strategy implementation.
Individual Barriers
The lack of commitment in the organization's employees or management is another important barrier to performance planning. Sometimes managers or employees or both show less commitment towards the achievement of organizational goals and the reasons could be personal, organizational, competitive or any other HR factor.
For example, Organizational politics, workplace bullying or high conflict causes employees to show less interest in their job responsibilities.
---
Process of Performance Planning
There are many advantages to both supervisors and employees in having an effective performance planning and review process and the process should identify clearly what is expected of the employee, which in turn provides the opportunity to recognize good performance and identify areas that need corrective action or added training. Four areas that must be identified in a performance plan are:
Job responsibility: What has to be done?
Performance measure: How will this be checked or measured?
Performance standard: How well must it be done?
Target date: When will it be checked?
While building a performance plan, you need to obtain information in these areas from the job description and you would also look to the organization needs to clarify which duties have priority and the standard they must be performed to.
An effective performance plan should outline results expected, performance measures, standards to be achieved and target dates for measurement.
The following are the key components of the performance planning process: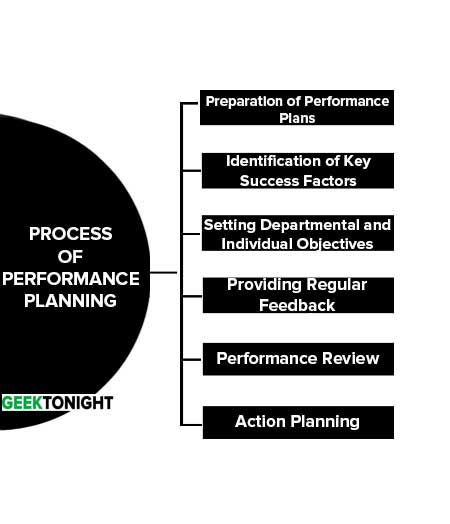 Preparation of Performance Plans
Performance plans are usually prepared at the beginning of the annual review period, or when an employee first starts their new job. When preparing for the initial planning, the meeting should be undertaken by both the supervisor and the employee.
Both the supervisor and employee should be reviewing the goals, objectives and needs of the work unit and looking at the current job description and the supervisor should list the things in the job that they intend to measure, and the standards you will measure to. The employee could write down the ways they think each of their tasks. It could be measured and how well each should be performed.
Identification of Key Success Factors
When identifying key success factors, the performance objectives and results to be achieved should be focused on results. They are set in order of priority. The measures should be specific to each task, with clear standards which include dates and times when appropriate.
Setting Departmental and Individual Objectives
After setting the organizational goals and objectives, the next task is to define departmental goals and objectives. The departmental objectives are further categorized into individual goals which include the key duties and responsibilities to achieve the final goals of the organization.
Providing Regular Feedback
The next step in the process is providing regular feedback where the supervisor should be maintaining a log of performance facts, which will ensure that important issues are given the attention that is required and will help the formal review proceed in a more focused and potentially more positive way.
The employee should also maintain a record of accomplishments and special achievements, or issues that need to be resolved and discussion of these things during scheduled or spontaneous feedback sessions will allow resolution of problems in a timely manner.
Performance Review
Reviewing performance gives the supervisor and the employee the opportunity to look at results that have been achieved in relation to the original plan. Accordingly, the standards of performance were established. At this meeting, you should review all performance records and assess each task.
Along with this, discussing whether they met the standards of performance or not and whether they exceed those standards. When review any outside factors that may have had an effect on performance.
At this time, the supervisor should be identifying any areas where improvement may be necessary or performance could be enhanced and the employee should also have the opportunity to discuss areas where they could have used more help.
Action Planning
Action planning is another important aspect to completing this cycle. This is where the supervisor and employee would plan for any training that needs to occur. It could also be where we discuss career planning.
---
Methodologies of Performance Planning
The key methodologies of setting up a performance criteria can be understood by following points and are as follows:
Key Performance Area
The key performance area for any employee includes the identification of priority area first. After identifying this, subsequent working on the specified area is done. The process of key performance area involves the following steps which are mentioned below:
Identification of important tasks and activities.

Determining the areas of priority.

Setting goals in the identified area.

Seeking the employee's commitment to identified work.

Making arrangements for required resources.
Key Results Area
The term key results area may be defined as general area of outcomes for which a role is responsible and the major task is to identify them. Identifying KRAs helps individual employees in a number ways as enumerated here:
Clarify their roles.

Align their roles to the organization's business or strategic plan.

Focus on results rather than activities.

Communicate their role's purposes to others.

Set goals and objectives.

Priorities their activities, and therefore improve their time work management.

Make value-added decisions.
Tasks and Target Identification
It involves the identification of roles, responsibilities, tasks and key targets of the employees and by identifying these, each and every employee should know their duties and key targets.
Goal Setting Exercises
An organization's ultimate goals determine its strategy.
For example An organization intending to become the world's largest textile company in the shortest possible time which is ultimate goal of any organization, will increase its production capacities either through organic route such as setting up new manufacturing facilities, or by acquiring other textile organizations.



Since acquisition helps increasing production capacities quickly, the organization shall pursue acquisition as a strategy for faster growth but acquisition strategy also involves turning around the performance of the older acquired production units which essentially calls for improving human performance for corporate success.
Organizational Objectives and Strategy
In order to understand organizational objective and strategy, we need to undergo various points which are:
The ultimate goal of organization.

Its competitive position in market.

To compare the organization's strength with changing environment.

To examine an organization's critical issues.

To analyze an organization's opportunities.

Exploring best approaches in view of organizational resources and competencies.
Assessment of Organizational Performance Needs
After identifying objectives and strategy, there is a need to assess performance criteria and for this, the below mentioned steps should be carried out:
Identifying competencies necessary for achieving organizational objectives and strategy.

Gathering information about critical issues related to the purpose.

Determining new and future performance needs of the organization.

Prioritizing organizational improvement measures.

Recognizing core organizational values.
Setting Organizational Performance Expectations
Once the assessment is over, one need to set performance expectations which can be done as follows:
Determining required vs. desired performance.

Determining the current performance status.

Understanding, aligning and agreeing on performance expectations.

Formulating key performance indicators.

Evolving job objectives.

Aligning individual goals with organizational strategy.
Establishing Performance Management Process
For establishing performance management process, several steps mentioned below have to be considered.
Designing a framework of performance management encompassing.

To implement performance planning.

To manage the performance.

Conduct performance appraisal.

Monitoring the performance.
Measuring Effectiveness of Performance Management
Identifying opportunities for performance development against which effectiveness will be measured.

Providing performance counseling including 360-degree feedback as per the requirement.

Devising reward strategy and administering a reward system properly § Establishing performance management audit.

Improvement in the competitive position of the organization.
---
Human Resources Tutorial
(Click on Topic to Read)
Human Resource Management
---
Go On, Share & Help your Friend
Did we miss something in BCOM/BBA Study Material or You want something More? Come on! Tell us what you think about our post on Performance Planning in the comments section and Share this post with your friends.