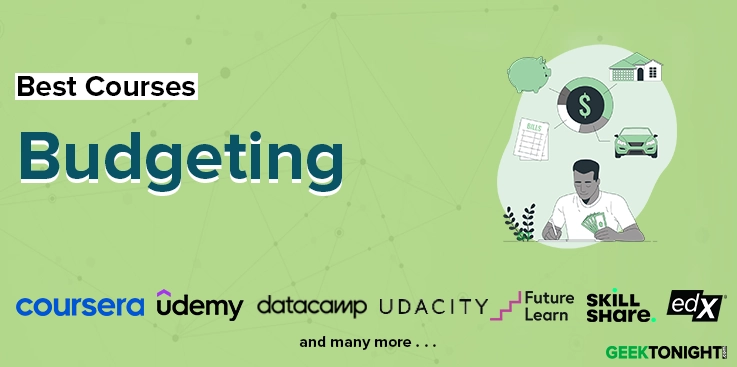 There are a lot of different budgeting courses available online. But which one is the best for you? It largely relies on your demands and learning goals. We'll offer you a brief review of some of the best budgeting courses in this article so you can choose the one that's perfect for you.
Goal-setting, developing a budget, adhering to a budget, and debt management is all common subjects covered in budgeting classes. There might also be information on retirement planning and investing methods, depending on the course. A budgeting course can be a useful tool whether you're attempting to pay off debt, put money aside for a major purchase, or simply understand your finances better.
There are numerous solutions available when it comes to budgeting. But it might be difficult to decide which option is best for you when there are so many options. We've compiled a list of budgeting courses that range in difficulty from beginner to advance.
Our product recommendations are unbiased and based on an independent review process. We may receive a commission for links to recommended partners. See our advertiser disclosure for more information.
---
Best Budgeting Courses, Certification, Tutorials, Training, Classes Online
In this online budgeting course, students will get a deeper grasp of the budgeting process, its difficulties, common problems, and solutions to lessen those difficulties and shorten the budget planning learning curve. By highlighting the transition between the corporate strategy and the budget, it emphasizes integration. It is practical since it adheres to a set procedure for working via a framework that exemplifies how to build, assess, and manage the budget.
The course is offered by Fundação Instituto de Administração with Fernando Fleury, Nelson Yoshida, Robert Dumas Damas, Alberto Sansiviero, and Samantha Mazzero serving as its instructors. The instructors have decades of experiences in the relevant field making them suitable candidates to teach this particular course.
Key Highlights & USPs
Learn how to develop corporate budgets, With a wide understanding of the corporate functions.


Establish and understand a logical order for the budget planning and development.


Get to know how to integrate other departments in budgeting i.e. Plan the budget together with the various departments of the business.


Gain and hone your leaderships by encouraging the discussion of assumptions to help the budget-development process.


Learn and utilize financial principles to aid in the budgeting process.


The course comes with reading materials and quizzes to devlop your knowledge and a course certificate after a successful completion. 
Who is it for?
It is one of the intermediate level budgeting training online program that helps you to create a model for monitoring and controlling the budget to assist with performance management and Manage the outcomes and the budget to assess the company's performance.
Rating: 4.5/5
Students Enrolled: 64,709
Duration: 26 hours
The team works better together to achieve project goals when there is a good project timetable. This course heavily focuses on how project scheduling can help to achieve project objectives. A project's financial foundation must also include a realistic project budget. You will learn how to set goals and adhere to them in this course to make sure your projects are successful.
This online budgeting class course is brought to you by University of California, Irvine with Margaret Meloni as the instructor. Margaret is a president at Meloni Coaching Solutions, Inc., a business dedicated to assisting you in effectively navigating the human side of the project world. At companies like Occidental Petroleum, Northrop Grumman, Toyota Motor Credit, Southern California Edison, CalStart, and arc, Margaret has assisted project managers.
Key Highlights & USPs
Learn to determine the project's resource requirements and get to know why work packages should be broken down into activities.


Describe the requirements for estimating activity durations while establishing milestones and develop a timeline for them.


Know how to calculate float and the critical route and also learn to calculate the volume and price of the resources needed to complete the project's activities.


To determine a project's budget, use one of three standard cost estimation methodologies.


The course comes with reading materials and quizzes in each module to help foster better understanding, and after completion be entitled for a course completion certificate.
Who is it for?
By the end of this class, you will have a process that will make it clear where your money is going, To assign responsibilities, use an assignment matrix, recognize the elements of the quality management strategy for a project. With that information, you will be able to find opportunities to tweak your expenses so you can continue your path to your financial goals.
Rating: 4.7/5
Students Enrolled: 150,293
Duration: 6 hours
This budgeting online classes walks you through the fundamentals of financial planning and clarifies how a business develops a budget. The technical subjects covered in the video classes include cash flow computation, working capital development, fixed asset roll-forward, and predicting revenue and costs. Additionally, we will go through the types of budgets that exist, why businesses need them, and how financial statements are used by businesses to generate their budgets.
365 Careers, is the instructor for this course. On Udemy, 365 Careers is the top-selling provider of courses in business, finance, and data science. With more than 10 years of experience in FP&A teams, Antoniya is a finance manager. She is the best instructor for you since she knows how to simplify a complex subject for you to learn. She loves to teach and is eager to address your inquiries. People who have finished 365 Careers trainings now work at renowned companies like Apple, PayPal, and Citibank.
Key Highlights & USPs
Create a company budget from scratch and become familiar with top-down and bottom-up approaches.


Create a company's revenue budget and project its projected level of production. Projecting Net Cash Flow: Different Types of Expenditures etc.


Find out who is involved in budget preparation, the key approaches used in financial planning, and how to use them.


Learn about the people that are interested in the final figures that are approved for the budget.


Get to assess Working Capital Requirements and make a Fixed Asset Rollforward, Create a comprehensive financial model.


Get Excel Financial Statement Construction Training.


Get free lifetime access to this course and its materials and 27 downloadable resources and a course completion certificate for your CV.
Who is it for?
This budgeting training course is listed as 'All Levels' indicating taking this course can help beginners to advanced individuals. This course basically helps you to differentiate yourself from the competition by picking up useful money and budgeting skills. You will become a useful and essential component of any company's finance team by specialising in these subjects.
Rating: 4.6/5
Students Enrolled: 32,075
Duration: 4.5 hours

Valid till: 30th September
Skillshare budgeting courses are focusing on achieving financial independence through simplicity! We will cover both material and financial minimalism in this course. We'll go over how our assets and financial commitments affect our lives. We'll also do a couple of easy projects that will assist you in developing your own techniques for surviving on less.
The platform includes instructors like Brendon Saruwatari, Cris Kober, Sean Guthrie, Nate, KW Professional Organizers, BrainyMoney And Son Han among many others. The instructors are strict practitioners of budgeting and share their ways of how one can attain financial freedom as soon as possible.
Key Highlights & USPs
Learn from easy projects that will assist you in developing your own techniques for surviving on less.


The final steps to becoming a nomad, generating income while travelling, and optimising financial freedom will be covered.


Go over how our assets and financial commitments affect our lives.


By following the course thoroughly one can use the same ideas and techniques for both personal And corporate budgets.


Learn how to track your money and stay on top of your monthly expenses. You will learn what your minimum monthly budget requirement is and also learn where you have flexibility to save more or spend less.


The courses offer different materials and tools helping you in your budgetting process and during post course completion period.
Who is it for?
If you're interested in learning how to live on less, this class will be a good fit. Classes emphasize minimalism. A life where we have more control over our time can be achieved through minimalism. The courses on the platform really believe that by embracing simplicity, we can all achieve financial freedom and gain new skills.
Rating: 4.6/5
Duration: Self-pace
From this budgeting techniques course you'll come across creating a budget fosters collaboration, open communication, and ongoing development. By presenting the budgeting process and its significance in simple terms, this course tries to dispel the uncertainty and fear that surround it.
The course is created by Samantha T. Cooper. She has experience working in the aerospace, automotive, and food production industries. At Buena Vista University, she completed her B.A. in accounting before moving on to Northcentral University for her MBA and PhD, where she focused on human resources, management, and finance. She only has one course on Udemy, yet 4,067 students have given her a 4.4 instructor rating.
Key Highlights & USPs
You should be able to use the budgeting process to promote improved teamwork, planning, and control at your place of employment or in your own business.


Has the capacity to improve organisational performance through budgeting.


To develop a budget, be aware of the who, what, when, where, and why and be confident in your ability to communicate these concepts.


You need to be able to develop the accompanying schedules if you want to produce a budgeted Income Statement and Balance Sheet.


You can generate a budget while listening to the lectures using two sets of company data, including both blank and filled-out templates, and then practice your skills independently.


Recognize moral dilemmas that arise during the budgeting process.


The course comes with 4 downloadable resources and provides a course completion certificate at the end.
Who is it for?
This budgeting programme is ideal for motivated workers and business owners who want to increase their worth and make a more significant contribution to the budgeting process. Understanding and participating in the budgeting process will make you a more useful employee or more prosperous business owner.
Rating: 4.4/5
Students Enrolled: 4,072
Duration: 2.5 hours
FAQ
How can I learn budgeting?
There are a lot of different ways to learn budgeting, and the best method for you will depend on your learning style and needs. However, there are a few general tips that can help you get started with budgeting:
– To begin, keep a month's worth of expenditure records. This can help you determine where you can make savings and where your money is going.
– Establish a spending plan for the upcoming month. Make sure to budget for all necessary costs as well as a little more to cover unforeseen expenses.
– As much as you can, stay inside your budget. It might take some self-control, but it will be worthwhile in the end.
– At the end of the month, evaluate your spending to see how you fared. Make any alterations required for the upcoming month.
How can I improve my budgeting skills?
Budgeting is a vital skill for anyone looking to take control of their finances. A budget can help you track your spending, save money, and make smart financial decisions.
If you're not already budgeting, there are a few simple steps you can take to get started. First, figure out your income and expenses. This can be done by tracking your spending for a month or two, or by using a budgeting app or software. Once you know how much money you have coming in and going out, you can start to make a plan.
Set aside some money for savings and essential expenses, and then allocate the rest of your money to other expenses like food, transportation, and entertainment. It's important to be realistic in your budgeting, so don't try to cut corners too much or you may find yourself struggling to stick to your budget.