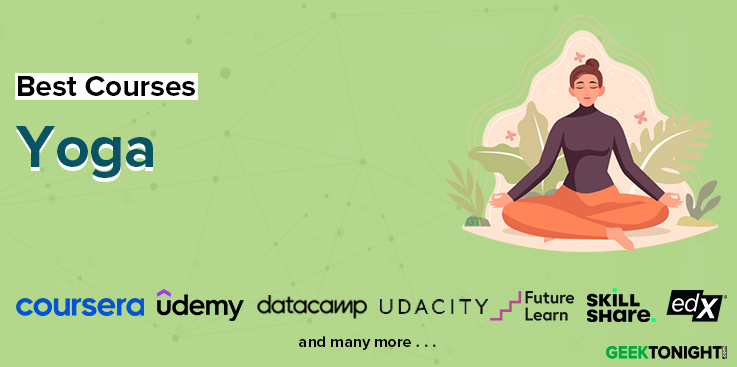 You all know how regular practice of yoga de-stresses you, makes you more flexible, builds strength, makes you get in tune with your body, and boosts your overall well being. So, just click on your favorite class or course and start your yoga practice.
Not only are we going to talk about yoga classes for beginners, intermediates, and advanced, but we have also covered some yoga teacher training courses for those who want to get certified and pursue this as a career.
---
Top 10 Yoga Courses, Certification, Tutorials, Training, Classes Online
These are our picks for the best yoga courses and classes:
Daily Burn
Daily Burn is a subscription-based online yoga platform that customizes workout for you based on your current fitness level and goal. This feature gives Daily Burn an edge over other yoga subscription platforms. You just need to enter some basic details about yourself, and a customized plan based on your fitness level and the goal you want to achieve will be prepared. On top of that, if you do not like to go for group yoga classes, you can choose 1-on-1 training based on your schedule.
Daily Burn gives you an excellent opportunity to connect with other people who have joined you on the same yoga journey. Share your progress and challenges with them and get inspired by their stories.
Key Highlights & USPs
The user interface is easy to use and get you detailed information on your workout history and statistics,


More than 30 categories of workouts are available like weight loss, balance, hip openers to meet your specific goal.


New workouts every week so you feel challenged and motivated,


You can attend the yoga class from anywhere on your phone.


Workouts are designed to last anywhere between 15 and 45 minutes, so there is always a scope to squeeze a workout into your daily routine.


Your yoga instructor carefully guide you through each movement of a pose, so, even if you are a beginner, you do not have to worry.
Who is it for?
When paired with a healthy diet regime and an active lifestyle, adding these yoga classes to your daily routine can prove to be an excellent way to stay healthy both physically and mentally.
Subscription Plan (30-Day Free Trial)
Monthly Fee: $9.99/Month
Payment Method: Paypal/Card
Yoga Download
Yoga Download offers unlimited yoga classes at affordable rates. The classes are curated by the world's top yoga instructors specifically to achieve your goals, whether it's weight loss, posture correction, or flexibility.
Yoga Download offers free downloads with your subscription so that you can watch the videos offline anytime. You can even choose different styles of yoga to practice, including Vinayasa yoga, Hatha yoga, Iyengar yoga, Ashtanga yoga, yoga with weights, and Pilates.
Key Highlights & USPs
Join now and you can get unlimited access to 1700+ online yoga classes from the world's top yoga instructors.


New classes are added every week so that you remain motivated.


Classes are designed specifically for all levels, ages, and fitness types.


Available on Google Playstore, Apple app store, Roku, Amazon Fire TV, Android TV Channels, and Apple TV.


Conducting online classes since 2006 with a growing community of over 250, 000 members.


You can choose any type of class, instructor, class duration, style, and fitness level.


Workout anytime of the day from the comfort of your own home.
Who is it for?
The Yoga Download app gives you advanced filtering options that make finding your perfect class easy and quick. You can filter the classes by their length, style, instructor, and even intensity. The online yoga classes are for everyone; beginners, seniors, athletes, advanced practitioners, pregnant women, men, runners, and more.
Subscription Plan
Standard Monthly: $12/Month
Unlimited Year: $10/Month or costs just $0.33/Day
Unlimited Monthly: $18/Month or costs just $0.60/Day
Unlimited 3 Months: $40/Month or costs just $.044/Day
Unlimited 6 Months: $70/Month or costs just $0.39/Day
Gaia
Yoga on Gaia targets nurturing your body, expanding your mind, and elevating your soul. A handpicked collection of yoga practices, meditations, and lifestyle videos are included in the platform for your complete well-being. Pick your favorite streaming yoga video and start practicing anywhere, anytime. Here, you can choose your style, duration of a session, your instructor, and your level.
Gaia offers different levels of yoga series and programs carefully curated keeping in mind your goals; whether it is to establish a meditation practice, to become an advanced yogi, or just beginning the journey of yoga.
Key Highlights & USPs
You can have access to the largest online resource of over 8,000 informative films, original shows, yoga, and meditation classes.


Hundred of yoga and meditation classes taught by expert teachers for flexibility, energy, and better sleep.


Access the class anywhere from your TV, mobile, or laptop.


Available on iOS, Android, Chromecast, Roku, and Amazon Fire TV.


You can practice any time of the day; morning, mid-day, or evening.
Who is it for?
Subscribe to Gaia now and start practicing different styles of yoga and meditation under the guidance of some of the world's best yoga teachers. There are yoga classes for every fitness level, beginner, intermediate to even advanced.
Subscription Plan (7-Day Free Trial)
Monthly: $11.99/Month
Annually: $99
Live Access: $299
This is a specially curated 15-day comprehensive online yoga course for beginners. This course takes you through a comprehensive at-home beginner yoga retreat, in just 15 minutes a day. Generally, a yoga class is typically 45-60 minutes long which is a significant time commitment for a beginner. This course is a comprehensive, non-spiritual program of yoga videos to enhance your practice and help in your recovery. This yoga style not only focuses on what you achieve in your practice but also on the other achievements in life.
Abi Carver is a two-time Yoga Alliance certified yoga teacher. Trained in different styles like Hatha, Zenthai Flow and Power Yoga, Abi is also a qualified personal trainer from National Academy of Sports Medicine. She is a renowned British yoga instructor and founder of this 15-day foundation yoga course (Yoga 15).
Key Highlights & USPs
Wide range of benefits of yoga through short, consistent daily sessions.


Classes are designed to accelerate your performance and support your recovery.


Short 15 minutes class for people who can't take out time from their busy schedules.


Each class is focused on just one aspect, stretching your calves and hamstrings, or opening your hips.


There are also classes focused on skills like balance, core strength, focus or concentration.


All the yoga poses, and cues are all carefully translated into English for your ease.
Who is it for?
Abi Carver has been very careful not to incorporate any type of spiritual and religious aspects of yoga into her classes. This makes the yoga class accessible for all students irrespective of their beliefs or cultural preferences. Online yoga course is carefully curated for beginners who have basic or no knowledge of yoga.
Level: Beginner level
Students Enrolled: 1,663
Duration: 16 Lessons (3h 49m)
Internationally Accredited Diploma in Yoga Training by Udemy complies with universally accepted principles of Continual Professional Development (CPD). It is carefully structured to meet the criteria of personal development plans. After completing this course, you will have an excellent understanding of the different types of Yoga.
This course is created by Akash Sehrawat, a Yoga Teacher (E-RYT 200 Yoga Alliance) with over 1000 teaching hours. He is also a holistic Health Practitioner and board-certified from the American Alternative Medical Association. He is working with a mission to motivate and help millions of people in their fitness journey with his website fabulousbody.com.
Key Highlights & USPs
You will get an excellent understanding of the principles of Patanjali's Ashtanga Eight Limb Yoga.


You will be a master of over 59 Asana which are excellent for beginners and intermediates on completion of this course.


You will reduce the risk of injury during practice by improving your alignment and posture.


4 hours of on-demand video, 4 articles and 2 downloadable resources, and lifetime access on mobile and TV.


Internationally Accredited Diploma in Yoga Training accredited by CPD Certification Service.
Who is it for?
This diploma course in yoga is for anyone who wants to start a new career as a yoga teacher. Motivated individuals who want more flexibility, strength, and agility can also choose this yoga course. All motivated individuals and healthcare professionals who want to learn the fundamentals of Yoga might be interested in this Diploma in Yoga Training.
Rating: 4.5/5
Students Enrolled: 23,231
Duration: 4 hours

Valid till: 30th September
Total Transformation Yoga Teacher Training by Sadie Nardini and Tyler McCoy is renowned as the best Anatomy & Vinyasa Yoga training in the world. The course is based on the 7 Core Cues of Core Strength Vinyasa Yoga that help ease the complex anatomy knowledge into 7 simple concepts.
There are more than 95% of yoga teachers who give wrong or confusing instructions that can injure their students over time. Sadie and Tyler are two anatomy and yoga experts who have traveled the world teaching students and teachers the crucial new world of internal as well as external yoga cueing and aligning their students properly through the transitions.
Key Highlights & USPs
It gives a solid understanding of how to use anatomy, biomechanics, physics, and adaptation smoothly and easily in your students' bodies.


You will learn to apply the 7 Core Cues for proper alignment in your students' asanas.


You will be listed as a CSV Yoga Instructor on Sadie's website and can get students from her.


16 hours of on-demand video, 4 downloadable resources, lifetime access on mobile and TV, and a certificate of completion.
Who is it for?
The course is curated for yoga teachers who want advanced-level training and expand their knowledge of alignment and yoga cueing. It is also beneficial for yoga students and practitioners who want to keep their practice strong and remain safe while practicing.
Rating: 4.3/5
Students Enrolled: 9,386
Duration: 16 hours on-demand video
Yoga International
Yoga International is a subscription-based online yoga platform that gives you the comfort of practicing at the comfort of your home with the world's top yoga teachers. You can easily stream hundreds of expertly led yoga and meditation classes on any device. Easy option of customization in your membership gives you an excellent opportunity to choose from their expansive library of classes, courses, and articles.
Yoga International is serving 300,000+ members every day, making a huge difference in their lives. There are different yoga courses for the members, specially curated by professionally trained teachers who are passionate about yoga.
Key Highlights & USPs
Experience the depth of knowledge in all areas of yoga from the world's top yoga teachers.


Stay inspired with new yoga classes every day.


Access the online yoga classes at your own pace, on your own time, and on any device.


Expand your knowledge with Yoga International's huge library of classes, courses, and articles.


You can choose any yoga course based on your fitness level, style of yoga, or even your favorite instructor.
Who is it for?
The yoga classes are curated for all levels, beginner, intermediate, and even advanced. This yoga online platform has more than 500 instructors who have expertise in anatomy, yoga therapy, meditation, and many other things.
Membership Benefits
World Class Teachers
Stay Inspired
Everywhere You Are
Alo Moves
Alo Moves brings you an excellent yoga studio experience at home. Subscribe with its monthly or annual membership and get access to thousands of classes; all for less than a dollar a day. Start your yoga journey with a free trial and enjoy unlimited yoga, fitness, and meditation anywhere, anytime.
This online yoga platform is for all, whether you are a complete beginner or want to advance your practice, you can access thousands of classes for body, mind, and spirit.
Key Highlights & USPs
Access to unlimited yoga, meditation, and other fitness classes.


Thousands of classes for the well-being of body, mind, and spirit.


You can choose your practice depending on your mood, time, style, and skill level.


A team of world-class yoga instructors to challenge your strength and stretch your body.


Help to achieve your fitness and wellness goals by dedicated practice.


In case of no internet, you can easily download videos offline for a practice.


Join the community of Alo Moves and participate in virtual yoga practice for that much-needed inspiration.
Who is it for?
Get started with two free weeks of unlimited yoga, fitness, and meditation classes. Practice more than 20 styles of online yoga classes with over 70 yoga instructors on the platform and take your skills to the next level with a series of handstands, splits, and arm balances.
Subscription Plan:
Monthly: $20
Annually: $199
In this Kids Yoga Teacher Training Certificate Course by Udemy, you will get all the skills, knowledge, resources, and confidence that are required to start teaching yoga to kids. This online yoga course for kids includes all the information about children's development and how it relates to learning yoga.
This course has been created by Jessica Fleming; she has been doing yoga for over 22 years and has been a teacher for over 7 years. She is also a yoga, meditation and mindfulness teacher. Jessica has been helping many people across the globe in becoming excellent kids yoga teachers and starting their own ventures.
Key Highlights & USPs
There is one dedicated module to teaching you how to get your kids yoga classes into kindergartens, pre-schools, schools, and your neighborhood.


You will learn what type of yoga games and activities each age group of kids enjoy and how to add these into your yoga classes.


You will get to learn, how to apply knowledge of yoga to deal with the stress and anxiety problems of kids.


A better understanding of the physical, mental, and emotional development of kids and how it can be improved by doing yoga.


On completion, you will be able to create your own super fun kids' yoga stories for kids aged 2-8 years.


3 hours of on-demand video, 44 downloadable resources, full lifetime access on mobile and TV, and completion.
Who is it for?
The Kids Yoga Teacher Training Certificate Course is curated specially for individuals who want to teach yoga to children of all ages, from 2-17 years. Enrolling in this course will teach you how to confidently teach fun, safe, and engaging yoga classes to kids.
Rating: 4.7/5
Students Enrolled: 12,766
Duration: 3 hours on-demand video
You can Sign up Here

Valid till: 30th September
Yin Yoga Teacher Training Certificate Course on Udemy is for those motivated individuals who want to have a detailed understanding of every aspect of this specific yoga style. In this course, you learn how to guide students through powerful and healing yin-yoga classes. This is a Yoga Alliance-approved continuing education course.
Key Highlights & USPs
Excellence in 25 yin yoga poses and their variations along with the theory of yin and yang.


Confidence in conducting yin yoga classes.


Understanding of sequencing and structuring a yin yoga class.


Special classes on Yin yoga for elderly people and pregnant women.


Learning of yin yoga poses, their step-by-step instructions, benefits, associated Chakras, and Meridians and contradictions.


This is a Yoga Alliance approved continuing education course.


You will get two student workbooks with over 35 pages of information to enhance your learning and a fully illustrated, 25-page yin yoga pose guide with pose instructions.


3.5 hours on-demand of video and 28 downloadable resources, certificate of completion.
Who is it for?
This course is developed to include all the skills, tools, and knowledge you need to teach yin yoga classes confidently and safely.
Rating: 4.8/5
Students Enrolled: 1,165
Duration: 3.5 hours on-demand video
This course focuses on the benefits of yoga, meditation and mindfulness in chronic illness and long term treatments. Through this course, you will understand the impact of yoga on preventing physiological pathologies and reducing stress. There will be numerous scientific studies and their analysis for you that have used yoga practice as a tool for treatment of various illnesses such as stress, diabetes, insomnia, chronic pain, hypertension and PTSD.
This course is created by Alexandra (Ali) Seidenstein, Eddie Stern and Tommy Lee. Alexandra (Ali) Seidenstein taught in the Chemical and Biomolecular Engineering Department at NYU-Tandon. She studied yoga for three years in Mysore, India. Eddie Stern, a yoga teacher, author and lecturer from New York City is an expert in Ashtanga Yoga. Tommy Lee has been teaching numerous biological topics and Patho-neurology in various institutions for two decades.
Key Highlights & USPs
This course is intended to impart complete understanding of the correlating physiological system to students.


Weekly assignments include a yoga practice, physiology lectures, suggested readings and optional discussions on important topics for 3-5 hours per week.


You will get in-depth scientific understanding of Yoga and its healing power.


You will be able to identify the difference in conditions of normal and abnormal functioning of human physiological systems easily.


Practicing yoga that directly targets therapy, prevention, and overall wellness is an added benefit.
Who is it for?
This course is carefully curated for yoga practitioners and teachers. Along with this, college students and individuals who are looking for in-depth understanding of physiological benefits of yoga can opt this course.
Rating: 4.8/5
Students Enrolled: 36,220
Duration: 54 hours to complete
---
FAQ
Are online yoga sessions safe to practice?
Online yoga sessions are completely safe to practice. Just carefully listen to your instructor's cues and do not force yourself to get into a specific yoga asana. Online yoga classes are even best for people who want to maintain their yoga routine even when they are traveling
Can you lose weight doing yoga?
Yes. Yoga helps develop your muscles and improve metabolism that aid in weight loss. Many people have healthily lost their weight by doing yoga daily. Along with weight loss, it keeps your mind and body healthy.
Is it worth getting yoga certified?
Yes, if you are passionate about yoga and want to make it a career. Yoga Teacher Training (YTT) is so much more than just practicing yoga. Other than teaching, you can also take YTT to deepen your practice.
How long does it take to become a certified yoga instructor?
Depending on the schedule of classes (weekday or weekend classes), you will take around 3 to 6 months to complete a standard 200-hour yoga teacher training (YTT) course. Completing a 500-hour Yoga Teacher Training Course might take around six months to a year depending on the schedule of your classes.