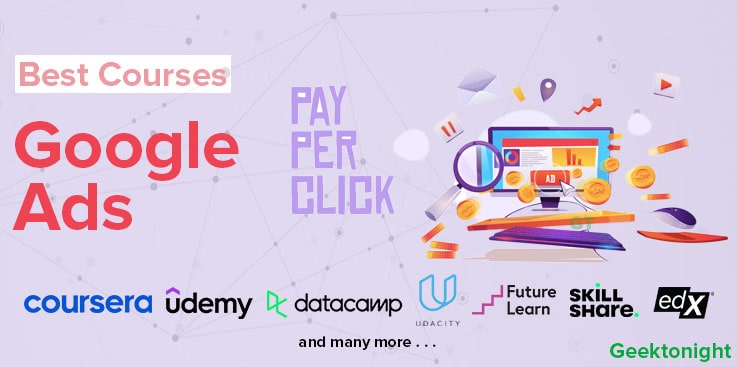 Whether you are an established e-commerce website or someone who's planning to work on a start-up of their own, you need lucrative marketing skills to target to get the most engaged audience, which can be further turned into loyal customers. The first platform that comes to mind is Google. Google is the world's most popular search engine. Everyone wants to get their website ranked well, and the space has become more competitive than ever before. So, how do we break in and stand out?
The answer is Google Ads. It is a useful marketing tool that can be used by literally anyone to boost their business.
Learning Google Ads becomes important if you want to market your business well. You can have a kickass website, brilliant products, and services, but unless and until you market them, you have a chance of losing out your potential customers. Don't worry, we got you covered. We understand that with the amount of content available online, it can get overwhelming to figure which course to pursue, and which ones will give the best results
To save you the time you'd have to spend researching the best online Google Ads courses, we've compiled a list of some of the best options available. All these courses are taught by the best Subject Experts and are comprehensive for everyone to understand.
Our product recommendations are unbiased and based on an independent review process. We may receive a commission for links to recommended partners. See our advertiser disclosure for more information.
---
Best Google Ads Courses, Certification, Classes, Tutorials
This Ultimate Google Ads Course by Udemy will teach you how to run profitable Google Ad campaigns. This course provides an introduction to the Google Ads interface and will help in the creation of various ad campaigns. You will also learn to use Google Ads Keyword Planner to find high-volume keywords, conversion tracking, create, develop and optimize ads to get the best out of your investment.
The Ultimate Google Ads Training 2020: Profit with Pay Per Click is taught by none other than Isaac Rudansky. Isaac is the founder of AdVenture Media, a leading digital advertising agency. It was founded in 2011, and his company has consulted with more than 450 companies in the world.
Key Highlights & USPs
Drive Consistent, Round-The-Clock Traffic To Your Website or Landing Page.


Create different kinds of ad campaigns.


Remarket to Your Previous Website Visitors To Get Them Coming Back To Your Site.


Advertise Your Products And Services Online Effectively.


Monetize More Than 6 Billion Daily Searches On Google.


Boost Traffic and Increase Sales to Your Website.


Get full lifetime access to 4 articles, and a Certificate of completion.
Who is it for?
This Google Ads course is for anyone looking to master the art of Google Ads from very scratch. The best part is, the course has been updated, as per the new Google Ads Interface and Dashboard. Anyone who wants to master the world's most powerful and popular advertising platform, can get this course and reap enormous benefits.
Rating: 4.7/5
Students Enrolled: 182,161
Duration: 24.5 hours

Valid till: 30th September
For a beginner, trying to figure out the formula of creating killer ad campaigns, Udemy has another amazing Google Ads course to sail you through. This course is ideal for people who aren't much tech-oriented. It starts from the basics and covers everything you need to know to get started with Google Ads. This course uses a very practical approach to getting students familiar with the interface.
This online Google Ads Certification Course by Josh George is another great option on Udemy to master Google Ads. In this course, you'll be able to watch Josh in real-time as he shows you EXACTLY how he sets up and runs profitable Google ads. Instead of just giving you the theory and then leaving it up to you to figure it all out, Josh ensures that you learn to execute everything he teaches, simultaneously.
Key Highlights & USPs
Understand what a Keyword is and the Intent behind one. You'll also find out how to find hundreds of Keywords to target for your business.


Learn What Match Types Are And How They Can Save You Tons Of Money.


Learn Everything You Need To Know About Quality Score and Become A Master With Ad Extensions.


How To Set Up and Track Conversions.


Get full lifetime access 4.5 hours on-demand video, 3 articles, and 3 downloadable resources, along with a completion certificate.
Who is it for?
This top-notch Google Ads course is for anyone who wants to learn the process of creating optimized ads. Marketing professionals who want to create ad campaigns for clients can enroll in this top-level course as well. This course is ideal for both, beginners and intermediate level users to master the art of the best-optimized ad campaigns. This course adds exemplary value to your Digital Marketing Journey.
Rating: 4.8/5
Students Enrolled: 4,429
Duration: 4.5 Hours
This Advanced Level Google Ads course dives deeper into the process. This course is one of the most comprehensive courses to master Google Ads. This is ideal for you if you know the basics of Ad creation, and are aiming to maximize conversions. This course focuses on accessing advanced tools to predict how the ads will perform and forecast conversions rate. The unique part about this course is that it also helps in developing an understanding of Google Analytics.
Advanced Google Ads/ Adwords Training — Updated for 2023, by Mark Meyerson is one of the most phenomenal courses available online for learning advanced marketing via Google Ads. The course is designed for Google Ads practitioners that already have basic knowledge in setting up and running Ads accounts.
Key Highlights & USPs
Improving Geotargeting for Local Businesses With A Double Campaign Structure.


Make A Strong Argument For Running Branded Ads Using the Paid & Organic Report.


Identify Opportunities Between Organic & Paid Listings.


Understand the power of using Google Analytics with Google Ads and be familiar with Audience setup and relevant Google Ads reports in GA.


Implement Machine Learning features within Google Ads to benefit your account in ways that human optimization could never reach.


Get full lifetime access 6 hours on-demand video and 2 downloadable resources, along with a completion certificate.
Who is it for?
This Advanced Google Ads certification course can help you advance your career and land a high-paying job in the Digital Marketing Industry. However, unlike the above courses mentioned on this list, this course requires the users to have a bit of familiarity with the Google Ads Interface. If you want to step up your Google Ads game and reach an advanced level, this course is quintessential for you.
Rating: 4.2/5
Students Enrolled: 4,740
Duration: 6 hours
You can Sign up Here
This online Google Ads course by Coursera is one of the best courses available if you want to master the essentials of Display Ads. Often the discussion and the learning process of Google Ads is constrained to merely the Search Ad Campaigns. Google Ads offers various other campaign options like Display Campaign, Shopping Campaign, and Video Ad campaigns to choose from.
Create a Google Ads Display Campaign, a course offered by the Coursera Project Network is for people who want to specialize in Display Ads. The instructor for the course is Angelo Paolillo, who has over 45,000 learners on the platform. If you are enticed by those phenomenal display ad copies that garner too much customer attention, and visually attract potential customers, this course is no less than a match made in heaven for you.
Key Highlights & USPs
Learn to create a Responsive Display Ad that grabs attention and ensures better conversion rate.


Learn the kinds of image size, and dimensions eligible to be used as display ads.


Create additional ad groups in one campaign for organizing your ads better.


Define the targeting options by content and audience to ensure the ad is visible to the potential customers.


Showcase the hands-on experience in an interview.


Split screen video to get hands on experience simultaneously while learning.


Get full lifetime access 2 hours on-demand video, with resources that require no download along with a certificate.
Who is it for?
This online Google Ads Display course for beginners requires no prior experience to enroll. If you are looking to create responsive Display ad campaigns for your business, this is the best online course for Google Ads that you can find. The unique part about this course is that it is a guided project, and hence it will be in the form of a split-screen video, where the instructor guides you step by step.
Rating: 4.5/5
Students Enrolled: 3,820
Duration: 2 hours
Master the essentials of Google Ads with one of the best online certified Google Ads Courses on Linkedin. The LinkedIn Training program is easily accessible to professionals and students to explore the high-demand career path of Online Marketing. LinkedIn is home to marvelous Digital Marketing Gurus, and they have put together exhaustive courses on Google Ads.
Google Ads (Adwords) Essential Training, a course by Brat Batestole, a phenomenal marketing leader explores how Google Ads works and how it fits with what your business — and your customers — need. You also learn the process of how to set up a new Google Ads account and research your keywords: the foundation of all great advertisements. Brat believes the power of Ad extensions is truly under-rated, and he teaches to harness it efficiently.
Key Highlights & USPs
Defining your customers and your marketing goals to ensure that the ad reaches prospective customers and turns out efficient.


Learn the techniques of setting up a Google Ads account from the very scratch.


Learn the power of targeting with keywords to create an advertisement that shows up when the user types keywords related to your business.


Learn to Run Reports and leverage them to analyse and reap the benefits.


Learn how to Connect Google Analytics with Google Ads to measure the performance of your ads and ways to better it.


Learn to optimize an ad campaign more efficiently using various kinds of ad extensions like Call, Location, etc.


Get full lifetime access to 2 hours on-demand video with resources that require no download along with a certificate of completion.
Who is it for?
TThis Google Ads course is suitable for graduates and professionals from various industries and diverse academic backgrounds. If you want to master the art of Web-Analytics, and Online Advertising through Google Ads, this online course is here to be your best friend. You can use this course certificate to land amazing jobs on LinkedIn itself.
Rating: 4.6/5
Students Enrolled: 99,528
Duration: 3 Hours
After mastering the fundamentals of Google Ads, if you are looking to advance it to leverage the power in the most coherent way, check out this amazing certification program on Google Ads by Linkedin. Trust us, get on with this Linked In course, and you won't regret it. This course has everything you need to learn about Google Ads. The curriculum inside this Google Ads course ensures that you are leveraging all that the popular pay-per-click (PPC) advertising analytics tool has to offer and using it efficiently.
In this Advanced Google Ads course, Michael Taylor will help take your knowledge to the next level. You'll learn some advanced skills that Google Ads offers, like using the Google Ads Editor to quickly make changes in bulk, as well as how to modify campaigns via bulk sheets.
Key Highlights & USPs
Learn to structure your account efficiently and divide your campaign into successive ad groups.


Learn how to run Google Ads scripts that automate nearly anything on your account, efficiently track campaign performance, and leverage other Google channels, such as Google Shopping.


Make your text dynamic in nature to get more clicks.


Use third party tracking tools for remarketing campaigns.


Use Google Ad Scripts for best ads creation.


Get a certificate of completion to showcase on your LinkedIn profile under the "Licenses and Certificates" section.


Get full lifetime access 6 chapter quizzes, 1 project file, along with a completion certificate.
Who is it for?
This course is for students who have mastered the fundamentals of Google Ads, and are now ready to take their knowledge to the next level by learning the advanced options Google Ads offer. After successfully completing the course, you'll have plenty of new techniques that will help you maximize your ROI from your ad spend. You also get a certificate of completion that you can add to showcase on your LinkedIn profile under the "Licenses and Certificates" section.
Rating: 4.8/5
Students Enrolled: 17,993
Duration: 1 Hour 12 Minutes
Google Skillshop [

Skillshop

]
What better way to learn Google Ads, than the course that Google itself offers, right. And that too, free of cost. Yes, Google Skillshop offers a free-of-cost Google Ads Certification course. Formerly known as the Google Ads Academy, the Google Skillshop allows anyone to take a Google Ads course as long as they have a Google account.
Specifically aimed at beginners, the Skillshop also awards certificates for completing specific courses. These have also grown to become the industry standard. Chances are if you are looking for a job in the Digital Marketing Industry, and your process is Google Ads, they'll want you to pass these courses and get your certificate. In order to pass, you'll need to score 80% or higher.
Key Highlights & USPs
Create Google Ads Display Campaigns to leverage customers.


Create Google Ads Search Campaigns to get top rankings on Google search engines.


Create Google Ads Video Ad Campaigns and use the power of video ads to maximize conversions.


Create Shopping ads, learn about Merchant Center to lure customers in buying your products/services.


Learn to use the Google Ads Apps, and maximize app utility.


Get certified for all the types of ad campaigns.
Who is it for?
This Google Ads course is targeted specially for beginners, who have no idea about the Google Ads interface. This online course will teach you the basics you need to master the art of setting up perfect campaigns and optimize them to get the most out of your ad spend. Certified users can use that to leverage job opportunities in the industry. You can also flaunt that on your LinkedIn, and add it to your resume to stand out.
If you want to cover not merely the narrowness of Google Ads, but the entire broad spectrum of everything under Digital Marketing, this course is meant for you. The course is designed to help students get hands-on experiences that can result in visible business success by leveraging the world of Online Marketing.
The Ultimate Digital Marketing Training: SEO, Google Ads, and Cold Email by the industry veteran Joshua George is the ultimate course you need to scale your Digital Marketing Skills. This course has literally everything covered for you to skyrocket your business. Or if you want to become a marketer and work for clients all around the world.
Key Highlights & USPs
The process of Search Engine Optimization and how to make the most out of it.


Determine the precise audience to market your product and services.


Get previous visitors back to your website to get more conversions.


Lead Generation principles and ensure maximum conversions.


Marketing Techniques through the power of Emails.


Marketing your content with the power of Digital media.


Link Building Techniques to get better rankings on search engines.


Learn in-depth SEO and link building, and best of all, writing cold emails that get you sales.
Who is it for?
This ExpertTrack Google Ads course has been created for anybody who wants a career in digital marketing or for someone who desires to build their own digital marketing business. Upon completion of the course, you'll have the skills and confidence to grow your online traffic, move to a career in digital marketing, and offer marketing services to clients.
Rating: 4.9/5
Students Enrolled: 1000+
Duration: 24 hours (Take it at your own pace)
---
FAQ
What is Google Ads Certification?
Google Ads Certification is a process by which one is recognized as an expert in Online Marketing using Google Ads. Not exactly an Olympic medal, but it adds credentials to your expertise. It showcases that you have acquired the skills and knowledge to use Google Ads.
The questions asked in the Google Ads Assessment are dynamic in nature. Passing the test acknowledges that not only are you well versed with the Google Ads process but are also skilled in applying that.
How do I get Google Ad certified?
The first step in getting a Google Ads Certification is enrolling in a good course to learn the process. After you are enrolled, take the lessons diligently. Remember, the certification assessment will throw practical questions at you, so you can't be just confined to the theoretical knowledge of it, but excel in the real life applications.
Don't worry, the above courses will take care of that. After that:
1. Create or Select Your Google Account. 
2. Get Started in Skillshop.
3. Prepare for Exams.
4. Pass the Assessment.
Is Google Ads Certification worth it?
Yes, Google Ads certification is totally worth it. It showcases that you have the knowledge about the Google Ads process and you possess basic experience. It adds to your skillset and makes your resume more desirable.
Some Digital Marketing Agencies want their employers to pass this assessment and get a certification before offering them the jobs. So, having a Google Ads Certification increases your chance at a job in the Digital Marketing industry.
How long does it take to finish Google Ads certification?
Well, there cannot be a static answer to this question. It all depends upon your pace. However, our advice would be to take your time and complete your course thoroughly. Once you are done with it, only then can you attempt the assessment and get a passing result.
The assessment duration might vary, but it's usually between 60 minutes and two hours. It's the course that takes time, and will eventually get the certification.
Is Google AdWords Certification hard?
Just like every other test, it's easy if you have comprehended and grasped the concepts well, but it's difficult if you haven't. With a required passing score of 80%, it's not that difficult, but not that easy either. Thankfully, you can retake an exam after 7 days. The number of questions on the Google Ads exams differs, however, digital marketers are provided with 120 or 90 minutes and are valid for 12 months.
Are Google ads certifications free?
Yes, it is completely free. The Google Adwords certification, now known as the Google Ads certification, is completely free to take. However, to ensure that you clear the Certification exam it's imperative that you enroll in proper courses and master Google Ads.
Initially, you can try the free ones, but once you want to dive deeper and learn advanced marketing skills, you can choose any paid course from the list above which suits your needs.
What's the difference between Google Adwords, Google Ads, and Adsense?
Google Adwords and Google Ads are the same. Formerly it was called Google Adwords, but now it is known as Google Ads. You need to spend money to advertise with Google. AdSense is a different thing. It's a medium that bloggers and website owners use to earn money from Google. Here, you earn money from the ads shown on your website.