Sales, often considered one of the toughest and most challenging jobs in management, has been associated with a negative reputation for years. While it's true that sales reps may face rejection and objections while dealing with customers, the modern era has brought about a shift in sales strategies, such as the Inbound sales strategy, that make the process less daunting.
In fact, now is the perfect time to learn and refine your sales skills, as there are several excellent courses available that can help you become a better salesperson. Whether you're looking to start a career in sales or improve your existing skills, these courses offer the best sales training available.
It's worth noting that many lost sales are the result of sales reps failing to properly qualify potential customers before beginning the sales process. According to research by Zipia, a staggering 67% of lost sales can be attributed to this common mistake. Therefore, it's essential to master the art of qualifying leads, and these courses can help you do just that. So, don't miss out on the opportunity to enhance your sales skills and enroll in the best sales course today!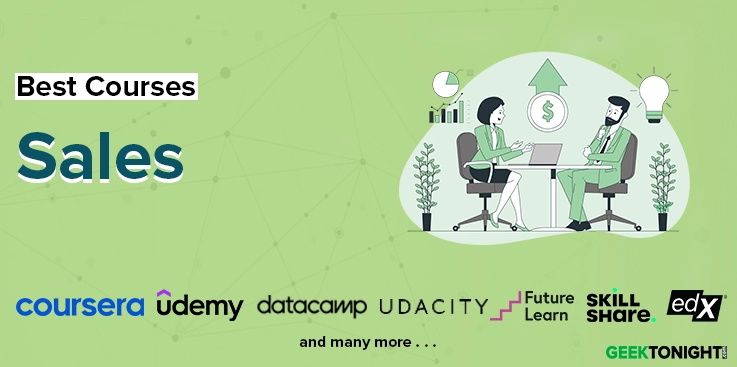 Our product recommendations are unbiased and based on an independent review process. We may receive a commission for links to recommended partners. See our advertiser disclosure for more information.
---
Best Sales Courses, Certification, Tutorials, Training, Classes Online
A Specialization course that as the name suggests teaches you the art of sales and how to achieve mastery in this field. This Coursera sales management specialization program consists of four courses specially developed to help you train in the selling process. The specialization easily stands out as the best sales training course out there that teaches proficiency in sales management, customer relationship management, personal growth, and skills that you will only learn from here.
The course is brought to you by Northwestern University with the instructor of this online sales course being a Professor at Kellogg School of Management, Craig Wortmann. The instructor is the author of the book called "What's Your Story" which entails the stories used by Sales Professionals to connect with their audience. Even though he just has about 5 courses on Coursera it has managed to earn him 87,319 students all around the world.
Key Highlights & USPs
Learn frameworks that will help you to distinguish between various customers into leads and dead ends through conversation.


Conduct 'High Impact' meetings by using the five disciplines framework, presentation skills, and story connection method mentioned in the course.


Understand how to ask and frame better questions for your prospect customers to get quality information from them.


Learn how to prioritize your brand in the minds of your customers and not force your brand on others.


Develop your own sales toolkit that enables you and your team to rely upon and double your sales.


The course comes with a Hands-on Project whose completion is a necessity in order to earn the specialization certificate, which will mark your achievement in your CV or Resume.
Who is it for?
It is a sales course for beginners for those who are suffering in the sales field or for those who want to manage, advance themselves or their teams to achieve sales goals effectively. This course in simple words shows you all the steps to build your own toolkit and stand out from the crowd thus helping you to capture new customers
Rating: 4.8/5
Students Enrolled: 25,370
Duration: Approx. 4 Months – at 3 hours per week
The field of sales is considered to be one of the toughest, tedious, and can easily be said as a no. 1 job that results in more turnover but this course changes your whole perspective towards sales. It distinguishes Professional selling skills from traditional selling skills and gives your attention a new light of various topics to focus and develop upon such as fundamentals of sales as well as the advanced side of sales.
Patrick Dang is the instructor of the course. His 'Sales Coach' profession has earned him 125,918 students across 150 countries from 8 of his courses on Udemy. Patrick Dang sales courses are always a delight for students as it reflects the author's pure knowledge on topics such as B2B Sales training, Lead Generation, Negotiations, Persuasion, etc making him the ideal person to learn the skill of professional selling from.
Key Highlights & USPs
Learn how to handle rejection & objection and how to cope up with it.


Gain the important skills of listening and understanding customer problems and offering them your solution without being too 'salesy'.


Learn to pitch your ideas and products in a meaningful and convincing way to make people believe in you and your offering.


Know the effective sales strategies to close deals and how to make customers buy from you emotionally.


Learn Sales System Methodology, a proven sales system that will help you in creating rapport with your customers while increasing your sales revenue.


Be entitled to get a certificate upon completing the course along with downloadable resources for your reference and understanding. It comes with a '30-DAY MONEY BACK GUARANTEE' so you can try out the course.
Who is it for?
The course is ideally meant for people who are already in the sales field such as professionals and people wanting a sales job but the content is too easy to learn and implement which makes this course even suitable for a complete stranger. It primarily solves the pitching problems of individuals by providing various ways to present their Product, Idea, or Service in front of people.
Rating: 4.5/5
Students Enrolled: 16,581
Duration: 2.5 Total Hours
Negotiation is a war if won it guarantees a great value to you and if lost it takes value from you. This online sales management training course focuses on the Negotiation aspect of sales as negotiations happen almost everywhere for everything whether in the market or at the workplace the assertiveness of a person should be sharp enough to tackle the persuasion of the other and this course helps you to do the same.
The course is offered by the University of Michigan with George Siedel, a Professor at the said university, serving also as the instructor for this course. Prof Siedel has written many books and received many national research awards for his work. His teaching profession is one to speak about itself as he has received many teaching awards and has gathered 1,348,103 students with only 6 courses and an instructor rating of 4.8/5 on Coursera.
Key Highlights & USPs
Learn how to frame and plan your negotiation process and identify situations where negotiation is needed.


Come across how power can influence a negotiation and various psychological tools like Overconfidence, framing, escalation etc. that can help you to win a negotiation.


Learn conceptual knowledge and types of Alternative Dispute Resolution (ADR) like Arbitration and Mediation and Dispute Prevention.


Learn to formulate the Best Alternative to Negotiated Agreement or 'BATNA Analysis' in case the negotiation process fails to produce an outcome.


Develop understanding to handle ethical issues, cross-cultural negotiations, maintaining ethical standards etc.


The course is full of practice exercises, quizzes, and many reading materials. After successful completion, get a Coursera certified course certificate.
Who is it for?
A Good online sales classes for individuals to strengthen their negotiation skills by learning all the essential elements. It helps beginners to study and develop their own negotiation pattern and accordingly improve it to thrive at closing big deals and winning negotiation with building confidence.
Rating: 4.8/5
Students Enrolled: 1,142,105
Duration: Approx. 17 Hours
It gives you information about the various sales techniques and strategies that individuals use to sell anything. This sales force training course believes in the notion of sales being a force that prescribes solutions to customers in a way that makes them thrilled to buy from you. It consists of a precise and complete salesman training regimen that offers you the prime qualities of a good salesman.
The author of this Udemy sales course is a veteran international speaker on sales, Chris Croft. The instructor is known for his teaching style which incorporates both practical and fun learning and he comes with 20 years' experience as a sales speaker who is also a management trainer and an author. He currently has a 4.6 instructor rating on Udemy with 330,301 students distributed across 29 courses.
Key Highlights & USPs
Learn the four types of people, how their personality works, their thought process and mostly which selling style to adopt for whom.


Go through Sales 101! Right from making the right first impression to closing a sale, various tactics for making a sale.


Practice finding and building the needs of the consumer to understand and make them understand why your service is of great value to them.


Build your theoretical knowledge of sales with concepts such as 7 Essential Principles of Sales Efficiency, Science of Sales Management, Sales Questioning Funnel and more.


Get free access to the course and its resources for lifetime along with a completion certificate at the end of the course
Who is it for?
Perfect for anyone regardless of where they are in their sales career or even for individuals who have to deal with customers on a face to face basis as this course helps the learners to identify and focus on presenting your offering in a way in which customers prefer to buy from you.
Rating: 4.6/5
Students Enrolled: 55,278
Duration: 2 Total Hours

Valid till: 30th May
This Coursera Sales course is a specialization course that will help you learn sales holistically. It consists of four courses with each of them aimed at making a better proposition to build your sales skills and knowledge. You will get to know how to build and advance in your sales career, the various methodologies to follow for effective results, managing your sales team and what not.
HubSpot Academy has brought you this course on Coursera with Kyle Jepson as the instructor. HubSpot Academy is a well known platform providing various sales and marketing management programs for individuals to sink their teeth into. The instructor is a faculty member at HubSpot Academy most notably teaching Customer Relationship Management (CRM) and Sales courses on the platform and has 34,804 students on Coursera.
Key Highlights & USPs
Learn how to fix a target customer persona for your offering and find customers/businesses through google, social selling strategies and events.


Get to know how to build a sales coaching program in order to help your team to grow and an effective hiring strategy.


How to identify active and passive buyers and a formula that helps you to write emails and create a bunch of automated follow up emails.


To make the course more interactive and test your sales related knowledge it provides you with quizzes and exercises in every module.


Just like other sales force specialization courses, this course also requires you to complete a Hands-on Project to earn a course completion certificate.
Who is it for?
This course helps you to gain the skills of a sales operation manager by exposing you to very crucial topics in the confined boundaries of sales management. This specialization course is perfect for those individuals who have no knowledge in sales and want to study and progress their career in this field.
Rating: 4.7/5
Students Enrolled: 18,297
Duration: Approx. 15 Hours
One of the best course on sales that gives you the outlook of what one might argue is one of the best forms of sales strategy, Inbound Sales. Inbound sales are those sales that come to you through your marketing efforts or in other words the leads contact you for buying your products instead of you contacting them to sell your products.
It is a complete best free online sales training course coming from HubSpot Academy who are mostly known for their sales management and marketing management courses. This course brings together a bunch of industry experts such as Mark Roberge, Kyle Jepson, Elizabeth Bailey, Brian Signorelli and Andrew Quinn who help you to develop your own working Inbound Sales Strategy.
Key Highlights & USPs
Learn identification of the ideal customers to contact, running sales calls and giving presentations that motivates your customers to make a purchase.


Most importantly learn to garner the attention of your potential customers and connect to them; it is only when they notice you then you can make a sale.


Learn lead management frameworks such as CGP(Challenges, Goals, PLans), TCI(Timelines, Consequences, Implication) & BA(Budget, Authority).


Get in-depth knowledge on inbound sales, various strategies and techniques to take into consideration and develop your inbound thinking etc.


The best thing about this course is that it gives a free sales certificate along with the valuable content that it is providing filled with quizzes and video lessons.
Who is it for?
A hubspot sales certification course made for beginners to understand and apply the concept of Inbound Sales to their sales strategy. From the course the learnings to solve the starter problem of not getting customers, ineffective sales calls and presentations can be highlighted.

Duration: At your own pace
LinkedIn Learning sales courses beg to differ from the courses provided by other platforms. It simply combines various best in-house courses such as 'Sales Fundamentals', 'Sales Prospecting', 'Develop Your Sales Knowledge and Skills', 'Sales Negotiation' and many other courses that truly fulfils the conceptual knowledge required for a sales job.
The authors or instructors of the top sales courses present on this platform are sales experts like Lisa Earle McLeod, Elizabeth (McLeoad) Lotardo, Jeff Bloomfield, Meridth Powell among many others.
Key Highlights & USPs
Learn the skill of Customer Relationship Management (CRM) to manage your customer base, data, repor, converting leads into buying customers.


Develop essential soft skills for sales professionals such as connecting with your customer, listening skills, increasing your emotional intelligence and communicating skills.


Also grace upon the future of sales i.e.how to conduct research, planning to meet uncertainties or being prepared for the future environment.


Linkedin Learning Sales management courses come with a shareable certificate upon successful completion of the program.
Who is it for?
On this platform the aspects of the sales management system are put in front for any individual to pick and choose from. The platform provides nearly every solution to sales related problems from the perspective of both a beginner and an advanced player of the industry.

Duration: At your own pace
This is a full-fledged business development and sales course which indulges in the hardest part of developing and making a business i.e., generating business revenue and making sales. It helps you in expanding your business from B2C to Business to Business sales and how to manage relationships with various businesses in order to generate consistent sales from them.
Another course by the author of the 2nd course on this list, Patrick Dang. He is a Sales Coach and the creator/founder of Sales Legacy, an online sales masterclass where you will learn anything or everything related to sales. Currently on Udemy Patrick has a student base of 126,443 students from his 8 courses listed on the platform.
Key Highlights & USPs
Learn sales lead generation management to attract new leads automatically every month with very little effort.


Gain the skill of copywriting and create emails that are hard to miss, suited for outbound sales with some templates and tips provided by the author.


Develop your skill set as a salesman and hone your skills of persuasion, influence and convincing others.


Learn to conduct sales meetings remotely and how to manage sales generation from home.


Get a course completion certificate along with 14 downloadable resources for lifetime accessibility from phone, computer, even TV.
Who is it for?
The course is designed for startups to solve their initial inconveniences related to sales by proven sales valley strategies given by the author in this course. It includes a good thorough B2B sales training that ensures a good solid understanding of basic fundamentals of B2B sales, career advancement, mastering sales and helping you to grow your market share.
Rating: 4.6/5
Students Enrolled: 23,563
Duration: 6.5 Total Hours
A career centric course that deals with the problems and various frameworks that will help you to land a job in sales or advance your career in the field. This online sales training course helps you to stay ahead of the crowd and acquire skills and styles that are suitable for today's competition in getting a career in the sales field.
This is the second individual course by author Kyle Jepson on this list. The course is offered by HubSpot Academy where Kyle Jepson is a professor of Inbound Sales. Prof. Jepson has 4 courses featured on Coursera with an instructor rating of 4.65 out of 5.
Key Highlights & USPs
Learn the 'Qualification Framework' to determine the likeness of individuals becoming your customers.


Exposed secrets of building a sales career and how to keep your sales team on the same page rather than just going through old traditional sales stuff.


Practice your buyer's context, adopting inbound sales strategy and B2B sales process and strategies that deliver absolute valuable customers.


To make learning more memorable, it comes with a quiz to test your understanding, reading material for reference and a shareable course completion certificate at the end for your CV.
Who is it for?
This is a beginner sales training course which can be beneficial to individuals facing the problem of not having a concrete career plan/path as this course allows you to understand sales from a perspective that you never saw before.
Rating: 4.7/5
Students Enrolled: 17,109
Duration: Approx. 10 Hours
---
FAQ
Are sales courses worth it?
Sales courses are totally worth it! You get to learn various things that are sometimes missed out from your management studies and that is not the only reason for taking up a sales course.
Along with providing you various untouched aspects of sales, sales courses also offer you authors with different experiences and through courses authors try to teach their experience of the industry and not just book knowledge of sales. Their teaching includes the best combination of industry practices and their experience.
Which course is best for sales?
The 'best course for sales' will differ from individuals to what they are looking to learn in a course but the courses listed in our list include all the elementary as well as advanced knowledge of sales. Finding a course which is best for sales on the internet is quite difficult and time-consuming.
So to save your precious time we have already made a list of nine sales courses that are the best when it comes to giving practical as well as conceptual knowledge of sales.