Project management is an essential skill that every organization needs for the successful completion of projects. With the increasing complexity of projects, it is imperative that individuals possess the knowledge and skills required to manage projects effectively. That's why we have made this list of best project management courses as there are a plethora of options available, and it can be challenging to identify the best one.
According to recent studies conducted by Project Management Institute, project management is an in-demand profession in the United States and worldwide. In fact, the demand for project managers is expected to grow by 33% in the US alone by 2027. The median salary as per Payscale.com for a project manager in the US is $77,736 per year, with top earners making over $118,000 annually.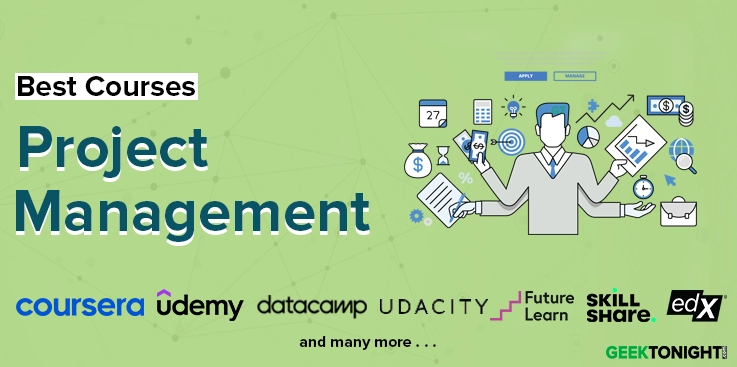 So, choosing the right course is essential if you're looking to boost your career prospects or enhance your project management skills. Project management courses should provide comprehensive training on project planning, budgeting, scheduling, risk management, and stakeholder communication.
The course should also offer real-world examples, hands-on training, and opportunities to apply learned concepts in practice. Ultimately, the best project management course will equip you with the knowledge and skills needed to manage projects effectively and efficiently, setting you up for career success.
Our product recommendations are unbiased and based on an independent review process. We may receive a commission for links to recommended partners. See our advertiser disclosure for more information.
---
Best Project Management Courses, Certification, Tutorials, Training, Classes Online
This google project management course is designed to provide learners with the skills and knowledge necessary to become effective project managers in a variety of industries. Throughout the program, learners will have the opportunity to engage with real-world case studies, interactive assignments, and industry experts who will provide insights and best practices for managing projects successfully.
Course Instructor
Offered in collaboration with Google and Coursera, this Google Project Management Course – Professional Certificate program is taught by a team of experienced and seasoned instructors and experts from Google who brings a practical, real-world perspective to the course.
What You'll Learn
The Professional Certificate consists of six courses that cover a range of topics;
Pros & Cons
Pros
Learn from the best experts
Certificate on Completion
Financial Aid Available
Cons
Lengthy: Can take up to 6 months
Key Highlights & Learning Objectives
Get to know essential project management terminology and provides a comprehensive understanding of a project manager's role and responsibilities.


You'll learn about the different phases of a project life cycle and their significance, compare program management methodologies, and determine the most effective approach for a project.

 
You'll also understand how to manage scope creep, define success criteria, and create a project charter. 


Additionally, the course covers the tools and best practices for building project plans and risk management plans, budget estimation, tracking, and maintenance. 


You'll identify which aspects of a project to track and learn about different tracking methods. 


Upon completion, you'll have the opportunity to apply for jobs with Google and over 150 U.S. employers, including Walmart, Best Buy, and Astreya.


Finishing this course ensures you get a completion certificate along with access to the course material for a lifetime. 
Who is it for?
Upon completing the google project management certification, learners will have acquired practical skills that are relevant to their current roles or can be utilized to launch a career in project management. Additionally, they will be able to articulate the essential quality management concepts, including quality standards, quality planning, quality assurance, and quality control.
Rating: 4.8/5
Students Enrolled: 1,100,000
Duration: 6 Months, 10 hours/week
In this project management courses online, you'll learn project management the skills and knowledge necessary to become a successful digital project manager. You'll start by learning about project management fundamentals, next you'll delve into the digital landscape, exploring the unique challenges and opportunities of managing digital projects.
What You'll Learn
The Project Management Nanodegree is having 2 main courses with several lessons inside of them:
Introduction to Digital Project Management: They'll learn what defines this field, why it matters, and how it differentiates from traditional project management. They'll also learn about career paths in or related to digital project management and the key stages of the project management lifecycle.



Lesson 1: Introduction
Lesson 2 Navigation Your Professional Project Management Goals
Lesson 3: Digital Project Management Lifecycle



Digital Project Management: Learn how to put together project documents and apply methods and tools that digital project managers commonly use for digital projects. Master one deliverable at a time to prepare to plan, execute, monitor, and close the final project from start to finish.


Lesson 1: Introduction to Digital Project Management
Lesson 2: Project Management Methodologies
Lesson 3: Setting Up Your Digital Project
Lesson 4: Building Realistic Plans
Lesson 5: Monitoring & Control
Lesson 6: Closure
Course Instructor
The instructor of this IT project management course is Walyce Almeid, who used to work as a journalist, and is now a program manager with a Project Management Professional certification and a Master's degree in Technology Management from Columbia University. Her expertise lies in transforming technical ideas into tangible products and overseeing digital project management.
Pros & Cons
Pros
Technical mentor support
Career services
Flexible learning program
Cancel anytime
Key Highlights & Learning Objectives
The program consists of 2 courses which included 9 lessons and several opportunities for learning


In Udacity you can make a study schedule that is unique to you and your needs. Use this strategy to monitor progress towards your main objective.


Learn how setting S.M.A.R.T. goals is essential for your project's outcomes to align with business objectives.


To showcase your accomplishments, you can articulate the value of your project using the STAR format and create a portfolio.


Make project plans for both the Agile and Waterfall techniques that include schedules and work assignments.


Establish the five phases of the project management lifecycle and distinguish the typical business justifications for a digital project.


On completion of the online project management program, Udacity will issue an official certificate to acknowledge your course completion.
Who is it for?
Whether you're an experienced project manager looking to transition to digital projects or a newcomer to the field, this program is designed to help you achieve your career goals. By the end of the project management certification courses, you'll have a comprehensive understanding of digital project management, you will acquire the proficiency required to effectively manage digital projects and surmount obstacles such as shifting priorities, compressed timelines, scarce resources, unforeseen setbacks, and the clashing interests of pivotal stakeholders.
Rating: 4.7/5
Duration: 1 month at 5-10hrs/week*

The Project Management Specialization on Coursera is an excellent set of courses for anyone interested in learning the fundamentals of project management. The courses in this specialization are well-structured, easy to follow and provide a great overview of the key concepts and practices of project management as it comes with four courses that cover topics such as project initiation, planning, budgeting, and managing.
What You'll Learn
Initiating and Planning Projects: The primary duties of the project manager and project team will be explained in this module. In order to fulfil project goals, you'll also learn how to anticipate and respond to several important questions: What is the project's intended outcome? What makes this project crucial? Who gains from this project? and How will we make plans to achieve our intended outcome?


Budgeting and Scheduling Projects: Throughout this module, you'll acquire skills to effectively plan and adhere to time and cost constraints, which are crucial to achieving project success. It's important to note that a realistic project budget with feasible cost constraints serves as a fundamental foundation for any project.


Managing Project Risks and Changes: In this course, you'll acquire the knowledge and skills necessary to manage project risk efficiently. You'll learn how to effectively identify, analyze, and communicate any inevitable changes that may occur in the project scope and objectives. You'll learn and apply essential components required to evaluate and report on project scope, schedule, and cost performance.


Project Management Project: In the capstone project, you'll have the opportunity to develop essential planning deliverables that have been covered throughout the course. You can select a project of your choice or opt for a recommended case study.
Course Instructor
Margaret Meloni is the instructor for an online project management course offered by the University of California, Irvine. With over 17 years of experience teaching in the Project Management Certificate course, she is an ideal expert to have by your side as you embark on your journey of learning project management.
Pros & Cons
Pros
Flexible Schedule
No prior experience required
Key Highlights & Learning Objectives
This program on project management specialization consists of four courses, culminating in a capstone project.


Throughout the courses, you'll learn how to define responsibilities for managing stakeholders and controlling stakeholder engagement. Additionally, you'll identify common sources of conflict within a project environment.


You'll also understand the role and responsibilities of a project manager and recognize the information needs of project stakeholders.


Get to acquire skills to determine the critical path, calculate float, estimate quantities and costs of resources required for project activities.


Understand the crucial elements necessary to measure and report project scope, schedule, and cost performance.


Upon successful completion of the course, you'll gain access to valuable resource material, and a digital certificate will be awarded to showcase your credentials.
Who is it for?
It is one of the Project Management Courses for beginners that after finishing teaches learners writing a narrative charter statement, developing a work breakdown structure, sequencing project activities, creating a project schedule, establishing a project budget, developing a responsibility assignment matrix, identifying project risks, and defining appropriate responses for those risks.
Rating: 4.7/5
Students Enrolled: 187,629
Duration: 5 months, 1 hours/week
By enrolling in this project management series, you will attain a comprehensive comprehension of project management, which includes the ability to navigate the people, process, and business environment domains, as well as various knowledge areas linked with effective project leadership.
Course Instructor
The course is instructed by Casey Ayers and Sandesh Belthangady, who bring a wealth of expertise to the table. Casey has vast experience leading projects, analyzing challenges, and designing solutions across multiple industries such as healthcare, digital media, mobile app development, and education. Sandesh Belthangady, an Ex-IBMer, gained recognition by building a $1.4 Million app within just four minutes and has been featured in numerous media outlets, including CNET.com. Currently, he serves as the CEO and Co-Founder of 4Five Labs Inc.
Pros & Cons
Pros
Expert-led courses
10 day free trial
Key Highlights & Learning Objectives
On this platform project management courses online are divided into 3 sections namely Beginner, Intermediate and Advanced sections having 19 courses across 3 sections.


In the Beginner section, you will learn the unique aspects of project work and leadership principles to motivate project teams. You will also acquire technical and analytical skills to equip yourself with the knowledge required to accomplish project goals.


In the Intermediate section, you will discover how to apply business skills and resource management techniques to work with the broader organization and manage initiatives effectively. You will also learn how to manage communications, form high-functioning teams, and coordinate virtual teams.


In the Advanced section, you will learn to develop an approach to quality that ensures you can deliver on your objectives, satisfy stakeholder needs, and manage risks that can hinder your project's success. You will also gain skills to identify and manage risks that can impair any team's ability to succeed.


Completing the course gives you the opportunity to learn a certificate along with lifetime access to the course and its materials.
Who is it for?
This course is designed for professionals who are interested in learning project management skills or for those who want to improve their existing project management skills. It is suitable for individuals who are responsible for managing projects in their workplace or for those who aspire to become project managers as this course provides a complete understanding of Project Management.
Rating: 4.7/5
Duration: 39 hours
This program can easily be classified as Project Manager Course as it teaches individuals the footsteps to take in order to become a complete Project Management expert. This program has been thoughtfully crafted to assist individuals in acquiring knowledge and skills, enhancing their confidence, and embarking on project management.
Course Instructor
The course is delivered and instructed by 365 Careers, whose courses have been taken by over 2,000,000 students on Udemy. Their courses have also been preferred by professionals at renowned companies such as Apple, Citibank, Paypal, and more.
Pros & Cons
Pros
Budget option
Certificate of completion
Beginner Friendly Course
Cons
No interaction with instructors or other students
Key Highlights & Learning Objectives
This course is divided into 19 sections and includes 100 lectures, with a combined video lesson duration of over 7 hours.


By taking this course, you will gain the knowledge and skills required to manage an entire project successfully.


You will also receive more than 15 project management templates and valuable documents to help you organize and manage projects.


Get to understand the role of a project manager and acquire the necessary skills to excel in this profession.


You will learn about fundamental project management theory, apply best practices, and avoid common mistakes in your next project.


Learn about the main differences between Waterfall and Agile methodologies, weigh their pros and cons, and comprehend which approach is appropriate for your upcoming project.


In the end you will get a course completion certificate and lifetime access to the course and its materials.
Who is it for?
This course is designed for beginners who have no prior experience in project management. However, it also provides valuable insights and tips for experienced individuals to enhance their skills and knowledge, which can be beneficial for project managers in their work.
Rating: 4.6/5
Students Enrolled: 117,577
Duration: 7.5

Valid till: 30th September
This Project Management online training course promotes and teaches learners the fundamental principles of project management, including how to establish project goals and objectives, create a project plan, manage resources and work, meet deadlines, and close the project. Once the handling and managing aspect of PM are completed also discover best practices for communication, meetings, staying on track, and ensuring customer satisfaction.
Course Instructor
The course instructor is Bonnie Biafore, a certified project management professional (PMP), trainer, and accomplished author with over 25 best-selling books to her name, such as Practical Project Management with Microsoft Project 2016. With more than 25 years of experience in project management and training, Bonnie is well-versed in the field and brings a wealth of knowledge and expertise to this course.
Pros & Cons
Cons
Fewer reference materials
Key Highlights & Learning Objectives
This 3 Hours course is spread across 10 modules where each module teaches learners the very basics of Project Management.


This course covers the definition of project management and delves into the similarities and differences between traditional and agile project management. 
It also explores the basics of analyzing project stakeholders and identifies effective ways to determine project goals and objectives.


Covers fundamental concepts related to project budget development, requirement-gathering strategies, and resource procurement processes.


Lastly, it provides an overview of project schedule development, as well as monitoring and controlling progress and performance.
Who is it for?
If you are a beginner or seeking to improve your project management abilities, this course will provide you with the necessary knowledge and resources to manage projects efficiently.
Rating: 4.8/5
Duration: 3h 32m
The demand for project management roles is rapidly increasing each year, which has led to intense competition in the field. As businesses continue to expand and become more complex, there is a growing need for individuals with strong project management skills. The ability to manage projects, activities, and tasks professionally and within tight timelines is highly valued in the job market and this course is designed to equip you with practical project management experience that will help you set your CV apart from others, giving you a competitive edge in the job market.
Course Instructor
The course is taught by two instructors: Tracy Dodson, who has 25 years of experience in project management and serves as the coordinator of project management courses at Adam Smith Business School, and Neil Dodson, a practical project manager who has more than 20 years of experience.
Pros & Cons
Pros
No previous experience in managing projects is required
Cons
Require IELTS equivalent of 6.5
Key Highlights & Learning Objectives
The class is segmented into ten weeks, and each week acts as a separate unit consisting of ten hours.


Recognize the phases in the life cycle of a project and the diverse methods and approaches applied in each phase.


Investigate the procedures involved in project management and their implementation in a professional environment.


Create and assess project plans taking into account factors such as time, budget, and risk.


Successfully complete the course and meet the assessment requirements to obtain an accredited certification.
Who is it for?
This course is designed to focus on career development, with the goal of attaining a project management certification that will boost your confidence in managing real-world projects and enhance your ability to apply for jobs that require project management skills.
Rating: 4.7/5
Duration: 10 weeks
In this project management courses for working professionals surpasses conventional project management and furnishes you with strategic methodologies, competencies, and resources necessary to effectively attain both organizational and project-specific objectives.
Course Instructor
Eddie Merla is a seasoned professional in project management, coaching, and training, with over 20 years of practical experience in the field. He is currently the head of Duende Project Management, which is a consulting and training firm that leverages Agile project management approaches to provide consulting and training services.
Pros & Cons
Pros
3 part payment plan available
Cons
Only 14 days for cancellation
Key Highlights & Learning Objectives
The course comprises of an orientation module in addition to eight other modules that cover various topics including strategic project management, common challenges encountered, value management, and more.


Acknowledge the significance of having a solid understanding of project management principles as a foundation for successful project management.


Assess the effects of factors such as complexity, conflict, and the environment on achieving successful project outcomes.


Determine how a cost-benefit analysis can be utilized as a tool for evaluating project effectiveness.


Analyze the importance of establishing strong stakeholder relationships to facilitate the development of a robust resource management plan.


Articulate best practices for project governance to attain both project success and organizational objectives.


Categorize the various types of risks that project managers may encounter.


Evaluate methods for overcoming the challenges associated with managing a virtual team.


Obtain a professional achievement certificate from Rice University as evidence of your expertise in strategic project management.
Who is it for?
This course is designed for professionals in project management who wish to authenticate and advance their strategic skills. Individuals who are senior executives and managers with a hand in strategic decision-making, as well as functional experts who hold operational positions, will gain advantages by completing this course. Business unit leaders seeking to shift from operational to more strategic roles will find this course suitable.
Rating: 4.7/5
Duration: 8 weeks, 7-10 hours/week
MIT xPRO's Professional Certificate in Technical Project Management is designed to prepare individuals for leadership roles in the project economy. This program provides a comprehensive comprehension of project management principles and practical methodologies, viewed through a technical perspective, to equip individuals with the necessary skills to succeed in this field.
Course Instructor
The program is instructed by MIT professors like Steven D. Eppinger and Bryan R. Moser who are leaders in the field of project management. The course is made more captivating by the participation of 15 guest speakers who offer their unique perspectives on product management, making it an exciting learning experience.
Pros & Cons
Pros
One-on-one career support from Emeritus
Gain insights and expertise from MIT faculty and guest speakers
Top capstone projects
Cons
Bit more on the expensive side
Key Highlights & Learning Objectives
The program is having 18 modules divided into 3 section tat go through project management fundamentals, agile project management and project leadership.


Participate in practical exercises focused on managing complex projects in various technology industries.


Examine industry case studies to gain insights into project management methodologies employed by leading tech organizations.


Develop a capstone project that applies relevant tools and methodologies to a project within your own organization.


Assess charters, create plans, form teams, support ongoing progress, manage changes and risks, and foster a high-performance culture.


Effectively participate in projects using diverse styles, standards, concepts, and methods, such as stage-gate, spiral, and agile.


Upon finishing the course, you will receive a highly-regarded certificate from MIT xPRO.
Who is it for?
This program is suitable for individuals who are currently working as project managers in technology development and production, or those who aspire to be one. It equips them with the necessary abilities to lead teams, handle intricate technical projects, and promptly achieve desired outcomes at work.
Rating: 4.7/5
Duration: 21 weeks, 15–20 hours/week
FAQ
What is project management course?
A programme or series of courses that teaches people the abilities and knowledge necessary to successfully manage projects is known as a project management course. Important subjects like project planning, scheduling, budgeting, risk management, stakeholder management, team management, communication, and leadership are frequently covered in the course.
Are project management courses worth it?
Talking from Project Management Aspirant point of view a course in Project Management is more than just worth it. A course can provide you with the skills and knowledge you need to succeed in the field. A course can also enhance your existing skills and knowledge, making you more valuable to your employer or clients. Additionally, a course can help you earn a project management certification, which can increase your earning potential and credibility.
What Skills Can You Get From Managing It Projects Course
Managing IT projects requires a combination of technical, managerial, and interpersonal skills. By taking a course in managing IT projects, you can develop and enhance the following skills:
1. Project management: You will learn project management methodologies, tools and techniques for planning, organizing, executing, and monitoring IT projects. You will also learn how to manage project scope, time, cost, quality, risk, and stakeholder expectations.
2. Technical skills: You will gain knowledge of IT systems, technologies, and software development processes. This includes skills such as programming, database design, system architecture, and testing.
3. Communication skills: You will develop skills in communicating effectively with stakeholders, team members, and clients. This includes written, verbal, and presentation skills.
4. Leadership skills: You will learn how to lead a team, delegate tasks, manage conflicts, and motivate team members.
5. Risk management: You will learn how to identify, assess, and mitigate risks associated with IT projects. This includes skills in risk analysis, risk mitigation, and contingency planning.
6. Agile methodologies: You will learn agile methodologies for software development, such as Scrum, Kanban, and Lean. You will learn how to manage agile projects, including sprint planning, backlog management, and continuous improvement.
Overall, a course in managing IT projects can help you develop a diverse range of skills that are valuable in today's IT industry.
Are Project Management Courses Worth It?
Yes, project management courses can be very valuable and worth it. Here are a few reasons why:
1. Industry demand: There is high demand for professionals with project management skills in various industries. Many employers require project management skills for certain job roles, so having a project management certification or training can increase your marketability.
2. Improved job performance: Project management courses can help you improve your job performance by providing you with the skills and knowledge to manage projects effectively. You will be able to lead teams, manage resources, and deliver projects on time and within budget.
3. Professional development: Project management courses offer opportunities for professional development, including networking with other professionals in your industry, attending conferences, and earning certifications.
4. Increased earning potential: According to various studies, individuals with project management certifications or training tend to earn higher salaries than those without. This is because project management skills are highly valued by employers.
5. Transferable skills: Project management skills are transferable across various industries, so even if you decide to switch careers, your project management skills will still be applicable.
What is project management?
Project management is the process of planning, organizing, leading, and controlling the resources and activities required to achieve a specific goal or objective within a defined timeline and budget. It involves balancing the competing demands of time, scope, cost, quality, and risk to ensure successful completion of the project.
Best Project Management Courses
Best Project Management Tool
Best for:
Mid & Large Size Team
Higher Plan
Flexible Database & Stability
Best for:
Small & Growing Team
Smaller Plan
Try New Feature
The ideal project management tool selection will eventually rely on the particular requirements of your team. We suggest experimenting with the free versions of various tools to gauge your team's comfort level and then proceeding accordingly.