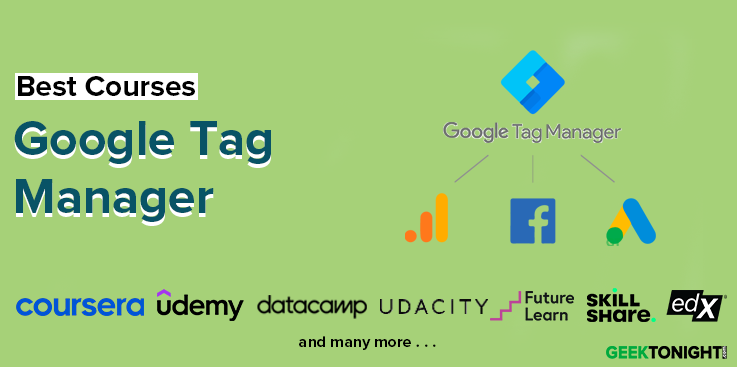 Google Tag Manager is a free application that lets you manage all of the tags on your website in one location. Tags are little pieces of code that are used to track data about your website, such as traffic and visitors. The Google Tag Manager can be a challenge to figure out, that's why we've put up a list of the finest Google Tag Manager courses to help you get started.
We'll reveal our top five selections for the best Google Tag Manager courses in this blog article. We'll also give you a rundown of each course so you can figure out which one is best for you.
Our product recommendations are unbiased and based on an independent review process. We may receive a commission for links to recommended partners. See our advertiser disclosure for more information.
---
Best Google Tag Manager Courses, Certification, Tutorials, Training, Classes Online
Any Online Entrepreneur, or any digital marketer or even digital marketing aspirant knows the importance of what Google Tag Manager brings on the table for the online business. This google tag manager course helps in understanding the Tag Management System with step by step approach learning each feature at a time to maintain a steady pace of learning without making anything complicated.
The course is designed and taught by the Best Selling Instructor, Anil Batra who is also a Speaker and an Author. Mr. Batra is the perfect person to teach this course given his past experience of teaching Digital Marketing & Analytics, Google Analytics and Marketing Analytics at the Bellevue College, and the University of Washington.
Key Highlights & USPs
Learn basics of google tag manager like applying various tags on websites and tracking them, DataLayers, Importing Exporting Tags etc.


Understand to track specific elements on your website, landing pages and see where your users spend most of their time on your website.


Various Trigger types and how to fire (activate) triggers for certain types of events.


Get to know how to Implement Tag manager in your WordPress site, the tutorial of Google's tag manager dashboard.


One essential thing this course also teaches is Tracking conversion on your Google Ads.


The course comes with a shareable completion certificate and 1 downloadable resource, 1 article and sources to refer to post course completion.
Who is it for?
This Udemy Google Tag Manager course is a flexible course meaning that it is simple enough for newbies to understand it yet includes knowledge that even can help experts in the field. The course is good specially for people looking to get started in Digital Analytics and want to pursue a career in Google Analytics.
Rating: 4.5/5
Students Enrolled: 13,688
Duration: 3.5 Total Hours

Valid till: 30th September
This is a Google tag manager training course helping you to gain the essential knowledge of how to deal with tags. From this course you will get in depth knowledge of Google Analytics Tracking Code, Google Ads Conversion Pixel and Facebook Remarketing Pixel.
Heknath B Vicky, the instructor for this google tag manager fundamentals is a Marketing Automation Expert, and a Digital Marketing Strategist. Heknath specializes in Email Marketing Automation with 3+ years of experience in maintaining & developing drip email campaigns. On Udemy the instructor has a good instructor rating with 3,884 students from 2 of his courses.
Key Highlights & USPs
Learn the interface of GTM – Google Tag Manager and chrome extensions for debugging.


Deploy Facebook pixel code helping you to understand data collected from your Facebook Marketing efforts.


Also Learn extensive tracking of outbound links, submissions, downloads etc.


Be entitled to receive a course completion certificate once the course is finished along with many articles and downloadable resources for your reference.
Who is it for?
This Google Tag Manager certification course is made for individuals with beginners caliber. The course can help bloggers, ads executives, search engine marketers in practicing deploying codes to understand and study the data and traffic coming in.
Rating: 3.2/5
Students Enrolled: 2,086
Duration: 2 Total Hours
Free Google Tag Manager Course

[Google Analytics Academy]
Well, It cannot get better than this! This Google Tag Manager free course is offered by Google itself. In this course experience the fundamental knowledge of Google Tag Manager gives you a complete package of essential tags knowledge needed for digital marketers. The course has a total of 14 lessons divided in 4 units/modules going in such a order that it makes following the course easy.
The course is offered by Google Analytics Academy, Google's official analytics learning website from where you can learn about the measurement tools. The content in this course is solely developed by Google thus ensuring you get industry best knowledge.
Key Highlights & USPs
Learn to develop tag implementation strategy and measurement plans considering the KPIs.


Get to know extra tags that help you in studying data for your remarketing efforts, Dynamic Remarketing.


Another benefit of the course is that it is Multilingual meaning it is available in 14 languages.


Google Analytics Academy has its own 'Course Community' where all difficulties of learners are answered free of cost.


Design tags, events and variables helping you to collect metrics.


The course comes with a completion certificate only after successfully passing the exam with more than 80% score in each assessment.
Who is it for?
The course is for beginner level individuals who are completely new to analytics and tags. After completing this course learners will be in a position to easily deploy various tags on websites and conduct a thorough data study from those tags.
Duration: Approx. 4 to 6 Hours
There are only two google tag manager courses on this platform, the number of courses may be less but the quality is enough to provide you with profound tags manager knowledge. The courses are 'Learning Google Tag Manager', and 'Advance Google Tag Manager' offering content on various areas within Google Tags Manager.
The instructor present for the Google Tag Manager training courses are Corey Koberg and Michael Taylor. Corey Koberg is Cofounder of Cardinal Path, a certified Adwords Trainer and Google Analytics Consultant and a Speaker in the field of search engine marketing. Whereas Michael Taylor is Cofounder and COO of Ladder.io – a growth marketing agency in New York and London.
Key Highlights & USPs
Learn some of the best advanced Tagging techniques, Tag management process, Server-Side Tagging among many other things.


Make use of customer HTML Tags, Image Tags and some of the best practices for the said Tags.


Learn to configure security settings, install container and learn to integrateWordPress with GTM.


Enhance your GTM variables knowledge, go through basic variables, built-in variables, custom variables and dynamic variables.


Also know how to set up Google Analytics Enhanced ECommerce, and implementation of Facebook dynamic retargeting ads.


The courses offer a LinkedIn Learning official certificate upon completion  that learners can use in LinkedIn profile and in their CVs.
Who is it for?
There are two courses, one being advanced courses and one beginner friendly. The platform becomes very valuable for learners who are looking for quick short courses to learn Tags Manager as the courses provided here are good short courses.
Duration: At your own pace
---
FAQ
What does Google Tag Manager do?
GTM (Google Tag Manager) is a tool for managing and deploying tags on your website. Tags are short snippets of code that collect information about your website's users. This information can be utilized for many things, including website analytics, remarketing, and even SEO.
In short, Tag Manager allows you to create and update tags without having to change the code of your website. This can help you save time and maintain your website up to date.
Is Google Tag Manager free to use?
GTM (Google Tag Manager) is a free tool for managing and deploying tags on your website or mobile app. GTM makes it simple to update and manage your tags, as well as track and analyze the traffic and activity on your website or app.
Does Google Tag Manager Help SEO?
Is Google Tag Manager beneficial to SEO? Yes, GTM can surely assist you with your website's SEO. You may make smarter judgments about your SEO approach by tracking the data that is most critical to your website and your SEO goals. GTM can also help you deploy tags more quickly and efficiently, saving you time and allowing you to concentrate on other parts of your SEO.
GTM can aid in the improvement of your website's SEO by making it easier to manage SEO-related tags, such as the Google Analytics tracking code. When used correctly, GTM can help you better track the SEO performance of your website and make it easier to make adjustments that will improve your SEO.In general, Google Tag Manager is a useful tool that can help with SEO. If you want to boost the performance of your website.