Exam Name: Twitter Performance Fundamentals Badge
Exam URL: https://www.twitterflightschool.com/student/path/814184-performance-fundamentals-badge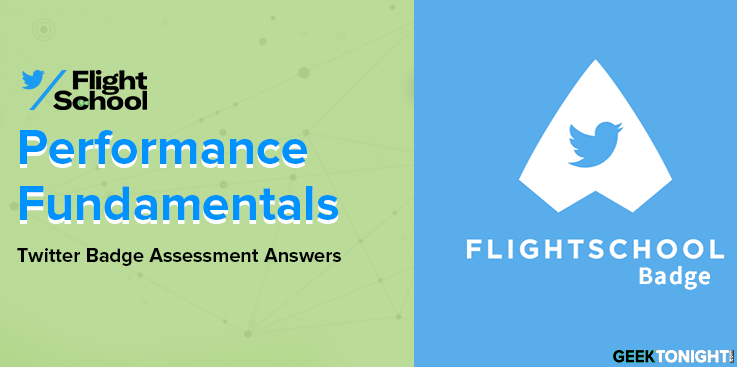 ---
Twitter Performance Fundamentals Badge Assessment Answers
What are the two options for verifying your website tag? (select two)
Twitter verification assistant
Browser verification
Pixel helper extension
Twitter verification tracker
Match the following attribution types to their correct definition.
Last Touch Attribution
First Touch Attribution
Multi-Touch Attribution
The last platform that impacts the user before they convert gets 100% of the credit
The first platform that impacts the user gets 100% of the credit
All platforms that impacted the user get a portion of the credit
Performance advertising on Twitter refers to digital ads that ask someone to:
Vote for a specific candidate or support a political cause
Start a live concert or musical performance
Complete a specific call to action, like Buy Now or Install
Change an attitude, like Cheer up
Where would you see an option to break out conversions by conversion event name?
In the Campaign Details section of the Campaign Creator
In the Campaigns tab in Ads Manager
When creating a downloadable .csv report in Ads Manager
At the bottom of the Ads Manager dashboard
Creating several conversion events of the same conversion type can lead to:
increased engagement with your Promoted Ads
duplicated data in your Twitter Ads dashboard
decreased overall spend
exhausting your daily budget maximum
Why is measurement such a critical component of performance advertising?
Performance advertisers rely on measurement to determine their KPIs
Measurement is not a critical component of performance advertising
Performance advertisers tend to be more interested in data
Performance advertisers need to be able to prove their campaign drives results
Twitter has a direct integration with which partner-provided measurement tool?
DoubleClick Campaign Manager (DCM)
Adobe Analytics
Sizmek
Google Analytics
Since 2012, the amount of time spent browsing the internet on a mobile device has increased by over
200%
It has declined, not increased
50%
5000%
Twitter's App Re-engagement ads focus on:
reaching your existing users to help drive loyalty and engagement
new user acquisitions
sending promotional messages via DMs
driving awareness through video-based content
_______________ refers to when someone on Twitter sees your Promoted Tweet and does not engage with it, but later visits your website and converts.
Website click attribution
Post-engagement attribution
Post-view attribution
Download attribution
_______________ is a single code snippet placed across your entire website to track multiple site actions or conversions.
A multiple site actions tag
A universal website tag
Multiple site actions tag
A single snippet website tag
Most advertisers give click-through attribution credit; only some of them give:
View-through attribution credit
Adjacency reporting
Cost Per App Click analysis
Time-of-day attribution credit
Twitter Click ID
Twitter Tracking Pixel
Conversion optimization
Website tags
When verifying a website tag in Twitter Ads Manager, what are the three possible statuses you might encounter? (select all that apply)
Unverified
Dormant
Verified
Tracking
Mobile App Promotion Tags
Single Website (Event) Tag
Universal Website Tag
Optimized Website Tags
What are the website actions you can track using conversion tracking?
App installs, video views, downloads, and search results
Bounce rate, site visits, and sign ups
Site visits, purchases, downloads, sign ups, and custom actions
Website clicks, purchases, bounce rate, and custom actions
Setting up mobile app conversion tracking with one of our partners allows you to: (select all that apply)
See deeper insights and trends around lifetime value and performance metrics.
Measure and compare the impact of your spending across all your marketing channels.
Collect location data and other identifying information from your audience.
Identify each step of your funnel and drive re-engagement through targeted re-marketing campaigns.
What percentage of people on Twitter have made a mobile purchase within the last month?
App measurement is typically done via:
A viewability measurement service
A pixel within the app itself
ClickID
A tracking software development kit (SDK)
What is an App Install Ad?
an ad that runs on third-party services to help drive installs of your mobile app
a Promoted Twitter Ad that allows you to reach audiences who are most likely to download your app
a new kind of video ad from Twitter
an ad that displays across the iOS and Google Play stores
App Re-engagement campaigns help you: (select all that apply)
Drive loyalty
Increase usage
Sell in-app purchases
Get ahead of the app deletion phenomenon
Using a ___________ enables you to track user conversions and tie them back to ad campaigns on Twitter.
Google Analytics Code Snippet
Cookie-enabled website
Twitter Tracking Pixel
Conversion Tag
Twitter Audience Platform
Twitter Managed App Inventory
Twitter App Platform
Twitter iOS Gallery
For Website clicks campaigns, better performance is seen when the __________ is used for targeting.
Audience Creator Tool
Website Activity Custom Audience
Mobile Audience Manager
Custom Tailored Audience
________ collect, organize, and standardize app data to deliver a uniform assessment of campaign performance metrics.
Mobile Measurement Providers (MMP)
Mindshare Analysts (MA)
The Metrics Institute (TMI)
Most Accurate Providers (MAP)
To set up a Mobile App Promotion campaign, you will need to:
Enable the Twitter Pixel within your app
Add your application to your Twitter Ads account
Have at least 500 active users on your app
Have a five-star rating on the iOS App Store
On average, how many people abandon an app after just one session?
1 in 20
1 in 10
1 in 50
1 in 5
What is Marketing Mix Modeling?
A way to track how many ad formats you're using regularly on Twitter
A statistical analysis on sales and advertising spend data
A cross-platform ad creative tool
An overview of time dedicated to advertisement
When an advertiser has different measurement sources, each with slightly different definitions for attributing actions to advertising, the result can be:
Measurement discrepancies
Measurement adjacencies
Higher reach
Lower reach
What bidding strategy do Website Clicks campaigns use?
CPC – Cost Per Click
ROAS – Return on Ad Spend
LTV – Lifetime Value
CPAC – Cost Per App Click
When setting up your Website Clicks campaign in Ads Manager, which Ad Group goal is recommended?
Video views
Website conversions
Link clicks
App installs
Performance advertisers care about:
Building awareness for a new product or service.
Increasing their following on Twitter.
Driving performance at scale and being able to measure the results.
Driving increased video views and click-through rates.
A _______________ is created when the Twitter website tag has collected over 100 IDs of visitors from Twitter users.
Custom Tailored Audience
Website Activity Audience
Twitter Website Tag
Twitter Click ID
What are the three bidding options available when creating a Website Clicks campaign in Ads Manager? (select three)
Optimized action bidding
Target Cost
Maximum bid
Automatic bid
What should you do if your conversion events aren't showing as tracking?
Nothing. Conversion events should not show as tracking
Make sure you've correctly set up your mobile conversion tracking events in your MACT partner dashboard
Wait 3-5 days for the conversion events to finish syncing
Contact Twitter customer service
What are the two ways you can buy an App Installs campaign on Twitter? (select two)
Optimized Action Bidding (OAB)
Cost per Download (CPD)
Cost per App Click (CPAC)
Return on Ad Spend (ROAS)
Where can people see your performance ad campaigns on Twitter? (select all that apply)
on partner apps via TAP
at the top of their DMs
on their home timeline
at the top of relevant search pages
What percentage of people access Twitter via mobile?
App Re-engagement campaigns target your ________ to drive even more conversions and loyalty.
Newsletter subscribers
Potential users
Existing users
Previous users
There are two main ways performance advertisers measure on Twitter: (select two)
Twitter Website Tag
Mobile IEM
Server-to-server integration with DCM
Twitter website tag
The allowable period between when someone viewed or clicked your ad and took action is called the:
Download Period
View-Click-View-Buy Window
User Action Window
Attribution Window
The Twitter Ads system completes conversion attribution on your conversions based on:
A standard attribution window timeframe
How much you spend per app click
How long it takes for you to get your first download
The attribution window you set
Once you've set up a website tag, reporting for website conversion tracking is available in the _____________ within Twitter Ads Manager.
Campaigns tab
Media library
Website tracker tab
Tweet composer
What are Twitter's current performance advertising solutions? (select all that apply)
Website Click Campaigns
App Install Campaigns
App Re-engagement Campaigns
Awareness Campaigns
When __________ bidding is selected, your campaign will auto-optimize your bids to achieve a daily average cost per link click that meets or beats your target.
Automatic bid
Optimal bid
Maximum bid
Target cost
In Twitter Ads Manager's performance dashboard, what are the values listed in the results columns tied to?
Your campaign flight duration
Conversion tracking for websites allows you to track
Your campaign objective
How much money you've spent on your campaign
What is a post-engagement attribution window?
A time window for determining whether or not the user is likely to uninstall your app
A time window for crediting Twitter with conversions that happen after someone engages with your ads
A time window for crediting Twitter with conversions that happen after someone views your ads
A time window for crediting Twitter with conversions that happen after a certain time of day
Where can you locate the DCM server to server solution?
In the Campaign Form, at the Ad Group level
In the Campaign Editor, under DCM Options
Within Analytics, under Tweet Activity
Within Tools, under Ads editor
___________ allow you to further define your App Activity Custom Audience based on the frequency and recency of user actions.
Twitter Custom Audiences
Twitter Measurement Reports
App Activity Combinations
Promoted Video Ads
Which ad formats can be used in Twitter's performance ad campaigns? (select all that apply)
Image Ads
Video Ads
Text Ads
Carousel Ads
_________ is critical to performance-focused advertisers because they need to prove their advertising drives results.
In-App Purchases
Cost Per App Click
Measurement
Platform Adjacency
For App Re-engagement campaigns, we recommend targeting:
Only users with an iOS device
As broadly as possible at first
Only a select group of users
Only users with an Android device
What does AMM stand for?
App Measurement Management
Advanced Mobile Measurement
App Media Manager
Advanced Maintenance Metrics
What are the two things you must do before creating an App Installs campaign? (select two)
You need to set up your SKAd Network connection
Your app must have at least a 4.0 rating on the app store
You need to set up your MACT Partner
You need to set up your iOS Tracking Pixel
What are the two types of attribution windows you can set for your campaign? (select two)
Post-login
Post-engagment
Post-view
Post-acquisition
_________ are clickable images or videos that drive users directly to your website.
Twitter Video Ads
Twitter Image Ads
Website Click Ads
App Install Ads
Conversion tracking for websites allows you to track:
detailed information about someone's location
how long someone spent looking at your ad before taking action
the actions someone takes after viewing or engaging with your ads on Twitter
the amount of time someone spent searching for something on your website
When launching a new campaign, what is the period of time during which our systems try to find the best users for your ads? It typically lasts 3-5 days.
User Acquisition Window
The Learning Period
There is no name for this period
Attribution Window
For apps to collate, organize, and standardize their data and deliver uniform metrics, you must integrate with a ________________.
MACT Partner
Google Analytics Account
iOS Tracking Pixel
Performance advertisers need to be able to prove their campaign drives results
When you log into Twitter Ads Manager, what is the default view?
The latest Tweets dashboard
The performance dashboard
The campaign creator
Your Twitter timeline
_________ are created automatically when you link your app events with Twitter through your mobile measurement provider.
Mobile tailored audiences
App Install ads
Twitter website tags
Custom metrics in Ads Manager
---
All Twitter Badge Assessment Answers
---