Exam Name: Twitter for Creatives Badge
Exam URL: https://www.twitterflightschool.com/student/path/989765-twitter-for-creatives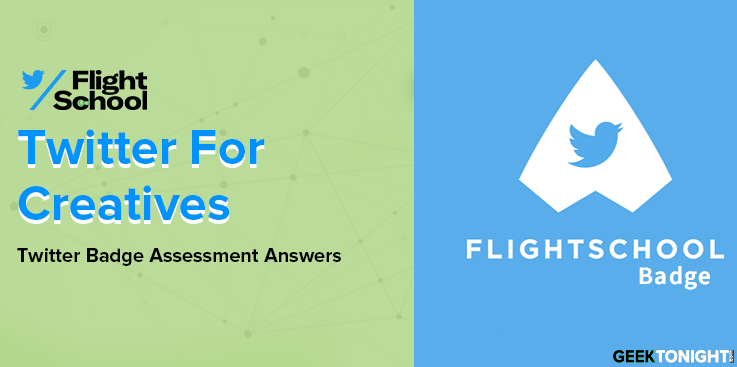 ---
Twitter for Creatives Badge Assessment Answers (2023)
What is media innovation?
developing groundbreaking technological tools
finding new and interesting ways of doing things, and finding a solution that matches a need
being the first to integrate the latest technological developments into your campaign
Among the case studies we reviewed, what brand challenged Twitter users to an interactive "scroll race?":
Glade
Burger King
Adidas UK
Mountain Dew
API Marketing Partners assist with the following goals: (select all that apply)
audience targeting
campaign management
advertising analytics
creative ad experiences
brand voice conception
drafting inspirational content
What are the essential elements of effective brand voices? (select three)
conversational
wit
real-time
authenticity
emojis
Your campaign goal is customizing video at scale. Which of the following choices is the most likely API solution?
digital carting for CPG
branding: custom mobile landing pages
video personalization
lead capture: custom mobile landing pages
In our case study, PedidosYa worked with an API Partner to develop a highly targeted campaign using:
Carousel Cards
Video Ads
Twitter Audience Platform
Animated GIFs
A distinct brand voice allows your brand to: (select all that apply)
speak with personality
connect with culture
offer discounts
generate and join conversations
The best time to bring the in-house audience insight team into a campaign is:
simultaneously with the campaign launch
at the conclusion of the campaign
before the brand initiative kicks off
after the brand initiative kicks off
What percentage of users rate Twitter "good" or "great" for brand interaction?
Which of the following are components of the OUI Framework? (select all that apply)
Initiate
Obtain
Ideate
Observe
Utilize
Understand
In Activision's case study, the backbone of their successful Warzone campaign was:
it was the first brand to gamify Twitter
its video content had an unusually high production value
its ability to deliver a personalized report to every player in a matter of seconds
The attitudes, tone, and substance of your brand's content should be:
sassy but relatable
reflective of everything your brand stands for
in line with the latest trends
When defining your brand voice, first consider the brand's:
goals, plan, and results
Vision, Mission, Values
origin, journey, and destination
Leading brands are more likely to evoke an emotional response in their audiences by a factor of:
In our case study, no name's brand voice stands out because of its:
witty, deadpan style
optimistic, cheerful style
eloquent, elevated style
Thinking back to our case studies, what percentage of people on Twitter believe brands should affect positive change in society?
What are the two key use cases for when brands should always activate on Twitter? (select two)
launching something new
selecting the right hashtags
ensuring your replies contain GIFs
connecting with what's happening
Which element of a creative campaign should be developed first?
the technology
the insights-based creative idea
the data
When your brand connects with what's happening on Twitter, you can see lifts in: (select all that apply)
message association
purchase intent
brand awareness
brand preference
Twitter Advanced Search allows you to:
search, segment, and filter Twitter's Tweets and profiles
protect your brand by participating in conversations anonymously
find an API Partner to meet your campaign's technological needs
A Kantar study revealed the correlation between a brand's cultural relevance and its purchase intent to be:
For more customized research or analysis that gives you a deeper understanding of how Twitter users really think and feel, consider working with:
other Twitter users
Twitter's in-house audience insight team
an independent consultant
Launches typically fall into the following categories: (select all that apply)
new messaging
new products or features
new branding
new company leadership
In our case study, no name's Twitter handle isn't a typical marketing channel primarily because it is a destination for:
reliable information and breaking news
the best deals and promotions of their products
entertainment and conversation
According to a Bain study of global brands, marketers that hit their launch KPIs were more likely to include Twitter in their launch mix by what factor?
When it comes to conversation on Twitter, successful brands:
keep it professional by avoiding engagement
always use the full character limit to express themselves more clearly
interact exclusively with other brands
join existing conversations and inspire new ones
How does Twitter help you succeed through the funnel?
it offers versatile, ready-made creative content
it offers a full suite of ad formats
it offers unlimited access to brand leaders
The number one reason people come to Twitter is:
culture
to see what's happening
making money
news
gossip & entertainment
What are three key strengths that characterize Twitter's audience?
growth, insights, conversation
targeted, character, community
growth, impact, community
growth, influence, community
---
All Twitter Badge Assessment Answers
---