Exam Name: Ads Manager Fundamentals
Exam URL: https://www.twitterflightschool.com/student/path/1120386-ads-manager-fundamentals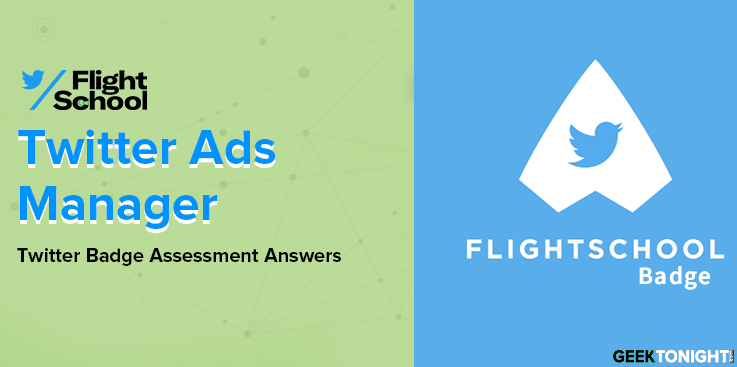 ---
Twitter Ads Manager Fundamentals Badge Assessment Answers
The default filters in the Ads Manager are….? (Select three)
Funding Source
Objective
Status
International Views
What are the three stages of Reporting Overview?
Filters
Metrics
Exporting
Cross-Border
You need a ________________ to access Ads Manager.
Twitter account
business
campaign
audience
When setting up your campaign, how is it best to decide your targets?
Select everything to cover the most people.
Choose 1 or 2 options that support your goal.
What does the Audience estimator do?
Suggests target demographics
Calculates audience based on your selections
Sets up refined audience targetting
Recommends themes for future campaigns
Home Dashboard provides you with a _____ day summary of your progress
On the Dashboard, which tab do you use to create your ads content?
Campaigns
Creatives
Analytics
Tools
Which area can help you reach the right people for your campaign?
App Manager
Conversion Tracking
Audiences
Tag Library
Go big on branding and be laser focused are 2 examples of ______________
Video best practices
Tweet best practices
Campaign best practices
Analytics best practices
Which budgets can be set? (Select all that apply)
Daily
Campaign
Ad Group
Out Of Home Engagements
Where can you measure your return on ad spend for Performance Advertising?
Conversion Tracking
App Manager
Ad Editor
Tag Library
Say your business wanted to drive conversation about an upcoming event, which campaign objective would you choose?
Reach
Engagements
Followers
Website Traffic
47% of sales performance can be attributed to ______________
Refined audience targetting choices
Creative alone
Adding subtitles to all media
Combining the right target and good creative.
The Tweet Activity Dashboard (TAD) can show you details of how many times people have….? (Select all that apply)
Seen
Retweeted
Liked
Called
Replied
You can refine your data views by using _________
Reach
Filters
Metrics
Creatives
Which of these is NOT a benefit of using the Tweet Composer?
Simple Media Upload
Preview
Complex to use
Media Upload how-to
Where can you upload media? (select two)
Media Library
Tweet Composer
Analytics Tab
Events Manager
Which of these are refined audience targeting? (select all that apply)
Key Words
Interest
Events
Household Income
What are the main components of the marketing funnel? (select all that apply)
Awareness
Consideration
Conversion
Creation
---
All Twitter Badge Assessment Answers
---