Snitch Shark Tank India
Shark tank India recently featured a startup that set an example for budding entrepreneurs when he landed all shark deals. As fashion retail evolves, new startups try to profit from the sea of gold. Shark Tank India Season 2 featured one of the successful startups – Snitch, where all five sharks were impressed by the business pitch and the founder's ability to build a 100-crore business. Everyone is talking about this fast fashion retail brand that bagged an 'all-shark deal on Shark Tank India 2.
We have written a detailed and well-researched article to explore how a fast fashion retail company turned into a 100 crore brand and why the Shark Tank India Judges invested in it. Our team has put much effort into evaluating the brand and presenting the factors that made it successful. Scroll down to learn more.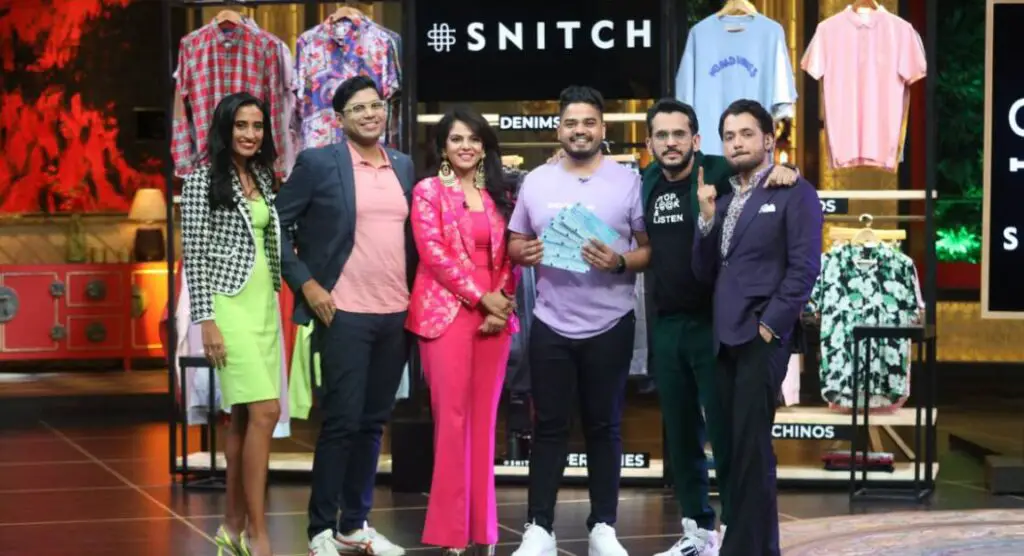 Snitch Shark Tank Fact
| | |
| --- | --- |
| Episode Info | Season 2 Episode 20 |
| Business Pitch | Manufacture and sell stylish and trendy clothes for men through online websites. The Brand has already reached its 100 crore valuation and has become one of the best brands for buying co-ord sets and colourful clothing. |
| Snitch USP | Fash Fashion Retail Brand |
| Entrepreneur/founder | Siddarth Dungarwal |
| Asked for (Expectation) | ₹75 lakhs ($90K) for 3% equity at a ₹25 Crore ($3M) valuation |
| Deal (Reality) | 1.5 crore for 1.5% equity (All Shark) |
| Shark | All 5 Sharks |
| Snitch Address | No.5/1, 4th Floor, Surana Arcade 4th Cross Lalbagh Road, K.S Garden Bangalore Bangalore – 560027 Karnataka – India |
About Snitch
Siddharth, the founder of Snitch, started this company to solve men's fashion problems. In Season 2, Shark Tank India Episode 20, he was asked why he started this brand when there were other brands, such as H & M and Pantaloons.
While pitching to the Shark Tank India 2 Judges, Siddharth explained that women have many options for choosing clothes; conversely, men and boys struggle to find stylish, exciting, glamorous, and colorful clothes. So, he thought of creating a fast fashion brand for men where they sell co-ords, colorful shirts, stylish trousers, and much more.
Next, the company started manufacturing clothes in India and selling them to retailers. The business was initially performing well until the pandemic hit the market. Later, the brand had to switch to the D2C model and create a website and app to reach existing customers and bring new customers online. Soon, they gained customers, which helped them to get 2000 orders daily.
Snitch Story
Snitch, a fast fashion brand, was started in 2019 to manufacture and sell men's clothing. The founder, Siddarth Dungarwala, has started Snitch as a B2B company, which manufactures only for retailers and takes orders in bulk. Later, the pandemic hit the market, and due to this, Siddharth had to restructure the business model and turn the B2B brand into D2C to attract more customers.
Snitch's Founders' Background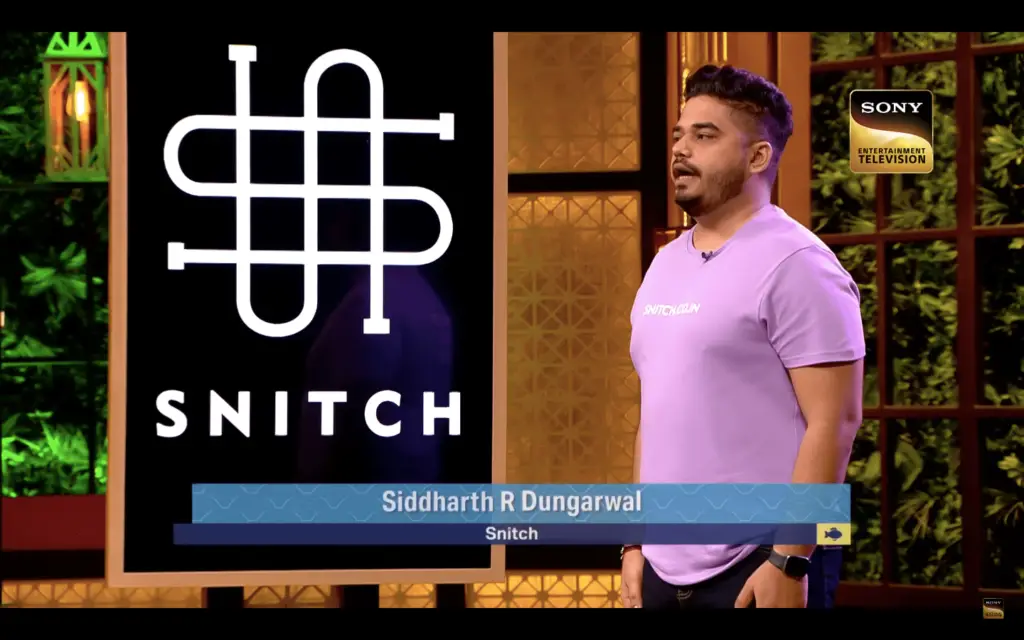 The Snitch's founder and CEO is Siddharth R. Dungarwal. He hails from Bangalore and is 35 years old. He is a B.com graduate who didn't attend any IIM for business studies. Since he was 14, clothing has been his passion, and he regarded himself as a hustler. He started assisting his father at his diamond store in 2009. Initially, he sold fabric in bulk to companies. Suddenly, he received a call from a store owner asking if he could make shirts. Those shirts sold out within two days, making them bestsellers.
Inspired by this incident, he launched his own manufacturing company in 2012, but later saw a hole in the market and filled it with Snitch. This brand is fully built on the knowledge acquired through the Internet. At the age of 35, he thought of bringing his startup to the Shark Tank India 2 stage to pitch his business idea and bag all sharks.
Why named the brand 'Snitch'?
Dwayne Johnson's movie Snitch inspired the founder, and later he registered a brand with this name. The company runs on a good scale and has already established itself as a premium brand. They cater to men with top-notch quality products and have become the first brand to launch a cohort for men.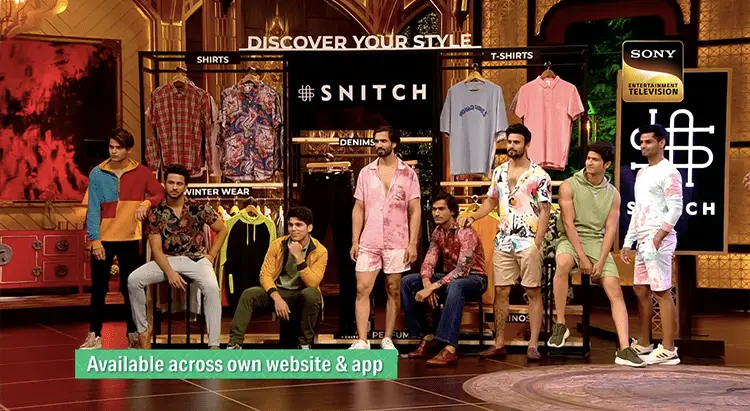 Future of Snitch
Snitch is the fastest-growing fast fashion brand for men in India, with more than 50K-60K daily active users. Over 500,000 people have downloaded their apps and are using Snitch.co website and app for shopping. Their vision is to become a global brand. The future of Snitch upholds a great opportunity for sharks as the company's valuation is 300 crores.
Snitch Performance and Sales
Snitch is a fast fashion brand, which means they are manufacturing and selling trendy designs to customers. They launch new and limited designs for customers every week. This brand bridged the gap between companies selling the same pattern and designs and customers who want something new and different. Hence, they got thousands of orders and around 5-7 crores monthly sales.
The average price of the order is INR 1700
The conversion rate is between 2.5% and 2.8%
Snitch Sales and Revenue
July 2022 sales were ₹9.3 crores, and their website's revenue is ₹6 crores. From the marketplace, revenue is ₹1 crore, and from B2B offline channels, they made 2.3 crore revenue.
Last Years Sale
In FY 2021 – 22 sales – ₹44 crores,
In FY 2022 -23 projected sales – ₹100 crores.
In the end, this brand is making 50-60 lakhs profits, which makes it a profitable business for Shark Tank Investors.
Snitch's Cost Structure
Look at the cost structure of the Snitch:
COGS(Cost of Good Sold) – 42%
 Gross margin – 48%
Marketing Cost – 28%
Shipping cost – 10%
Operating cost – 9%
 EBITDA – 5%
While delivering a business pitch, Siddharth said that the company was entirely bootstrapped, and later he took a loan of ₹4.5 crores to expand the business and its manufacturing.
Snitch's Competitors
Sharks Piyush Bansal and Aman Gupta have raised concerns about the product and the company's business model. Shark Aman asked how their brand differs from established brands such as H&M, Pantaloons, and Zara.
Siddharth said they launch new designs weekly to follow the trends and cater to men's fashion needs. Next, Shark Piyush raised concern about Dead Stock, which refers to unsold goods in your store or warehouse for a while. This process is unavoidable in the fashion industry.
Because Siddharth's brand takes the issue of dead stock very seriously, his company produces clothing in batches of 50 to 100 pieces. Hence, It will solve the problem of remaining stock and increase order sales.
---
Snitch Deal and Bidding
Demand from Entrepreneur
At a company worth 300 crores, the owner made an ask for 1.5 crores for 0.5% stock.
Offer from Sharks
Each shark offers 1.5 crores at 0.3 % of the company's shares at a 100 crore valuation.
All sharks were impressed by the brand's valuation and performance. They wanted to be part of this brand's success and help Siddharth to expand its distribution and take it to a global stage.
Final Offer
The owner agreed with every shark for 1.5 crores at a 1.5% stake in the business.
---
Can Snitch beat the competition?
Snitch brand is not only a fashion brand selling limited-design clothes in India. Shark Piyush has shared his concern about the brand's business model, which anyone can execute and establish a business. However, Snitch brand owner, Siddharth understood his concern and explained that designing new clothes, manufacturing them, and selling them in 25 days was not a cup of tea for everyone.
Their competitors, such as Allen Solly, Pantaloons, and Van Heusen, are not doing fast fashion retailing business. The reason is that these brands are big and still follow the old method of doing retail business. Also, a fast fashion brand should have a good supply chain network, which Snitch only cracked.
How Snitch Bagged All Five Sharks?
A bootstrapped business ( Without funding established a successful business)
Family support and father guidance 
Earned 50 lakhs profits in one month.
Marketing Terms used in Snitch Shark Tank Episode
What is Dead Stock?
Dead stock, also known as dead inventory, is a term used to describe products or items that a company has in its inventory that have not sold and are unlikely to be sold in the future. These products may have become obsolete due to changes in consumer preferences, technological advancements, or changes in the market.
Dead stock can be a significant problem for businesses because it takes up valuable space and ties up capital that could be used for more profitable investments. Additionally, dead stock can lead to increased storage costs, loss of revenue, and decreased profitability.
To avoid dead stock, businesses can use inventory management techniques such as forecasting demand, implementing just-in-time inventory practices, and offering promotions or discounts to move slow-moving inventory. In some cases, businesses may also choose to liquidate dead stock through sales, auctions, or other means to recoup some of the invested capital.
What is EBITDA?
EBITDA is an acronym for Earnings Before Interest, Taxes, Depreciation, and Amortization. It is a financial metric that measures a company's operating profitability by subtracting its operating expenses from its revenue.
EBITDA is often used by analysts and investors to evaluate a company's financial performance because it provides a more accurate picture of a company's operational efficiency, as it excludes expenses that are not directly related to the company's core operations, such as interest expenses, taxes, depreciation, and amortization.
By excluding these expenses, EBITDA provides a clearer picture of a company's cash flow and its ability to generate profits from its operations. However, it's important to note that EBITDA does not account for non-operating items such as capital expenditures or changes in working capital, and it should not be used as the sole metric to evaluate a company's financial health.
What is COGS?
COGS stands for Cost of Goods Sold. It is a measure of the direct costs that are associated with producing and selling goods. COGS includes the cost of materials, labor, and overhead expenses that are directly related to the production of goods.
COGS is a critical metric for businesses because it represents the cost that is directly attributable to the production of goods. By calculating COGS, businesses can determine their gross profit margin, which is the revenue earned from the sale of goods minus the cost of goods sold.
To calculate COGS, businesses add up the direct costs of production, including the cost of raw materials, labor, and any other costs directly associated with producing the goods. This total is then subtracted from the total revenue earned from the sale of the goods to arrive at the gross profit.
COGS can vary depending on the industry and the type of goods being sold, and it's essential for businesses to keep track of their COGS to ensure that they are pricing their goods appropriately and maintaining profitability.