Exam Name: Semrush SEO Crash Course with Brian Dean
Exam URL: https://www.semrush.com/academy/courses/semrush-seo-crash-course-with-brian-dean/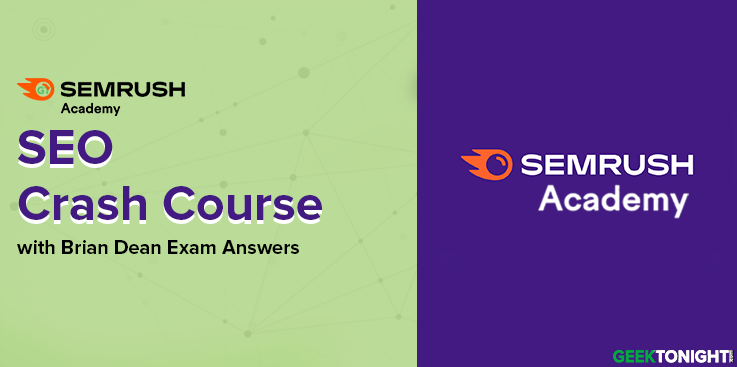 ---
Semrush SEO Crash Course with Brian Dean Exam Answers
What are the 3 "key ranking factors" that Google uses in their algorithm?
Authority
Usefulness
Relevancy
CSS
Loading speed
Why is keyword research considered the "most important" part of SEO? Choose two answers.
Keywords impact nearly every other SEO task.
Keywords can help you find an exact match domain.
Keywords give you insight into your customers.
Keywords are what you use in the "meta keywords" tag.
What are "seed keywords"?
Keywords that you enter into keyword research tools
Keywords that target a specific demographic
Keywords that are low competition
Keywords that have high monthly search volumes
Which are the 3 main factors that go into choosing a keyword?
Keyword length
Competition
Revenue potential
Search volume
Which types of keywords should new websites focus on?
Low-competition keywords
High CPC keywords
Keywords that your competitors rank for
High-volume keywords
What makes the Expanded List Post unique?
Expands an existing piece of content
Includes lots of details and steps
Optimized for social media sharing
Includes 100+ items
Which strategies can help with your on-page SEO? Choose three answers.
Adding keywords to your page's meta description
Optimizing your site's user experience (UX)
Using internal linking
Optimizing your title tag
Including your keyword 10x per 1000 words
What are the 3 main features of a "quality backlink"?
Editorially placed
Relevancy
Website and page authority
Placed in a website footer
From a guest post
Which SEO metrics are important to track? choose four answers.
Keyword rankings
Facebook shares
Clicks and impressions
Pageviews
Organic traffic
Traffic cost
---
Semrush SEO Crash Course with Brian Dean FAQ
Who is this course for?
In this actionable course, Brian Dean is going to get back to basics and show you the key foundational steps to rank in Google. If you're brand new to SEO or feel overwhelmed with all of the SEO content out there, or just want a tested battle-plan that you can use to get more traffic from Google, then this course is for you!
What you'll learn
In this actionable course we're going to get back to basics and show you the key foundational steps you need to rank in Google.
---
All SEMrush Certification Exam Answers
Semrush SEO Certification Exam Answers
---
Semrush SEO By Greg Gifford Certification Exam Answers
---
Semrush Technical SEO Certification Exam Answers
---
Semrush Content Certification Exam Answers
---
Semrush Competitive Research Certification Exam Answers
---
Semrush Sales Certification Exam Answers
---