Exam Name: Role of Content Course with Eric Enge
Exam URL: https://www.semrush.com/academy/courses/role-of-content-with-eric-enge/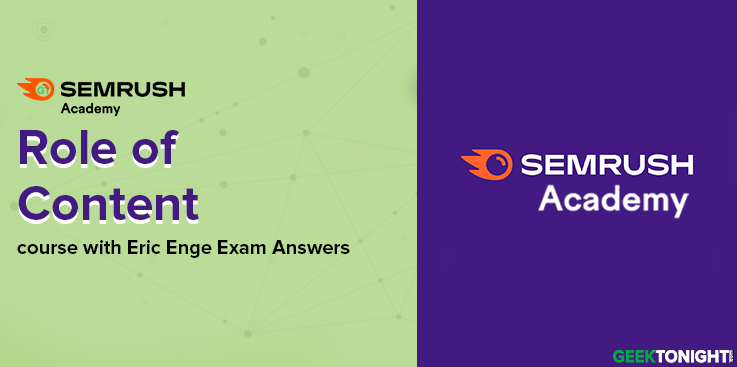 ---
Role of Content Course with Eric Enge Exam Answers
Why is EAT important?
Because it is a measure of user satisfaction
Because how users feel about the quality of your content is important
Because it's a core part of the Google algorithm
Because it's discussed in the Search Quality Rater's Guide
True or False: Building valuable backlinks, creating high volumes of content, and making it informational can boost your SEO.
What are the most important insights that the case studies we showed teach us? Choose the two best answers.
Publishing content with depth and breadth is a great strategy.
Publishing high volumes of content always drives great results.
Satisfying user needs with your content is a critical factor in ranking.
REI is a very strong brand.
Choose two correct statements about users' needs.
Users want to find what they're looking for quickly.
Users want to find what they're looking for.
Comprehensive content is critical so it's important to have longform content on every page.
Simple, easy to process content is all you need to succeed,
Choose the right statement about links.
PageRank is a measure of the page's ranking.
The SEO power of links is declining.
Pages that have the most links will rank the highest.
Google uses links as an indicator of what content is the best.
Why is Backlink Analysis essential to improving your performance? Choose three answers.
SEMrush PageScore helps you see what links are likely to have the most value.
Backlink analysis is the most important task in SEO.
You can get ideas from link building campaigns via backlink analysis.
Backlink analysis can help you find key sites that link to your competitors.
What makes a great link?
The relevance of the link is the only thing that matters.
It was inexpensive to buy.
The best links combine both relevance and authority.
Low relevance links will hurt your site.
Why should you consider a content hub?
Google does not like blogs.
It allows you to control how your content shows up within the link hierarchy of the site.
Older content will rank better just because it's older.
Blog platforms are outdated.
Why is informational content important?
The more informational content your site has the higher you will rank.
It can help you make a lot of money.
It's guaranteed to attract a lot of links to your site.
Added value is one of the biggest keys to building a great site.
What do our case studies about links as a ranking factor show us?
If you get links too quickly it can hurt you
You should focus all of your content efforts on data research reports
Links obtained via 301 redirects are not helpful
If links are organically owned it's OK if you get a lot of them very quickly
How can improving your EAT help your business? Choose the three best answers.
Get more links to your content
Get more leads as Google uses it as a ranking factor
Improve your conversion rates
Get more shares of your content
Decide on one or the other, you can't have both
Prioritize depth of content first, it's more important
Invest in CX and UX and content depth and breadth so you can give users both
Prioritize UX and CX first, it's more important
What are the most important aspects of content for SEO? Choose two correct answers.
Addressing user needs
Publishing high quality content
Publishing high volumes of content
Publishing more content than your competitor
Which of these is the most important aspect of links to your site?
They are inexpensive
They are freely given
They use rich anchor text
They link to money pages on your site
What are the downsides of using a blog to publish evergreen content? Choose two answers.
Many pages on a blog are "overhead" pages that Google won't want to index
Blog platforms show content based on age, not on importance and relevance
Blogs make publishing too easy
Google doesn't like blogs
Why do people link to you?
To make money via what you pay them
To help you make money
Because helping their site users by linking to great content increases those users' affinity for their business
Because Google ranks sites that link out higher
What are some of the ways you can filter links in SEMrush? Choose three answers.
Sort them by the price per link
Limit the number of links per domain
Filter our NoFollow/Sponsored/UGC links
Sort them by PageScore
What are some of the benefits of informational content? Pick the three best answers.
It can increase your visibility
It can enhance your brand
It can build your reputation
It can increase the number of pages on your site that are a ranking factor
---
All SEMrush Certification Exam Answers
Semrush SEO Certification Exam Answers
---
Semrush SEO By Greg Gifford Certification Exam Answers
---
Semrush Technical SEO Certification Exam Answers
---
Semrush Content Certification Exam Answers
---
Semrush Competitive Research Certification Exam Answers
---
Semrush Sales Certification Exam Answers
---