Exam Name: Mastering Digital PR with Brian Dean
Exam URL: https://www.semrush.com/academy/courses/mastering-digital-pr-course-with-brian-dean/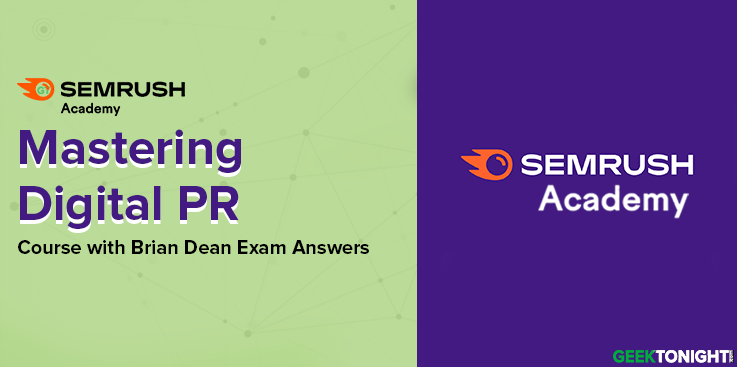 ---
Mastering Digital PR with Brian Dean Exam Answers
What is the main SEO benefit of digital PR?
Finding untapped keywords
Getting backlinks from authority sites
Improving your site's crawling and indexing
What is a "Source Magnet"?
Search engine for finding sources for articles
Section of an article containing sources
Data-focused content designed to be a source for bloggers and journalists
What is the first step of creating a Source Magnet?
Hiring a PR firm
Listing out blogs and news sites that cover your niche
Generating a list of journalists
Finding a winning topic
What three criteria should a potential Source Magnet topic meet? Choose three answers.
The topic is a "Tangential Topic
The topic lacks data-driven content
The topic is trending
The topic should be directly related to what you sell
Why is it ideal to choose trending, untapped topics for PR campaigns? Choose two answers.
It makes it more difficult for competitors to use the same idea
It makes your campaign easier to create
You become one of the first sources of data on a given topic
It's more exciting for your team to work on trending topics
What are the three main Source Magnet formats? Choose three answers.
The DIY Industry Study
The Data-Driven Blog Post
The Curated Report
The Niche Survey
The Journalist Resource
What is the first step when it comes to choosing data points for your Source Magnet?
Brainstorming potential data points
Creating an ideas spreadsheet
Finding reputable sources
Which three factors should be considered when choosing a potential data point? Choose three answers.
Data point has a hypothesis/reason
"Specific Stat Potential"
Data is easy to obtain
You already have the data available
Data may be controversial
Which is one of the three "keys" for collecting data for an industry study?
Organizing your data in a spreadsheet
Hiring a data analyst
Finding unique sources
Documenting your methods
What is the (approximate) ideal number of data points for a Source Magnet?
What is the ideal intro formula for your Source Magnet Report?
What writing style is ideal for a Source Magnet Report?
Academic
Dry
Upbeat and fun
Objective
How many expert quotes should you add to your Source Magnet Report?
Which three criteria should you use when scaling the generation of Source Magnet topics? Choose three answers.
Level of complexity
Potential for coverage
In-house expertise
Relevancy
When choosing between potential stat terms, you should decide largely based on:
Seasonal search volume fluctuations
CPC
Keywords with monthly search volume >1000
Low level of competition
---
All SEMrush Certification Exam Answers
Semrush SEO Certification Exam Answers
---
Semrush SEO By Greg Gifford Certification Exam Answers
---
Semrush Technical SEO Certification Exam Answers
---
Semrush Content Certification Exam Answers
---
Semrush Competitive Research Certification Exam Answers
---
Semrush Sales Certification Exam Answers
---