Exam Name: Local SEO Course with Greg Gifford
Exam URL: https://www.semrush.com/academy/courses/local-seo-course-with-greg-gifford/
Did you enjoy our Local SEO course with Greg Gifford? Put what you've learnt to the test with our free exam, complete with certification for those who pass with flying colours!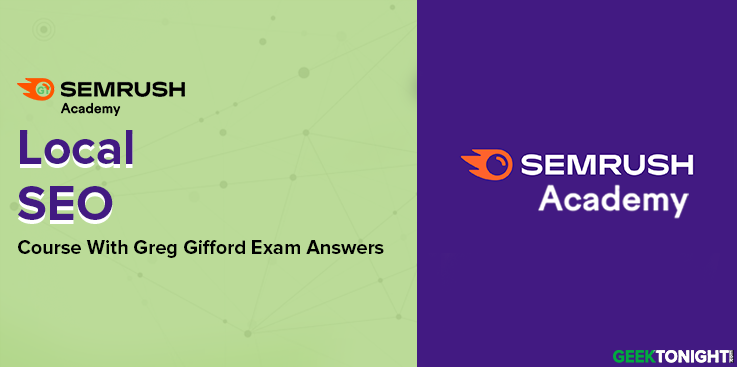 ---
How do you know if you need Local SEO?
When you Google important keywords, the map pack is displayed.

You have an online shop, and want to partner with the local storehouse.
You often search for "pizza delivery" from your office.
There's no difference in ranking factors between traditional and Local SEO, the only thing different is the signal weights.
Name the solid local link building strategy:
Event sponsorships
Local meetups

All of the listed

Local bloggers
Neighborhood watch sites
The most important content tip from Greg is:
Read your content out loud.
Keep it short and sweet.
Make sure it's not a duplicate.
Include the cities you service.
For Local SEO, citations are
A foundational signal

The most powerful ranking signal
Links that point to your business
The ideal review score is:
4.5 to 4.8
A perfect 5.0

4.2 to 4.5

4.8 to 5.0
You should reply to
Only negative reviews

Every single review

Only positive reviews
Only a few positive and a few negative
Your Google My Business listing is
Only important if you're a service-area business
Not as important as it used to be
Not needed if you have a website

Basically your new home page
If you're using the standard "What's New?" template, Google Posts stay live for
One month

7 days

Forever
24 hours
You're allowed to ask and answer your own questions in the GMB Questions and Answers section.
---
All SEMrush Certification Exam Answers
Semrush SEO Certification Exam Answers
---
Semrush SEO By Greg Gifford Certification Exam Answers
---
Semrush Technical SEO Certification Exam Answers
---
Semrush Content Certification Exam Answers
---
Semrush Competitive Research Certification Exam Answers
---
Semrush Sales Certification Exam Answers
---