Exam Name: GA4 for SEO – How data helps businesses grow with Jeff Sauer
Exam URL: https://www.semrush.com/academy/courses/how-marketing-analytics-helps-businesses-grow/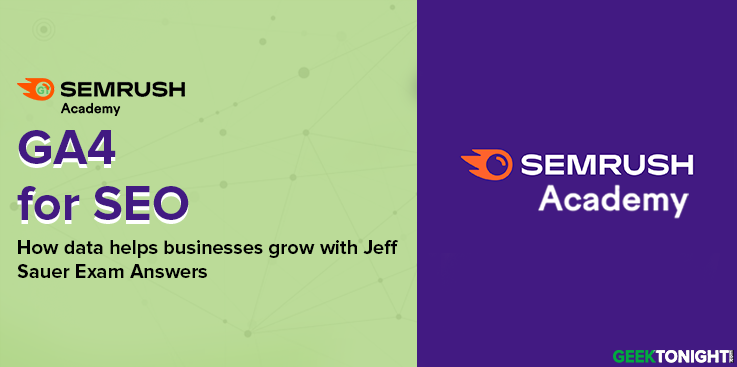 ---
GA4 for SEO – How data helps businesses grow with Jeff Sauer Exam Answers
What will you be learning in this course?
A strategic approach to measurement
The five things every account needs to do to get the most of GA4
Linking GA4 with Google Search Console
SEO Reporting Techniques in GA4
What are the advantages of switching to GA4 from old Google Analytics versions? (check all that apply)
Free advanced attribution modeling
Requires less bandwidth to track users
Mobile app data collection is built into the product
Free BigQuery integration
In the ACES marketing framework, what does C stand for?
Clicks
Capture Intent
Conversion Rate
Communicate message
Optimization
Enabling "enhanced measurement" in your data stream will automatically track: (check all that apply)
Conversions
Scrolls
File downloads
Custom events
Creating the Search Console "Landing Pages" report in GA4 is:
Impossible, it existed only in Universal Analytics
Automatic, the report appears right after installing GA4 on the website
Possible after you connect GA4 to Search Console
Impossible, connecting GA4 to Search Console allows you to see the "Keywords" report only
If you want to customize GA4 to show only reports you find useful, where would you go?
Admin > Property Settings
Admin > Data Settings
Configure > Custom Definitions
Reports > Library
Data-driven
Linear
First click
Time decay
How many data sources does the GA4 SEO Dashboard in Google Data Studio utilize?
To get a list of your competitors' pages that receive the most traffic, which Traffic Analytics tab in Semrush would you go to?
Audience Insights
Traffic Journey
Top Pages
Geo Distribution
Which of the following techniques does Jeff recommend after setting up the GA4 on your site? (select all that apply)
Enable enhanced measurement to add extra events
Tag all your traffic with UTM parameters
Mark your events as conversions to determine your conversion rates
Link your Search Console account to GA4
Adding a comparison to a report is similar to which Universal Analytics feature?
Filter
Creating a separate view
Date range comparison
Advanced segments
Describe Dimensions and Metrics in six words:
Dimensions and Metrics are Event parameters.
Dimensions are words, Metrics are numbers.
Dimensions are numerical, Metrics are descriptive.
Both Dimensions and Metrics are percentages.
Bob wants to create his own version of a GA4 SEO Dashboard, but he can't find all the required data sources for the report. Which of the following could NOT be the reason:
He might be logged into a different Google account from the one that manages the GA4.
He doesn't have the paid version of Google Data Studio, required for connecting external data sources.
He doesn't have access to the Search Console of the website that he wants to create the report for.
He didn't copy the report first and the demo version doesn't allow him to change data sources as he has view-only access.
Emily wants to improve the conversions on her website, but her GA4 shows only out-of-the-box visitor data. Which of the following should be the first thing she does?
Customize the GA4 interface in Reports > Library to show new insights
No data in GA4 can increase the number of conversions you get, Emily needs to bring more visitors to her website and paid traffic is the best way to do it quickly.
Find the right template in the Explorations > Gallery which automatically helps conversion rate optimization
Identify the event that represents the desired action on her website and mark it as a conversion in Configure > Events
In the company that Masha works for, organic search traffic is the strategic KPI. If she wanted to see how they compare against their competition, which of the following tools should be her first choice?
GA4
MS Excel
Semrush Traffic Analytics
Google Data Studio
How do you set up outbound click tracking in GA4?
It's impossible due to privacy reasons
It requires custom coding
By using the measurement protocol.
By turning on the Enhanced measurement
Which UTM parameters are recommended if you want to track a link effectively?
Source and Medium
None
All
Source, Medium and the Campaign name
Conversions in GA4 compared to the previous version of Google Analytics are:
Unnecessary, because GA4 uses machine learning and AI to improve conversion rate
Different, because every conversion has to have a value parameter
Strictly predefined, no customization is required
Flexible—you can declare any event that comes in a conversion
Publishing a report in Reports > Library > Collections means that:
The report starts collecting data
The report is publicly available and shared with anyone with a GA4 account.
That step is necessary only if you want to activate the Publisher ads report in the Monetization section.
The report will show up in the Reports menu
Creating custom events is important for:
Measuring your website page load time
Understanding the behavior within your website and tracking conversions
Conversions, because they can't be configured without custom events
Avoiding the cardinality issue in GA4
How does the ACES framework compare to AIDA?
They both put a structure around the customer journey but ACES is adjusted for digital marketing
It represents a completely different concept
ACES is developed strictly for GA4 purposes.
AIDA is obsolete, because customers today have shorter attention spans.
---
All SEMrush Certification Exam Answers
Semrush SEO Certification Exam Answers
---
Semrush SEO By Greg Gifford Certification Exam Answers
---
Semrush Technical SEO Certification Exam Answers
---
Semrush Content Certification Exam Answers
---
Semrush Competitive Research Certification Exam Answers
---
Semrush Sales Certification Exam Answers
---