Exam Name: Semrush Content Marketing Toolkit Course
Exam URL: https://www.semrush.com/academy/courses/content-marketing-toolkit-course/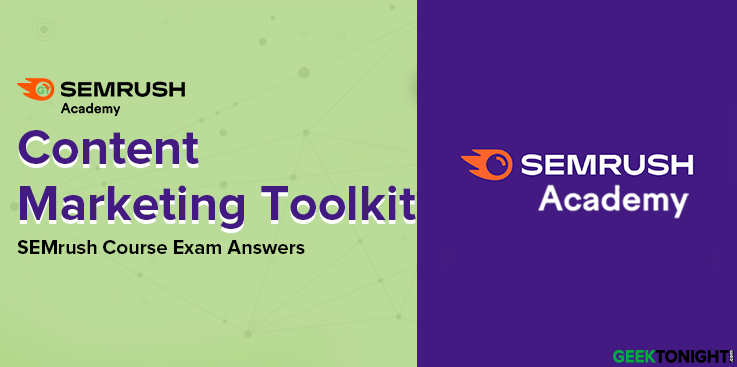 ---
SEMrush Content Marketing Toolkit Exam Answers
You CANNOT sort sources by mentions, or filter out only blog mentions in the Brand Monitoring tool
The Post Tracking tool allows you to monitor the sources of your articles' backlinks.
You have written a new article and it was published on several websites. Which SEMrush tool should you use to monitor your article's exposure?
Keyword Magic Tool
Keyword Research
Domain Analytics
Post Tracking
Keyword Gap
The On Page SEO Checker report, as shown in the image below, shows signs of keyword stuffing, based on comparison with your competitors
There is not enough information to determine
True 
False
What can be done with the help of the Marketing Calendar? Choose three answers.
Arranging and customizing marketing campaigns and activities
Scheduling posts on social media
Assigning tasks within marketing activities to other users
Sharing your calendars with other users
Which SEMrush tools should you use to find the most resonant ideas for your content based on people's search queries and questions about a specific topic? Choose two answers.
On Page SEO Checker
Keyword Gap
Topic Research
Position Tracking
Keyword Magic Tool
Organic Traffic Insight
With the help of which tool can you get SEO recommendations for your future articles based on analysis of your Google top 10 organic competitors?
Keyword Analytics Reports
Advertising Positions Report
Position Tracking Tool
SEO Content Template
All of your posts were made more than 7 days ago
None of your Facebook followers reposted these posts
Data in the report is not shown correctly
Someone reported that your posts are inappropriate for Facebook
None of your Facebook followers liked these posts
Which tools should a marketing specialist use to assess their online reputation? Choose two answers.
Keyword Magic Tool
Organic Positions Report
Social Media Tracker
Organic Traffic Insights
Brand Monitoring
Look at the image below. According to the Keyword Manager, it will be easier to get higher position in Google if you write an article using the first set of keywords.
False
There is not enough information to determine
True
You are about to start writing an article and want to get ideas for a chosen topic. You type your keyword in the Topic Research tool's search bar and select a desired subtopic within the generated report. Which of the following insights would the tool offer you for each subtopic? Choose three answers.
Backlinks
Readability
Questions
Related searches
Recommended text length
Headlines
What does the TF-IDF metric from On Page SEO Checker show?
How important a word is to a specific document
The approximate expected monthly traffic for a keyword
How many times a keyword was used in a URL
Which keywords are better perceived by people
How a search engine sees a keyword
Which two types of notifications can you set up in the Marketing Calendar?
In-app
Email
Trello
Google Calendar
Which metrics are available in the Content Audit report? Choose three answers.
Amount of paid keywords
Words count
Domain age
Domain score
Backlinks
Bounce Rate
Your post
They both have equal engagement rates
Your competitor's post
They cannot be compared
Which tool helps you stay informed of changes in your article's position in Google's organic search for a chosen keyword?
Post Tracking
Keyword Magic Tool 
Organic Research
Organic Traffic Insights
Which SEMrush tool can be integrated with your Google Analytics account in order to see how your blog posts perform?
SEO Content Template
Social Media Tracker
Content Audit
Topic Research
When working with the Topic Research tool, you can enter your domain name. What is the purpose of this?
To highlight the subtopics you've already written about in order to avoid creating duplicate content
To be able to sort subtopics by topic efficiency, so that subtopics that are most relevant to your content will be shown first
To exclude subtopics with branded keywords that are related to your domain
Look at the list of recommended keywords from the SEO Writing Assistant. Why are some of these keywords highlighted green?
You've already used these keywords in your headings
These keywords are the most relevant to your copy
You've already used these keywords within your copy
You've already used these keywords in your title
FAQ
Who is this course for?
Learn how to enhance your content marketing strategy with Semrush by taking this course. It includes video tutorials and expert tips from professionals in the field, all available for free.
What you'll learn
Prepare for Semrush certification by learning about the tools it offers for content marketers, which will make your exam preparation process easier.
---
All SEMrush Certification Exam Answers
Semrush SEO Certification Exam Answers
---
Semrush SEO By Greg Gifford Certification Exam Answers
---
Semrush Technical SEO Certification Exam Answers
---
Semrush Content Certification Exam Answers
---
Semrush Competitive Research Certification Exam Answers
---
Semrush Sales Certification Exam Answers
---