Exam Name: Content and SEO Agency Playbook Course with Andy Crestodina
Exam URL: https://www.semrush.com/academy/courses/complete-agency-playbook-for-seo-and-content-strategy-with-andy-crestodina/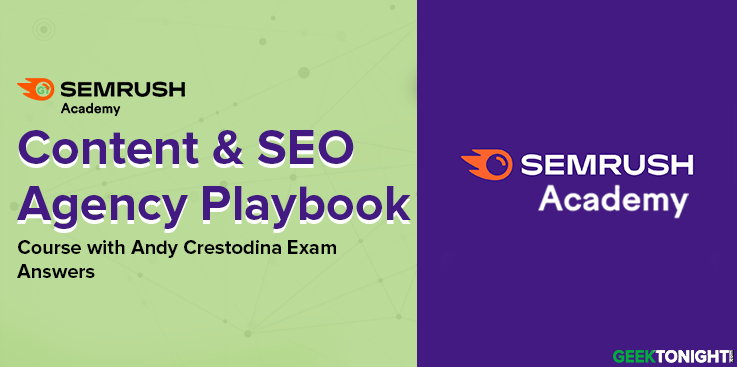 ---
Content and SEO Agency Playbook Course with Andy Crestodina Exam Answers
One of the key ingredients for an agency is to create a pipeline of leads. True or false?
According to the lecture, content marketing tends to be…
Budget and brains
Paid and organic
Slow, but durable
Mousetrap and cheese
Longform text
Content that triggers emotion
Answers to common questions
Keyword-focused articles
According to the presentation, account-based marketing (ABM) typically works well for:
B2C service providers
B2C ecommerce brands
Non-profit organizations
B2B service providers
What are the two main types of marketing?
Broadcast and digital
Advertising and content marketing
Organic and Owned
Indoor and outdoor
What are the three elements of a content marketing mission statement?
Business goals, target audience, topics published
Target audience, topics published, benefits to the audience
Target audience, metrics impacted, calls to action
Target audience, formats for content, benefits to the audience
Which of the following is NOT a content format?
Videos
Keywords
Guides
Research reports
Interviews
Lists
Original Research
Visuals
Influencer Marketing
What are the '3 Ps' of high-performing email signup forms?
Plan, Promote, and Precision
Promise, Persistence, and Privacy
Prominence, Promise, and Proof
Pictures, Partners, and Pop-ups
Which of these is an example of collaborative content?
Ebooks
Podcasts
Webinars
Contributor quotes
Collaboration with which of the following influencers may affect your SEO?
Instagram celebrity
Famous YouTuber
All of the above
Media journalist
According to the 1% rule, the two types of people on the internet are…
Content creators and content consumers
Collaborators and contributors
Qualified and unqualified visitors
Influencers and visitors
Which of the following are NOT types of 'headlines?'
Social snippets
Title tag
Article H1 header
Email subject line
According to the annual blogging survey, approximately how long is the average blog post?
1400 words
400 words
4000 words
800 words
According to the example provided in the course, what impact do embedded videos have on the performance of articles?
More social shares
Higher bounce rate
All of the above
Higher conversion rates
What type of content supports sales directly?
Content that triggers loyalty
Content that gets shared
Content that attracts links
Content that answers prospects' questions
Unlike traditional content marketing, account-based marketing…
Attracts the largest possible audience for brand awareness
Starts with identification of top prospects
Doesn't require follow-up
Seeks to maximize the total number of form submissions
Lighting
Length
Calls to action
Captions
Which of the following formats was recommended for an account-based content marketing program?
Infographics
Original research
In-person events
Ebooks
---
All SEMrush Certification Exam Answers
Semrush SEO Certification Exam Answers
---
Semrush SEO By Greg Gifford Certification Exam Answers
---
Semrush Technical SEO Certification Exam Answers
---
Semrush Content Certification Exam Answers
---
Semrush Competitive Research Certification Exam Answers
---
Semrush Sales Certification Exam Answers
---