Exam Name: Advanced Content Marketing with Brian Dean
Exam URL: https://www.semrush.com/academy/courses/advanced-content-marketing-course-with-brian-dean/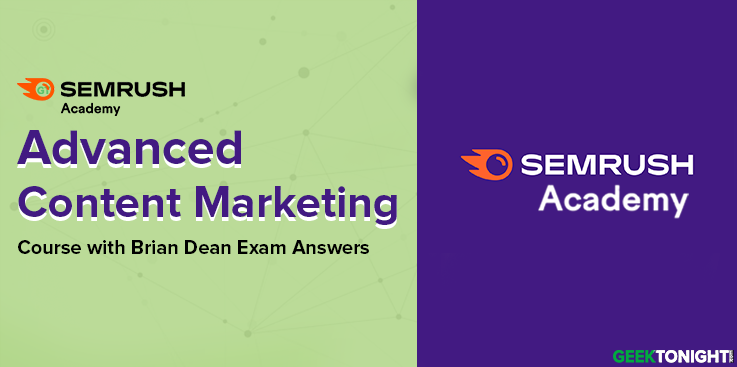 ---
Advanced Content Marketing with Brian Dean Exam Answers
What is an RLL?
A strategy for promoting existing content
A specific content format
A tool for scheduling social media posts
What factors go into a successful RLL? Choose three answers.
Expert-level copywriting skills
Lots of potential items to include
Few existing RLLs to compete with
Topic that people currently care about
"Great blog posts aren't written, they're ___"
Assembled
Copied
Well written
Which blog post template is ideal for publishing large quantities of content at once?
The Annual Guide
Be The Source
The Content Hub
The Step-By-Step Guide
Which blog post template is all about data-driven content?
The Annual Guide
The Curated List
The "How I Did It" Post
Be The Source
Which two blog post templates are designed for sharing case study material?
The Step-By-Step Guide
The Curated List
The Annual Guide
The "How I Did It" Post
Which approach to content promotion is focused on sharing a specific piece of content?
Content Campaigns
Design Campaigns
Social Media Campaigns
Blog Campaigns
Focus on publishing instead of promotion
Promoting content without actively asking for shares
Only sharing content via email newsletters
Keeping content behind a paywall
Which promotional strategy is ideal for building long-term relationships?
The Email Blast
The Quote
The Anti-Share
Story-focused
Simple and short
Full of links to content
At least 600 words
What's the best way to see dramatic conversion rate improvements?
Try different button colors
Hire a CRO agency
Test completely different versions of pages
Test small changes
When it comes to building your blog's email list, which are the 4 key pages to focus on?
About page
Newsletter sign-up page
Homepage
Blog feed
Announcement page
Category pages
What are "category resources"?
Blog post categories
List of links to helpful blog content
Lead magnets about a broad topic
Videos that cover a specific category or topic
Which type of popup tends to be least annoying?
Popups that only appear on certain pages
Exit intent popup
Timed popups
What's the #1 factor that goes into a successful product launch?
Email list segmentation
Urgency
Messaging
Webinars
---
All SEMrush Certification Exam Answers
Semrush SEO Certification Exam Answers
---
Semrush SEO By Greg Gifford Certification Exam Answers
---
Semrush Technical SEO Certification Exam Answers
---
Semrush Content Certification Exam Answers
---
Semrush Competitive Research Certification Exam Answers
---
Semrush Sales Certification Exam Answers
---