What is Performance Appraisal?
Performance appraisal works towards measuring the performance quality of the job holder. Performance appraisal evaluates the jobholders' performance over a period of time against these standards and targets.
After the candidates are recruited, selected, placed and trained they are given certain standards to maintain and targets to achieve over a predetermined period of time.
Other areas in which the performance of the employees is evaluated are initiative, teamwork, dependability, integrity, judgment, decision making etc. It also provides feedback to the employee about how well is he performing a job. It further focuses on employee development and establishes a plan for improvement in the future.
Performance Appraisal Definition
Performance appraisal consists of all formal procedures used in working organizations to evaluate personalities and contributions and potentials of group members.
Dale Yoder
Instead of rating an employee on characteristics such dependability, initiative and the like, there is now a tendency towards establishing job goals and appraising the work done towards these goals.
Edwin Flippo
---
Performance Appraisal Vs Job Evaluation
Job evaluation measures the value or worth of a job whereas performance appraisal evaluates the performance quality of the job holder.


Job evaluation is not done as regularly as performance appraisal. Performance appraisal is an ongoing process and repeated after a particular time period.


The aim of evaluating a job is to create a pay scale for a job in comparison to other jobs in the organization. Performance appraisal is carried out to determine incentives, rewards, promotions or demotions of the employee.


Job evaluation is carried out by specialists in the area while performance appraisal is mostly carried out by the supervisor.
---
Objectives of Performance Appraisal
According to Lockett (1992), objectives of performance appraisal management aims at developing individuals with the required commitment and competencies for working towards shared meaningful objectives within an organizational framework. Objectives of Performance Appraisal are: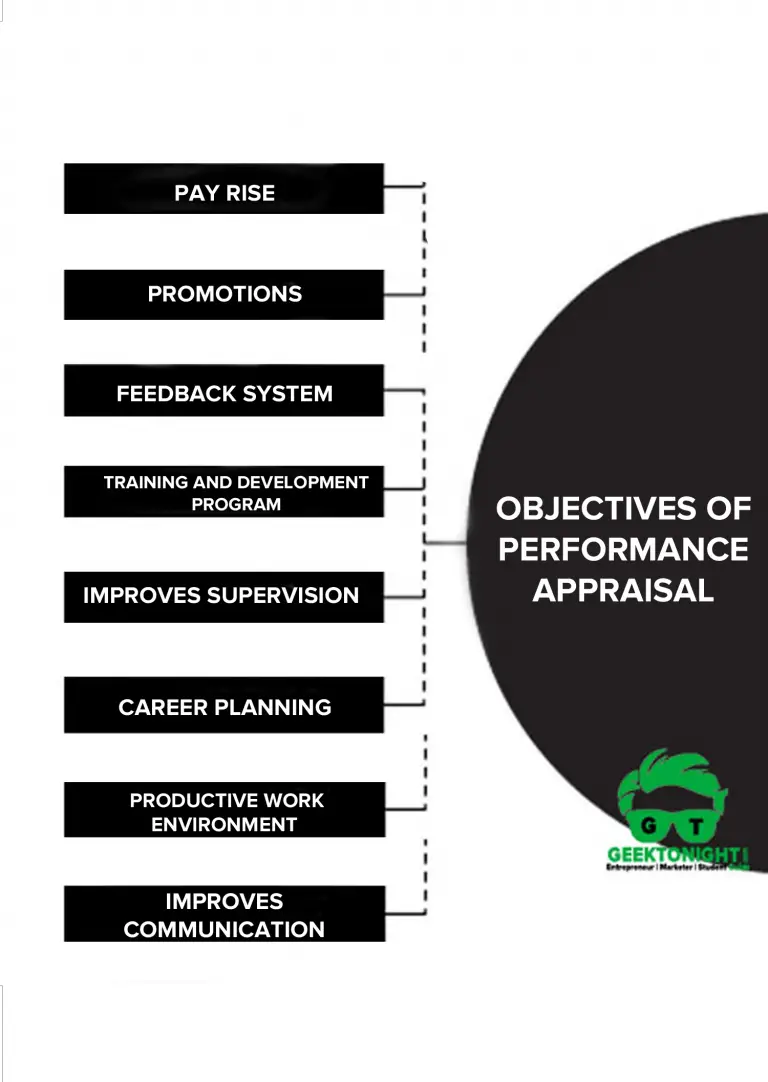 Below are the main Objectives of Performance Appraisal:
Pay Rise
Performance appraisal can be used as a yardstick to decide upon the pay raises and other benefits to be given to an employee. It should be based on employee performance and merit rather than seniority. This keeps the employee motivated.
Promotions
Since it evaluates the employees on the basis of their merit and performance quality it helps in taking decisions regarding the promotions and job change of the employees.
Feedback System
It acts as a feedback platform where the employee can be made aware of how well he is performing the job, his strengths and weaknesses can be discussed.
Training and Development Program
After performance appraisals, gaps between the standards achieved by the employees can be measured. Employees can be informed about the skills they need to develop for improving their current performance or for further promotion or pay raise.
Improves Supervision
Since performance appraisal happens periodically it becomes important for the supervisor to observe their subordinates closely and continuously so as to give clear and proper feedback at the time of performance appraisal.
Career Planning
Performance appraisal facilitates career planning for the employees. Their strengths and weaknesses are analyzed and discussed. The areas where they have the potential to grow are identified which helps the management in human resource planning.
Healthy and Productive Work Environment
Since the achievements and hard work of the employees are identified and awarded there is a sense of satisfaction amongst the workers. They are motivated to achieve higher standards and quality of output in order to gain more appreciation, incentives and bonuses, etc.
Improves Communication
Performance appraisal is a continuous process. It timely provides a format for dialogue between the supervisor and the subordinate. It gives a platform where they can freely talk about their personal goals and concerns. It helps in improving the relationship and trust between the supervisor and the subordinate.
---
Basis of Performance Appraisal
Basis of Performance Appraisal– The performance appraisal is based on the scrutiny of certain factors. The basis of Performance appraisal standards may include the following:
Knowledge about the job
Quantum of work
Quality of work
Ability to plan, organize, delegate and control
Cost consciousness
Use of discretion and judgement
Initiative
Leadership skills
Power of expression and communication- written or verbal
Personality traits
« Integrity
« Adaptability
« Dependability
« Loyalty
---
Problems in Performance Appraisal
There are various problems and challenges faced in Performance appraisal. Broadly, problems in performance appraisal are categorized into 4 types:
Judgment Error:
a. Halo effect
b. Horn effect
c. Influence of first impression
d. Leniency
e. Central tendency
f. Stereotyping
g. Recency effect
h. Consequence of appraisal


Inappropriate appraisal methods and forms

Lack of training

Ineffective implementation of performance appraisal
---
Essentials of Performance Appraisal
These are essentials of performance appraisal which given below: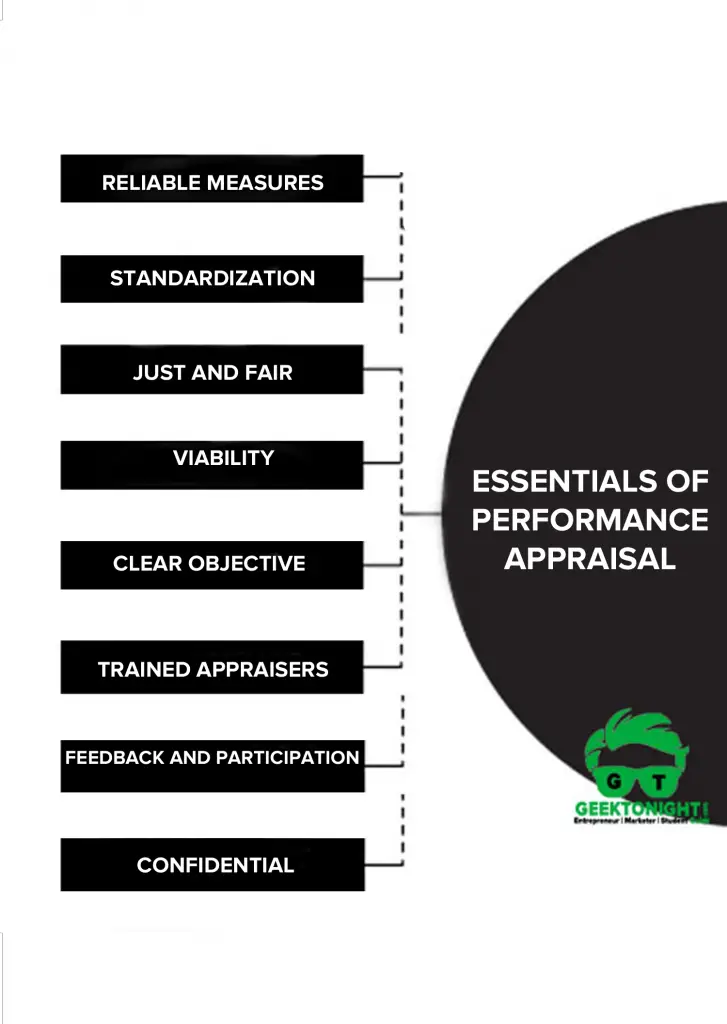 Reliable Measures
In order to achieve consistent and valid results and information from a performance appraisal system it is important to use reliable measures to quantify all observations and reports to rate an employee's performance.
Standardization
There should be well-defined criteria, appraisal procedures and rating systems to appraise the employees.
Just and Fair
Employee performance appraisal is done on objective and subjective measures. It should be made sure that there is no bias or favouritism while ratings are decided by the supervisor.
Viability
The technique should be realistic in terms of its implementation and cost involved.
Clear Objective
The key to an effective appraisal is the establishment of appraisal objectives behind the performance appraisal being undertaken.
Trained Appraisers
An effective outcome of the performance appraisal process highly depends on how well is the evaluator or the appraiser is trained in conducting a performance appraisal in an efficient manner.
Feedback and Participation
The main purpose of performance appraisal is to make the employee aware of his performance levels, strengths and weaknesses, and areas that require improvement.
Confidential
Appraisal results should be handled as private and confidential information. In order to maintain a healthy competitive atmosphere in the organization, only people with an approved need to know should have access to an employee's performance appraisal results.
---
Summary
Performance appraisal solves many purposes and can be used for deciding compensation, pay rise, training and development needs, results in better supervision and career planning of the employees etc. It is based on the factors like the quantum and quality of work by the employee and his personal traits like reliability, dependability, loyalty etc.
---
Reference
T. V. Rao, "

Appraising and Developing Managerial Performance

", Excel Books, New Delhi, 1999.
D. Grote, "Performance Appraisal Reappraised,'' Harvard Business Review, Jan- Feb 2000.
K. R. Murphy, J. Cleveland, "Performance Appraisal", Boston, M. A: Allyn & Bacon, 1991.
Scott Snell and G. Bohlander, "Human Resource Management", Cenpager, New Delhi, 2007.
---
Go On, Share article with Friends
Did we miss something in Human Resource Management Tutorial? Come on! Tell us what you think about our article on What is Performance Appraisal? Definition, Objectives, Problems in the comments section.