Nearly half (44%) of businesses report an increase in full-time remote development teams from other countries. Since there is a shortage of highly skilled workers in Western markets, this trend is especially prevalent in the IT industry, where services are frequently outsourced.
According to findings from Owl Labs, 16% of businesses across the globe employ solely remote workers. Effective management of remote workers has been shown to increase productivity, making remote work a cost-optimization strategy. However, managing remote development teams requires slightly different methods, resources, and administration to be as productive as their on-premises colleagues. Let's find out how to manage remote developers on your team together!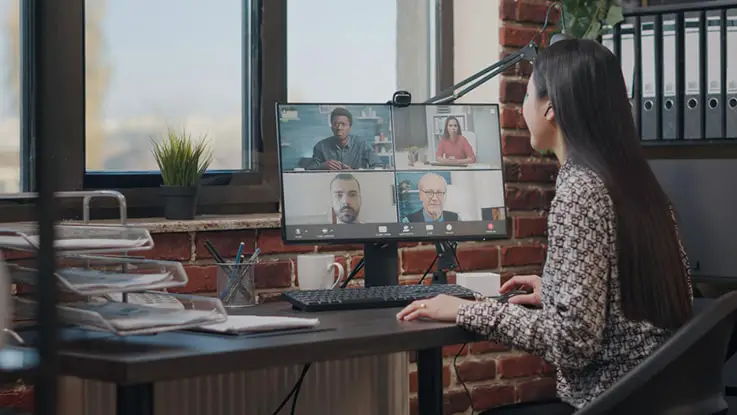 Influence of Remote Work on Software Development
In today's fast-paced technology industry, success depends on attracting and retaining a diverse workforce. The proliferation of new technologies has stoked the need for remote developers, the acceleration of digitalization, and the rapid evolution of software platforms.
Tech Advancements
High-speed Internet and cutting-edge communication and collaboration tools have made remote work for software engineers a breeze. It enabled distributed teams to coordinate and complete projects effectively. And thanks to cloud-based platforms and environments, programmers can access their tools and resources anywhere in the world, anytime.
Globalization of Workforce
The need for a diversified workforce has increased as companies have expanded their wings and gone worldwide. Working remotely allows businesses to attract top people from a wider area, leading to better ideas and greater productivity. That opens up countless doors for programmers to work with teams and clients worldwide, broadening their horizons and allowing them to experience cutting-edge technology firsthand.
Flexibility is the Real Flex
Working from home allows people to better balance their professional and personal lives by giving them more time to spend with their families and pursue their passions outside of work. For a long time, the software development sector has been an example of the benefits of flexible work arrangements, with many programmers choosing to work freelance or contract. Therefore, the industry's transition to remote labor has been comparatively easy.
Cost Savings
Both employers and employees have the opportunity to save money through remote employment. Businesses can save significantly on rent, utilities, and other fixed expenses. In contrast, workers can save money on things like getting to and from work, buying clothes, and eating out.
Improved Productivity
Software engineers often find that they are more productive when working from home. The luxury of working in a tranquil, customized setting, free of distractions and office politics, can do marvels for concentration and productivity. And since they have more control over their schedules, remote workers report higher engagement and enthusiasm for their work.
---
Managing remote Development Team-Optimal Strategies
Use the following set of strategies for managing remote software developers:
Effective Onboarding Process is the Real Deal
Create a thorough procedure for new hires to follow in which their duties and those of the company are detailed. New remote team members can quickly become productive when resources are made available to them, virtual orientations are held, and mentors are assigned.
Use of Agile Project Management Techniques
Agile project management approaches to promote effective teamwork and output. Separate large projects into smaller ones, establish priorities, and work towards achievable deadlines. Keep everyone on the same page with consistent virtual stand-up meetings, the liberal use of project management software, and widening communication channels.
Team Management and Motivation
Manage your team effectively by establishing clear objectives, implementing a feedback loop, and rewarding success. Maintain an atmosphere of open dialogue and facilitate teamwork. Keep remote workers motivated and engaged by fostering a welcoming and supportive team environment.
Building Team Spirit is Essential
Connect dispersed individuals of a team and help them feel like they belong. Facilitate online team-building exercises, promote the exchange of information, and set up channels for casual conversation. Boost morale by regularly acknowledging accomplishments as a group.
Monitoring of Team Performance
Use systems and methods for performance monitoring to keep tabs on how well each team member is doing. Create Key Performance Indicators (KPIs) and targets that can be tracked. Be sure to check progress and performance often and resolve any problems immediately.
Ensuring Data Security in Remote Sections
Use encrypted routes of communication, safe data storage, and remote access to implement stringent data security procedures. Staff personnel should be educated on data compliance and security best practices. Security measures should be reviewed and updated frequently to keep sensitive data safe.
Bottom Line
It's easy to be intimidated by the prospect of managing a remote development team, but in reality, it's not different from managing an in-house team. Taking care of a few crucial things, such as maintaining accurate schedules, adhering to defined work practices, and fostering robust team spirit, can greatly accelerate the development process. This is our stake on how to manage remote developers on your team. If you think there should be more, do let us know.